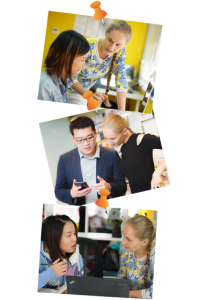 Since 2016, she's spoken at over 270 events across the globe and has trained senior leaders from the world's largest brands, such as Coca Cola, Disney, BMW, P&G, Richemont, Shiseido, Nestlé, Colgate-Palmolive, HSBC, Crocs, Bank of America and others. Her expertise lies in delivering the latest and most actionable insights with high energy and clarity.
She runs a popular YouTube vlog about Chinese tech, consumers, new retail ecosystems, digital marketing and digital economy.
Ashley has been a regular contributor to The SCMP, The Next Web and China Daily. She's also appeared in other media such as Forbes, The Wall Street Journal, CNBC, Wired, Huffington Post, Technode, Asia Times, Jing Daily and many others.
Has lectured at HKU Space and done talks at the China Business Centre of Hong Kong PolyU and the National University of Singapore Business School.
CLIENTS WE HAVE WORKED WITH
SEE ASHLEY IN ACTION
ASHLEY'S SPEAKER SHOWREEL
ASHLEY AT ASIA PROFESSIONAL SPEAKERS
Ashley is an experienced LinkedIn user with over 80,000 followers and regularly posts about the digital domain and social media marketing in China. She also shares reports, trending information about China, writes opinion pieces on hot digital marketing issues, and keeps people updated on the Chinese e-commerce world.
ASHLEY'S AREA OF EXPERTISE
CHINA'S DIGITAL ECOSYSTEMS AND TECH GIANTS
CHINA'S DIGITAL TRANSFORMATION
CHINA'S LIVESTREAMING
NEW RETAIL AND SEAMLESS O2O JOURNEY
CHINA'S DIGITAL MARKETING
MODERN CHINESE CONSUMERS
FAQ
How can I trust a non-Chinese person to tell me about China?
Ashley speaks Mandarin fluently and has lived in Mainland China for 15 years.  She has been a member of Alibaba's Global Influencer Entourage, JD's Global China Experts Group, and worked with the Tencent co-founder to conquer Western social media. Disney, Coca Cola, and Huawei are but a few companies from both the West and China that have sought Ashley's advice to improve their business.
Where are you based?
Ashley is based in Hong Kong and travels frequently to the mainland for work, to give training or presentations or to meet with other experts. Ashley has offices in Hong Kong, Shenzhen and Shanghai.
Can you speak Chinese?
Yes, Ashley's Mandarin is fluent. She studied business administration at Chongqing University and managed to finish a four year honours program in three years. In fact, she took linear algebra and statistics classes with other local Chinese classmates.
What is your expertise?
Ashley is an expert in digital China, Chinese consumers, New Retail ecosystems, digital marketing, and technology.
How do you stay on top of China's fast-paced development?
Ashey does this through frequent trend-watching and covering major digital sources resulting in foresighting.
What is the best way to reach out to you about a project?
If you would like to get in touch with Ashley personally, do email ashley@chozan.co
How can we invite you to speak?
If you would like Ashley to give an event speech, email natalia@alarice.com.hk and you will get a reply as soon as possible.
BEST WAY TO CONNECT WITH ASHLEY