Chinese Marketing Research and Strategy
Understanding the China market can be a challenging task. Our China market research and strategies provide you with a framework to start and grow your business in mainland China. Whether you're considering entering the China market or already have an established presence there, we'll give you valuable insights and intelligence about your market potential, competitive benchmarking, as well as the potential risks.
WHY DO YOU NEED OUR RESEARCH AND STRATEGY?
To boost your chances of business success in China
To quickly and clearly understand your target customers
To prevent unnecessary expenditures
To help you focus on the right marketing channels
To operate from an educated viewpoint from the earliest stages of your business in China
To get reliable information from a local presence
To help you avoid common mistakes made by foreign brands and limited knowledge of the China market
Market trends and insights
Research and analysis of your market competitors
Industry best practices
Customer surveys and local interviews
Communication channel analysis
Promotional channel analysis
Partner research and due diligence
Budget Planning
Comprehensive digital marketing plans for 6-12 months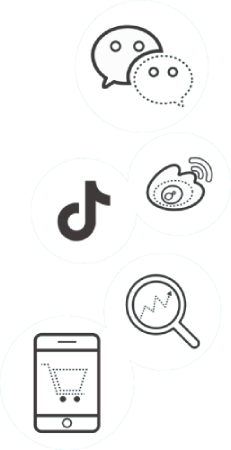 MEET OUR FOUNDER
Ashley is a China marketing expert, serial entrepreneur, global keynote speaker, 3 time bestselling author, vlogger, podcaster, media contributor and female leadership spokesperson. She was recognized as a LinkedIn Top Voice in Marketing in 2019 and chosen as an Asia Pacific Top 25 Innovator by the Holmes Report. She is the founder of China-focused social media agency Alarice and China insights and training company ChoZan. Ashley is an active supporter of women in leadership and business and is the creator of the self-development and mentorship program FIRE🔥.
Ashley was a member of Alibaba's Global Influencer Entourage from 2017 to 2019, a member of JD's Global China Experts Group in 2018, and worked directly with a Tencent co-founder to conquer Western social media from 2017 to 2019. She runs the world's largest YouTube vlog about the China market, consumers and social media called Ashley Talks and is an author of three international Amazon bestsellers on China: Unlocking The World's Largest E-Market, Working with Bloggers, Influencers and KOLs and New Retail: Born In China Going Global.
Ashley is a global keynote speaker and masterclass facilitator. Her topics include Modern Chinese Consumers, Chinese Social Media Marketing, and China's New Retail and Technology. Since 2016, she has spoken at over 100 events across Asia, Europe, Australia and the Middle East. She has spoken to Coca Cola, Disneyland, BMW, IWC, Shangri-La Hotels and Resorts, Deutsche Bundesbank, Richemont, Li & Fung, Hang Lung Properties, Manulife, RISE, InvestHK, TEDx and others.
CLIENTS WE HAVE WORKED WITH
FAQ
How long does it take to complete a strategy?
There are two options:
A mini strategy takes 6-8  weeks to complete.

More comprehensive strategies are delivered in 8-12 weeks.
We'll give you a customized plan focussing on the goals you want to achieve in China with the expected timeline.
What's the price for a strategy project?
No two strategies are the same and each one is based on each brand, company or product's unique selling points and goals so the price varies. Mini strategies start at 18,000 USD while a detailed comprehensive strategy can cost 50,000 USD or more. To get a more accurate estimation, please send us a message.
What's your methodology?
Our team uses a variety of methods to make sure that the consumer profiles and journeys are correctly identified. This includes:

Expert interviews

Consumer interviews (in-depth, in person)

Focus groups

Online and offline surveys

Secondary research

and more
Then we use sentiment analysis and interpretive approaches to convert the data into actionable insights.
What's included in the strategy package?
Each strategy is different but it will typically include an overview of the industry, consumer surveys, consumer profiles, a detail of the consumer journey and the best platforms,  a competitors analysis, strategy development and a personal consultation with an account manager.
China is changing so fast, how can I make sure that your plan will still be relevant after a few months?
For all strategies developed by our team, we provide a 6-month guarantee. If something changes, we're happy to revise it and make the needed adjustments to make sure that it's an actionable plan. In order to support your team along the way, we're also happy to answer any questions that come up.
READY TO ORDER YOU CHINA STRATEGY OR CONSUMER RESEARCH? GET IN TOUCH NOW!
LOOKING TO TRAIN YOUR CHINA TEAM?