Established in 2000, Baidu is a Chinese technology company specializing in internet services and artificial intelligences. The company is often referred to as 'China's Google' as it provides a wide range of online services including mapping solutions, cloud storage, online discussion, knowledge sharing, image/video managements, etc. Among the services it provides, Baidu is best known for its search engine, which is the most accessed web content searching tool in China (covering 95% of Chinese Netizens, or, more than 700 million internet users) and the world's largest search engine on Chinese content. Every day it serves over 200 million daily users and handles 3.3 billion of search requests from more than 100 countries around the world. Currently over 856,000 firms are using Baidu as their major platform for advertisement, making Baidu one of the most popular marketing tools in the Chinese market.
WHY USE IT FOR MARKETING?
Here are some of the reasons why the search engine brand has gained popularity among online marketers in China:
1. Dominance in the Chinese search engine market
Baidu has the highest market share across both desktop and mobile devices. According to Statista 2020, Baidu boasts 59% of the Chinese desktop search market, followed by Haosou with 26%. On the mobile side, Baidu's dominance is even more significant with a 78% market share. The high percentages represent the presence of a huge potential audience for the product.
2. Specialized for China
Unlike Google, Baidu provides content in simplified Chinese only. The company is often credited for their ability to infer and interpret Chinese text more effectively compared to other search engines, providing results with a higher quality.
3. Chinese customers' attitude towards ads
In great contrast to those from the West who prefer no targeted marketing, research show that 47% of Chinese customers do not mind being targeted daily for online advertising. Market observers also point out Chinese customers believe that if a brand has significantly invested into ads, there must be something worthy to check out. Attitude as such creates a favorable circumstance for the prevalence of a strong search engine like Baidu in the Chinese market.  
4. Promotional Flexibility
Baidu is not only available for PC users, but also for anyone with access to the internet via mobile or tablets too. According to statistics provided by the company, Baidu ads reach 1.1 billion mobile devices in China every day, indicating a high flexibility in the engine's design to target audiences with different modes of technological engagement.
5. Baidu is cost effective
The advertising costs (for instance, video, sponsored posts or influencers) with Baidu are significantly less expensive than similar methods in the West, with Google for example. On average ,Baidu has cheaper Cost-per-Click (CPC) than Google for similar terms (around 25-40% cheaper). Baidu has also set up an optional tool called Yusuan LeiJi Bao (Budget Accumulation Tool). With the help of this tool, marketers are able to accumulate their account budget for any remaining daily budget, or automatically relocate the leftover budget to other days to drive higher search traffic.
6. Help you manage web statistics
Compared to analytical tools of its competitors, Baidu analytics is often preferred for its better function in traffic and event tracking, giving users a clearer picture on the trends and popularity of online content among Chinese visitors.
HOW TO DO MARKETING ON BAIDU?
In general, there are 2 major ways to do marketing on Baidu: Baidu SEM and Baidu SEO.
1. Baidu SEM (Search Engine Marketing)
Baidu SEM or PPC (pay-per-click) is often referred to as the online marketing strategy with paid advertisements for better exposure. Below are the major practices for Baidu SEM (PPC):
Equivalent to Adsense or Google Adwords, Baidu Tuigang's overall mechanism is simple: you bid on keywords of your choice and your advertisement will be listed on the result page. You can use 50 characters for your title and 80 for each line of text.
Baidu Pay for Placement (P4P)
This P4P function enables you to reach your audiences through relevant searches. Unlike Baidu Tuigang, here you're bidding for the priority placement of advertisement links with specific keyword searches, rather than the simple association to the keyword. This is a unique feature of Baidu SEM, giving the winner of the bid a considerable advantage over their competitors.
The service can be used by advertisers with video promotional materials. By joining Baidu TV, advertisers have access to websites of Baidu Union members, choosing on which sites to put their ads for display.
At Alarice, we are delighted to guide you through the complex steps on your Baidu SEM journey; for example, setting up accounts and the associated management work. We know how to select the best word and we understand the best way to attract audiences. Understanding advertisement cost is likely one of your biggest concerns – we are more than happy to share the secrets to keep the advertisement costs low and to create the best value out of your input.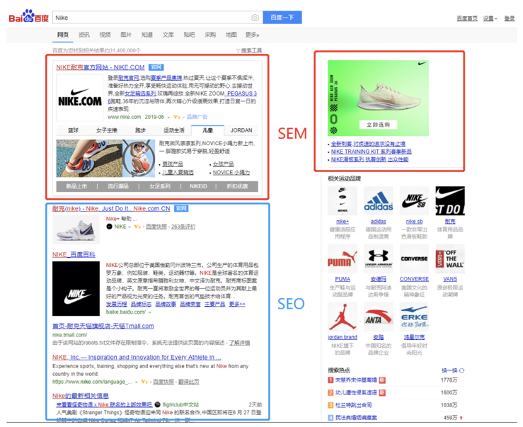 2. Baidu SEO (Search Engine Optimization)
Baidu SEO is the way website owners improve traffic to their websites from organic search results on Baidu search engines. Since online visitors tend to pay more attention to websites with a higher search ranking, the aim of SEO is to help web owners place their webs at a more visible position on the search engine result page. This goal can be achieved in two major ways: 
By improving the SEO structure of their website, web owners are helping search engine to understand, categorize, and rank the content of their websites. A good technical SEO can bring your website more traffic while a bad one can leave your website ignored or hidden by the search engine, bringing unnecessary loss to the web owners.
This practice focuses on providing enhanced User Experience (UX) to the customers. Web owners must make efforts to provide the best content, including setting up a well-rounded content marketing strategy, conducting keywords research and analysis, writing website titles and description, etc., in order to convince the search engine to classify the associated website as one of high-quality. On Baidu, support tools like Baidu Baike (百度百科) are available for web owners to present their products or content in a more detailed and attractive manner.
As an expert in Baidu SEO, Alarice will guide you in reviewing the technical structure and content of your website, observe whether they meet the standards of Baidu search engine, and suggest ways to improve where necessary. We have worked with many companies with their SEO projects in China, and therefore are well versed in managing contents to attract the maximum number of audiences.
SEM CASE STUDY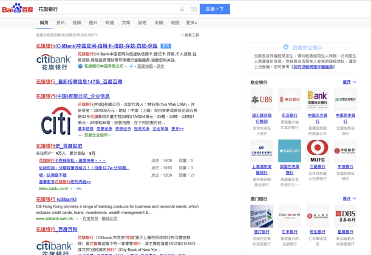 Citibank's cooperation with Baidu is a successful example of SEM. By analyzing the core business of the company and reviewing the use of keywords in their online marketing scheme (in accordance to their clients' preferences), within a month, the daily pageview of Citibank's official website has extensively grown. Speaking in terms of costs, SEO with Baidu is just 1/5 of that with Google.
SEO CASE STUDY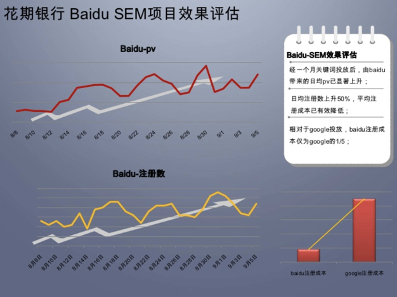 Since 2014 Ping An Insurance has made constant efforts to extend their business into the online realm. In order to attract more online traffic and exposure, the company conducted a SEO with Baidu on its official websites (including the PC and WAP versions). After the revision of its online content, within 10 months, the organic search volume of PC and WAP versions of the official website has grown 92% and 88% respectively.
Starting a Baidu marketing project may not be as simple as it seems. There are several reasons you should choose Alarice as your agency to manage your Baidu marketing. By working with us, you can be sure that:
Alarice is well-equipped to help you with all the complex steps expected during the preparation stage like account registration and statistics management. 

Our team knows the standards and best practices on the platform. Our experts will create customized content for your brand to lower your costs on PPC ads and increase your brand's exposure to Chinese consumers.

We'll update you on the latest search engine insights, such as the current top keywords, and we'll revise your content to keep it fresh and attractive to search engines and Chinese audiences.

Alarice will give you an overview of the market and can study the online marketing strategy of your competitors to keep you in a profitable position.
What separates us at Alarice from other search engine optimization companies is our commitment to client satisfaction. We listen. We care. 
If you're interested in learning more about Baidu marketing and our services, please contact us.
FAQ
How can I increase my brand's exposure on Baidu?
To increase exposure on Baidu, we recommend that you add contributions on Zhihu, which is like China's Quora, as Baidu gives a higher ranking to the professional content on the platform which results in better organic traffic.
How different is Baidu from Google?
Although Baidu and Google are both search engines, Baidu is the main search engine platform for China. It also offers additional services such as forums and informational products, along with music and mobile games.
Can I set up a company Baidu account without a China business registration number?
Yes, we can help with account set up. We will need a set of documents to submit to the platform. Please contact us to get more detailed information.
BOOK YOUR FREE CONSULTATION NOW!