As the world's largest consumption market, China attracts brands from all over the world hoping to catch the attention of Chinese consumers. While consumer research is of paramount importance, brands also need to navigate market conditions and product demands. We can arrange primary and secondary market research in order to identify market potential, and provide actionable insights for brands coming to China and those that already have a business presence there. 
With a deep understanding of China's market conditions, brands can get a roadmap with detailed explanations of the potential threats and growth opportunities. At Alarice we have years of experience working with different industries and have a solid database of resources and tools to support brand vision and development in the China market. Our research and strategy experts not only provide data about the market, we also provide context, inform you about unique cultural features and other dimensions that can help you fit right into this highly competitive market.
We work with the following industries:
Our China Market Research Services Cover: 
Our general methodology: 
Online market research

Industry performance research

Market sizing

Competitor benchmarking

Mystery shopping

Case studies
Who's it For?
China market research can be beneficial for companies and brands that want to be in China and those that want to learn from China.
Our market research services are particularly valuable for:
Big multinational B2C corporations

Big multinational B2B corporations 

Mid-sized companies 

Domestic Chinese brands 

Investment and financial service companies watching the China market for potential opportunities 
WHY DO YOU NEED CHINA MARKET RESEARCH?
Our China market research is comprehensive and helps you get the following results:

Understand your industry's most recent regulations.

Clarify potential demands and popular product categories 

Validate your pricing strategy plan in China 

Evaluate potential market size for your products

Get clarity about your potential competitors 

Take action from an informed position from your earliest stages in the market.

Get a deep understanding of the potential risks for your product
Market trends and insights
Research and analysis of your market competitors
Industry best practices
Customer surveys and local interviews
Communication channel analysis
Promotional channel analysis
Partner research and due diligence
Budget Planning
Comprehensive digital marketing plans for 6-12 months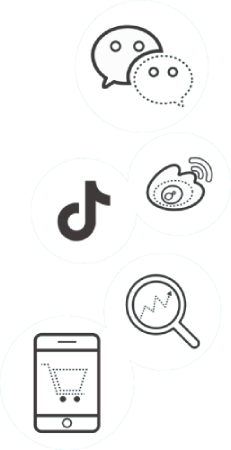 Get an overview of your competitors' social media and e-commerce performance and carve out your place in China's market.

We can help you understand and analyse what netizens are saying about your brand online. 
MEET OUR FOUNDER
Ashley Galina Dudarenok is a China digital marketing expert, serial entrepreneur, masterclass facilitator, keynote speaker, bestselling author, vlogger and podcaster. She's also a LinkedIn Top Voice in Marketing, Holmes Report Asia Pacific Top 25 Innovator and has been a member of JD's Global China Experts Group. She's the founder of digital marketing consultancy ChoZan digital marketing agency Alarice.
As a keynote speaker, Ashley has spoken at over 100 events across the globe for companies like BMW, Disney, Shangri-La, Deutsche Bundesbank, Richemont and TEDx. She's also given lectures at HKU Space and done talks at the China Business Centre of Hong Kong PolyU  and the National University of Singapore Business School.
A regular media contributor, Ashley has appeared in The SCMP, Forbes, The Wall Street Journal, China Daily, Inside Retail, Jing Daily, Technode, CNBC, Wired, Huffington Post as well as interviews on The BBC, CGTN and more.
CLIENTS WE HAVE WORKED WITH
FAQ
Why is the Chinese market so popular?
China is the number 1 retail market in the world, with almost 1.4 billion people. Over the last decade Chinese consumption power has also been rising, so it provides a lot of opportunities for brands to address consumer needs. Apart from that, China's digital landscape is very developed, so companies can access effective communication and sales channels together with rapid delivery services. Contact us to do China market research for your products. 
What kind of insights I will get after China market research?
With our help, you'll understand whether there's a demand for your product, how much potential consumers are willing to pay for it, how competitive the market is for your specific product, which regulations you need to be aware of, and more. Our team will also help you to validate your goals for the market. Contact us to learn more about our services. 
How do you plan market research?
We'll schedule a call with your team to understand more about your products, whether you already have a presence in China and define your goals for the upcoming year. After that our team will prepare a plan covering market size, development history, key players, consumer overview (secondary data), market trends and market predictions. Contact us to get tailor-made plans for market research. 
Then we use sentiment analysis and interpretive approaches to convert the data into actionable insights.
What are the basic factors to consider in China market research?
The China market is not a single market. In reality, different regions and provinces have different needs and demands. There are also no one-size-fits-all situations or solutions. You should plan to put the strategy insights we uncover into action within 1-2 years, because the market changes rapidly and data can be outdated quickly. Contact us to find out more. 
READY TO ORDER YOUR CHINA MARKETING RESEARCH? GET IN TOUCH NOW!
LOOKING TO TRAIN YOUR CHINA TEAM?