XIMALAYA FM MARKETING GUIDE
Following years of development after the Reform in 1978, the Chinese economy has moved towards a knowledge-based nature. 'Information is gold' is increasingly a recognized fact among Chinese customers, with their thirst for knowledge and insights constantly growing. If you are interested in starting or growing your business in China, an online marketing strategy is critical to ensure the message and story of your brand are told in a listener-friendly manner. Ximalaya FM will be a great help to achieve such goal.
WHAT IS XIMALAYA?
Launched in 2012, Ximalaya FM is now China's most popular professional platform for podcasting and audio-sharing. With the motto 'Anytime, anywhere, listening to anything I like (随时随地,听我想听)', 
the creators of this platform aim to provide the best and most convenient audio experience to its users through mobile apps and online webpage. In the form of insight sharing, sourced from a community of 8000 famed verified users (who are typically cultural elites and self-media practitioners) and over 7 million audio hosts , Ximalaya FM's contents cover over 300 categories of topics, including humanities, history, art, music, movies, news, entertainment, foreign languages, healthy lifestyle, travelling, gaming, finance, childhood, love affairs, and many more. 
Within three years of its launch, Ximalaya FM has reached 200 million mobile users, who enjoy over 15 million pieces of audio work produced by 60 thousand audio broadcasters. In Jan 2020, the number increased to 470 million, 79.9 million of whom are monthly active users (amounts to 62.8% of the online audiobook market in China). This data makes the platform one of the top 50 popular apps in China. Meanwhile, the app is supported by 35 million overseas users globally. Having diverse audio content and enormous audiences as such, Ximalaya FM has become the major performance stage for audio artists and online KOLs in China, and often regarded as the YouTube in the field of audio production in China.
WHY USE IF FOR MARKETING?
Ximalya FM is the partner of over 3000 famous brands from all corners of the globe (for instance, McDonald's, Pizza Hut, Baidu, KFC, Durex and L'Oréal) in China marketing. Here are some reasons for its worldwide popularity.
1. Leader of China's rapidly growing the 'Pay-for-knowledge' industry
Paid digital content services have gained popularity among Chinese consumers in the past few years. In 2020, the market's value is expected to grow to 23.5 billion RMB, showing the industry is one of the country's fastest growing. Ximalaya FM, as the leader in the field, is able to attract consumers with different interests and purchasing power from different geographical locations. According to data released by the platform, over 50% of the platform's users are aged 20-30; nearly 80% of whom are highly educated with bachelor's degrees or above. This discovery implies that by doing marketing with Ximalaya FM, your brand and products will likley be in contact with Chinese customers with higher purchasing powers. 
2. Ximalaya FM's users are unique
Research shows that Ximalaya FM has a low user overlap rate with other major social media platforms like Tencent Video, TikTok, iQIYI, YouKu and Tencent News (the highest is 43.2% while the lowest 7.9%). This data shows that the platform is supported by an unique user community. The effectiveness and cost-efficiency of audio advertisements on Ximalaya FM are therefore higher and will help you reach customers that are unreachable using other platforms. 
3. Voice goes into the hearts
In a digitalized world overflown with textual or visual messages, audio recording is perhaps one of the best alternatives to attract Chinese consumers. On Ximalaya FM, you can promote your products with audio advertisements ranging 15-30 seconds. Users (especially those without a membership account) are unlikely to skip the ads when listening to audio recordings. The attention rate of this form of ads is therefore usually high.
Besides, the IOS version of the Ximalaya FM app fully supports voiceover, no longer making visual disabilities a hindrance to communication. 
4. Anytime, Anywhere
The consumption of audio content can nearly be compatible in all everyday life scenarios: consumers can listen before they sleep, during work breaktimes, while dining, while driving or while waiting for someone, etc. It is observed that usage peak times range from 8am to 1pm and from 9pm to 10pm, which are usually the most relaxed hours in one's daily life. During these times, the users tend to relax their mind by listening to audio contents. This observation shows the platform has a strong integration with its users' daily life, and is likely to leave a deep impression on its audience, making it a perfect venue for online marketing.
Ximalaya FM is not only available for mobile app users, but also for anyone who has access to the internet via personal computer or tablets. This makes simultaneous promotion to customers with different device usages possible.
5. Promotional Flexibility
Using Ximalaya FM to promote your products is easy and flexible. Ximalaya FM adopts the PUGC (Professional User Generated Content) model which allows professional firm users to act like a KOL by recording their own messages and publishing on the platform in any quantity, in any form (like audiobook (有聲書), songs, audio drama, etc.), at any time. This design offers marketers high degree of flexibility to their work.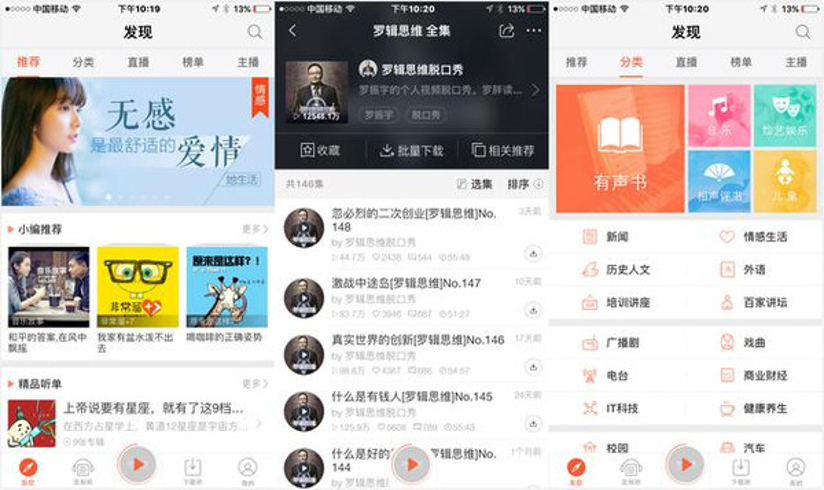 6. Fans Economy (粉丝经济)
By creating your own account and speaking out on Ximalaya FM, you or your brand can be developed into an influencer on the platform.. You may then create your own fan community out of your targeted audiences. Your fans are your potential customers – they follow your account, share, and listen to your contents. By developing your own fan club, you will strengthen your customers' loyalty and enhance the long-term competitiveness of your brand. 
Apart from that, the function of 'sponsorship' enables your fans to make direct tributes (打赏/贊助) to your brand, which creates an extra income for your marketing campaign.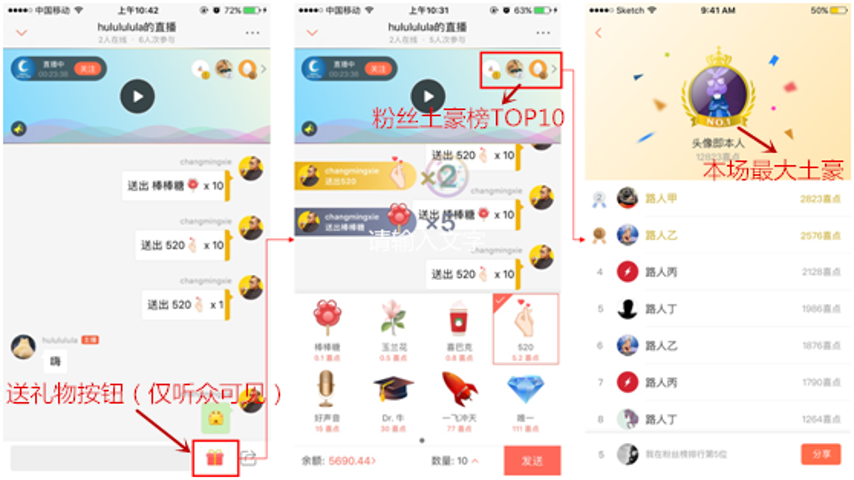 HOW TO DO MARKETING ON XIMALYA?
In general, marketing on Ximalya FM are conducted in 3 major ways:
1. Product Placement
Through professional audio editing softwares, advertisement messages may be inserted into your designated audio recordings. You also have the choice of directly integrating messages into the audio content during the recording process.
2. Channel Building 
You may simply be an active member in the Ximalaya FM community by building a media channel under the name of your brand on the platform and sharing the joy of being an online influencer. Direct brand entry onto the Ximalaya FM platform is a good way to expand the marketing channel for your brand. With the creation of your own audio content style (to do so you must first give your brand a clear position), you may effectively increase customer loyalty to the brand. 
3. KOL interactions
KOLs on Ximalaya FM could act as partners for your marketing campaign, as many of them possess thousands of followers. Interactions or cooperation (which can be in both online and offline forms) with KOLs will expose your products to their fan communities, eventually expanding the customer scope of your brand.
4. Paid Content
Chinese podcasts listeners believe that paid content is of better quality and delivers more professional, more training content. If your free content can get the support of your fans, why not try to produce paid content for them? Paid content on Ximalaya FM can be in many forms: direct purchase of exclusive content, paid subscription to audio channel, paid courses with professional speakers, etc. All of these will increase the diversity of your content and bring additional revenue to the brand.
At Alarice, we are delighted to assist you to prepare and go through the Ximalaya FM marketing journey. We understand the importance of naming and having keywords. We will share with you our knowledge on the best ones to use on the platform's search engine for your specific brand. Our connections with various KOLs will help find the most suitable speakers or endorsers for your brand. Besides, with experiences and in-depth observations on the platform's audience, we will guide you to produce the best and most attractive audio content.
XIMALAYA MARKETING CASE STUDY
Below are two examples of successful marketing campaigns by well-known corporations with Ximalaya FM: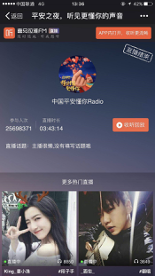 Case 1: Ping An Insurance (中國平安) x Ximalaya FM
On Christmas Eve in 2018, PAI has, in cooperation with Ximalaya FM,  organized a 'cultural feast' on mental wealth. PAI invited well-known speakers from various fields such as finance, culture, art collections, psychological education to share their insights and knowledge. Comprehensive discussions and interactions were conducted between the brand and the platform's users during the event.
PAI has also developed its own brand channel on Ximalaya FM: Under the category of 'knowing wealth, knowing yourself', the PAI channel provides contents created by professionals from different sectors to answer questions from its subscribers on the topics of financial consumption.

Case 2: KCF x Ximalaya FM
On 26 July, KFC worked with Ximalaya FM through a 24-hour live podcast to promote its new product: KFC Fresh Ground Coffee. The event was designed in a careful manner: it combined the 'slowness' of coffee culture and the 'lightness' of audio listening. Customers are invited to visit the three live podcast locations in Guangzhou, Shanghai or Beijing, where customers are offered a cup of the new coffee from the KOL they support. Activities as such creates an enjoyable environment for customers to consume the product, which in turn increases its popularity.
The event was considered a huge success: within 24 hours, more than 18 million times of audio listening were recorded. The peak number of simultaneous listeners was more than 65 thousand, and discussion comments reached 46 thousands. All these results helped create a public awareness on the product, bringing long-term benefits to the brand.
WHY CHOSE ALARICE FOR YOUR XIMALAYA MARKETING?
Marketing on Ximalaya FM may seem straightforward and simple, but it could get complicated when it comes time to execute the strategy. At Alarice, we will help you in the following aspects:
1. Account management & Cost Control
Our team is professional in account setting works such as registering and communicating with the Ximamalya FM team. We know the requirements and the secrets to keep costs low. Besides, we will provide all the statistics about your brand's channel in order to facilitate your full understanding on the popularity of your brand in the Chinese market.
2. Copywriting & Production
Content preparation is never an easy task. Our professional team is happy to guide you on the topics to talk about and the best time to publish for maximized effects. 
It is also essential to select the best keywords for your brand channel as the choice directly affects how the keywords are perceived or whether they will reach your targeted audiences. Our experience in these aspects can definitely help you to get the best results.
3. Search for the best KOLs
Having the right words may sometimes not be enough. Having the words spoken by the right person may be more necessary. With close connections with various KOLs on Ximalaya FM, we will bring you the right speaker to deliver the messages for you. 
4. Market Analysis
Seeing the whole picture is essential. We will give you an overview of the market, and in some cases, study the online marketing strategy of your competitors to keep you in a profitable position in the competition.
We listen. We care about your brand. Our commitment to client satisfaction is exactly what separates us at Alarice from other online marketing agencies. 
If you are interested in knowing more about Ximalaya marketing and our services, please give us a call. We are more than happy to help and serve.
WHY US?
Audio content marketing is on the rise in China and Ximalaya FM is a great opportunity to reach out to 200 million Chinese consumers. By working with us, you can be sure that:
Alarice tracks the most recent trends and consumer insights on Ximalaya in order to create the most engaging content for your account and launch effective campaigns.

We work closely with the Ximalaya internal team and often know of new functions and updates first. 

Our team will assign a personal account manager who will explain each step of the process. We deliver genuine, verifiable results and help you to become China marketing experts yourselves. 
Contact us to learn more about potential marketing campaigns on Ximalaya. 
FAQ
Why do I need a Chinese name?
It's an opportunity to deliver messages about your brand in a way that the majority of the population can understand. A good name in Chinese also helps to show a connection with the local market, culture and people.
How would you select a Chinese name for my brand ?
Our team will come up with several options which not only sound good but also be positive, rich in meaning and communicate your origin and mission with potential customers.
What if the name has already been registered?
In China the first company to register a name has the top priority to use it. Before suggesting any options to you, our team will check the names that have already been registered by another company and inform you of the ones that have already been registered.
BOOK YOUR FREE CONSULTATION NOW!