CHINESE SOCIAL MEDIA ACCOUNT SETUP
Account registration is the first step of social media marketing. We have hands-on experience in helping a wide array of brands to successfully register and verify their Chinese social media accounts.
Chinese Social Media Account Setup
The first step to kickstarting your social media marketing in mainland China is setting up official brand accounts on key social media platforms. Popular social media platforms which are effective for brand promotion and audience engagement include WeChat, Weibo, Douyin, Zhihu, and Toutiao. In addition to account registration, many of these platforms also provide business entities the option of account verification, which further enhances the credibility of your brand's account and allows you to access additional marketing-related features.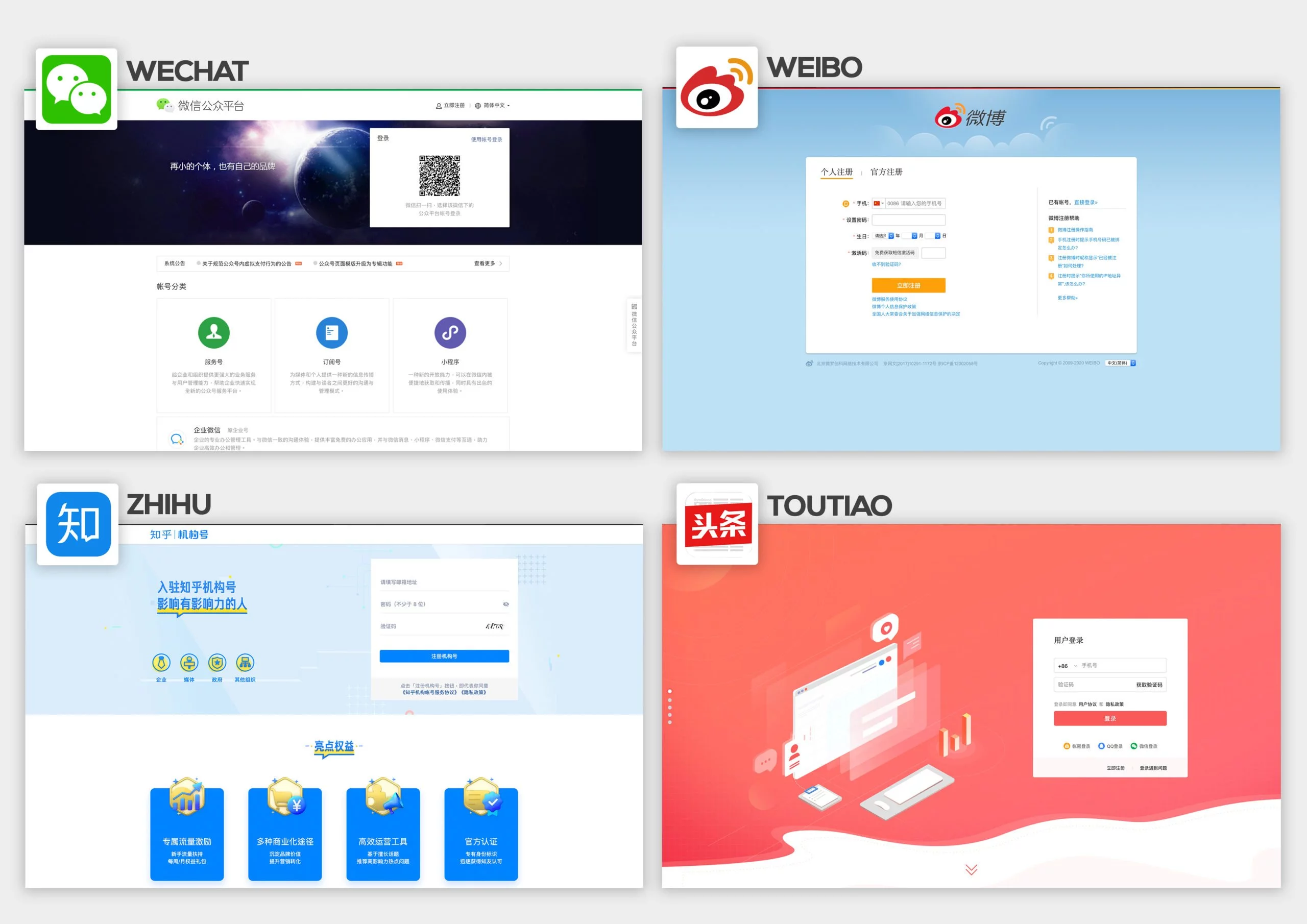 Setting up an official brand account on Chinese social media platforms can be a hassle for brands as most of these platforms only provide a Chinese interface for account set-up. In addition, the overall registration procedure is more than just a few clicks, and requires businesses to supply a range of documents in order to validate the business entity as well as the account administrator.
International brands, in most cases, without a business registration in mainland China will need to prepare the following documents for account registration:
Your local business registration documents
Proof of identity of the account administrator (e.g. passport)
Position, email address and phone bill of past 3 months of the account administrator
Basic information of the company, such as address, phone number
Application form (or registration letter) with company seal
Each social media platform has its unique registration and verification process. If you are looking to set up a WeChat official account, for instance, one step involves Tencent representatives calling the account administrator to verify the information submitted. Brands should also be aware that most platforms require detailed information to prove the identity of the account administrator. For a Toutiao official account, for example, the account administrator will upload a clear picture of himself.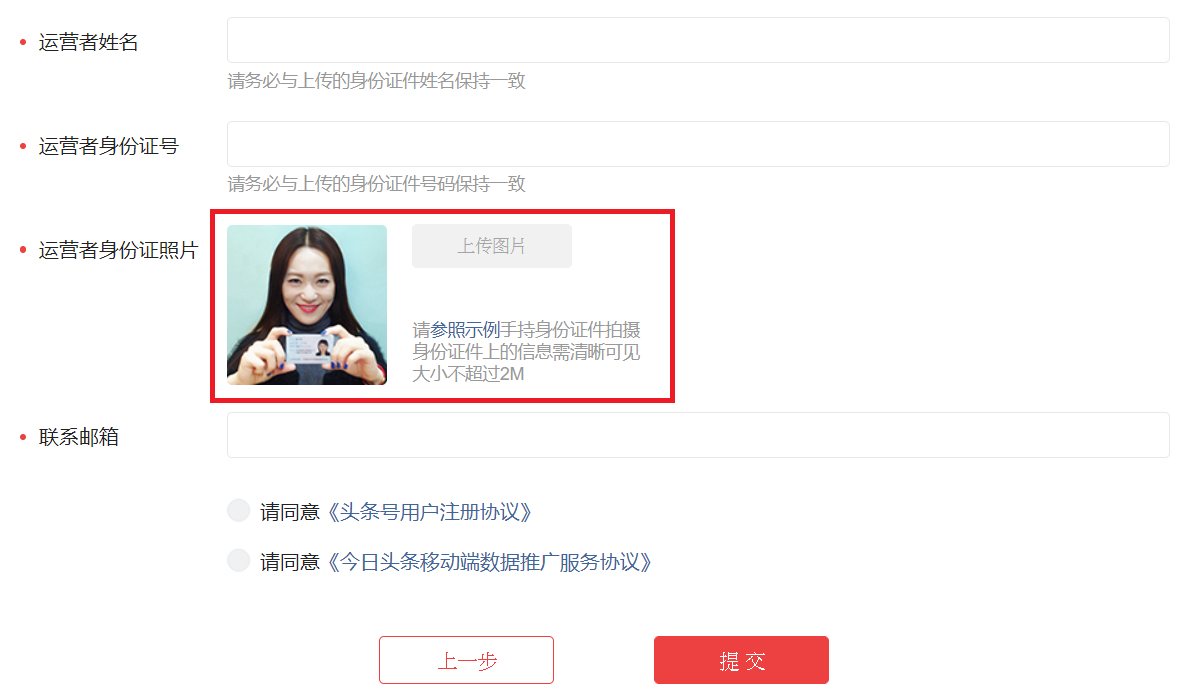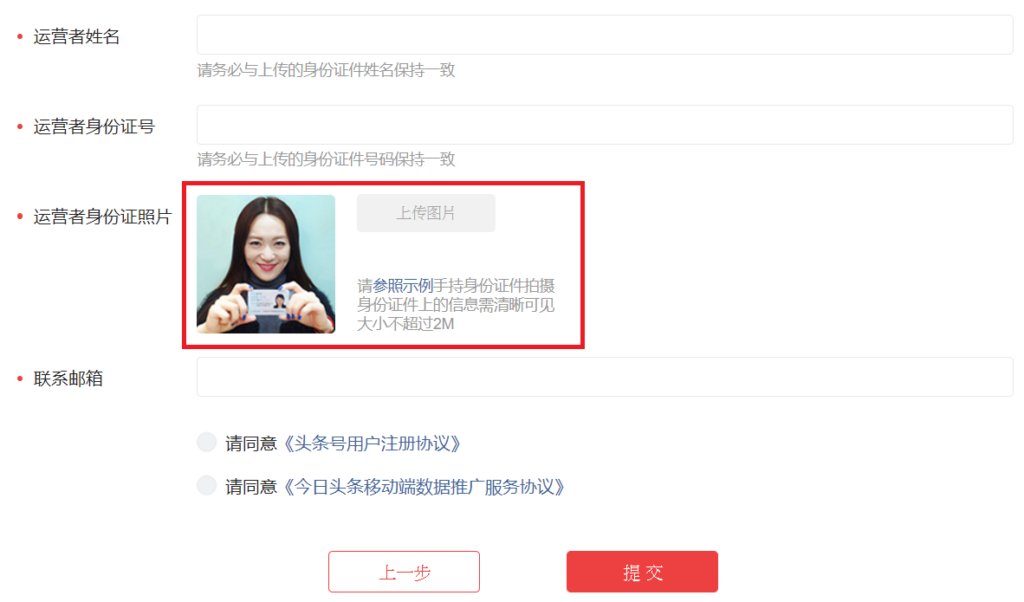 The lead time for account registration and verification is usually from one to twelve week(s), depending on the platform's requirements and the complexity of the verification process.
The Alarice team has hands-on experience in helping a wide array of brands, those with and without Chinese business entities, to successfully register and verify their Chinese social media accounts. We'll help to prepare and translate the necessary documents for account registration and verification, and manage the communication with the platforms' representatives. Upon request, we can also provide temporary account administration services and offer subsequent account customization services once the account is ready. We can manage your Chinese social media account set-up and give you a ready-made account for ongoing marketing activities.
ALARICE HELPS YOUR BRAND TO ENTERING INTO CHINA MARKET

WE CREATE IMPACT
Our team is reliable and results focused.

WE ARE YOUR TEAM
We are extension of your team. Always here to support.

WE ARE OUTSTANDING
We provide the best quality possible for achieving results.

Our China marketing research and strategy team gives you a detailed framework that will allow you to start and grow your business in mainland China

We help you to localize messages, strengthen your brand image and reach out to target audiences through Chinese social media.

We help you to establish goal-specific social marketing campaigns and fruitful collaborations with Chinese KOLs and influencers.

Identify target consumers and understand their demands and possible future trends, with Alarice's research team. We'll help you convert insights about your consumer personas into actionable strategy.

We help you to localize messages, strengthen your brand image and reach out to target audiences through Chinese social media.

Get an overview of your competitors' social media and e-commerce performance and carve out your place in China's market.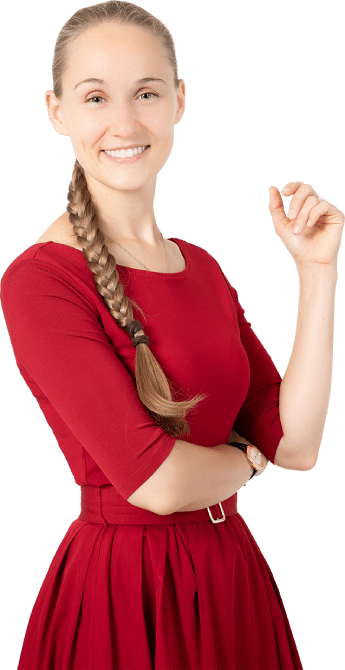 Ashley Dudarenok is a China digital marketing expert, serial entrepreneur, masterclass facilitator, keynote speaker, bestselling author, vlogger and podcaster. She's also a LinkedIn Top Voice in Marketing, Holmes Report Asia Pacific Top 25 Innovator and has been a member of JD's Global China Experts Group. She's the founder of digital marketing consultancy ChoZan digital marketing agency Alarice.
As a keynote speaker, Ashley has spoken at over 100 events across the globe for companies like BMW, Disney, Shangri-La, Deutsche Bundesbank, Richemont and TEDx. She's also given lectures at HKU Space and done talks at the China Business Centre of Hong Kong PolyU  and the National University of Singapore Business School.
A regular media contributor, Ashley has appeared in The SCMP, Forbes, The Wall Street Journal, China Daily, Inside Retail, Jing Daily, Technode, CNBC, Wired, Huffington Post as well as interviews on The BBC, CGTN and more.
CLIENTS WE HAVE WORKED WITH
" Prior to the launch of our new ship DREAM CRUISE we needed to tap into the younger Chinese audience. Alarice was a great partner to give us clarity of who they are and how to attract them! We had a very meaningful collaboration, indeed. "
" Alarice helped us create a comprehensive marketing research and strategy for China. The insights are extremely helpful and we are now ready to tackle China. Thanks Alarice team for the great work! "
" Ashley, you're "living the Disney brand"! Thanks for the amazingly insightful, high-energy and entertaining strategy workshops! "
READY TO ORDER YOUR SOCIAL MEDIA ACCOUNT SETUP? GET IN TOUCH NOW!