WEITAO GUIDE
Weitao is a content community that belongs to the Alibaba ecosystem. Consumers can get the latest insights about brands and products and directly purchase it on Taobao or Tmall. Through Weitao, merchants get the opportunity to effectively communicate with consumers and build fan bases.
Launched in 2003, Weitao is a social selling platform associated with the Chinese online marketplace Taobao. This platform is content-oriented and is built with a social feed similar to Weibo.
There are three major types of users on the platform:
1. General Users – General users can find and read content, mainly related to product endorsements (called zhòng cǎo in Chinese), published by merchants or experts as well as following official accounts.
2. Merchants (companies and brands) – Merchants can publish content that lead users to dedicated product pages in order to drive social selling. In addition, they can also build their follower base on the platform and offer online customer service.
3. Experts (similar to KOLs) – Experts can publish content that help users make purchasing decisions.
Weitao has become an increasingly important marketing channel for brands, especially those with online stores on Taobao or Tmall, to boost their e-commerce sales.
Find out more about creating an account on Weitao.
The primary marketing goal for brands on Weitao is to build their follower base. From there, the aim is to convert their followers into customers and actual sales. Content marketing is the core promotional strategy on Weitao. Alarice can help create promotional content for Weitao that resonates with your target audience. The content created will have a unified style and tone of voice based on your brand personality. We can provide branding services for Weitao and design the best calls-to-action for your promotional materials in order to maximize conversions.
Segmenting users by loyalty is a practical way to manage customer and follower relationships on Weitao. One way to achieve this is to divide users into different categories, such as non-followers, new followers and loyal followers, and target differentiated promotional activities at each and giving different privileges to each group.
Launching campaigns is also an important part of Weitao marketing. Apart from participating in the official sales events organized by the platform, brands are advised to organize regular campaigns to attract new followers and retain existing followers. Weitao allows brands to organize various online campaigns for their followers. It's best to have a different theme for each product launch and to collaborate with experts (KOLs). Brands can also quickly set up pre-orders for new products.
Last but not least, Weitao also offers advertising options similar to those on Weibo, such as boosted posts. For brands which have just started Weitao marketing, we can help you to tailor-make an advertising plan which optimizes exposure for your brand content according to your promotional budget.
Find out more about advertising on Weitao
The Marriott does systematic and complete brand marketing on Weibo, leveraging all kinds of functions on the platform in various campaigns. The brand generates exclusive content for its Weitao community as well as conduct giveaway campaigns and UGC (User Generated Content) campaigns regularly to communicate with users and encourage sharing. 
The Marriott also conducts regular livestreaming. Hotel staff and managers based in various cities always host the livestreams in a relaxed and funny style. They guide the viewers on virtual tours to experience hotel facilities, answer questions and give away vouchers or special gifts to better engage with audiences and encourage impulsive consumption.
Get in touch with us for more information on how our agency can help you make the best of Weitao.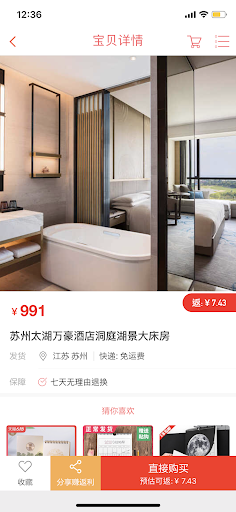 As a content driven platform within Alibaba's ecosystem, Weitao is a must for brands that want to organize campaigns and participate in big e-commerce sales events. By working with our agency, you can be sure that:
We'll develop the best marketing strategy on Weitao, focusing on your products and serving your target audience. As a Weitao marketing agency with over 9 years experience, we've worked with small and large firms in a variety of industries on the platform and our experts know how to most effectively allocate your budget to get results.
Our agency can help your company to connect different channels to make sure that marketing on Weitao is a highly effective part of your sales funnel. 
Our experts will communicate directly with Weitao's administrators to provide fast and smooth coordination. 
Alarice will assign a personal account manager who will explain the platform's rules and regulations and acquaint you with the platform's procedures. Your personal account manager will help you with any questions.
Find out more about our social media marketing services in China.
Tmall and Taobao are platforms to set-up a store. Weitao is like Weibo within your store, which aims to help you to do the marketing for your product and engage with consumers.
There are three different types of accounts on Weitao : Weitao influencer, Taobao merchant and brand accounts. Depending on your goals you can select the most suitable option for you. As a company you can get access to your Weitao account through Taobao or Tmall.
There are different tactics but most are aimed to increase the effectiveness of the touch points with potential consumers. One of the most effective marketing tactics on Weitao is to do KOL promotions. In contrast to other platforms, Weitao KOLs are previously regular users who accumulated followers.
BOOK YOUR FREE CONSULTATION NOW!