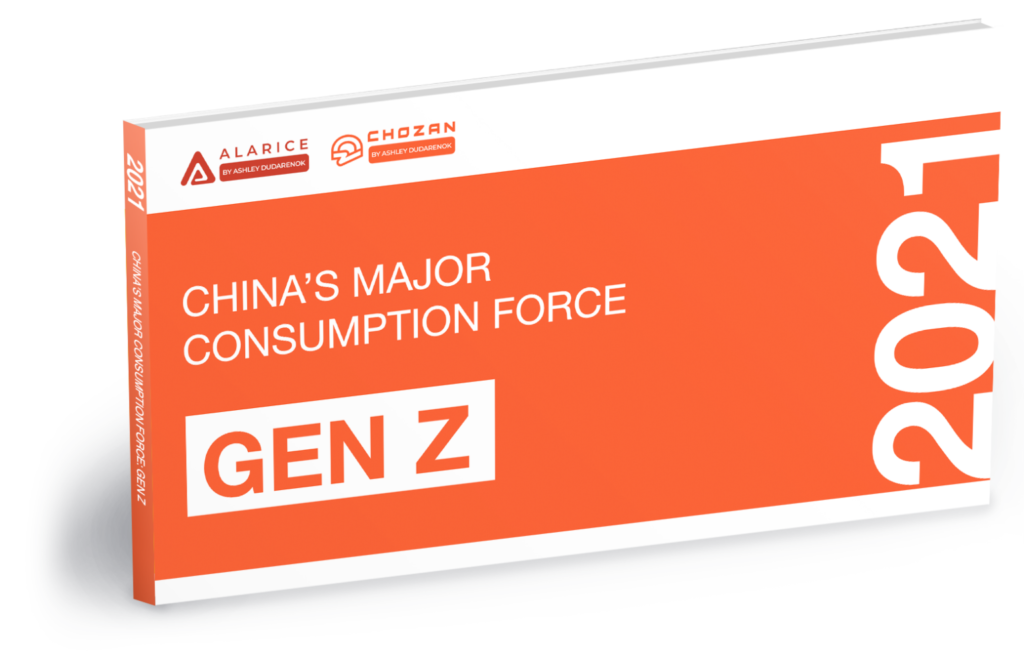 This 120+ pages comprehensive report  will give you valuable insights on China's rising consumption group – Chinese Gen Zs. The Alarice team has compiled and analysed data to give you the most well-rounded portrait of Gen Z as well as the most up-to-date and actionable insights.
Chinese Gen Z overview
Gen Z consumer insights

Shopping attitudes
F&B, health/beauty, luxury, pet, travel consumption
Lazy, guochao and fan economy consumption

Social Media Insights for Gen Z

Bilibili
Douyin
Kuaishou
RED (Xiaohongshu)
Weibo

Gen Z behaviours on e-commerce platforms

E-commerce preferences
Purchase behaviours 

Key takeaways for marketing to Gen Z in China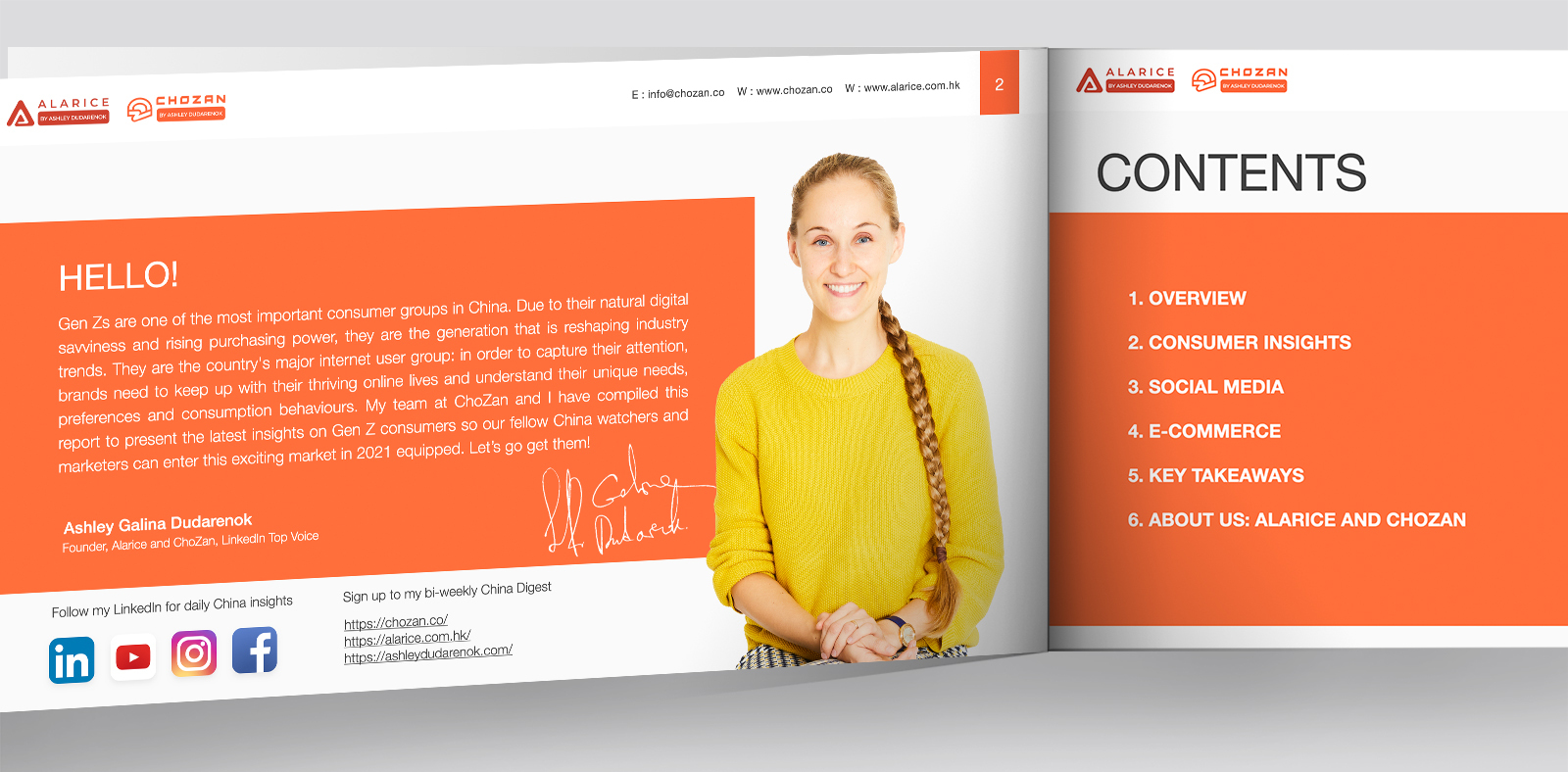 The China's Gen Z report is the third instalment of Alarice's consumer-focused reports. 
Chinese Gen Z has benefited from the 1990s economic boom and fast growth, becoming the new force in mobile internet usage and consumption. Being born in the era of rapid economic growth, they received more generous financial support from their parents and gained greater freedom to enjoy life. As the first generation of true digital natives, they are instinctively familiar with technology and have a rich online life enriched with communication, entertainment, shopping, as well as knowledge learning.
Gen Z has the rooted idea that everyone is unique and their uniqueness should be accepted. This idea is reflected in their consumer behaviours with a strong demand in personalised, unique, and cool products that can highlight their distinctive personalities. More than half of Chinese Gen Z consumers prefer to pay for customised products/ tailored services among other Chinese consumers. Furthermore, speaking of popular products, Gen Z are huge fans of domestic/ locally produced products. 
They get super enthusiastic about 'made in China' labels and products that embrace Chinese cultural designs. The Guochao is not just a trend, it is also a reflection of young people's recognition and pride in Chinese culture. The Guochao trend can be seen in industries such as luxury, apparel, sneakers, F&B and cosmetics. We also have an article about the Guochao trend within the beauty industry, you can read more here.
The consumption of Gen Z has also raised the lazy economy in China. This can be seen in the convenience food sector. Since they like relaxing at home, the consumption of instant food and self-heating convenience  food by Gen Z is significantly higher compared to other Chinese consumer goods.
For many Gen Zs, they see idol consumption as a hobby. This is not limited to KOLs, idols and celebrities, but also virtual KOLs due to their interest in ACGN. Since supporting their idols brings them happiness, they are willing to pay for anything to show support for their favourite idols, making them the major drivers of the Chinese fan economy. 
Due to the support of their parents, Gen Z are more carefree in terms of spending compared to other generations, making them one of the most important consumer groups to look out for in the China market. To help businesses and marketers grasp the exciting opportunities, Alarice team has prepared a 120+ pages insights report on China's Gen Z consumers. 
This report covers insights on Gen Z consumers' behaviours as well as the performance of various products on major e-commerce platforms and how brands can market on major social media platforms such as Weibo, Kuaishou, Douyin and Bilibili. We are excited to help western brands succeed in China, contact us if you have any China related questions.
Download Alarice's Report: Gen Z to be equipped with the latest knowledge now.
Ashley Dudarenok is a China marketing expert, serial entrepreneur, global keynote speaker, 3 time bestselling author, vlogger, podcaster, media contributor and female leadership spokesperson. She was recognized as a LinkedIn Top Voice in Marketing in 2019 and chosen as an Asia Pacific Top 25 Innovator by the Holmes Report. She is the founder of China-focused social media agency Alarice and China insights and training company ChoZan. Ashley is an active supporter of women in leadership and business and is the creator of the self-development and mentorship program FIRE🔥.
Natalia Drachuk is Marketing Director at Alarice and ChoZan. For the last 5 years at Alarice, Natalia develops global marketing strategies and social media plans.
Jacqueline Chan is Project Director at Alarice and ChoZan. She is a Chinese consumer and social media marketing expert with over 5 years of experience leading digital marketing and training projects in China
Alarice's service and resources will increase your expertise about the Chinese market, Chinese consumers, Chinese social media, KOL/influencer marketing and China's technology landscape. This includes: