DOUYIN GUIDE
Douyin is one of the most popular short-video social platforms in China. It became popular quickly by building a young generation's short-video sharing community. Douyin also has its live-stream e-commerce function to boost conversion, making the platform one of the most popular marketing tools for a variety of industries.
Douyin, also known as TikTok outside of China, is a video-sharing social media platform launched by ByteDance in 2017. It's also one of the most downloaded apps in the world and it's famous for the massive number of creative, fun, short videos its users create. Some popular video categories include lip-syncing, comedy and viral challenges. The app also features a wide array of stickers and easy to use special effects powered by AI technology that have made it popular among teens and young adults.
Douyin has collected an enormous user base since its launch. According to ByteDance's annual report in January 2020, Douyin has hit 400 million daily active users, up from 250 million the year before. According to eMarketer, Douyin users make up 67.9% of China's mobile social network users and 59% of smartphone users. With the huge increase in its user base, the video content on Douyin has also become more diversified. For instance, trending video topics in 2019 were cooking tutorials, language learning and other forms of knowledge sharing. Thus Douyin has successfully shifted to include knowledge, culture and art in its repertoire, enabling it to attract new user segments such as professionals and families.
Douyin is a great platform to increase user engagement, collect user generated content and is especially suitable for brands targeting young audiences. As content marketing with short videos becomes more and more mainstream in the future, Douyin is a useful channel for brands to increase brand awareness, launch influencer (KOL) campaigns and establish a closer relationship with consumers.
If you want to promote your brand on Douyin, contact our marketing experts for a free chat and consultation.
Similar to marketing on other social media platforms, brands can set up an official account on Douyin and push relevant content to their target audiences. Well-known brands across various industries, such as Chow Tai Fook and Xiaomi, have already set up their presence on Douyin. Some brands will set up several brand accounts to meet various purposes or needs. For example, Volkswagen has a main account and several sub-accounts to offer services in different regions. Brands should have clear positioning, a detailed content plan and use these accounts to maximize communication and awareness.
In addition to these daily operations and management, there are four common types of Douyin marketing that create social buzz.
1. Key Opinion Leader (KOL) Promotions
There are numerous influencers representing the beauty, food and beverage, parenting and child care, auto and other sectors. It's obvious that Douyin KOL promotions are highly effective and have a high sales conversion rates. However, Douyin is a very expensive platform. So are its KOLs.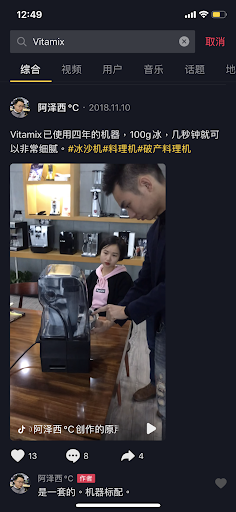 2. Challenge Campaigns
A successful challenge campaign includes a good topic, represented by a strong and clear hashtag that resonates with users, clear, easy rules that attract audiences to engage and a smart KOL strategy to lead social buzz. 
Below is an example of a hashtag campaign that got 410 million views. Lium is a plum candy brand endorsed by famous actress Yang Mi. In this campaign, the brand asked the audience to imitate Yang Mi's ad.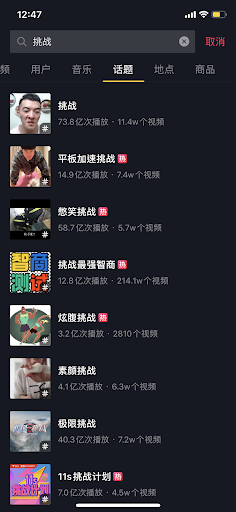 3. Music Co-creation
Music is the lifeblood of Douyin videos. Brands can leverage music to broaden awareness, increase engagement, and start trends.
Below is an example from OPPO. The brand invited musicians to create exclusive background music for its new product OPPO Reno. The music went viral and was reused by over 837,000 people in their videos. "OPPO Reno" appears at the bottom of the video whenever the music is played.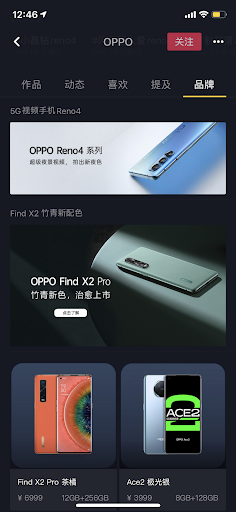 4. Advertising
Advertising is one of the most effective ways to directly drive traffic on Douyin. Promoted videos on verified accounts with a blue V drive 27% more traffic to the account. There are 5 types of ad placements on the platform, including top view, full screen ads, feed ads, banner and title sponsor, and search ads.
Find out more about advertising on Douyin.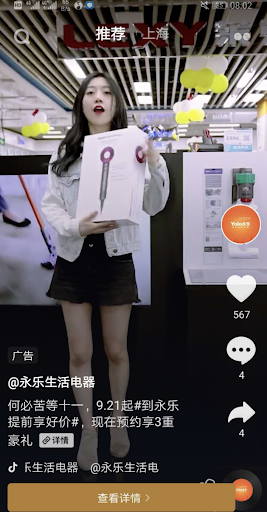 YOUR DOUYIN MARKETING AGENCY
Douyin (TikTok in the West) is one of the most effective marketing channels for reaching China's Gen Z. As a young, creative, results-oriented agency, we're huge fans of Douyin. Every day we track the most recent trends and consumer insights on Douyin and you can check a collection of some top Douyin videos on the Ashley Talks Youtube channel. 
By working with our agency, you can be sure that:
Our team will prepare the most engaging content for your account and launch effective campaigns by comprehensive China market research and strategy. Our Douyin project managers are young people with their fingers on the pulse and they know what types of content and accounts users like.
We know how to create, manage and get results with Douyin brand accounts. As a Douyin agency, we work closely with the Douyin internal team and often know of new functions and updates first. 
Our experts will help you connect with your target audience. Our account management team members are from mainland China with Western experience and exposure. This puts them in a special position when it comes to presenting Western brands to Chinese audiences in short, shareable videos.
Alarice will assign you a personal account manager and you'll also get the full support from Alarice's strategists, designers and other social media experts. As your marketing agency in China, we'll help you to create memorable content, increase engagement and build the brand's presence on the platform.
Find out more about our social media marketing services.
TikTok is the international version of Douyin. Appearing earlier on the market,  Douyin has more advanced functionality compared to it's Western version. Users not only watch short-videos, they can also complete purchases in one click, collect coupons and get virtual tours from hotels, museums or stores.
Business accounts on Douyin have more opportunities for account customization  and measuring users and campaign activities. It's also possible to verify accounts in order to build a trust base with potential customers. To open a business account you'll need similar documents as for WeChat and Weibo. Please contact our team to get a full list of the documents.
Douyin functionality and access to e-commerce make it attractive for a variety of industries. The most popular categories for consumers are beauty & skincare, fashion & luxury goods, and food & beverage.
BOOK YOUR FREE CONSULTATION NOW!