FMCG INDUSTRY GUIDE
The FMCG industry in China shows significant growth in last years. The Chinese FMCG market is moving from "Made in China" to "Made for China" with an increasing number of domestic players.
Year-on-year change in spending
The fundamentals of FMCG consumption are still sound. Despite a low price trend, sales volume still achieved 3.3% growth in the first nine months of 2021 and recovered fast after Covid cases fell in China.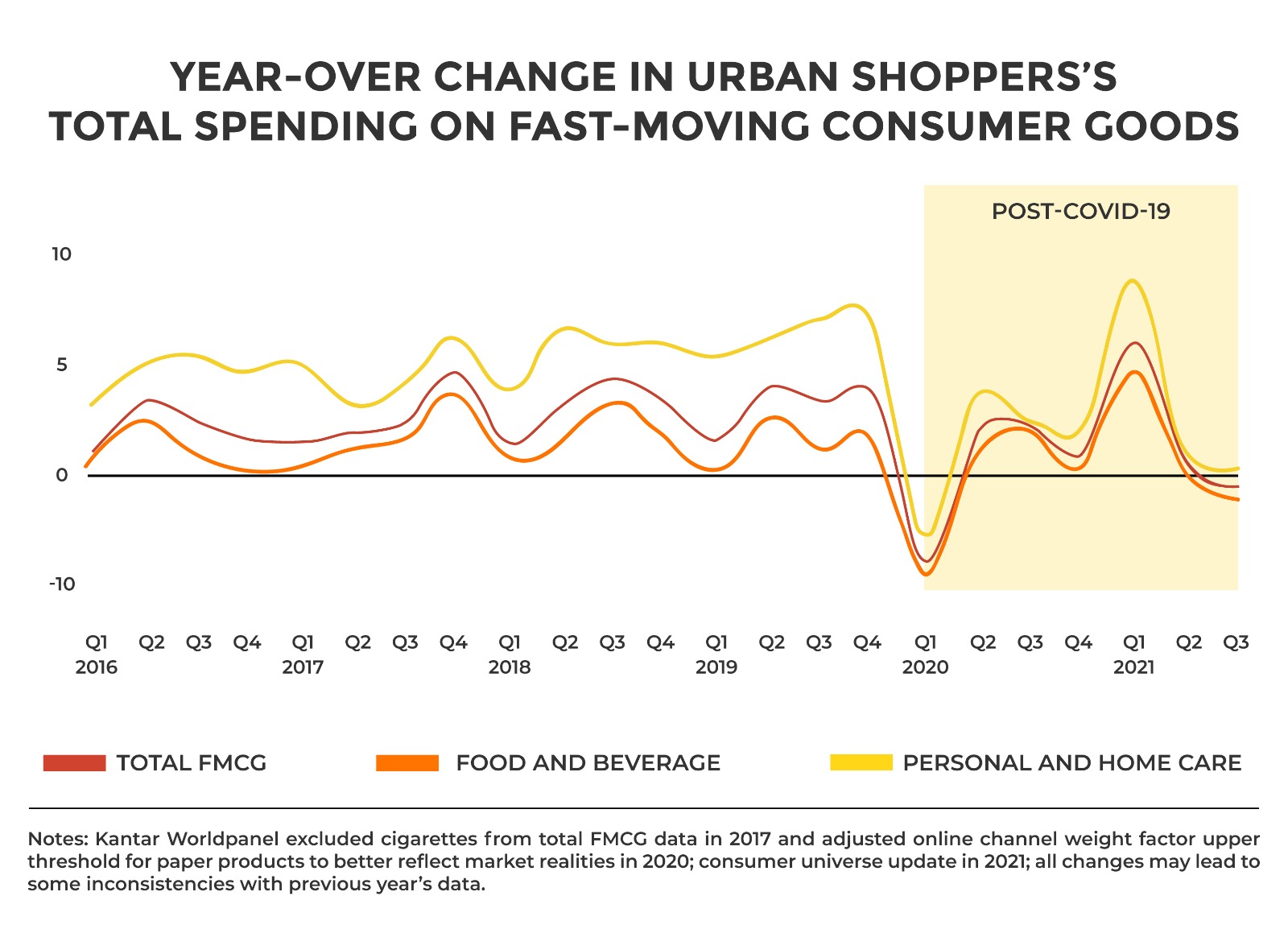 Categories
High sales growth categories*:
Mouthwash (+33%), Cheese (+31%), Kitchen roll (+26%), Instant coffee (+21%), Chinese spirits (+20%), Air freshener (+19%), Ice cream (+17%), Fabric softener (+16%), Milk (+15%), Carbonated drinks (+14%).
Biscuits (-8%), Salad sauce (-9%), Sausage (-11%), Tomato sauce (-13%), Hand Washing supplies (-15%), Instant noodles (-17%), Curry (-17%), Butter (-26%), Sanitizing products (-28%).
*YTD 2021Q1-Q3 vs. YTD 2021Q1-Q3
Growth opportunities
Consumption upgrades
China still has a large manufacturing base and is still the factory of the world in many ways, but "Made in China" is becoming "Made for China". The country has more than three hundred million upward mobile, middle-class consumers. They're well educated and have a sizable amount of disposable income. They're pursuing improved lifestyles so in recent years the FMCG market has been leaning toward higher quality, safer products.
Digitization of the retail supply chain
The popularity of FMCG goods on e-commerce in recent years is inseparable from the evolution of China's digital ecosystems. China is arguably a global innovator in digital supply chain solutions. Its tech giants run very popular e-commerce apps that dominate the mobile digital ecosystem, spawn new business models and extend existing ones. This includes New Retail and social e-commerce.
The rise of domestic players in the FMCG market
The gap in technological capabilities between the West and China is closing fast, thanks to China's savvy national digital strategy. These improvements have driven a steady rise in the quality and safety of local FMCG products so attitudes towards domestically made FMCG products are changing rapidly. Some domestic companies are beginning to dominate various categories, such as the Perfect Diary in cosmetics and Three Squirrels in snack foods.
Cross border e-commerce (CBEC) policy
Cross-border e-commerce greatly facilitates the sales of imported FMCG products in China. China allows international stakeholders to import products that are exempted from general trade regulatory requirements (no labels, no product registration, no GB (national) standards, etc.). The system uses a list of products that are allowed to be imported through cross-border e-commerce. There are two main formats for cross-border e-commerce platforms:
1) Direct mail — Chinese consumers order products on Chinese e-commerce platforms and they are mailed to the purchaser directly from the product's country of origin.
2) Bonded warehouse mode — Goods are shipped in bulk to a designated CBEC port and stored in special warehouses there. Chinese consumers buy these goods on designated platforms and they're shipped from the warehouses.
Purchase motives
Most people buy daily, basic items and their consumption potential need to be explored.
Choice of consumption channels
E-commerce channels are growing rapidly, even accounting for the same proportion of sales as supermarkets.4 Ease of purchase is the primary consideration. The core factor for online shopping is streamlined logistics, while for offline consumption it's convenience.
Information acquisition preferences
Social platforms have become the most important media channels and young people are more receptive to new media communication.
Consumption decisions
Price and quality are important consumption drivers. This is most obvious among people aged 31-40.
Consumption frequency
Imported FMCG products are well recognized but their consumption frequency is lower than domestic brands.
Preference differences by gender
Women prefer FMCG items imported from Australia, Japan and South Korea, while men prefer items from America and Southeast Asia. Women are also more receptive to media and images that focus on daily life. They're also more receptive to live broadcasting and factor in considerations such as shelf life, efficacy, product quality and more.
Strategies for effective marketing of FMCG products
E-commerce
A) User-centered strategy (Consumer)
Interact with users on shopping platforms, use social e-commerce platforms to build communities, improve the customer experience and deliver excellent customer service.
B) Saturation attack strategy- omnichannel marketing
This is often done for new FMCG brands or product launches. During the first stages, the brand takes advantage of high-traffic social media platforms to direct traffic to e-commerce platforms. In the second stage, products are put on every platform channel, allowing consumers to see and buy the brand wherever they are. 
Chinese Social Media
A) Private domain traffic strategy 
This involves creating private communities on WeChat. The communities need to be organized and moderated by brand staff or brand fans who are KOCs (key opinion consumers) in the group. They keep group members up to date on the latest product releases, answer questions, give special discounts, and generally help customers out. KOLs and KOCs can also give professional tips and tutorials. 
WeChat mini programs are used to interact with users or facilitate purchases while official brand accounts are used to get data, interact with the public, place ads and share information.
We're social media experts. We can create your private domain account from scratch, develop a platform strategy, build and moderate communities, do campaigns, do copywriting design and make your private groups a success. We have practical experience and insights on the implementation of digital marketing in China. 
In the future, user data will be more important than ever and fan bases will be vital for brands that want to expand in China.
Keep up with fast-moving trends
It's important for FMCG brands to keep up with quickly changing trends in their social media marketing. The following are some trends from recent years that can't be ignored by FMCG brands:
The Lonely Economy:
Eating alone, travelling alone and engaging in activities solo has had a major effect on the FMCG market. Single serve instant hot pot, instant rice noodles and other popular FMCG products have emerged from the trend.
Beauty Trends:
Many young male Chinese consumers have begun to pay attention to skin care, personalized clothing and so on. This includes paying attention to foods and ingredients that are seen as having a noticeable impact on one's appearance.
Healthy Habits:
Trends toward low-sugar, low-fat foods, meal replacement products, vitamin supplements, and fitness equipment are among the patterns that FMCG brands need to be aware of.
New trends can emerge in weeks or months. We give you the latest insights to make sure you stay ahead of the pack.
Increasing appeal through KOLs / influencers
A) Choose the right KOL/influencer and platform
If you're a cosmetics brand and your target users are 18-24 year old, women, what social media do they use most? Red? Bilibili? Douyin? Kuaishou? Which KOLs are worth cooperating with on these platforms?
Not only do we know which social platform your brand marketing is best suited for but we also know the KOL networks on the first and second-tier social platforms. Our social media experts have a roster of influencers that we've worked with previously and our social media team knows how to vet new influencers and arrange collaborations with them. We have a good corporate relationship with a variety of MCNs and micro-KOLs to ensure you always get the best mix of influencers.
B) Regularly cooperate with top, mid-range or smaller KOLs as your budget allows
Social e-commerce platforms (Douyin, Xiaohongshu, Weibo and others) are a good choice for brands that aren't able to open flagship stores on the dominant traditional e-commerce platforms (Tmall, JD). 
Brands can arrange cooperations with KOLs to improve sales but influencers have other roles too. Matching brands to the right influencer and KOLs who have a proven track record in different marketing facets, such as product seeding, building brand awareness and creating a positive brand image, is also crucial. And for those KOLs that do have a positive effect on sales, it's often a long-term commitment.
We audit and carry out risk assessments on KOLs before approaching anyone. Those who use fake followers are removed from our lists. We also evaluate each KOL's performance in detail after promotional campaigns. It should be noted that KOLs in China use a pay and profit-sharing model rather than a pure profit-sharing model.
If you are an FMCG brand looking to make your mark in China, you're in good hands with us. Make sure your brand doesn't miss out on big opportunities. Contact us for more information!

WE CREATE IMPACT
Our team is reliable and results focused.

WE ARE YOUR TEAM
We are extension of your team. Always here to support.

WE ARE OUTSTANDING
We provide the best quality possible for achieving results.

Our China marketing research and strategy team gives you a detailed framework that will allow you to start and grow your business in mainland China

We help you to localize messages, strengthen your brand image and reach out to target audiences through Chinese social media.

We help you to establish goal-specific social marketing campaigns and fruitful collaborations with Chinese KOLs and influencers.

We provide an all-round advertising solution to help you reach your target audience as well as get more traffic and leads.

Get an overview of your competitors' social media and e-commerce performance and carve out your place in China's market.

Identify target consumers and understand their demands and possible future trends, with Alarice's research team. We'll help you convert insights about your consumer personas into actionable strategy.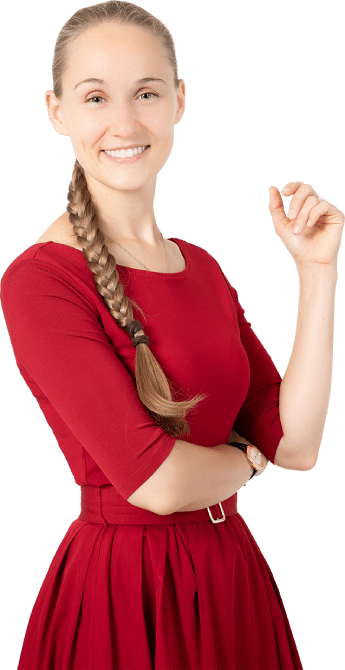 Ashley Dudarenok is a China digital marketing expert, serial entrepreneur, masterclass facilitator, keynote speaker, bestselling author, vlogger and podcaster. She's also a LinkedIn Top Voice in Marketing, Holmes Report Asia Pacific Top 25 Innovator and has been a member of JD's Global China Experts Group. She's the founder of digital marketing consultancy ChoZan digital marketing agency Alarice.
As a keynote speaker, Ashley has spoken at over 100 events across the globe for companies like BMW, Disney, Shangri-La, Deutsche Bundesbank, Richemont and TEDx. She's also given lectures at HKU Space and done talks at the China Business Centre of Hong Kong PolyU  and the National University of Singapore Business School.
A regular media contributor, Ashley has appeared in The SCMP, Forbes, The Wall Street Journal, China Daily, Inside Retail, Jing Daily, Technode, CNBC, Wired, Huffington Post as well as interviews on The BBC, CGTN and more.
CLIENTS WE HAVE WORKED WITH
" Prior to the launch of our new ship DREAM CRUISE we needed to tap into the younger Chinese audience. Alarice was a great partner to give us clarity of who they are and how to attract them! We had a very meaningful collaboration, indeed. "
" Alarice helped us create a comprehensive marketing research and strategy for China. The insights are extremely helpful and we are now ready to tackle China. Thanks Alarice team for the great work! "
" Ashley, you're "living the Disney brand"! Thanks for the amazingly insightful, high-energy and entertaining strategy workshops! "
Consumption upgrading leads to the improvement of the overall consumption level and quality of Chinese consumers, who tend to seek better quality FMCG products with higher prices. In this context, it is more important for brands to provide high-quality products than to fight "price war".We provide comprehensive market research services on China FMCG and related fields, not only with reliable data and content, but also with cutting edge industry insights. Contact us to get more insights about FMCG market in China.
Our brand Audit is a meticulous research and examination of the brand's current position in the market, customer mentality and the industry as a whole compared with competitors. We can also more closely develop and align business strategies to match your expectations. We provide brand SMM Audit, e-Commerce Audit (The Hot Key Words in Your industry), SWOT Analysis, Perceived USPs and other related brand audit services. Schedule a call with us to us to know more information.
We need to identify the KOLs/influencers with real sales conversion capabilities. It is also important to properly match KOL with your brand image.We have a roster of influencers/KOLs that we've worked with before. We also work with various MCNs and micro KOL engines to make sure you always get the best influencer mix at one stop shop.We provide KOL-related marketing services such as KOL campaign management, concept development, influencer research and outreach, progress tracking and data reporting and so on. Please contact us to know more information.
READY TO ORDER YOUR CHINA STRATEGY? GET IN TOUCH NOW!