Kuaishou, also known as Kwai outside China, is one of China's hottest video-sharing and live-streaming apps. It allows users to create short-videos to share and record their lives freely, from fishing to squaring dancing, by live-streaming themselves and communicating with fans. Kuaishou digs deep into user preferences and subdivides content into different categories covering food, sports, games, education, travel and other fields. This social software uses algorithms to create home page recommend videos that users are interested in which improves user stickiness to the platform. Also, compared to other short-video sharing platforms, Kuaishou typically targets youth in small towns outside major urban areas and is committed to promoting each person's unique happiness as its core mission. Its users can observe the real and interesting world, find people they are interested in, and also let the world discover the real and interesting of themself. Therefore, Kuaishou is known as a national-level platform with 300 million daily active users and over 400 million daily thumbs-up by January 2020, occupying a leading position in the industry, that lays a foundation for community marketing. In this article, we will discuss the characteristics of Kuaishou marketing and how to make use of this social platform to achieve your marketing goals.
ACCOUNT TYPES OF KUAISHOU
Most of the Kuaishou accounts belong to individual users, which are used by ordinary people to share their personal lives. Kuaishou is developing based on a lot of individual user-generated videos. Users with a large number of followers are also known as Kuaishou Master when publishing videos or conducting live-streaming with dozens of clicks and thumbs-up. Therefore, advertisers can cooperate with the suitable Kuaishou Master to publish advertising videos and recommend products to viewers, aiming to increase brand awareness and monetization. Due to the strong trust between KOLs and fans, brand campaigns are easier to obtain good interaction and effects. For example, last year JD.com cooperated with Kuaishou influencers to conduct live-streaming for its annual 618 Shopping Festival. During the live stream there were 10 thousand orders per minute. 
Another type of account is more professional and suitable for businesses, media, government departments, etc., to create video content in professional fields. Brands can register business accounts to promote their products on the homepage and associate the purchase link with videos or live streaming, so the audiences can be redirected to the online store and make a  purchase. At the same time, businesses can build a brand image and improve visibility, also directly nurture customer relationships, shortening beneficial conversion links and improving operation efficiency.
Account for Individual Users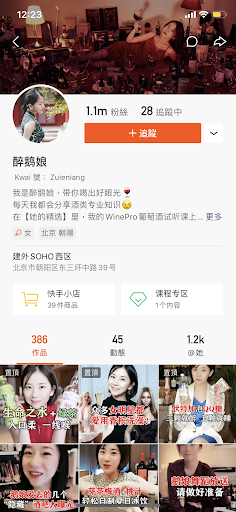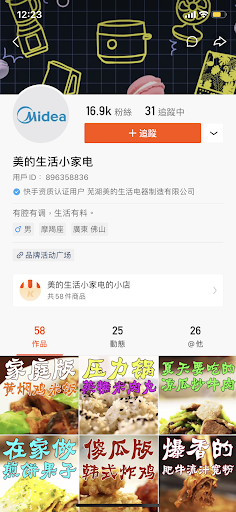 MARKETING STRATEGIES FOR BUSINESS ACCOUNTS
1. Publish original marketing videos
For example, Ziroom, an Internet O2O brand that provides rental services, introduces the advantages of Ziroom such as VR/video house viewing and butler service by publishing videos to attract users to download the Ziroom APP. To support these quality creators, Kuaishou has announced to help them increase traffic and impressions.
2. Post videos at peak time
According to official data, the activity of Kuaishou users peaks at 10 PM. If you want to publish the video at this time, considering the review time, you can release it 30 minutes to 1 hour in advance.
3. Participate in trending tags
When posting a video, you can add related tags about the video content, such as cosmetics, women's clothing or car. If someone finds your video by searching for the popular tags, your video will have a chance to make a second impression.
4. Conduct live-streaming
Live-streaming, an important function of Kuaishou, is an effective way to increase the fandom of brand accounts. During live-streaming, streamers can show the products intuitively, sell goods and interact with audiences. Streamers guide audiences to add WeChat friends, and then adds them into the consumer WeChat group; a method for conducting consumer-relationship management.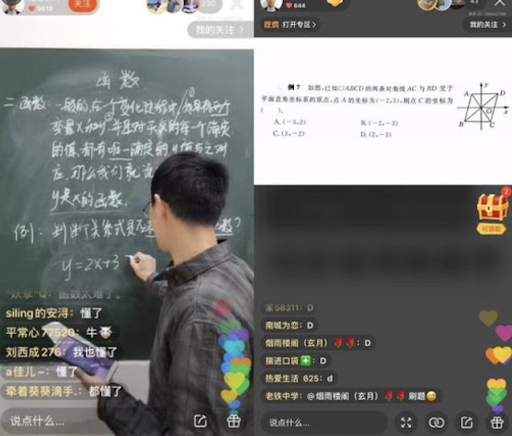 5. Obtain Kuaishou official certification
To confirm the authenticity of businesses to improve credibility. After the authentication, the profile picture of the account will be added a V logo and the business account can access the traffic resources such as search-priority recommendation, discounts on headline promotion, effect insight and other multiple features, that are conducive to brand impression and promotion.
As for other skills to operate business accounts, we will guide you in detail in the training.
ADVERTISING MARKETING ON KUAISHOU
In addition to cooperating with KOLs and operating business accounts, businesses can also place Ads on Kuaishou to quickly increase brand awareness. News Feed Ads can include videos or live-streaming links on the 'Discover page', frequently used by various advertisers. Merchants can also buy location-based services and fans promotion to reach targeted users. Another strategy is to launch the campaigns on 'Topic Tag', which calls on users to shoot related short-videos, spontaneously promoting the brand and building brand reputation. For example, Toyota Corolla launched a challenge with the topic tag and encouraged the users to create a video associated with Toyota Corolla's theme song My Way and the related tag, sharing their story of pursuing the dream. The top-ranked users can reap rich prizes, but also have the opportunity to participate in the brand's offline activities. Therefore, Toyota Corolla innovatively integrated online and offline resources.
As one of China's hottest video sharing and live streaming apps, Kuaishou is popular for foreign brands interested in attracting new audiences with high potential in lower-tier cities. By working with us, you can be sure that:
We'll set up an advertising account to provide more professional advertising services and will directly communicate with regional agents. We work closely with the Kuaishou internal team and often know of new functions and updates first.

Alarice will develop the most effective advertising strategy leveraging many factors that affect newsfeed advertising on Kuaishou. For more effective advertising, we rely on advertising data, creativity, high-quality ad content, good landing pages and cooperation with the customer service team.

Alarice will assign a personal account manager, who will help you understand the platform and prepare marketing material. Even with a suitable budget, you may still be lost in the crowd due to a lack of understanding of users, advertising formats and  popular, relatable content on Kuaishou. Your personal account manager will answer any of your questions.

Alarice will create high quality content. We work with professional video teams to drive advertising results.
Contact us to learn more about how to stand out on Kuaishou. 
FAQ
How to find eligible KOLs to collaborate with on Kuaishou?
Utilize the professional digital marketing platform to analyze the correct data and predict the ROI for each KOL by mapping out historical data. It can be difficult, but our in-house team and MCN resources can help you.
Can I manage the business account by myself while consulting with you?
Yes, we're happy to support you and your in-house team perform at your best. We can organize a consultation to review your current challenges and give our recommendations in terms of the content on your social media accounts.
What documents do I need to register for a Kuaishou business account?
If you have a Chinese business license, you can apply for the certificated business account by providing a scanned copy of your business license and some information of the legal person or agent.
If you don't have it, you can unconditionally open a common business account but with less functions than certificated business accounts.
BOOK YOUR FREE CONSULTATION NOW!