KUAISHOU GUIDE
Kuaishou, launched in 2011, is a popular Chinese short-video social platform for everyday users to record and share their lives. By January 2020, it had 300 million daily active users and approximately 20 billion short-video posts.
KUAISHOU MARKETING AGENCY
Kuaishou, also known as Kwai outside China, is one of China's hottest video sharing and livestreaming apps. With 300 million daily active users and over 400 million daily likes as of January 2020, it occupies a leading position in the industry and is a primary platform to lay foundations for community marketing.
It typically targets youth in lower tier cities and small towns outside major urban areas and is know for showcasing real lives and interesting worlds outside of China's biggest cities. However its reach and influence is spreading and its quality and services keep improving. For example, it was the exclusive interactive partner of the 2020 Spring Festival Gala. It allows users to create short videos to share ordinary moments from their lives, like going fishing and squaring dancing. People can also livestream themselves and popular vloggers can communicate with their fans.
Kuaishou digs deep into user preferences and subdivides content into different categories covering food, sports, gaming, education, travel and other fields. This app's algorithms create a home page of recommended videos that users are interested in which improves user stickiness.
Most Kuaishou accounts belong to individual users who share their personal lives on the platform. It's full of user-generated videos. KOLs and influencers on the site are known as Kuaishou Masters. Brands can cooperate with KOLs that align with their products, values and message to make creative videos and recommend products to viewers to increase brand awareness and sales. Due to the strong trust between KOLs and fans, brand campaigns on the platform are highly effective. For example, last year JD.com cooperated with Kuaishou influencers to do livestreaming for its annual 618 Shopping Festival. During the livestream, the purchase rate reached 10,000 orders per minute. 
There's another type of account for businesses, media, government departments, etc. Brands can open business accounts on the platform to promote their products on the homepage and add purchase links to videos or livestreams. You can also use your Kuaishou account to build your brand image, improve visibility, nurture customer relationships, shorten the purchase path and improve operational efficiency. Our team can assist you with creating a business account on Kuaishou.
Account for Individual Users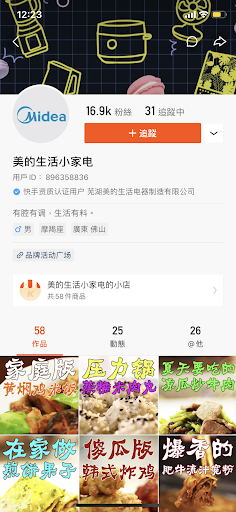 In addition to cooperating with KOLs and operating business accounts, you can also place advertisements on Kuaishou to quickly increase brand awareness. Newsfeed ads can include videos or livestreaming links on the Discover page. Merchants can also buy location-based services and make ads that reach specific targeted users. Another strategy is to launch challenge campaigns with a topic tag encouraging users to make related videos, spontaneously promoting the brand and building the brand's reputation. For example, Toyota Corolla launched a challenge with a topic tag and encouraged users to create a video associated with the brand's theme song and tag it, sharing their story of pursuing the dream. They also seamlessly integrated online and offline resources. The top-ranked users in the challenge competition could win prizes and got the chance to participate in the brand's offline event.
YOUR KUAISHOU MARKETING AGENCY
As one of China's hottest video sharing and livestreaming apps, Kuaishou is popular for foreign brands interested in attracting new audiences with high potential in lower-tier cities. By working with our agency, you can be sure that:
We'll set up an advertising account to provide more professional advertising services and will directly communicate with regional agents. As a Kuaishou agency, we work closely with the Kuaishou internal team and often know of new functions and updates first.
Our team will develop the most effective marketing strategy leveraging many factors that affect newsfeed advertising on the platform. For more effective advertising, our agency rely on advertising data, creativity, high-quality ad content, good landing pages and cooperation with the customer service team.
Alarice will assign a personal account manager, who will help you understand the platform and prepare marketing materials. Even with a suitable budget, you may still be lost in the crowd due to a lack of understanding of users, advertising formats and popular, relatable content on Kuaishou. Our Kuaishou expert will answer any of your questions.
Our agency will create high quality content. We work with professional video teams to drive advertising results.
Find out more about our social media marketing services.
Utilize the professional digital marketing platform to analyze the correct data and predict the ROI for each KOL by mapping out historical data. It can be difficult, but our in-house team and MCN resources can help you.
Yes, we're happy to support you and your in-house team perform at your best. We can organize a consultation to review your current challenges and give our recommendations in terms of the content on your social media accounts.
If you have a Chinese business license, you can apply for the certificated business account by providing a scanned copy of your business license and some information of the legal person or agent.
If you don't have it, you can unconditionally open a common business account but with less functions than certificated business accounts.
BOOK YOUR FREE CONSULTATION NOW!