SELLING IN CHINA
There are several options for selling products online in China. There's cross-border e-commerce, standard e-commerce, social e-commerce and live streaming e-commerce. Brands need to be prepared for a fiercely competitive, oversupplied China market.
SELLING IN CHINA MARKETING GUIDE
Find the latest insights for selling in China on this page, including the challenges and opportunities of entering the Chinese market, as well as the favourite foreign product categories of Chinese consumers. Get basic information on how to operate in China from qe-commerce sales and social media marketing to introductions to major business platforms. We will also provide you with valuable experience sharing.
THE MOST IMPORTANT REASONS TO SELL IN CHINA
The high growth of the domestic market
With a growing population every year (3.76 million in 2021) and a huge emerging middle class of around 700  million in 2020, China as one of the world's largest economies has extraordinary purchasing power, it is the perfect choice for many well-known foreign brands looking to explore overseas markets. In the post-EPIDEMIC era, data from China's National Bureau of Statistics shows that China's retail sales of consumer goods increased by 23% in the first half of 2021 compared with the same period the previous year, showing an emergence of consumption vitality. 
The explosive cross-border e-commerce market
During the same period, China's cross-border e-commerce imports and exports reached 886.7 billion yuan, up 28.6% year-on-year. Cross-border e-commerce has become a new driving force for foreign trade, a new channel for transformation and upgrading, and a new driving force for high-quality development.
Advanced and innovative Chinese consumers
Chinese consumers have an affinity for foreign brands and are willing to establish solid relationships with brands with good reputations. Admittedly, the Chinese government's protection of the domestic market and preference for domestic brands, as well as the strong regional characteristics of the Chinese business model, cause high difficulty in entering the market. Chinese consumers are also among the most advanced and demanding consumers in the world, and the innovative sales experience learned from the Chinese market also contributes to the success of brands' global layouts. By following some of the traditional rules of operating in China to gain the trust of Chinese consumers and properly understanding the business factors in China, a surprising number of potential quality customers will open up to you.
Sources:
https://www.statista.com/statistics/263765/total-population-of-china/
https://www.statista.com/statistics/875874/middle-class-population-in-china/
http://www.gov.cn/xinwen/2021-07/31/content_5628690.htm
http://www.gov.cn/xinwen/2021-10/15/content_5642711.htm
Beauty care/body beautification
The no.1 catergory is beauty and skin care in pre-sale Double 11 on Tmall(Biggest B2C E-commerce platform) this year, The sales volume of beauty products reached a staggering US$3.381 million, the number of orders was US$58.5 million and the average price of products was about US$60. Among them, L'Oreal, Estee Lauder and Lancome ranked first, second and third respectively in sales.
Large appliances
Large household appliances followed, with sales of US$712.4 million, but the average price per customer was the highest, reaching US$133. The top selling brands are domestic brands Haier and Midea. Among them foreign brands Siemens, Panasonic are also selling  well.
Women's clothing
The women's wear category grossed US$554 million, with about 6.1 million pre-orders and an average order price of US$90.
Sports shoes
Sneakers are also a big category to be reckoned with. The total sales volume reached US$535 million, and the number of orders was around 9 million. Foreign brands Nike, New Balance, Adidas and Vans are among the top 10 brands in this year's Tmall Double 11 day pre-sale.
Makeup/perfume/beauty tools
Beauty cosmetics and its derivative products ranked fifth, with a pre-sale amount of US$554.3 million. But the number of orders was 16.317 million , and the average unit price was 30US$.
Detergent/sanitary napkin/paper/​​aromatherapy
Such small commodity categories that improve the quality of life are also very popular with consumers this year. Following the epidemic, Chinese consumers pay more attention to the home atmosphere experience. Only on the day of pre-sales, they reached sales of US$2,318 million and the number of orders at 2.4 million.
Residential furniture
Due to China's convenient and compact logistics, even furniture that is heavy and bulky is easily welcomed by online shoppers. The number of furniture pre-sale orders reached 850,000.
Mobile phone
According to Magic Mirror Market Intelligence, in the first round of pre-sale data as of Oct 27, Sales of mobile phones reached US$26 million,the top 10 mobile phone categories with the highest sales are Xiaomi, Vivo, Honor, Apple, OPPO, RealMe, Samsung, OnePlus, IQOO and Huawei. 
Household appliances
Sales of 1597 million, ranking ninth in the category, received 680,000 orders. It is worth mentioning that due to the success of Dyson's marketing in the Chinese market in recent years, it has taken the third place in the sales ranking of home appliance brands and obtained 7,500 orders.
Men's clothing
Due to men's buying power rising in 2021, men's clothing ranks in the top ten sales list for the first time, with sales of US$ 2.4 million. The average customer price is US$ 65 and the number of orders is 3,700,242.
As a country with 57.7% internet penetration rate and 533.32 million online shoppers in 2021, China's e-commerce operation model is quite different from other countries. We will summarize some best business practices:
Step one, choose the appropriate entry models
There are three ways for foreign brands to enter China, including using a local distributor, establishing a business presence, and engaging in cross-border e-commerce.
Do the research for your industry, your product, and the region you are entering. Since China is not a single market, different groups and regions have different needs and trends. 
Step two: Choose one or more appropriate sales channels
 Unlike western consumers who are keen on buying directly from the official website, Chinese consumers prefer Taobao, Tmall, JD, Pinduoduo and other online markets. Brands can choose one or more platforms according to their own choices.
Step three: Choose appropriate marketing platforms
Choose appropriate marketing platforms on social media (WeChat, RED, Weibo, KOL marketing) and paid advertising platforms (Baidu, Toutiao).
Step four: Complete the legal document required for operation 
Especially obtaining a commercial ICP license, which enables brands to host commercial websites in China, or to set up an e-commerce site such as JD, Tmall and Taobao. Of course, if a brand has content to sell on a platform without a website, it does not need an ICP, but we still recommend companies to obtain an ICP for filing, because the process is simple and has many benefits for business behaviour.
Step five: Set up online payment gateways (WeChat Pay and Alipay)
Unlike western markets where online payment (Paypal) and credit cards are popular, it is necessary for e-commerce to open third-party online payment platforms like WeChat Pay and Alipay that can be accessed easily by Chinese consumers.
THE MAJOR SOCIAL MEDIA PLATFORMS YOU MUST KNOW FOR SELLING IN CHINA
The major social media platforms you must know for selling in China
Full social platform operation has become the new normal, for WeChat and Weibo dual platform operation has become a thing of the past. We will introduce the most suitable social media marketing platforms in 2022.
WeChat
Still the king of social media, it is divided into three modules: channel operation (WeChat content sharing, such as public account), product operation (WeChat content as product interface), and user operation (WeChat background can be used as CRM). The new features of the H5 manual can also help you better introduce products and services.
RED
If your target customers are fashionable women with strong purchasing power, RED is for you. Users are mainly first-tier city women, at 80%, sharing fashion wear with UGC (user generated content). Beauty makeup/lifestyle brands can share with shopping notes, and the use of KOL assessment.
Douyin
As one of the social media platforms becoming more e-commerce viable rapidly in 2022, it will take short video e-commerce as its future development direction. Brands can promote their products through short video, brand live streaming and other ways. The artificial intelligence technology equipped with Douyin  is also more convenient for brands to push content to target customers.
Working with KOLs
KOL advertising allows companies to advertise on multiple official KOL accounts, usually with flexible pricing, and KOLs will usually charge for promotion based on the quality, pricing and type of promotion the brand desires.
Working with KOCs
KOCs are consumers with content trusted by other consumers. They have greater decision-making influence in vertical user groups and can drive the purchase behaviour of other potential consumers. At the same time, KOC's popular reviews of product information can help brands gain the opinion of ordinary users. Although KOCs can't get the big exposure of communication,  people now have the habit of reading popular comments, which is helpful to realise the information penetration of users and brand communication.
THE MAJOR MARKET PLACES YOU MUST KNOW FOR SELLING IN CHINA
E-commerce landscape
In 2020, China's e-commerce transactions reached 37.21 trillion yuan (RMB, the same below), with a year-on-year growth of 4.5 percent. The total volume of merchandise e-commerce was 27.95 trillion yuan, service e-commerce 8.08 trillion yuan and contract e-commerce 1.18 trillion yuan. 
In the first quarter of 2021, the transaction scale of China's online retail B2C market was 160.03 billion yuan, with a year-on-year growth of 27.9%. In the second quarter of 2021, the transaction scale of China's online retail B2C market reached a historical peak of 2.274.28 billion yuan, with an increase of 16.3% from the previous period, indicating that China's online retail market returned to the normal growth track.
The key players, with their market share as of mid-2021 are:
Tmall (63.6%)
JD.com (27.9%)
VIP.com (3.3%)
Suning (2.9%)
Xiaomi (0.5%)
Tmall
The biggest B2C (Business to Consumers)  market in China. In terms of market share, in the first quarter of 2021, the total transaction volume of Tmall increased by 27.7% compared with the same period last year, occupying a market share of 63.0%, ranking it the top e-commerce platform in China. It is a higher level platform with higher entry thresholds and more well-known brands. Tmall has a high demand for foreign-branded goods, mainly in clothing, home goods and accessories. The cost of opening a store on Tmall can be broken down into three categories: a deposit (up to us$25,000), a technical service fee (depending on the main category you sign up for) and a 5% sales commission.
JD
Focused on B2C online retail with a 25% market share, JD is heavily focused on selling home appliances and electronic equipment and is the second largest e-commerce company after Taobao. Setting up a site on JD.com is more complicated than Alibaba's, with companies having to meet strict rules to get approval to sell products to ensure only quality products are sold on its platform. JD, similarly, has a relatively high initial investment cost, requiring an initial deposit of US$15,000 (refundable), an annual fee of US$1,000, and a commission of 2-8%.
Taobao
Taobao is a consumer-to-consumer platform with 755 million users, open to almost all brands, categories and budgets. With a deposit of only 1,000 yuan, zero commission and sales fees, Taobao is the best entry point for brands that don't have much sales experience in China and want to sell directly to consumers. In order to cope with the increasingly fierce competition on e-commerce platforms, Taobao also took the lead in developing live-streaming and KOL networks to increase the conversion rate and bring more opportunities for brands. The registration process for selling products is described in detail here.
Regardless of which platform you choose to sell your product, you will need to meet a number of legal requirements before you can do so. As a foreign company, you should weigh the costs and benefits of each approach when choosing.
Sources:
http://tradeinservices.mofcom.gov.cn/article/tongji/guonei/qitatj/202106/117090.html
https://www.analysys.cn/article/detail/20020108
https://baijiahao.baidu.com/s?id=1706810963243317985&wfr=spider&for=pc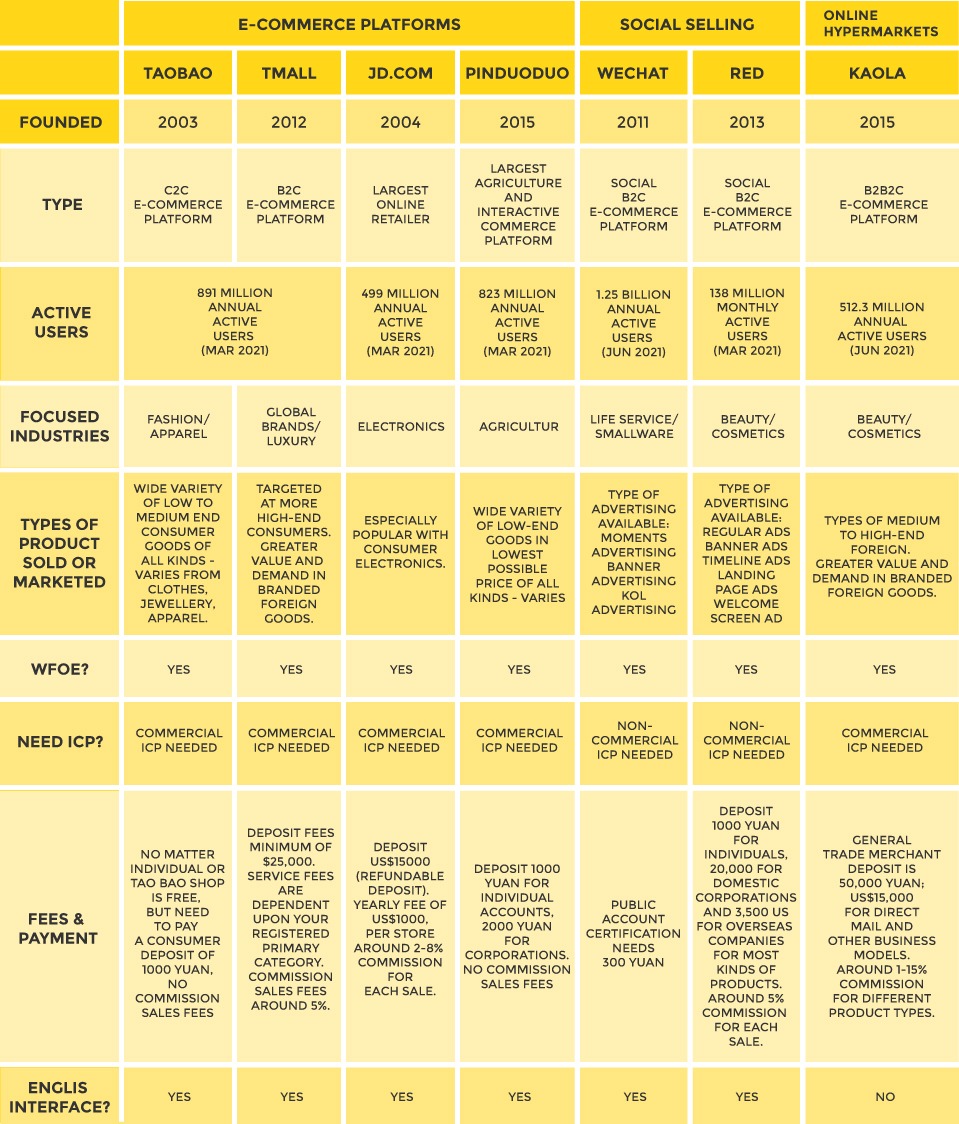 It's never easy to enter a new market, especially when it requires understanding the sentiment of a new group of consumers and their communication channels. By working with us, you can be sure that:
Our team will help you not only with WeChat account set up and management but with the most important step of all – developing a marketing strategy. We can help you use WeChat to build highly effective communication with current and potential consumers and, with 9 years of experience, we know the best tactics, tools and design solutions for clients from a variety of industries.
We'll help to verify and customize your official accounts, write articles, set up your menu bar and create a visual feel for the account
We have a team of dedicated writers and creatives who will make sure your content pops and delivers results. 
We work closely with the WeChat internal team and often know of new functions and updates first. 
We have experienced campaign managers who use the latest campaign formats, know which influencers are most suitable for your brand and know which ad tools are needed to achieve your goals.
We're also experienced at building and managing WeChat private pools, integrating CRM systems and managing WeChat mini programs. 
When you work with us, we will continue educating you. You'll not only understand Chinese consumers better, you'll also learn key functions of WeChat, see how these fit into your marketing strategy and see first-hand how good strategy drives profits. 
We'll assign you an experienced account manager, who will be in touch with you to ensure that we reach our goal together. Transparency and efficiency. Your success is our success. 
As each project is unique, we also organize consultations on how to improve your WeChat marketing performance by auditing your current activity and giving expert advice. Contact us and we'll help you turn your business goals into real outcomes. 
BOOK YOUR FREE CONSULTATION NOW!