Weibo means microblog in Chinese. It was launched in 2009 and quickly became popular. By the end of 2019, Weibo had 516 million monthly active users, 222 million daily active users who are widely distributed with more than half living in Tier 3 and Tier 4 cities. 78% of regular Weibo users are well educated. They expect high-quality, creative content, which requires brands to be inventive. 
Similar to Twitter, Weibo is where fresh news finds its audience any time, anywhere. It's fast paced and lets people see views all over the world, learn about the story behind the scenes, enables self-expression and helps people share their opinions. This also makes it perfect for celebrities, idols and influencers to communicate with their fans. There are more than 29,000 celebrities, thousands of influencers and 1.5 million brands on the platform. The platform's constant flow of novel user generated content and professional content makes Weibo popular with young people. 
According to official reports, 98% of Weibo's active users are interested in online shopping. Brands that want to get in touch with their fans, followers, advocates and potential clients go to Weibo. Fashion and beauty industry brands are regular campaign promoters. Brands in FMCG, technology, education and others also prefer Weibo.
It is popular for the following reasons:
Makes communicating with friends easy
Efficiently transitions between different pages
Powerful posting platform for daily life moments
Easily facilitates participation in different campaigns
Tracks hot topics and trends
Gives easy access to live-streaming sessions
TWO TYPES OF ACCOUNTS ON WEIBO:
Personal Accounts are the majority and are set up by regular users for personal interactions.
Official Accounts are for corporations, media, institutions, registered websites, apps, NGOs, school organizations, government departments and more.
Companies should set up official accounts. Before starting anything, it's important to have a visually appealing, user-friendly home page. After that's done, following hot topics and reposts can help brands begin to understand the interests of their target audience. Posting information on brand pages increases awareness and improves image and trust. Another opportunity to let your consumers know more about the brand is to launch creative campaigns with KOLs.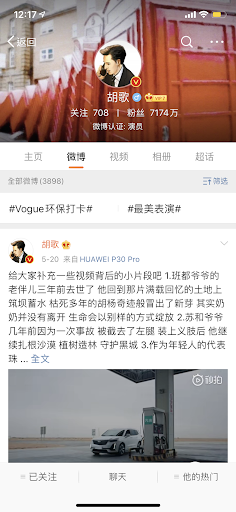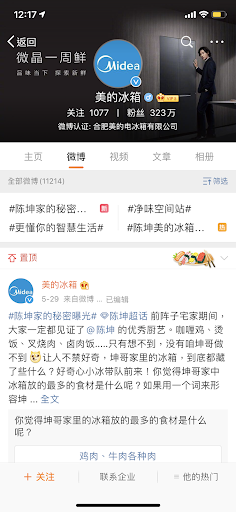 WEIBO AND OUR SERVICES
There are two types of accounts: personal accounts and official accounts. Personal accounts make up for the majority and are set up by regular users for personal interactions, official accounts are for corporations, institutions, media, government departments, school organizations, NGOs, and more.
To kick start marketing on Weibo, brands should set up and verify their official accounts. Before starting any activity on Weibo, it's important to have a visually appealing, user-friendly home page. Content plays an important role on Weibo. Brands are therefore encouraged to have a content calendar with regular posting. According to data, over 50% of accounts publish on average once a day. Following hot topics and reposting can help brands begin to understand the interests of their target audience. Posting interesting, useful information on the brand's home page and launching creative campaigns with key opinion leaders (KOLs) increases awareness, improves the brand's image and builds trust. Campaigns such as lucky draws, coupon offers and brand topics can help brands interact with the audience and analyzing follower characteristics and data from posts helps brands to develop their strategy further. In order to increase brand exposure on Weibo and to broadcast brand content to the target audience, various advertising formats are available with specific targeting options.
Our goal is to help your company build a brand image, increase your followers, engage with your audience, and convert it all into increased sales. Our social listening skills help us understand your brand and your target audience. After that, our team can provide consultations, strategy planning, content creation, campaign execution and more. We provide timely KPI reports to help you accurately assess the impact and results and understand if you've reached your business goal.
WEIBO CUSTOMIZATION:
Weibo home pages allow pictures to be posted for profiles, covers, banners, backgrounds and have space for brand-related information. It's also possible to integrate QR codes from your official WeChat account. Implementation and management can overwhelm even experienced marketers but we'll share useful tips with you and give you solutions for possible restrictions. This information will make the process of customizing your Weibo page smoother.
DEVELOPING A SOLID CONTENT STRAREGY: THE 4-1-1 RULE
It's not surprising that Weibo became popular among companies and brands as the channel to engage with Chinese consumers but the unique interests and attention range for Weibo users has become a real challenge for anyone looking to grab their attention. Every day different brands post thousands of articles so it's hard to stand out. Well-prepared solid content strategies are a must.
Brands post regularly regarding 4 types of content:
Makes communicating with friends easy
Soft content
Interactive content
KOL promotion content
Weibo users prefer formats using multimedia content but what's most important is the frequency and sequence of content. Based on our experience as an agency, the 4-1-1 Rule ensures effective communication with your followers. We'll teach you all about it.
FOLLOWER ACQUISITION AND DEVELOPMENT
The primary goal of most Weibo marketing strategies is the continuous growth of followers. There are four major methods which can help brands to attract initial audiences:
Utilizing current databases
Using key opinion leader promotions
Weibo advertisements
Weibo online campaigns
All of these methods have pros and cons but once you accumulate a healthy follower database, it's easier to convert them into real customers. Launching Weibo marketing campaigns requires higher levels of management and more tools. Users see these interactions as fun and entertaining but for brands, they're an opportunity to do word-of-mouth marketing.
WEIBO CASE STUDIES
Weibo marketing campaigns require higher levels of management and more tools. Users see these interactions as fun and entertaining, but for brands, they're an opportunity to do word-of-mouth marketing.
Over 9 years, we've helped our clients craft tailored strategies that build, promote and protect the brand online in China. 
We helped an international mega event increase its followers from 0 to 163,000 in 18 months and increased a Russian luxury hotel's followers to 20,000 in 6 months. Helping brands break through in this new and challenging market is one of our specialties. 
We've also had a product-based co-branding campaign between dairy products and beverages, which has earned impressive results: they both witnessed growth in sales and won lots of views on the brand topics. Besides, a Korean beauty brand launched a campaign with Chinese celebrities, because of the good choice of the people who fit in the brand image, it helped them to increase the followers and got a significant growth in promoting products.
How do we help brands win on Weibo? There's more to it than posting frequently. We pay attention to timing, sequence and content. Our team formulates monthly posting plans that change during the different brand building phases. For example, at the new fan attraction stage, KOL promotions can drive traffic and exposure. During the fan base expansion stage, soft content connected with the brand's essence and content advertising are best. In order to enhance fan loyalty, posting with appropriate trending topics to trigger discussion and ongoing communication is the order of the day. Step by step, we're going to build a brand's image and improve its reputation.
WHY US?
China is complex, fragmented and is different from Western markets in some key ways. It's necessary to know the social media rules and regulations and to be familiar with the procedures and documents required to set up an official account on platforms. Our team is experienced in dealing with these issues and can help you deal with them smoothly to get your brand on its way. 
Some international brands aren't familiar with China's political correctness issues and get themselves into PR crises. As Chinese marketing experts, we will help you avoid the risks.
Chinese social media platforms change often and fast. We can provide the latest information and launch the most effective, on-trend marketing campaigns using the most updated features and functions.
We're a young, creative, results-oriented team. There's no cookie cutter plan for us. Every marketing plan is tailored to each unique brand so that they can achieve their goals. If you're interested in China, come talk to the China marketing experts.
FAQ
How much content will you put out each month?
Depending on your needs, audience and the scope of work, we'll publish between 15 and 80 Weibo posts each month. We'll craft compelling, visually appealing posts and link relevant ones to China's most popular topics of discussion and do mini campaigns to engage with followers. Weibo is all about sharing fun, useful content.
Can I manage the account by myself and consult with you?
Yes. We can support you and your in-house team. Schedule a consultation. We'll review your challenges and give our recommendations on your content.
BOOK YOUR FREE CONSULTATION NOW!