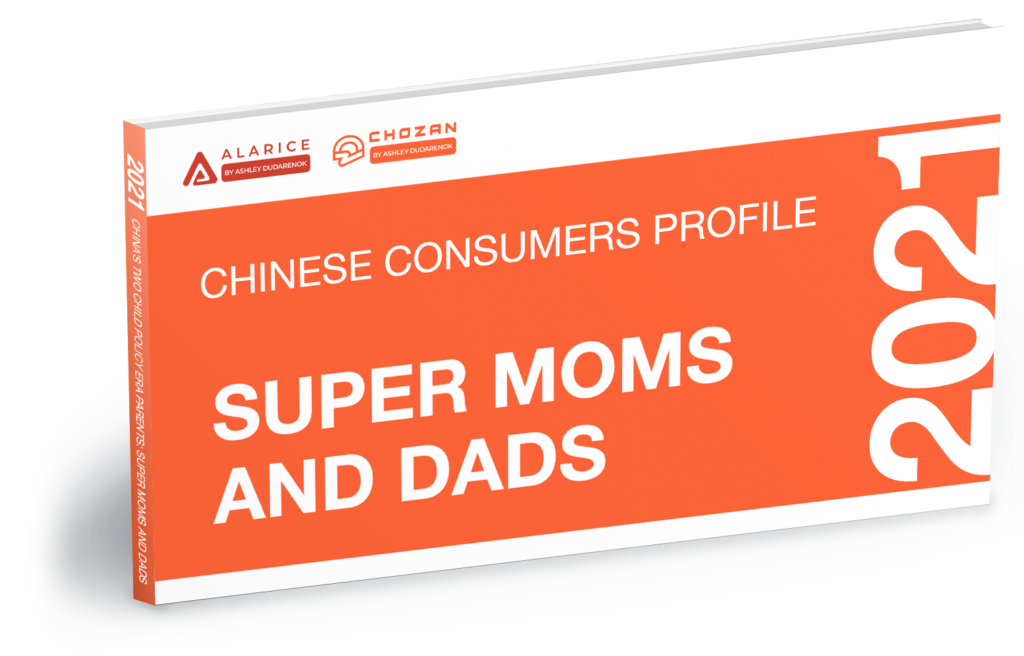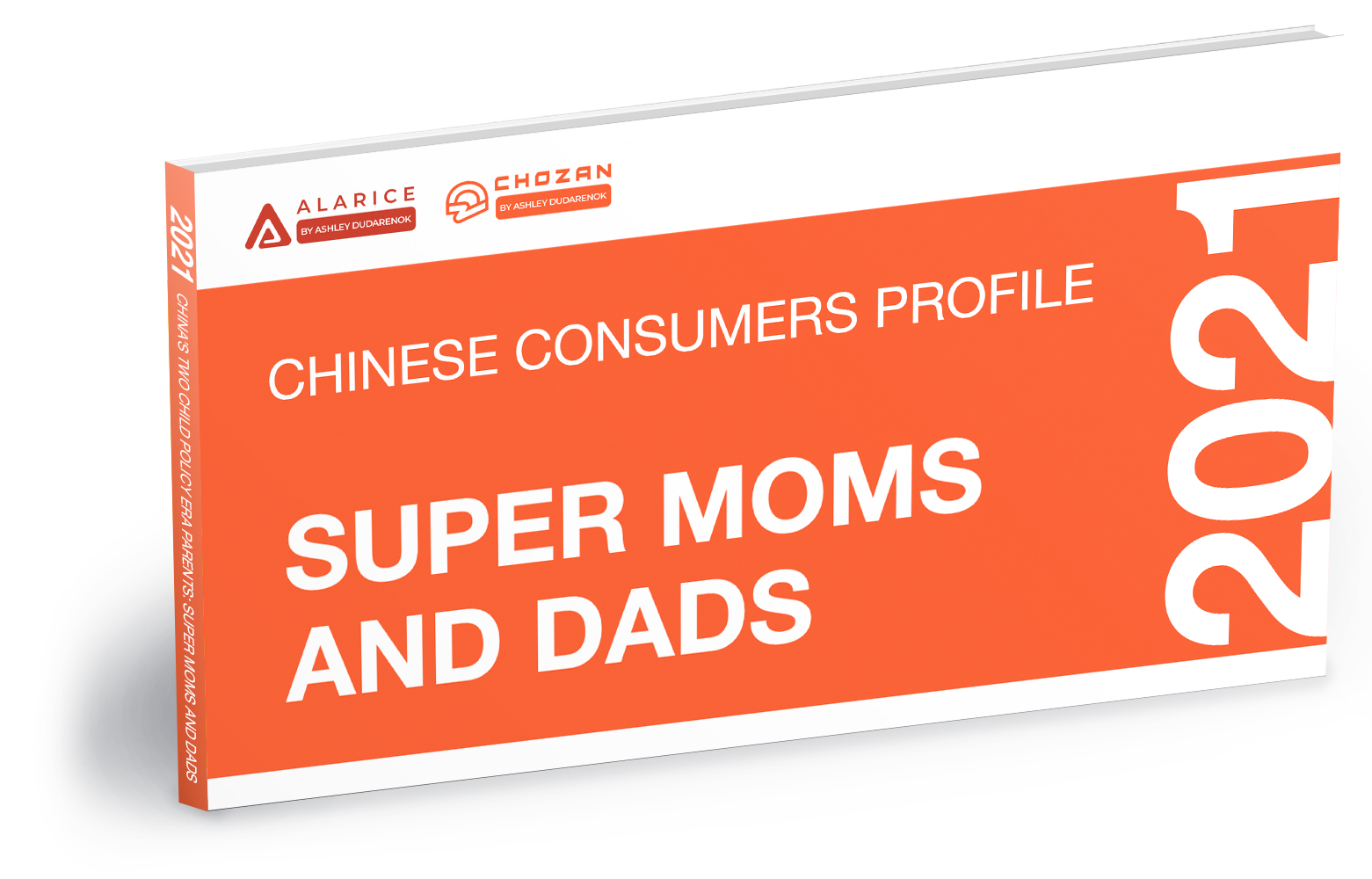 Chinese Consumers: Super Mums and Dads
This 60+ pages report gives you the latest insights about super mums and dads as modern Chinese Consumers. Our Alarice team has extensively compiled and analysed data to give you the most well-rounded portrait of modern super mums and dads as well as the most up-to-date and actionable insights.
Overview of the Maternal and Baby Product Market
Consumer Insights: Super Mums 
Consumer Insights: Super Dads 
Social Media Platforms for the Maternal and Infant Industry in 2020
E-commerce Platforms for the Maternal and Infant Industry in 2020
Key China Expert Opinions on How to Reach These Consumers in China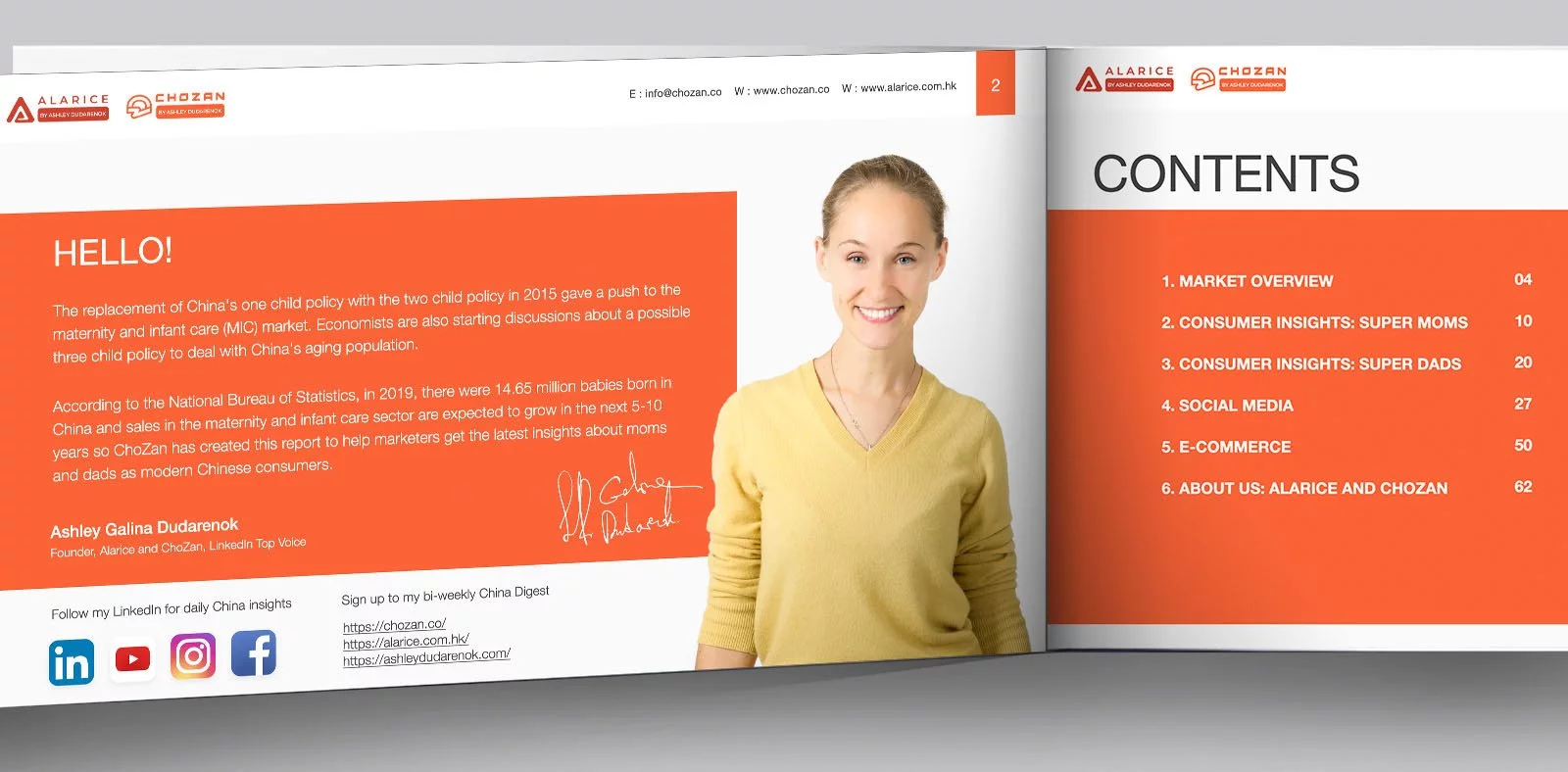 Marketing Guide: Super Mums [And Dads] is one of a series of consumer-focused reports with a special emphasis on China's e-commerce and digital marketing.
The two-child policy in 2015 created an organic push on the maternity and baby products market and industry. According to the National Bureau of Statistics, there were 14.65 million babies born in 2019. At the same year, the revenue of the maternal and baby products market reached 2.9 trillion RMB. Industry growth is expected to maintain an annual growth rate of 20-30% for the next ten years.
The maternal and child industry still has substantial potential to be developed. The online e-commerce business will be the core focus of the maternal and infant industry. In order to help companies stay competitive, Alarice team prepares a 70+ pages insights report. We are excited to help western brands to succeed in China, contact us if you have any China related questions.
For the last 3 months, Alarice team was collecting information on a daily basis about Super Mums and Dads as a key consumer group. We dived into their shopping behaviour, preferences, demands, interests, and did social listening on major trends. This report will give you a comprehensive overview on Super Mums and Dads, one of the most promising Chinese consumer groups that brands and companies need to pay more attention to.
Super Mums and Dads also use social media platforms such as WeChat, Kuaishou and other parenting apps to ask questions and share information or experiences. It's important for businesses to engage with these users on social media platforms as social-commerce is one of the most efficient sales channels in China. This report also presents key characteristics and consumption patterns of middle-aged fun dads and small-town mums.
Download Alarice's Marketing Guide: Super Mums [And Dads] to be equipped with the latest knowledge now,
Ashley Dudarenok is a China marketing expert, serial entrepreneur, global keynote speaker, 3 time bestselling author, vlogger, podcaster, media contributor and female leadership spokesperson. She was recognized as a LinkedIn Top Voice in Marketing in 2019 and chosen as an Asia Pacific Top 25 Innovator by the Holmes Report. She is the founder of China-focused social media agency Alarice and China insights and training company ChoZan. Ashley is an active supporter of women in leadership and business and is the creator of the self-development and mentorship program FIRE🔥.
Natalia Drachuk is Marketing Director at Alarice and ChoZan. For the last 5 years at Alarice, Natalia develops global marketing strategies and social media plans.
Jacqueline Chan is Project Director at Alarice and ChoZan. She is a Chinese consumer and social media marketing expert with over 5 years of experience leading digital marketing and training projects in China
Alarice's service and resources will increase your expertise about the Chinese market, Chinese consumers, Chinese social media, KOL/influencer marketing and China's technology landscape. This includes: