With Chinese consumers' increasing awareness of skincare and sophisticated demands for high-quality products or services, it is estimated that the market size of the Chinese skincare sector will reach RMB 11.3 billion by 2022 and is expected to hit RMB 24 billion by 2027. However, these positive signals cannot guarantee that sticking to a static marketing strategy would be sufficient to achieve growth in the fiercely competitive China skincare market. 
In this post-pandemic era, we've observed an emerging and interesting consumer trend during our research. That is, in the wake of the high unemployment rate and repeated lockdowns in the mainland, consumers have increasingly restrained their consumption and are inclined to be more selective, lower-price oriented and focus on functionality, as they sometimes nickname themselves "practitioners of consumption downgrading" and a "specialist in living a minimalist life".
Translating this key message into the beauty and skincare market, a "back to basics" viewpoint and a more consumer-centric marketing approach can be the next winning formula to proactively communicate with customers and win over their hearts.
Want to stay agile and relevant to win your brand new growth opportunities or become a promising rising star? Meet the Skin-Minimalists, China's new trending consumers.
Read on to understand the Chinese Skin-Minimalism trend and how to ride on this trend.
What's skincare minimalism in China and why is it "in"?
Keywords associated with skincare minimalism on Chinese social media platforms have gained huge attention in recent years, with the striking attention of 10.8 million hashtags and over 20,000 posts on RED – the most trendy lifestyle platform for Chinese young people, according to research. But why is this emerging trend so significant among Chinese consumers? Is this just another similar round of skincare market repercussions like Skinimalism in the West? What do Chinese consumers talk about when they talk about "being skincare minimalists"?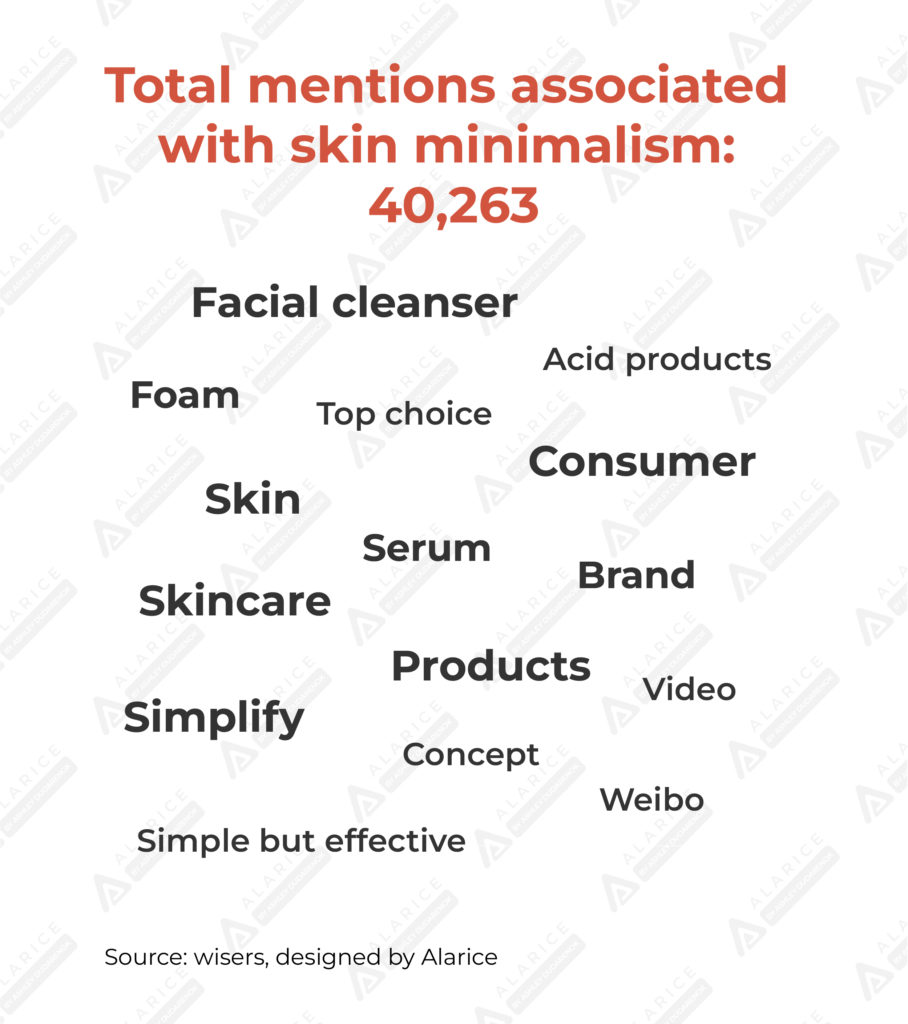 Source: wisers, designed by Alarice
Based on our social listening monitoring as shown, the concept of Skinimalism is closely linked with keywords such as "skin care" "products" "facial cleanser" "foam" "serum" "top choice" "consumer" "simple but effective", etc during the past six months, attracting 4,0263 mentions in total. 
Combining the general downward trend of the consumer market in the post-pandemic years and consumers' more sophisticated yet frugal lifestyle, it is not hard to detect that more consumers are zeroing in on a 'back to basics' skincare approach. Instead of purchasing an extensive array of products to overlay on the face, it is about simplifying skin care and building a regimen that helps achieve healthy, glowing skin with only the necessary amount of products. That's why for skincare minimalists, facial cleanser, serum and sunscreen are the top three categories. They believe that cleansing, moisturising and sunblock products have already included all the benefits they need from skincare products. 
Some of the ingredient-oriented consumers have picked up the habit of overdoing their at-home skin care because they have more time and are worried because they can't have their regular treatments. But some dermatologists identify the erosion of the skin barrier as the number one cause of skin issues mainly because of the excessive usage of several individual products containing conflicting irritants. 
Skincare Minimalism
Skincare minimalism, although it sounds like a radical backlash, is not just about reducing the product selection to the least, but about finding effective formulas and balancing these ingredients to the best. 
Instead of being a cult follower of buzzing ingredients, Chinese skin care minimalists pay more attention to the internal steadiness and balance of ingredients. Rather than taking an active step forward, they choose to slow down these procedures and put focus on basic functionalities, endowing their own skin with air to breathe and time to naturally restore.
Besides real-time social media observations to grasp their skincare attitudes and behaviour, it is even more essential for brands to conduct more in-depth consumer research and to probe into their skincare psychologies, buying motivations and the key factors influencing their decision-making process. Equipped by our extensive research and previous case studies on beauty and skincare brands and their consumers, here we list some takeaways to give you an idea of how we can leverage skin-minimalism insights to make a difference. 
How can brands tap into the skin-minimalist trend?
01 Team up with dermatologists and influencers for expert skincare advice
Many posts on RED, no matter the product seeding or the users' authentic feedback and review, all deliver a vibe of sincerely communicating with each other about true feelings of using certain products. And delivering scientific and practical knowledge by professionals and KOCs is important.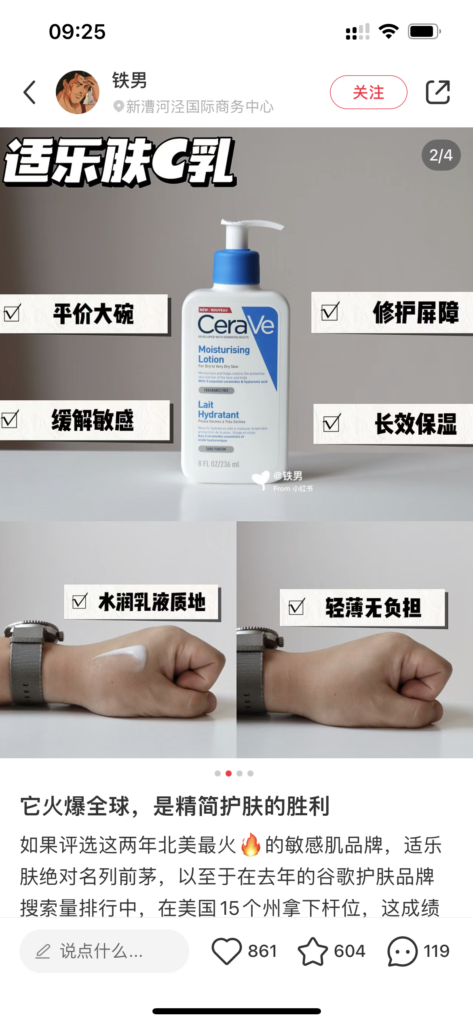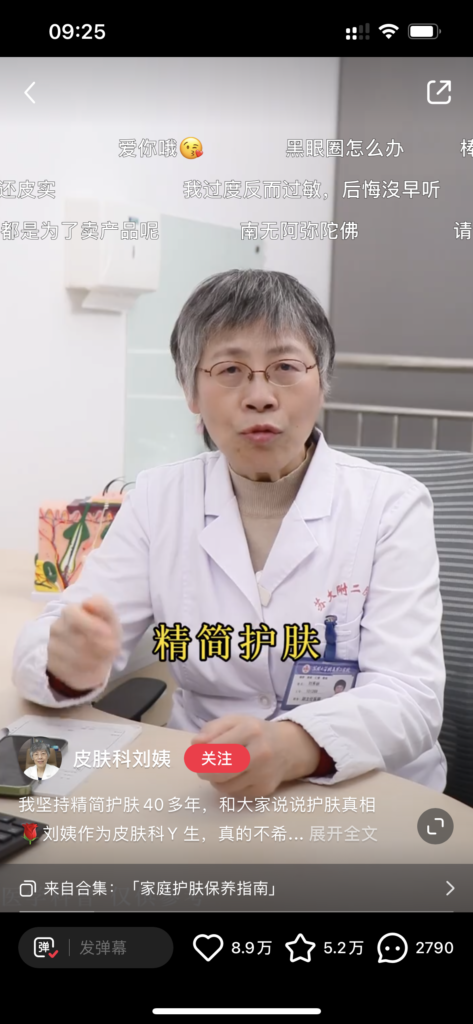 Sources: Screenshots from RED posts
Brands targeting this group of consumers have collaborated with professional dermatologists to educate the market about the perks of keeping a simple yet effective skincare routine. Auntie Liu, as a professional dermatologist following skinimalism routine for over 40 years, shared her knowledge and insights around three basic steps of skinimalism: cleansing, moisturising and sunblock, to enlighten consumers. 
Also, the marketing investment on medium and small KOLs' product seeding posts achieves great results by staying sensitive to consumers' pain points and guiding them through easy-to-follow content. CeraVe has partnered with KOCs to educate the market about its unique selling points: affordable, no pressure for skin, cost-effective, light and moisturising, etc. The associated keyword of skinimalism has brought out much attention for its products. 
Brands which want to ride on this trend can dive deeper into their product offerings and find out the connection points between skincare minimalism and key product features. And building a more effective influencer strategy by cooperating with skin care professionals and KOL/KOCs to deliver authentic skincare knowledge is also key.
02 Use lifestyle content (PGC, UGC) to spark conversations with your audience
The success and effectiveness of skincare brands nowadays lies not only in BGC (brand-generated content) but more in PGC(professional-generated content) and UGC (user-generated content), which diverts the attention from promoting certain products to communicating an impressive idea subtly and tactically. Lifestyle marketing is often supplemented by users' spontaneous sharing about the positive shifts of their skincare mindsets and lifestyles, making communication more open and democratic.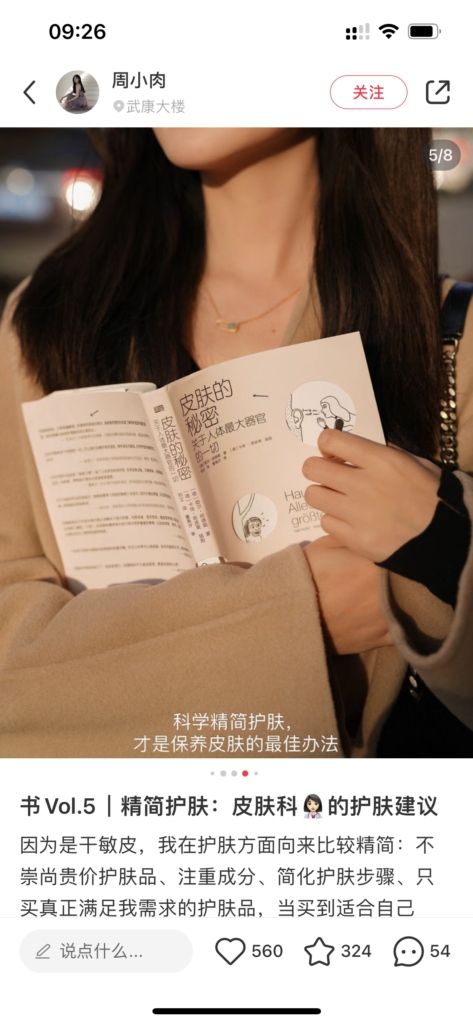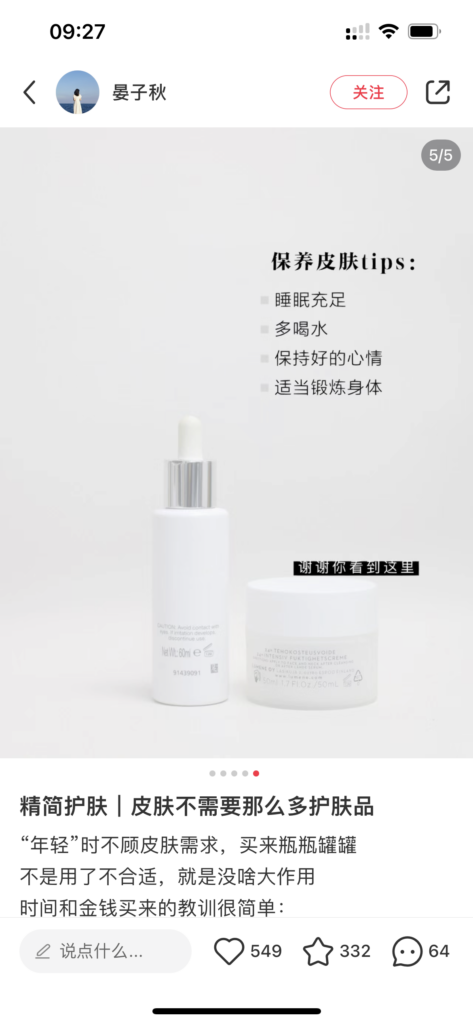 Sources: Screenshots from RED posts
For example, these skincare minimalists uphold a more scientific and holistic approach toward nurturing the radiance and steadiness of their natural skin instead of merely reducing the symptoms. This includes embracing a healthier lifestyle, reading classic guidebooks about skin care management, developing a beneficial diet to achieve more meaningful health goals. To them, beauty pursuit means not a superficial presentation to others but rediscovering the inherent textures of their skin and embracing their inner beauty.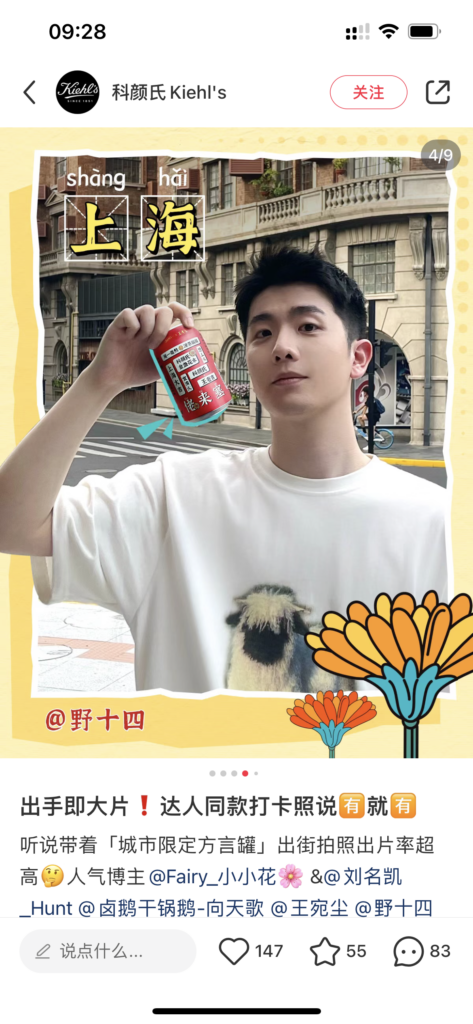 Sources: Screenshots from RED posts, co-branding with Wong Lo Kat and PGC/UGC content
What's more, while this "less is more" philosophy is on the rise, brands need to consider using creative and localised tactics to bring some of their basic products into new life. Kiehl's launched co-branding campaign with Chinese well-known herbal tea brand Wong Lo Kat, leveraging the concept that its hero product Calendula Herbal toner and herbal tea can work together to soothe the skin and maintain stability. The brand discovers the "more" with probing into the "less" and proactively introduces and guides another refreshing round of skincare mindset change.
To lead another round of skincare attitude and routine changes, brands should speak to the heart of young consumers and co-create the more exciting lifestyle contents.
03 Replace the overwhelming 'place' of products with minimalist 'space'
While skincare minimalists consider leaving more time and room for the skin's inherent restoration meaningful, brands should create key visuals and express an identifiable philosophy to truly impress this group of people. Compared with presenting an overwhelming set of products, breathable and minimalist visuals seem to help explore more of the users' inner world and arouse emotional alignment.

Source: Screenshot from Aesop official website
Take the example of Aesop, whose products and brand philosophy have been well-received by young Chinese people in recent years. Their official website's primary visuals and design adopt a genderless, minimalist and artistic style but not without its textures. Providing lessons from the lab and reading lists of niche literature and songs speaks to the heart of the consumers who embrace a unique lifestyle.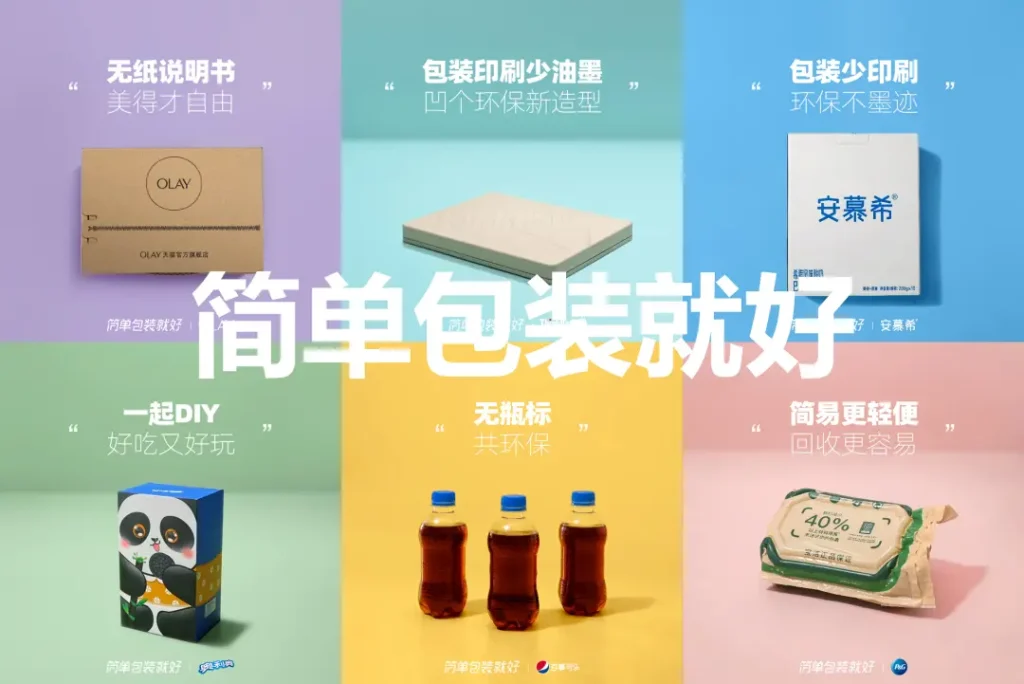 Source: Phoenix New
Besides choosing the products that align with their "less is more" pursuit, it can be observed that these customers are increasingly paying more attention to evaluating the ESG (Environment, Social and Governance) aspect of a brand and a corporation. Thus, to precisely target them, brands need to know the striking overlap of green consumption consumers and skincare minimalists and launch campaigns with themes such as package reduction or leading a greener life.
Conclusion
Instead of using mass promotional tactics, nowadays, it is more important for beauty and skincare brands to truly communicate with a consumer-centric mindset. As a special group of consumers who respond to the economic downturn and post-Covid uncertainties, Chinese skincare minimalists tell a lot. Consumer research about this niche group can offer great insights to help brands better position themselves in the market, further optimise their product offerings, and construct an effective digital marketing strategy in the years ahead.
Informed by these in-depth research results backed by quantitative survey, focus group interview, consumer journey key touch points analysis, brands can capture the emerging skincare trends and understand the users' sentiments more accurately. When the Chinese skincare market is saturated with "one cure fit for all" claims, brands which spend time and resources improving the quality of basics and marketing toward a more holistic health-focused mission may become more visible and influential.
Besides investing in visual merchandising assets which deliver a simple but impactful look and feel, it is also key to collaborate extensively with medium-to-small size KOLs and KOCs to co-create the content and nurture a strong fan community. The minimalist philosophy "Less is more" can be leveraged to inspire and activate more eye-catching and meaningful theme events touching on sustainability and corporate social responsibility topics. 
Want to understand more about this niche group of consumers and seize these emerging skincare trends to generate quick wins in the market? Would you like to craft and refine your China digital marketing strategy based on solid observation and research about skin care minimalism? Alarice can guide you through different stages of discovery and help your brand stand out from the competition by turning these niche customers into your brand enthusiasts. 
Excited about it? Drop us any questions, concerns or your initial thought and let's make it happen! 
Sources:
https://digi.china.com/digi/20221110/202211101175578.html
https://www.cosmeticsdesign-asia.com/Article/2022/08/30/china-luxury-skin-care-trends-consumers-refocusing-on-essentiality-and-real-value-shiseido
https://edition.cnn.com/cnn-underscored/beauty/skinimalism-beauty-trend
https://www.wallpaper.com/beauty-grooming/effective-minimal-skincare-regimes