With the world slowly reopening, Chinese tourists are keen to start travelling again. Recently, due to high demand and limited international flights, Chinese tourists have been visiting domestic tourist spots in large numbers. In fact, during the May Day holiday, domestic tourism reached 119% of the levels seen in 2019.
Even as China's economy recovers from the pandemic, travellers who once sought distant adventures are now more cautious about planning extensive trips. Various issues like travel logistics, administrative obstacles, slow tourism visa processing, and the gradual resumption of flights are discouraging people from booking long-distance travel.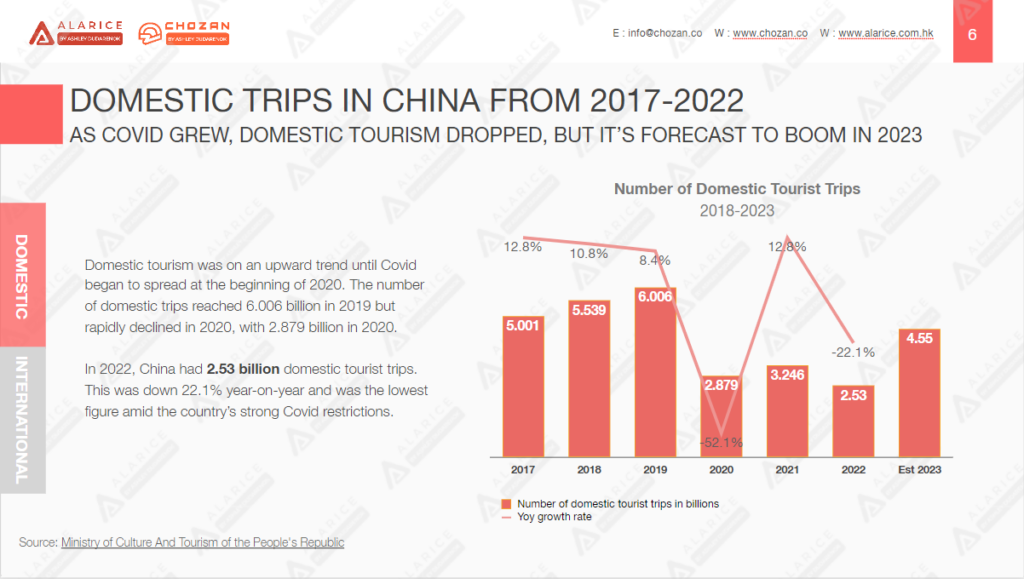 Photo from China Tourism Report 2023 by Alarice
As international flights are expected to gradually return to normal in 2023 and 2024, this presents a prime opportunity for businesses to tap into the rejuvenated Chinese tourism market. Understanding the preferences and expectations of Chinese tourists, as well as keeping up-to-date with the changing travel scene, is essential to capitalising on this chance.
To successfully navigate the surge of Chinese tourists and set your business up for success, it's vital to arm yourself with the most recent insights and tactics. Alarice has just released the China Tourism Report: How to Win with Chinese Tourists 2023. Continue reading to learn about three categories of contemporary Chinese tourists, their distinctive characteristics, and advice on how your business can meet their needs expertly.
1.The Zen Chaser
A significant number of young Chinese people, burdened by pressures from education, employment, and personal issues, have turned to spiritual practices such as temple visits and incense burning for stress relief and solace.
According to Trip, about half of the temple visitors in the first two months of the year were individuals born after 1990. With Millennials and Gen Z grappling with unprecedented unemployment rates amid a tough economic recovery from zero-Covid measures and industry slowdowns, career prospects for recent graduates have been constrained. As a result, many are choosing to put more faith in spiritual beliefs rather than their academic qualifications.
How can businesses cater to the Zen Chaser?
The Zen Chaser is drawn to locations that provide a tranquil environment and authentic spiritual encounters. Companies can highlight the authenticity of their destinations or services, focusing on elements like the history, cultural importance, and distinct traditions related to local temples or spiritual places.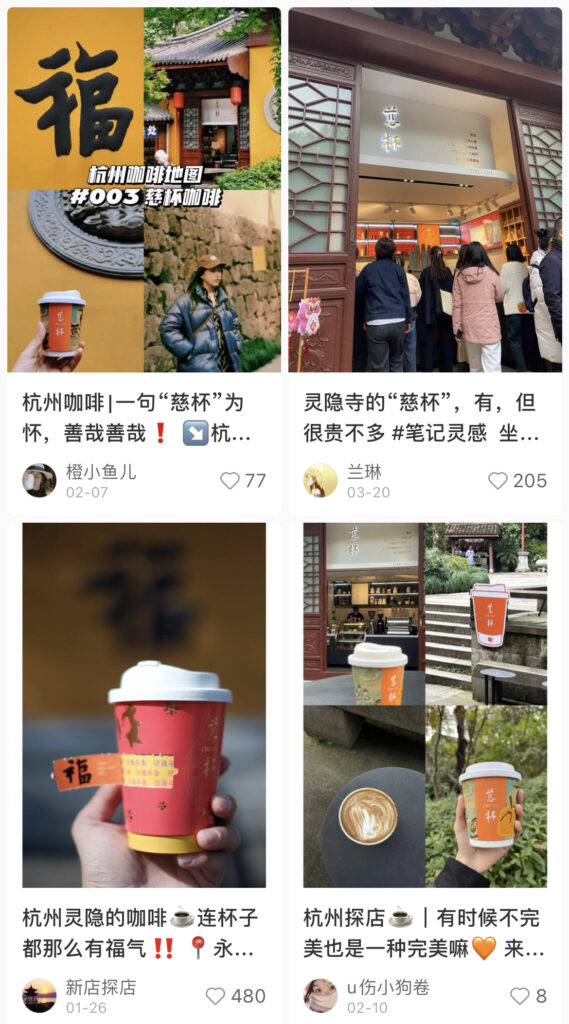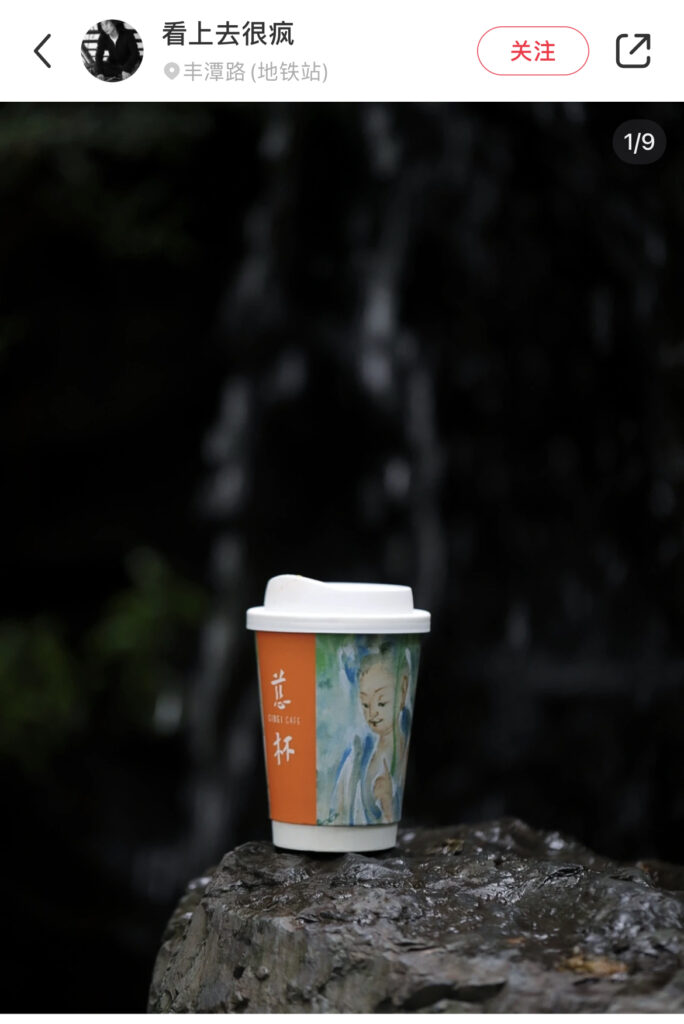 Image source: Xiaohongshu search page and @看上去很疯 on Xiaohongshu 
For example, Yongfu Temple in Hangzhou has introduced a coffee shop that masterfully fuses Western coffee culture with the traditional atmosphere of a temple. This innovative concept has often caught the attention of Chinese social media users. The coffee shop offers beverages believed to confer various spiritual benefits to those who consume them, such as an Americano touted to "dispel the drinker's troubles." There's even a "Go With the Flow" option, where customers receive a drink without specifying their preference, embodying the idea of "Buddhist fate."
The key to the coffee shop's success is its ability to offer a unique and engaging experience that aligns with the increasing interest in spirituality. By carefully blending traditional aspects with contemporary offerings, it has managed to draw in the Zen Chasers and broaden the appeal of spiritual tourism.
2.The Bootcamp-Style Tourist
After a hectic day at work or school, many Chinese are eager to undertake trips covering hundreds of kilometres to explore different cities and a variety of attractions within a 30-hour window. This time-efficient approach to travel is not only suitable for budget-aware explorers but also allows them to visit multiple destinations within a constrained time frame.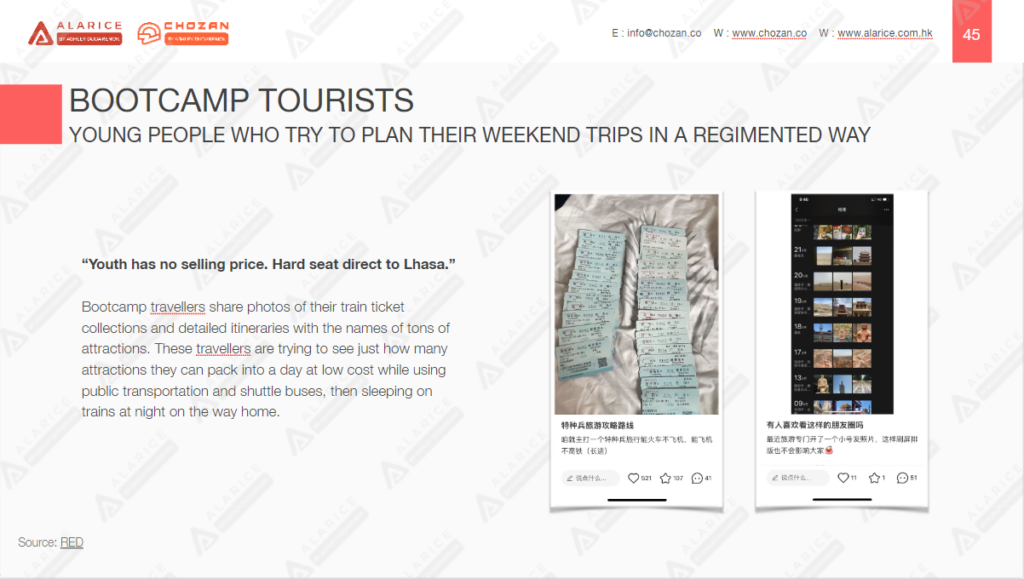 Photo from China Tourism Report 2023 by Alarice
According to Qunar, university students are the most active group on their platform. Qunar's statistics show that since March, there has been a significant increase in weekend ticket bookings for attractions among university students. Compared to air travel, students prefer train journeys, and overnight trains departing on Friday evenings are particularly popular, as they save a night's hotel expense.
How can businesses cater to the Bootcamp-Style Tourist?
A key factor contributing to the popularity of bootcamp-style travelling is the wealth of video content available on Chinese social media platforms that show how it can be accomplished. Many short videos on platforms like Xiaohongshu and Douyin offer detailed guides on how to undertake these expeditions. Viral videos bearing titles like "How to Explore Beijing in 24 Hours" or "Experience the Entirety of Chengdu Within a Weekend" have managed to captivate audiences.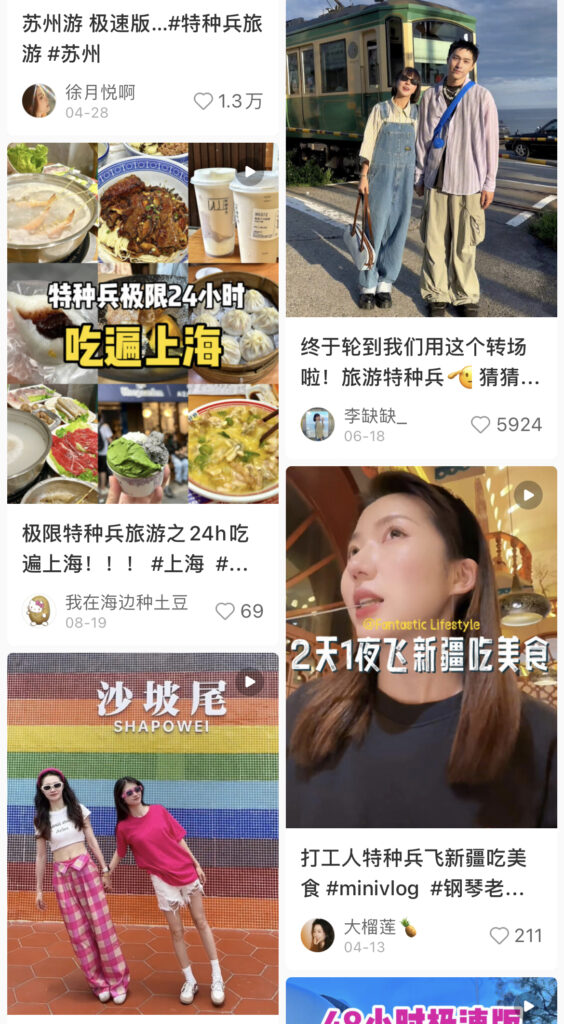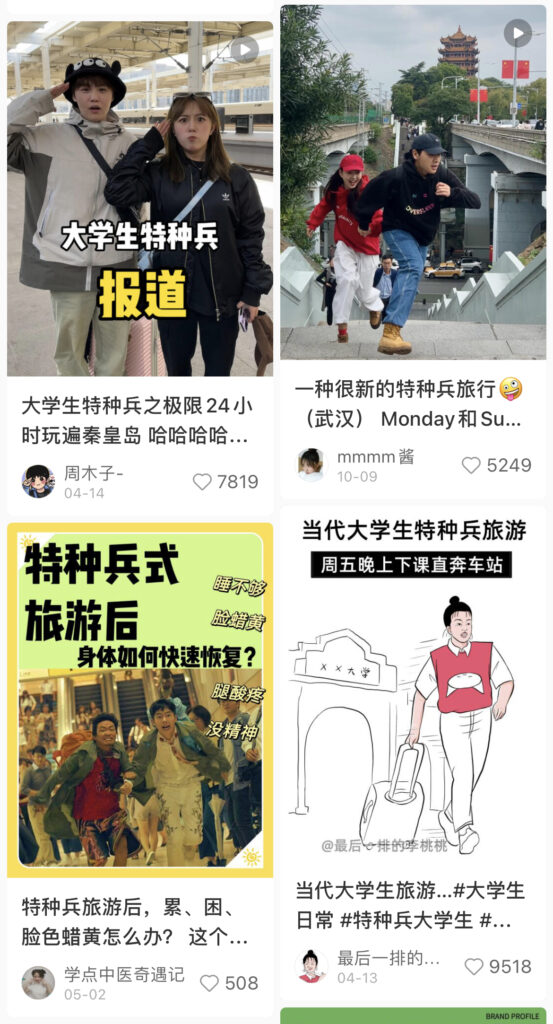 Image source: Xiaohongshu search page
To engage with these tourists, businesses can form collaborations with prominent Key Opinion Leaders (KOLs) and influencers who can showcase their offerings in a similar fashion. By teaming up with influential content creators, companies can elevate their brand visibility and illustrate how travellers can fully engage with their products or services within a limited timeframe. This strategy not only enhances the business's exposure but also meets the rising demand for time-efficient and immersive travel experiences.
3.The International Jetsetter
As China's outbound tourism sector reopens, a rising number of Chinese citizens are once again exploring overseas destinations. The recent Dragon Boat Festival in China saw a significant rebound in outbound travel, with border crossings reaching 65% of the levels seen in 2019, according to the National Immigration Administration. Despite the festival being a brief national holiday, the surge in cross-border travel underscores the burgeoning demand for international travel among Chinese tourists.
Ctrip, a leading travel services provider, reported that the average cost of outbound travel decreased during the holiday period, with one-way air tickets being 6% cheaper than during the May Day holiday. Moreover, bookings skyrocketed to 12 times the levels seen the previous year.
According to Ctrip, the top destinations during the Dragon Boat Festival included Hong Kong, Bangkok, Macau, Tokyo, and Singapore. On average, travellers spent $415 per hotel booking. This revival in outbound travel offers a valuable opportunity for businesses in the travel and tourism industry to leverage the pent-up demand for international experiences among Chinese tourists.
How can businesses cater to the International Jetsetter?
To effectively captivate the interest of international travellers, businesses can utilise live streaming as a strategic marketing tool. By presenting an array of attractions, local experiences, and cultural highlights in real-time, businesses can stimulate the curiosity of prospective tourists and entice them to discover the showcased destinations.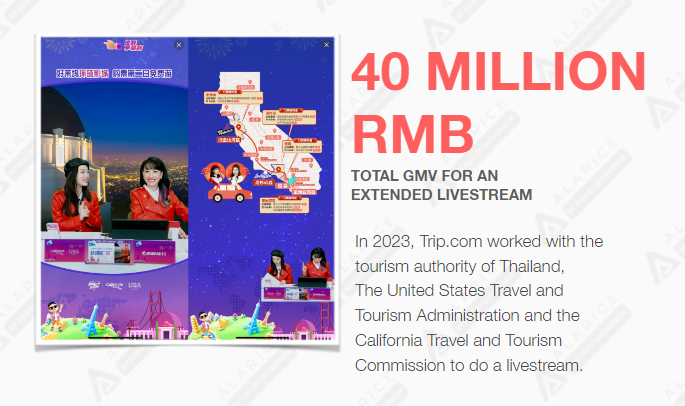 Photo from China Tourism Report 2023 by Alarice
A prime demonstration of leveraging live streaming as a powerful marketing tool is the 2023 collaboration between Trip.com, the Tourism Authority of Thailand, The United States Travel and Tourism Administration, and the California Travel and Tourism Commission. This partnership attracted over 1 billion viewers, underscoring the massive potential of livestreams for marketing purposes.
The collaboration also underlines the advantages of close cooperation with tourism authorities and commissions. By combining resources and expertise, businesses and tourism organisations can craft engaging and informative content that is customised to the International Jetsetter demographic.
By employing tactics such as limited-time offers or livestream-exclusive discounts and packages, businesses can effectively motivate viewers to book their travel experiences, catering to the ever-expanding market of international jetsetters.
Conclusion
Indeed, the resurgence of Chinese tourists in 2023 and 2024 provides a golden opportunity for businesses to take advantage of the reinvigorated travel industry. Grasping the three profiles of the modern Chinese tourists in 2023 is just the starting point.
By understanding their varied preferences and tailoring your offerings accordingly, you can ensure unforgettable experiences for this profitable market segment. To gain additional insights and better prepare for the return of Chinese travellers, download a free copy of the 'China Tourism Report: How to Win with Chinese Tourists 2023' today. Contact us here for more information on how we can steer your business towards success.