During China's Mid-Autumn Festival, it's common for people to gather with loved ones and exchange gifts such as mooncakes. The '2022 Mid-Autumn Festival Consumption Trend Report' shows a significant spending increase during this period, with mooncake sales in August 2022 increasing by 21 and 9 times for traditional and low-temperature mooncakes respectively. Seafood and food coupon sales also saw a fivefold and threefold increase.
Despite the pandemic's impact on China's economy, consumer spending remains robust. The first half of 2023 witnessed a year-on-year increase of 8.2% in total retail sales, reaching 22,758.8 billion yuan. Online retail sales rose by 13.1% to 7,162.1 billion yuan, with physical goods accounting for 26.6% of all sales.
As we approach the first Mid-Autumn Festival since the pandemic, this presents a prime opportunity for brands to launch impactful campaigns to boost sales and awareness.
Here are 5 steps to help you plan a blockbuster Mid-Autumn Festival event:
Step #1 Align brand values with those of Chinese consumers
Campaign concept is crucial to effective planning. Brands must understand their target audiences and devise event themes that resonate with consumer values. The Mid-Autumn Festival, a significant Chinese tradition symbolizing 'reunion' and 'moon appreciation', requires brands to craft a theme that embodies both the festival's essence and the audience's preferences.
In 2022, Bestore, a famous snack brand in China, exemplified this with their Mid-Autumn Festival campaign "Good Days, Bright Moon, Accompanied by Fresh Fruits (#良辰映明月 鲜果伴团圆)" on Weibo. Starting over a month in advance, the campaign harmonized the traditional 'bright moon' element with a focus on branded food and reunion. This resulted in more than 9,000 consumer interactions on Weibo alone, demonstrating the power of a well-aligned campaign concept.
Step #2 Find an appropriate platform – Weibo/ WeChat/ Douyin
Identifying the right social media platform can significantly enhance Mid-Autumn Festival campaigns. Each platform operates differently, with unique rules and priorities. Here's a brief overview of three key platforms to help brands find the right channel.
Weibo
Weibo's forwarding mechanism can magnify event influence by encouraging user participation. Brands can engage celebrities or Key Opinion Leaders (KOLs) to further attract fans. For instance, brands might ask a spokesperson to forward a post and reach a broader fanbase.
WeChat
WeChat allows for marketing through article posts or mini-programs, with the SVG effect of posts and the interactive browsing experience of mini-programs enhancing user engagement. However, WeChat marketing is usually limited to followers, so advertisements may be necessary for wider reach.
Douyin
Douyin focuses on short videos, with the use of the Douyin Challenge, where brands create a trend, usually with a specific hashtag and music, and motivate users to make their own videos following this trend, thereby promoting user engagement and brand visibility. This has become a standard marketing method since 2017. It helps brands achieve various marketing objectives, from product launches to promotions. The Douyin Challenge offers high commercial value, covering all traffic entrances, supporting innovative gameplay, and encouraging user-generated content through interactive technology and celebrity or KOL guidance.
Step #3 Create campaign assets such as themed videos or posters
Given that consumers are visually oriented, creative and engaging materials can entice further content exploration. When crafting holiday-related content, brands can smartly blend products with festive elements for striking visuals. For instance, Alarice, while designing a Mid-Autumn Festival poster for the German bathroom brand Kaldewei, mirrored the bright moon in its basin products, evoking a festive mood.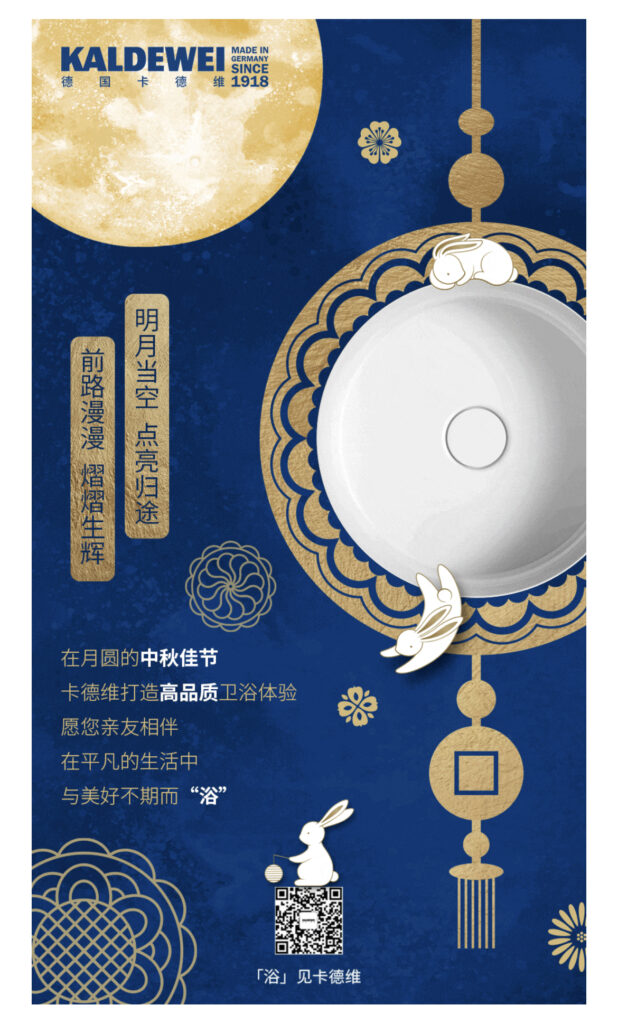 Source: Kaldewei's Event Poster, designed by Alarice
Besides, brands can leverage celebrity content for fan interaction. When collaborating with international shoe accessory brand CROCS, Alarice scheduled the release of spokesperson Bai Jingting's Mid-Autumn Festival content. This strategy used festival buzz to broaden reach and garnered nearly 10,000 interactions on a single Weibo post."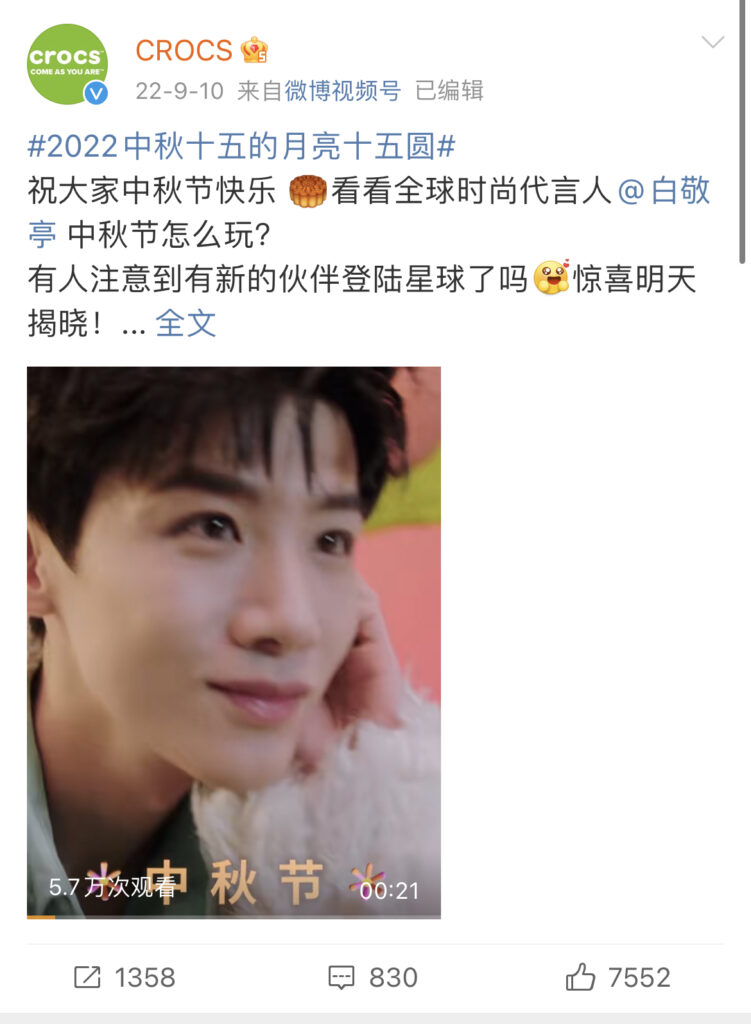 Source: screenshot from Crocs's Weibo
Step #4 Enhance campaign visibility via KOL collaborations
Event marketing, when executed well, can greatly enhance event exposure and consumer recognition. A well-planned event may fail without participation and popularity. The most direct way to boost event popularity? Collaborating with Key Opinion Leaders (KOLs).
With their large fan base, KOLs can expose brand activities to a wider audience. For example, the food brand Miguo (觅菓), established in 2013, partnered with KOLs on the RED platform this year. Anchoring its unique selling point on 'high-end gift boxes' and tying this with the Mid-Autumn Festival, it positioned itself as 'the best Mid-Autumn Festival gift'. A related topic was initiated on Xiaohongshu less than a month ago and has already garnered nearly 1 million views.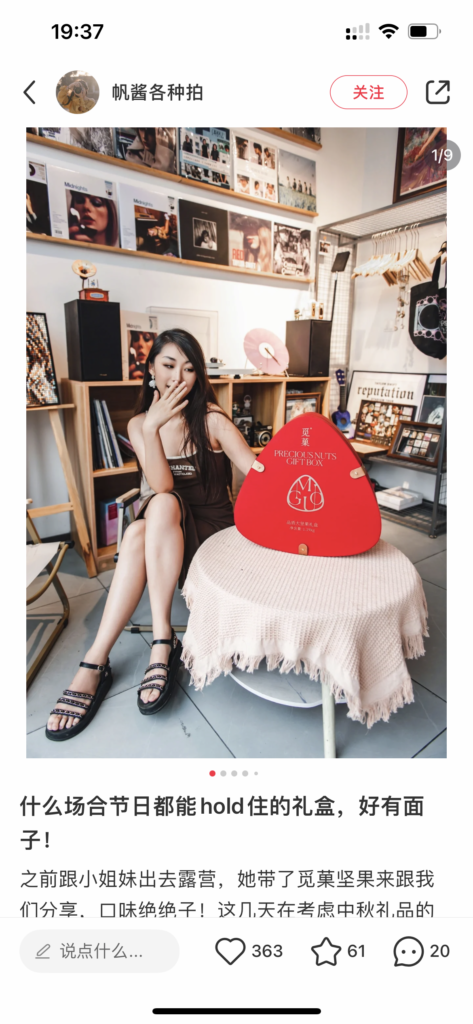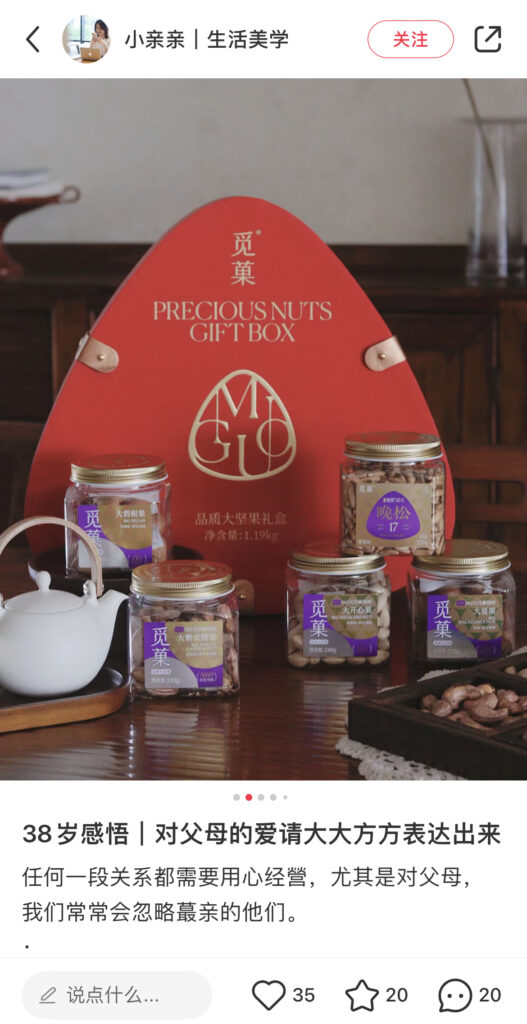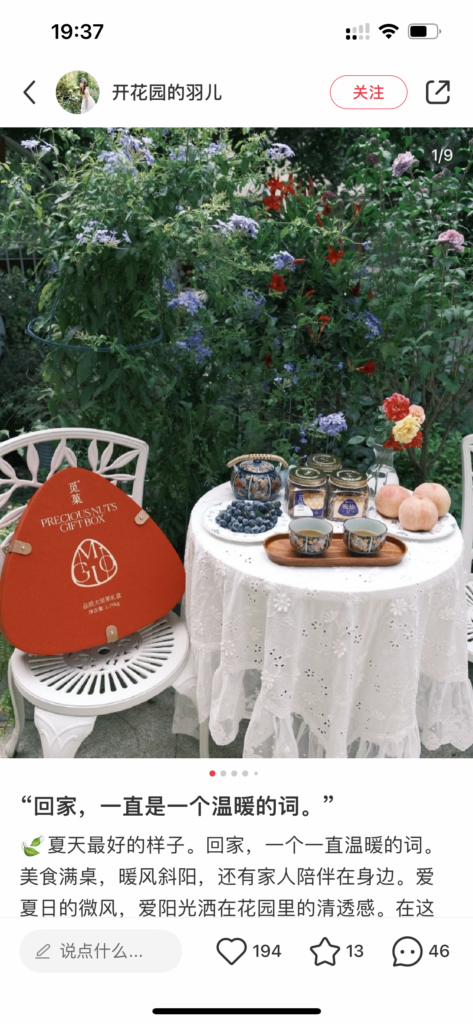 Source: screenshots from RED
Step # 5 Engage with e-competitors and user-generated content (UGC)
Mid-Autumn Festival events should be engaging and interactive to draw users. We suggest offering prizes to loyal fans to boost engagement. For instance, post quizzes or poems related to the festival on social media, and reward a subset of participants with brand products. Besides products, consider offering vouchers or discount coupons to encourage spending. Beyond interaction on the brand's account, invite users to share original content under related topics for increased event influence.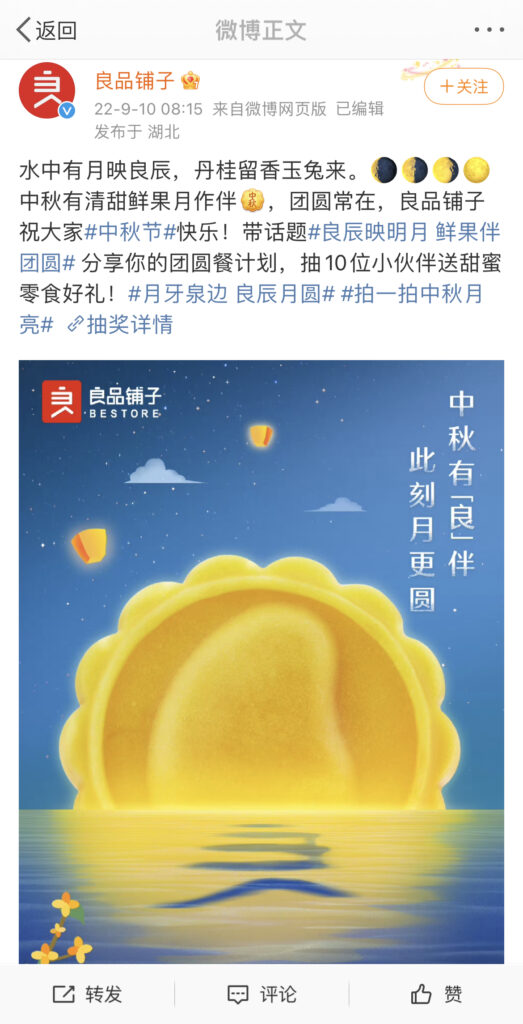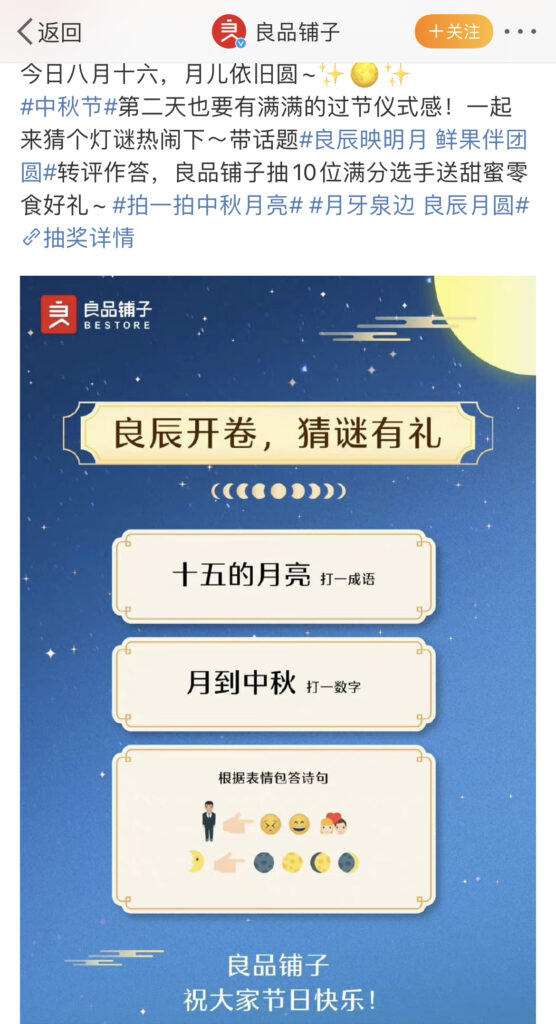 Souce: screenshots from Weibo
During the 2022 Mid-Autumn Festival, Bestore engaged fans on Weibo through various activities like guessing games and inviting users to share their festival plans under specific topics. This approach not only boosted Weibo interactions but also effectively promoted their new mooncake flavor.
To secure a competitive edge, your brand should stay attuned to your target audience's needs and preferences. By planning marketing activities, you can effectively reach diverse consumer groups, communicate your brand values, and enable them to connect with your brand effortlessly.
If you're looking for China market research and digital marketing strategies, Alarice can help. From event planning for the Mid-Autumn Festival or even Double Eleven, to social media marketing and product naming services in China, we can provide you with research reports for internal use, or execute research reports for you.
Check out our bi-weekly newsletter for insights on China's digital media, market segments, consumers, e-commerce platforms, tech giants and more. If you have any questions, please feel free to contact us here.
Source:
https://www.hangzhou.gov.cn/art/2022/9/9/art_812268_59065099.html
https://36kr.com/p/1919497141444610