Chinese consumers are buying luxury goods even more than ever. During the decade of the cultural revolution, Chinese people were only pursuing simple lives. In fact, repercussions from all sides would happen if one were to be in pursuit of luxury goods during this time period. However, after the reform and opening up policy, the economy took off and fashion & luxury culture began to revive in China. This was a radical cultural change and with it a long suppressed demand for luxury was let go.
The overall size of the luxury goods market in mainland China increased by about 520 billion yuan in 2022, with a growth rate of 2%. The advancements in the shopping experience and services, as well as changing consumer attitudes have driven market growth this year.
However, with the resumption of 'normalcy' in overseas markets, Chinese people are instead buying luxury goods from overseas at lower prices. In the face of challenges, luxury brands in China need to continue to maintain close contact with Chinese luxury consumers. 
Read on to find out China's latest luxury consumer trends and how brands can win the luxury market in the country. 
China still significant when it comes to the luxury industry
1.The rise in middle class
The number of affluent people in China grew at an alarming rate since 2012. In fact China has a huge middle class, with over 400 million people in this income bracket out of a total population of over 1.4 billion. Luxury goods have long been a part of the "upper-class culture" in China. 
China's emerging middle class are willing to pay a high price for luxuries they like. Since owning luxury goods in China is still a reflection of social status, the demand for luxury goods among the new middle class is not diminishing. Some emerging middle class consumers hope to express their change of identity through luxury, so as to seek the integration and identification of the class. There is also a part of the middle class that is more rational, their consumption is not necessarily extravagant, but pursuing better quality became more of a priority.
In terms of purchasing power, heavy-spending consumers who spend more than 300,000 yuan (US$47,000) annually on luxury items represent 40% of the total luxury sales. It is projected that the number of people in this category will grow at least 28% in the coming year, adding that brands should focus on driving repeat purchases and brand loyalty to continue the momentum.
Offering a better customer journey can enhance the brand loyalty of the middle class. Quality improvement can be reflected in many ways, not just better products that improve user experience, also in the purchase, service, after-sales and other series of experiences.
2. Gen Z consumers
Consumers born after 1990 already make up 50% of the total number of luxury goods buyers in China. Gen Z luxury consumers are more self-rewarding and more likely to be driven by social influence. Gen Z is more likely to view buying luxuries as a quality shopping experience rather than just a transaction. They are also happy to interact with brands and provide impetus for the spread of luxury goods. But it's worth noting that only creative engagements can catch Gen Z's attention.
Several limited time pop-up stores created by Louis Vuitton in Shanghai, Hangzhou and Beijing have attracted Gen Z consumers in large quantities on Xiaohongshu in 2022. Brands can utilise marketing events like the mentioned brands did with their pop-up stores in order to generate enough popular topics. Luxury brands can also hold art installations and NFT exhibitions for young consumers to come and take photos to share on social media.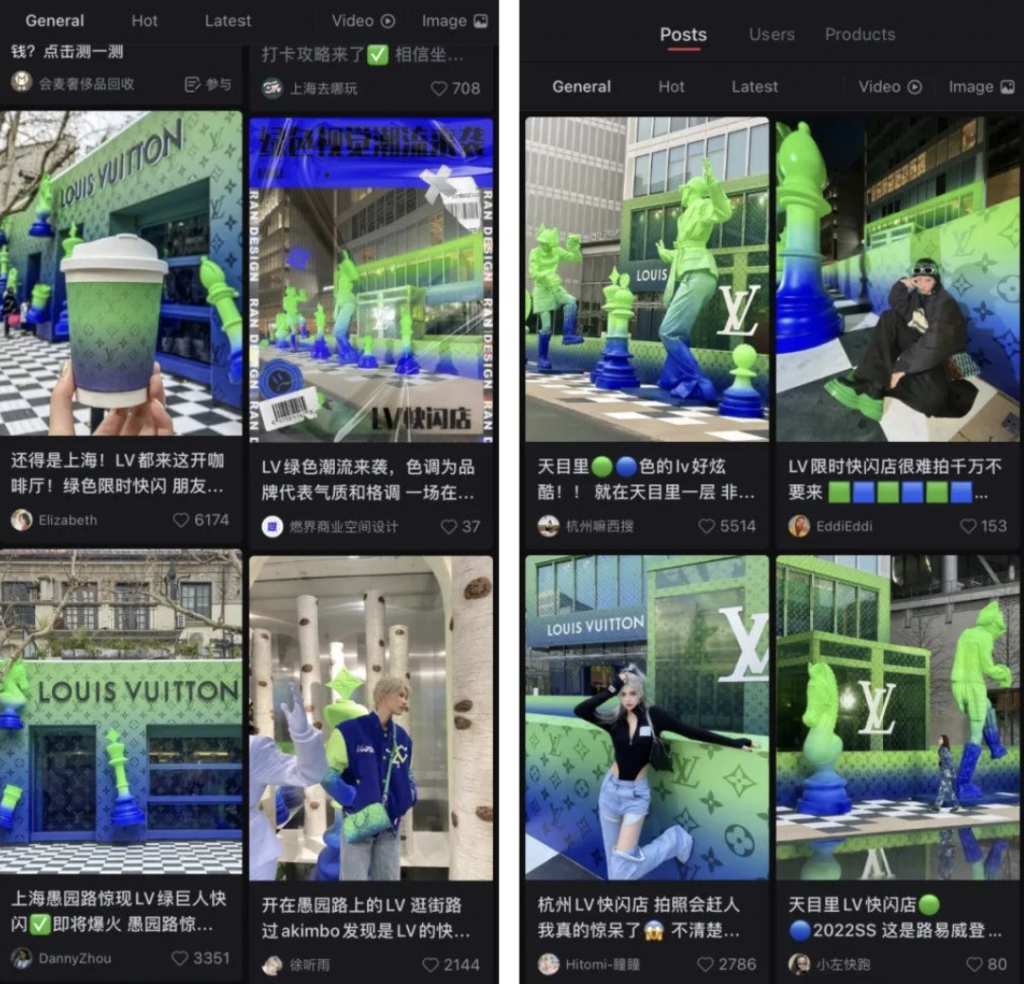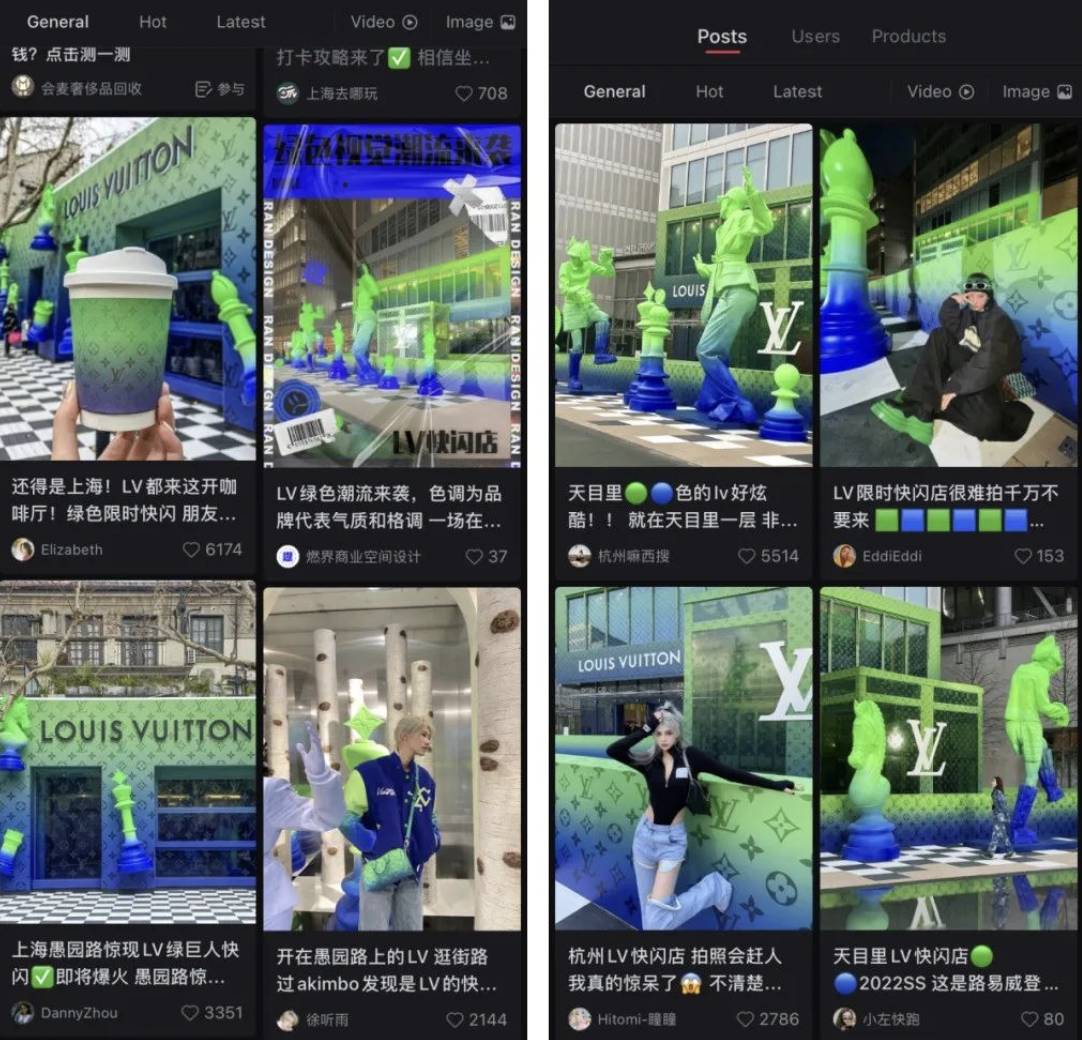 Source: Screenshots from Xiaohongshu
Market trends in China's luxury industry
1. Sustainability and the increase on environmental consciousness
Sustainability is definitely one of the factors that consumers might consider when buying luxury. One thing is certain, though: the luxury sector must include environmental considerations into its overall business plan. 
85% of Chinese buyers feel that the luxury sector has a responsibility to promote environmental values in society, and the same percentage is willing to pay a premium for a luxury brand that is environmentally conscious. Consumers think they would spend less money on a brand if it made an environmental guarantee, and 63% said they would spend even less or stop buying the brand entirely if it did not.
To gain the trust of environmentally conscious Chinese consumers, brands need to promote their environmental values and make environmental assurances in China. Brands can launch environmentally friendly goods, environmentally friendly packaging, and use traceable and certified materials. 
Many luxury brands have launched eco-friendly products, with Gucci and Hermes starting to use vegan leather in some collections. LV also launched its Keepall and Keepall XS handbags and Soft Trunk chain bags in organic cotton and recycled materials.
2. The rise of second-hand and vintage luxury market 
The second-hand luxury market will only continue to grow in 2023. The second-hand luxury market in China is expected to expand to $30 billion by 2025, up from $8 billion in 2020. Resale platforms such as ZZER, Xianyu, Ponhu and Plum are now popular in mainland China and have been seeing a boost in sales of second-hand luxury goods. Some of these platforms are even opening offline spaces in China. This trend is indicative of a major shift in China's luxury goods sector, where the second-hand luxury sub-segment has lagged behind other countries like Japan and the United States due to a preference for newness and fears of buying a fake.
Rather than letting platforms take a share of their own brands' second-hand market profits, some luxury brands have opted to join the booming second-hand market. After Gucci announced that it will open Gucci Vault, which sells rare and vintage pieces, Valentino recently announced that it will step into the vintage and second-hand market and encourage their customer resale. 
However, it is worth noting that the second-hand market is a double-edged sword, and brands need to decide whether to enter the second-hand market according to their own circumstances. The negative impact of the secondary market on the primary market of some luxuries cannot be ignored. For example, Chanel's second-hand market has seriously affected the sales of new products. So Chanel, through the limited sales, put restrictions on the supply side to prevent second-hand resale.
Strategies for luxury brands to succeed in 2023
To get the best out of the 2023 campaign, regardless of how the brand plans to market, all channels and campaigns must work together to deliver a seamless digital experience and localisation content as possible. 
Source: TOPick
1. Marketing with Chinese traditional zodiac elements
2023 is the year of the Water Rabbit. Using rabbits as a marketing element for the Chinese New Year could be a good choice for brands. Luxury goods meet the strong demand of Chinese traditional culture for social recognition, and also play a role in promoting the development of the luxury industry. The celebration of Chinese New Year is a great time to show your respect for the Chinese way of life. 
Let's look at some examples. 2022 was the Year of the Tiger and brands such as Gucci, Bottega Veneta and BALENCIAGA have all incorporated tiger motifs for their product and packaging designs. Brands can also include images of popular Chinese New Year symbols such as dragons, lanterns and red envelopes in their ads.
Source: Mingweekly
For brands It's also important to keep in mind that in order to attract consumers in China, your designs must always be on trend and expertly produced. Create relevant high-quality photos, videos, stickers, wallpapers, and even celebratory filters to uphold the reputation of your brand and the Chinese taste for the finer things in life.
2. Collaborate with KOLs 
The year 2023 will still be a good year for luxury brands to cooperate with KOLs. Fashion KOLs are considered experts in dress collocation, and they are generally considered trustworthy by consumers. The professionalism and original content from KOLs allows them to influence the opinions and preferences of their audiences. That's why marketing with professional KOLs can be an especially powerful strategy for your brand.
Chanel carried out a series of marketing activities with KOLs before Singles' Day the previous year for their skincare product. The KOLs would provide an overview of the product through everyday use scenarios and professional makeup tutorials. Chanel's Weibo hashtag for the event garnered 87 million views and was widely shared on Chinese social media.
The magnitude of KOLs is usually determined by the number of views, but brands need to be aware that KOLs with a lot of fans doesn't mean they have a high user engagement. Brands also need to choose KOLs that are in line with their own brand characteristics and audience positioning. It is very important to analyse the marketing value and communication channels of KOLs  before the actual launching of a marketing campaign.
3.Digitalization
Brands can incorporate new technologies into their online services. The digitalization of luxury brands can bring about more than just an increase in sales. The current digital experience will be upgraded to include more cutting-edge technical features. Technologies like VR and AR can be used in high-end live streams as well, for instance. Differentiating and shocking users is of paramount importance in the digital realm.
By 2025, the global AR market will reach $198 billion, a 56-fold increase from $3.5 billion in 2017. A good example of this working is Dior, who dominates the list of global luxury brands. Dior launched AR footwear for its DIOR RIVIERA Summer Capsule and World Tour B27. Through a 3D display, consumers could view the details of the shoes in 360 degrees, enriching their shopping experience
Conclusion
The luxury market is continuing to expand in China, and consumption is gradually shifting from overseas to domestic luxury consumption. With the growing penetration of luxury these years, the marketing model is also accelerating the evolution. It is especially important for brands to identify key customer groups and keep abreast of the latest marketing trends.
Does your brand need more in-depth research and strategies with China's potential luxury market? Alarice helps understand your targeted Chinese market and prepare your brand with the latest insights. We also provide real-time market and trend insights and strategy-making for your brand. Drop us a message with your questions.