It's 2023 and Chinese consumers are ready to spend again. After lockdowns and spending cutbacks, China's consumers have developed new purchasing trends. In 2022, China saw one of its slowest years of economic growth in decades but the recent Chinese New Year holiday has reinvigorated the economy.
The importance of domestic consumption to China's economy has never been clearer and the government is doing its best to encourage consumer spending. Domestic demand has been made an economic priority, and consumers are loving the spotlight on local goods and services. This demand showed itself during the holidays with increased sales of Chinese brands and brands with cultural significance.
However, spending habits have changed. How? What can brands expect from consumers moving forward? This article will cover how brands can market to Chinese consumers, based on the new trends seen during Chinese New Year in 2023.
What Did the Chinese New Year Indicate About Consumer Sentiment?
A Return to Spending and Traditional Elements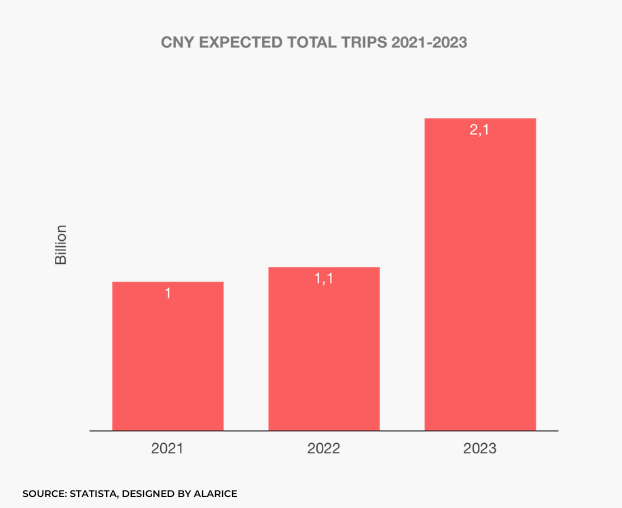 Chinese consumers are more willing to spend now that pandemic restrictions have eased. In fact, domestic holiday travel has come back to nearly 90% of its pre-pandemic levels, which is a welcome sign of recovery.
As the easing largely coincided with the run up to the Spring Festival, this is when and how some preferences became clear. Sentiment is returning to traditional, classic elements such as red as a theme colour and the depiction of zodiac figures.
Strong Colors and Visuals
Valentino, an Italian luxury fashion house, made traditional classic Chinese elements its core asset for their Spring Festival marketing.
The brand has been associated with an iconic red palette for more than sixty years. They combined their Valentino red (the name of their brand shade) and their new V logo pattern to launch the "Valentino Rosso Red New Year Collection".
The collection reflects oriental aesthetics and pays homage to China's festive tradition. Most importantly, the collection reinterpreted their own brand elements to match a Chinese festival just as consumers are coming back from a spending drought.
Picky about Packaging and Red Envelopes
Additionally, Chinese consumers are picky about good packaging, especially for FMCG items. Brands have released their versions of Spring Festival packaging marketing, mainly in the food and beverage sector, such as snacks, sugar, nuts, and seeds.
Gift boxes were a hit during the holiday and FMCG brands released gift boxes curated with their own Chinese New Year product collections. This packaging marketing is a free, self-owned advertising medium that can help brands, and consumers are taking note of what packaging stands out.
Liquor brands have also started red envelope marketing, where consumers could buy their products and redeem a special, Chinese-themed red envelope online.
Localization and Games
Chinese consumers like brands that resonate with them, and it's not easy when brands market them something foreign. This can also increase user stickiness through localization.
During the holidays, consumers looked forward to seeing how luxury brands would interpret zodiac elements into their products.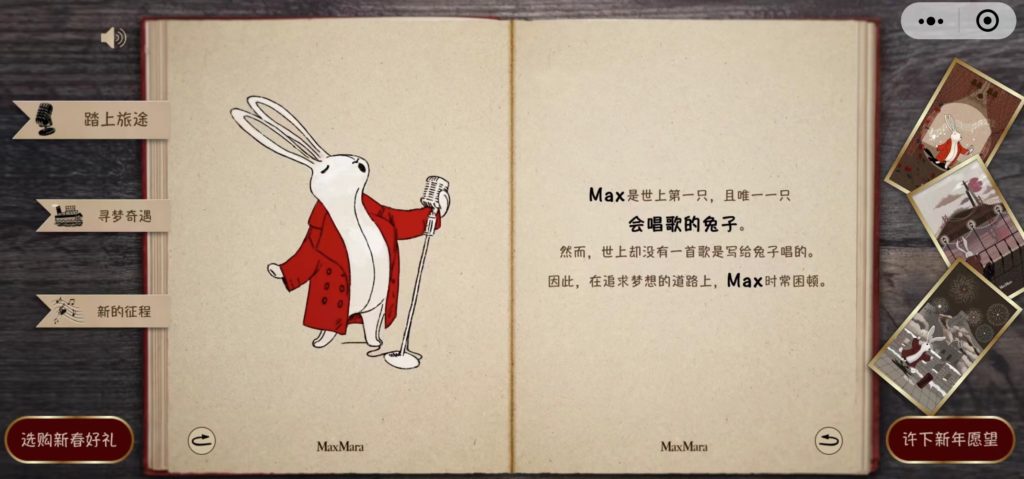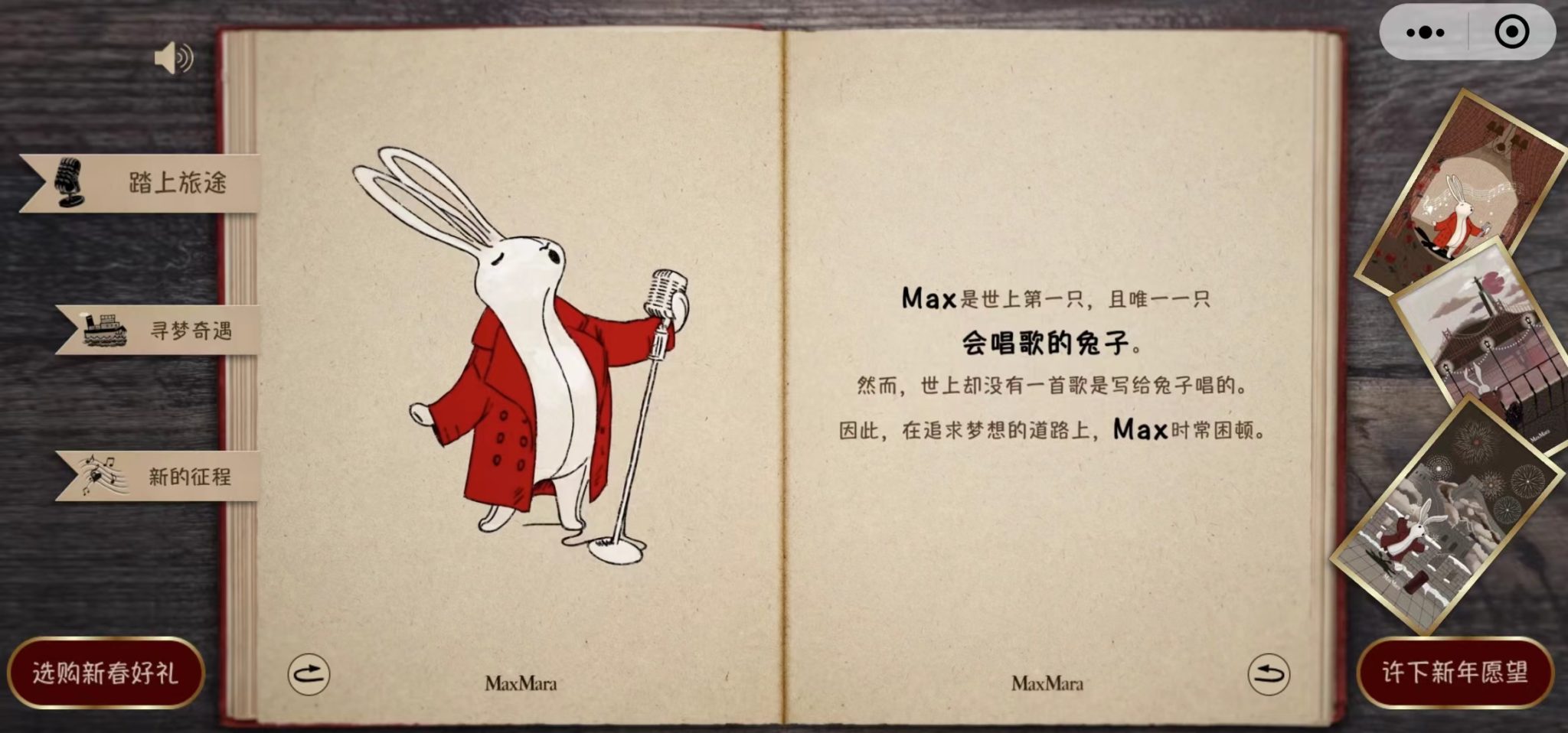 Brands that did this saw increased engagement in their e-commerce channels. Max Mara's strategy is to tell a story of a rabbit's globe-trotting journey that naturally ends in China. They released it as an interactive game through a WeChat mini program and consumers loved it.
E-Commerce Channels Are Not Going Away in 2023
Huge Userbases and Streamlined Convenience for Consumers and Brands
E-commerce channels are perhaps the most important brand tools for success with Chinese consumers. They're crucial for brands to succeed no matter what niche, and they're some of the most widely used platforms not only when they're shopping, but also when they're looking for goods.
They streamline the buying process for shoppers and make it easier for them to make repeat purchases. On the brand side, being on an e-commerce platform makes it easier to catalogue products, display them, and market to new target audiences that might be hard to reach otherwise.
Over the years, e-commerce has changed in China. Although traditional e-commerce platforms are still important in 2023 and the majority of Chinese consumers still go to Tmall, Taobao or JD to shop e-commerce has become more social.
Douyin
Douyin, the most popular short-video app in China, has developed e-commerce functions. As of November 2022, the app has more than 700 million daily active users (DAU) and GMV of 1.41 trillion yuan for its e-commerce services.
It has become a crucial platform that any brand serious about China can't afford to ignore. This development from traditional e-commerce platforms to social e-commerce means that brands have to become even more consumer friendly and be actively invested in social trends.
This also makes social e-commerce platforms a very powerful marketing platform for brands and advertisers. Owing to the social nature of these platforms, partnerships with influencers and KOLs can hugely increase brand awareness or convert engagement to direct sales.
Douyin's viral content and convenient commerce integration means that it can go toe-to-toe with traditional e-commerce platforms. However, brands should note that it's more popular with younger Chinese consumers and adjust accordingly.
WeChat
Another very important social e-commerce platform for brands is WeChat. The platform is estimated to have about 1.29 billion monthly active users (MAUs) in 2023 alone.
This means that there's an obscenely large market for brands to advertise to. One of the successes behind WeChat's e-commerce are its mini programs. These apps within WeChat's ecosystem allow users to share offers and services with other users.
They have a tendency to go viral so their reach is unparalleled and WeChat enables brands to manage their mini programs and draw actionable insights for sustainable sales growth in the long run.
What Did the Chinese New Year Have in Store for Brands in 2023?
There were several notable trends for Chinese consumers this 2023 that brands should take note of.
Tesla Price Cuts
Tesla made drastic price reductions for the holiday and the Shanghai stores managed to deliver almost 200 Tesla cars per day during the Chinese New Year.
They slashed their prices for all versions of their Model 3 and Model Y between 6% to 13.5% over the holidays (229,900 RMB to 259,900 RMB). Other car companies also followed this price reduction strategy.
Aromatherapy and Fragrances
Next, aromatherapy was stronger than ever thanks to Chinese consumers' thirst for it. Called the "olfactory economy", the perfume market in China is expected to grow faster than the global average.
China's fragrance sector is forecast by some to reach RMB 15.44 billion by 2025, while others think it might even double and reach RMB 30 billion. On Xiaohongshu, the most popular fragrances among young Chinese consumers are those with floral, lemon, and wood scents. Practicality is also important, as 50ml perfume bottles are the biggest sellers.
Cultural Consumption
Lastly, domestic cultural consumption was extremely popular during the Chinese New Year. Cultural centres like the Henan Museum and the Suzhou Museum banked on the affinity of Chinese consumers for culturally-inspired products and they even started livestreams to promote their New Year goods.
The Henan Museum even created an "Archaeological Blind Box" for visitors and other consumers. Consumers have a marked preference for products with cultural and creative meaning when choosing what they want during the holidays.
Even Douyin has dedicated a channel for cultural consumption and this has bridged the distance between users and traditional Chinese culture. People leaned towards goods with zodiac themes, especially rabbit elements in the Year of the Rabbit.
Guochao, Convenience and Health
Tied with the idea of culture is of course, guochao or "national wave" purchases. Young Chinese consumers are big supporters of domestic goods.
Chinese Gen Z are more nationalistic and exacting when it comes to the goods that they consume, and it is redefining China's consumer economy. Two key guochao trends for Gen Z this Chinese New Year were convenience and healthy living.
Young people stocked up on kitchen appliances that can free their hands to do other things and household appliances that bring them comfort. Additionally, this demographic was much more likely to pay higher prices for healthy food and beverage items.
Plan your marketing campaign with Alarice and put them in charge of your content management for a successful 2023 in China. At Alarice, we specialise in Chinese digital marketing, trend analysis, and market insights to ensure that your brand beats to the pulse of Chinese consumers. We make your campaigns and content more engaging and effective. Contact us here for more!