IP is a great business value that can help your brand become more cohesive and effective when it comes to marketing. IP in Chinese industries is a serious thing, and IP marketing has created a buzz around brands for years now. Basically, IP is anything as long as it is a product of the mind, such as films, literature, games, or even artwork. Think of your favourite artist's music, or your favourite movie franchise, and you have an example of IP.
Brand IPs help Chinese brands to establish a consistent image and lay out a good roadmap for their brand in the future. Additionally, it also revitalises your brand and prevents it from looking "dated" to customers. Finally, IPs are super easy for consumers to identify and remember, so it affects stronger customer brand loyalty. With all of these perks, brands in China definitely will benefit from having an IP. Today, the Chinese brand IP is made up of the most important brand asset of a company, composed of founders, spokespersons, images, and other big names. Here's a step-by-step guide to launching an effective IP in China in 2022.
Conceptualise your IP
As with all things, proper planning is key to a successful endeavour. Brands need to research their target audience and lay out a concept flow to their potential IP. For the Chinese, Chinese values are critical and a compelling concept for brands to include in their IP planning. Brands should combine these values into their planned IP image and use it as a core concept to work with. For example, Nongfu Mountain Spring took advantage of Chinese reverence for traditional culture with the 12 zodiac attributes. They launched a glass bottle line of high-end water representing each of the 12 zodiac signs. The lifelike tiger design successfully attracted consumer attention and increased their standing with their consumers.
Source: sohu.com
Another important part of the planning process is checking for China's IP laws. China's IP regulations reflect international standards, but nevertheless, brands need to be keen on following Chinese IP laws. Reviewing IP-relevant information, observing that your brand's IP does not infringe on other IPs, and IP protection are still key actions that your brand should take from the very beginning of creating your IP.
Image expression
After your brand has settled on an IP concept, it is time to do image expression. This is the fundamental asset for any IP and the starting point for your consumers to notice your IP. Image expression can be varied, as there are different IP styles, but as long as you properly convey your IP with the correct content, it will be effective. Choose character images and expressions that can help your brand. For example, if you are going for the cute, animated character method, make sure that your characters are also in line with your aesthetic.
Furthermore, IP image expression should be distinct and memorable enough that the public understands and identifies with it at first glance. Although already an established brand, Pepsi focused more on creating a cheerful atmosphere for the Chinese New Year and made Pepsi an integral companion for a happy New Year. This gave the brand more than the physical attributes of the drink, but also attached positive values to it that the Chinese cherish.. Pepsi has implanted its IP in a subtle way, and expressed its IP image successfully.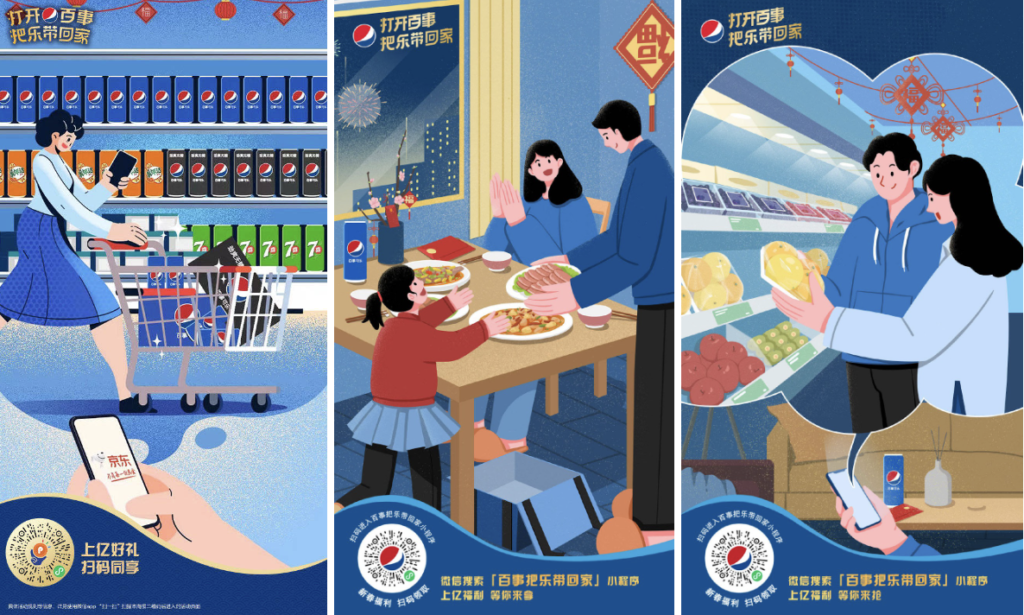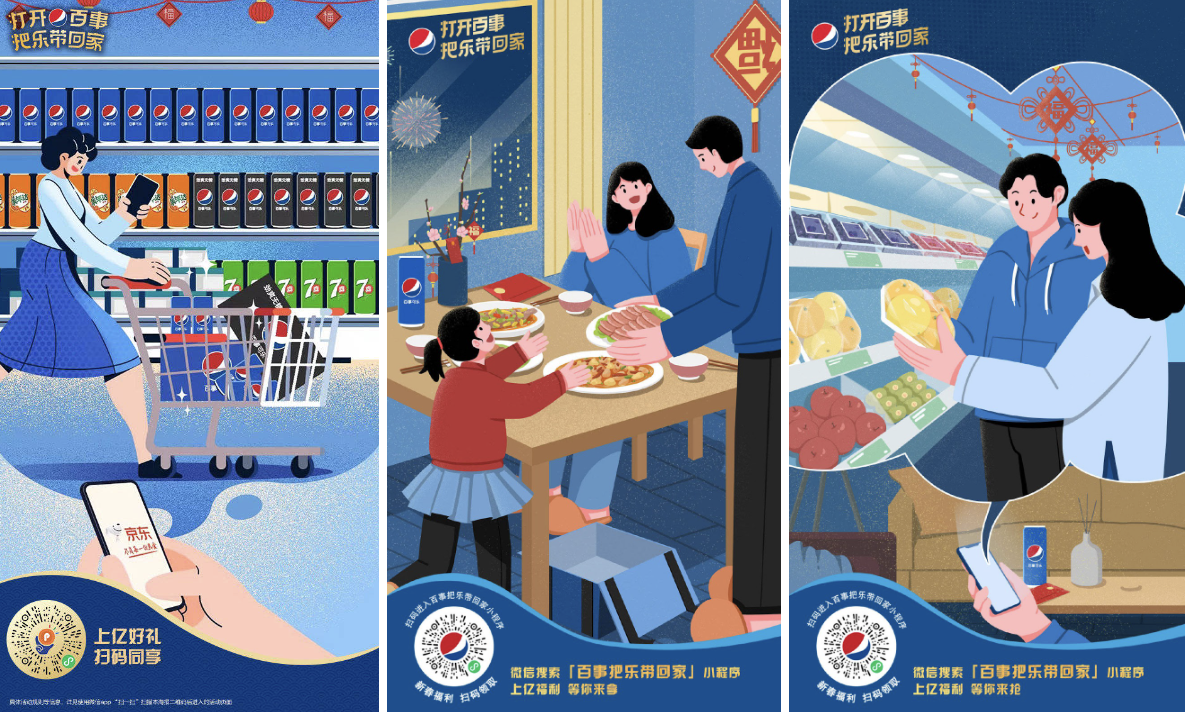 Source: weibo.com
Create your own IP story
Once you have the characters and concept for your IP, a good way to make it more effective and connected to your consumers is to create an IP story. Essentially, an IP story is the "plot" of your brand's IP. To be clear, it is not strictly a story but more of a narrative that encompasses all of the actions that your brand takes vis-a-vis your IP. An IP story also narrows down the communication distance between your brand and the public, takes your IP down to the grassroots and makes it more of a lived reality for your consumers.
For example, emotional takes are often effective for Chinese consumers, more so on traditional family values. Your brand could create an IP story that centres around found family, paternalism, or respect for elders. Regardless of the topic, an IP story needs to be interesting, topical, and opinionated for it to have the needed weight for your IP.
Develop your IP's core values
Aside from an IP story or narrative, it is also important to create your IP core values. It works like an IP story – IP core values ensure that your IP sticks with your target consumers. For example, whenever consumers think of something milky sweet, they immediately think of White Rabbit candies. This is because there is nostalgia and recognition behind the flavour "milky sweet" and it has become an IP core value for the White Rabbit company.
Another example is Miniso, a Chinese company with Japanese-inspired products. They have collaborated IPs with Marvel, and We Bare Bears to produce power banks, cutlery, chargers, and just about your everyday things. So, when people think of getting quality earphones with their favourite superhero or cute bears, they immediately think of Miniso. Essentially, your brand should choose positive values to become your IP core value. A positive value link will enable the public to easily recognise your brand and be more amenable to purchases. Furthermore, good IP core values can also help propagate the depth of influence for IPs in the general public. As long as the public can relate to it, your brand will enjoy greater brand visibility.
Source: weibo.com
Source: weibo.com
Find a platform
Now that you have an almost complete IP for your brand, it is now time to find a platform that could help support your launch. Because IP is different for everybody, and because it takes a lot of forms, it is, therefore, crucial to choose the correct platform to debut your IP. For example, you wouldn't want to release your IP music on an e-commerce platform, nor your IP products on a platform that is largely for discussion threads. Identify your IP, products, and strategy, and pick one that suits you the most.
One of the most popular is video-streaming sites and e-commerce platforms like Douyin or Tmall. Here, you can release merchandise inspired by IPs or even your product collaborations with another brand, like the Uniqlo x KAWS partnership. Uniqlo partnered with KAWS, which is well known for street graffiti design to appeal to the younger Chinese demographic. You can release your products and videos there. If you are looking for the best spread, try publishing on Weibo. 
Source: baike.baidu.com
Do event marketing
Event marketing is a great method to integrate your IP with Chinese consumers. With promotions, events, and sales left and right, your brand will need to uniquely identify itself with Chinese consumers to be successful and stand apart from the competition (and so with your IP). One way
to do event marketing is to combine traditional Chinese events with your IP, such as releasing Mid-autumn festival-themed products with your brand's IP. This is what Chinese perfume retailer Scent Library did with their iconic Liang Bai Kai (Cool White Open) perfume for Tmall's Singles Day Sale. The company capitalised on nostalgic scents, and the public loved it so much that 400,000 units of perfume were sold. Another great way is to create your own event instead of waiting for Chinese festivals. This gives you more control and highlights your IP and brand simultaneously.
Trends like the "ice bucket challenge" can help your brand be on top of your target consumers' feeds and the general public. Have your IP characters participate in trends wherever possible and blend famous trends into your IP for more timely products or content.
Lastly, co-branding is one of the most effective ways to establish and farm new fans for your IP. The way to do this is to partner with known brands (cosmetics, clothing, tech, etc.) to get your IP into different industries and newer audiences. White Rabbit did this with Maxam, a Shanghai-based cosmetics company, to produce the "milk candy-flavored lip balm" that sold out within seconds in Tmall in September 2022. Maxam and White Rabbit greatly benefited from this collaboration.
Source: fashion.sina.com.cn
Source: sohu.com
Conclusion
Launching your brand's IP in China can help you tremendously in marketing your brand to Chinese consumers. To launch your products, you need to understand your audiences first by conceptualising what your IP will be and observing due responsibilities in crafting it. Next, express your IP image and make your own IP story complete with core values to create a more cohesive system. Lastly, finding a suitable platform for your IP and promoting it with event marketing will go a long way in making sure that your IP sticks with your consumers.
Effectively launch your IP in China today with the proper tools, research, and insight into your target market. Alarice offers you digital marketing, trends analysis, and market watching to keep you updated with the latest Chinese business news. We can also help you craft the perfect IP for your brand, so you don't have to worry about everything. Contact us here or send us a message today.