China is a sizable market full of potential, but it's also a challenging and dynamic one with frequent changes in customer demographics. What the market will look like in 5 or 10 years is difficult to predict. That said, 2022 brought in some interesting emerging consumer groups to the scene.
2022 has been a tumultuous year for China, what with the partial lockdowns and the slowing down economy. However, with the presence of active online shopping festivals and the distribution of shopping vouchers, there is no stopping the world's second-largest consumer market.
Today, we review exactly what these emerging consumer groups are and how exactly brands can market to them.
Emerging Consumer Groups 
Generation Alpha
There are approximately 253.38 million Chinese Gen Alpha in 2020 born between 2010 and 2024. Generation Alpha, like the previous generation, are more likely to be only childs. They are born with a natural "loneliness."
Watching short videos is at the top of their list of online activities because they see it as a key way to understand the world. Gen Alpha has higher standards when it comes to content and services. This is due to the advance development of artificial intelligence, algorithms, and other tech.
Marketing to Gen Alpha
As a lot of Gen Alphas are much too young to be making financial decisions for themselves, their parents are the ones purchasing items for the consumer group. Brands need to find a balance between marketing towards the Gen Alphas themselves and their parents.
In order to better appeal to Gen Alpha, companies could look at their parents' purchasing habits. Many parents in today's millennial generation are looking for simple and high-quality, content things that also serve as status symbols. Since children as young as three might show a preference for particular brands, this is an issue for Gen Alpha. In the online world, both parents and children "influence" one another in significant ways.
Social entrepreneurship is a major concern for Gen Alphas and their parents. Their social consciousness is highly developed and influences how they spend their money. Many members of Gen Alpha already have strong opinions on topics such as environmental protection and healthy lifestyle promotion. Today's youth have a sincere sense of duty to protect Earth's natural resources for the sake of future generations.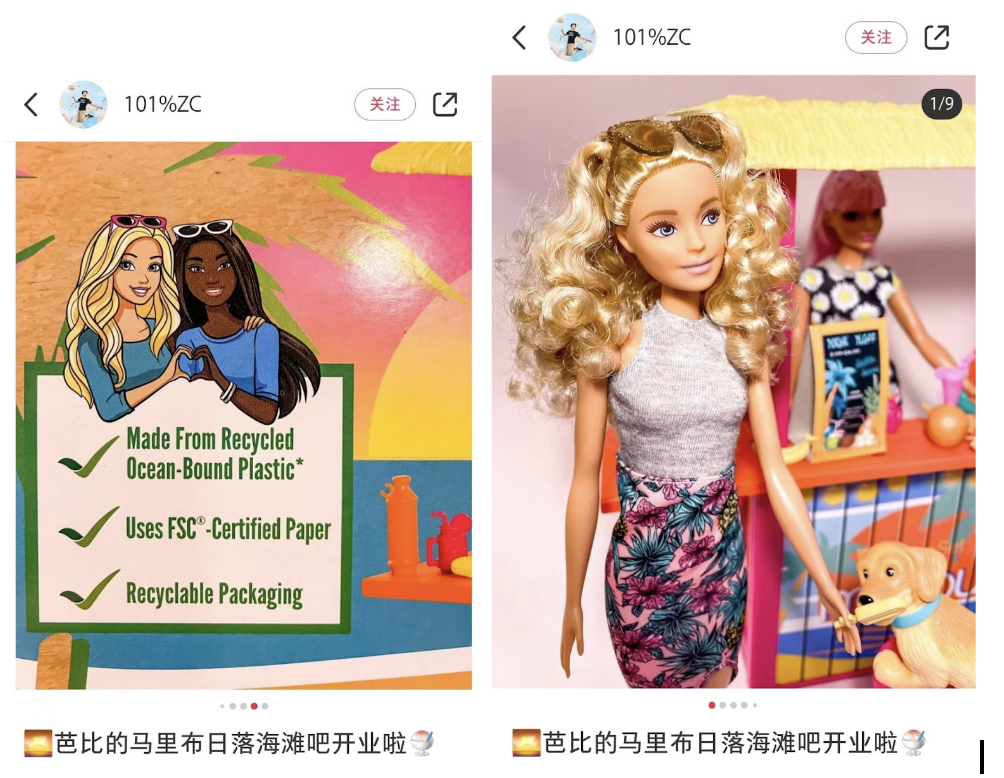 Source: RED @101%ZC
One brand that took advantage of this is Barbie. Barbie came out with a line called "Barbie Loves the Ocean," which is constructed from plastic that would have ended up in the sea. Because of the long-standing association between Barbie and the colour pink, a new marketing campaign with the tagline "The Future of Pink is Green" was developed to draw attention to the new line. 90% of the materials in this assortment are polymers that have been recycled from other products. Mattel, the corporation behind Barbie, has promised to switch to "100% recycled, recyclable, or bio-based plastic materials" by 2030.
Metaverse Consumers
The Metaverse Movement has prompted the creation of an alternative method of establishing social relationships that could be built using virtual reality, 3D, social networks, and AR (augmented reality) glasses. Consumers under the age of 18 are nearly twice as engaged in traditional social media and gaming world social gatherings as those over the age of 35, making them the emerging consumers of the metaverse.
The metaverse consumers use new digital spaces to socialise with their communities, and want to seek identity in digital spaces. They like to try new things, willing to pay for novel products and experiences, especially new technologies.
They are not only satisfied with being consumers, but also would like to participate in the construction of the metaverse. Their boundaries between the real world and the virtual world are blurred, and there is also a sense of identity for the virtual influencer.
Marketing to Metaverse Consumers
Brands can use virtual influencers to provide professional and personalised consulting services. As your brand's "face", your virtual influencers can provide personalised consulting services for your products.They can highlight your flagship products to their target audience with more accuracy and efficiency.
Virtual KOLs can also establish your brand image in the metaverse. This new "playbook" for marketing in the age of the metaverse has necessitated the change from real humans to lifelike avatars in the metaverse space. Brand can host livestreams and interact with the Metaverse consumers. Virtual influencers can just as easily host livestreams and interact with Metaverse consumers as their human counterparts. Virtual livestreams can help boost awareness for your product and draw in additional customers.
Alibaba has even launched NFTs and virtual influencers to enhance consumers' awareness and purchasing desire for products. Virtual Influencers are serving on IP branding and events on the platform side and on the merchant side as well, who often serve as shopkeepers, models and live-streaming hosts for products. Such marketing methods have greatly increased consumers' identity and interactive experience, further consolidating Alibaba's traffic advantage.
Source: Zhihu @赢天下868
Pet Lovers
Pet lovers are increasingly in number in China, with the number of people who own dogs and cats in China reaching 68.44 million in 2021. There has been a fundamental shift in the way pet owners perceive their pets and the underlying needs of pet consumption. For pet owners, dogs and cats have moved from the "practical" nature of catching mice and guarding the home to the "emotional" nature of companionship.
For pet lovers in China, 85.1% of pet owners consider their pets as family and 8.5% as friends. A further 55% of pet owners see their pets as children. The number of dog lovers is growing steadily and the number of cat lovers is growing rapidly in 2022. The China Business Industry Research Institute predicts that the number of pets in China will reach 220 million in 2022. In fact, the number of cats has overtaken dogs in becoming the most kept pet in 2022.
Marketing to Pet Lovers
Integrated pet shops that include adoption, washing and grooming, medical care and shopping are beginning to move into shopping centres, bringing pet owners a more convenient one-stop pet service.
Source: CBNdata
Brands can create cross-border events and themed pop-ups that integrate online and offline to meet the emotional needs of users around the topic of pets. This will not only maintain the existing pet community, but also attract new customers to the brand.
The Young and Health-conscious
There has been a growing number of young people who have begun to become conscious about their health. Anxiety about health problems from ageing is not new among the post-90s, and the post-90s aged between 26 and 30 have become the real mainstay of health care, with over 70% of the post-90s and post-00s young people treating health as the most important thing, promoting a growing trend in health consumption. On average, each urban resident spends more than RMB 1,000 per year on health and wellness, while the proportion of young people aged 18-35 is as high as 83.7%.
The key to the popularity of various health products is the emotional value they bring to young people, addressing their anxiety about ageing. The pursuit of the feeling of health and wellness seems to be more important to this younger generation of wellness consumers than "how much health can be improved".
Marketing to the Young and Health-conscious
The trend towards functional food products is rolling in. Brands can emphasise to consumers the functionality of the raw materials used in their products, by listing the ingredients in different categories depending on the product.
Drawing on the concept of "medicine and food in the same source" in traditional Chinese medicine culture, the brand "Lotus Field Water Shop" opened its first shop in Qingdao at the same time, with takeaway sales reaching more than 3,000 units in the same month, and six months later, with the expansion of the market, it secured two rounds of funding within three months as the market expanded, accumulating over 10 million RMB.
Outdoor Enthusiasts
From the camping boom at the beginning of 2022 to the equally popular surfboarding, ultimate frisbee and paddle boarding in the last two months, these almost niche sporting activities have been coming to the masses one after another.
Search data for ultimate frisbee and camping has increased by 556.8% and 1800% respectively compared to August 2021. Data during the 618 Shopping Festival saw a 662% year-on-year increase in sales for sporting and outdoor products. The increase in sales of various outdoor equipment is not only due to the budding outdoor enthusiasts, but also the demand for equipment upgrades from elderly outdoor sports enthusiasts. Whether it's camping, frisbee, or paddle boarding, these are not just simple outdoor activities, but also carry the key factor of socialising and fit in with people's desire for nature under the pandemic
Marketing to Outdoor Enthusiasts
The app, Xiaohongshu, played a big part in getting these outdoor activities as popular as it is this year. As a sharing and seeding platform, Xiaohongshu encourages users to upload a lot of outdoor tips, product and services reviews and other content through an aggressive content operation strategy. The multi-layered, rich and practical content fully meets users' needs for outdoor information. When it comes to camping, Xiaohongshu has become the preferred platform for consumers to obtain information.
KOLs that post about outdoor content are crucial in promoting related brands. "Yellow Teacher Lai Liao" is a skateboard blogger with 216,000 followers, and he is also the product designer of Sixty-six. He is also the product designer for Sixty-six, a skateboard brand. As a result, he is often recognised by other outdoor enthusiasts on social media and asked for product recommendations.
As outdoor enthusiasts grow in size, creating a WeChat community can better leverage the brand scale effect. Brands can pull outdoor enthusiasts with similar interests into WeChat groups based on city divisions to organise offline activities and build their own private domain traffic pools.
Conclusion
As you can see, even with the negativity surrounding consumer sentiment, no one can halt the world's second-largest consumer market from shopping and creating yet another wave of new emerging consumer groups.
With new emerging consumer groups, comes new tactics and plans brands can adopt and implement to market to them. Of course, these are just new groups from this year and there needs to be in-depth research to truly understand them.
So if you are looking for consumer research or campaign creation for China, Alarice can help. We can give you that research to use in-house or execute it for you and campaign planning for your target audience.
Check out our bi-weekly newsletter to get insights about China's digital media, market segments, consumers, ecommerce platforms, tech giants and more. Feel free to contact us with your burning questions so we can help you excel.