Generation Alpha is set to be one of the biggest consumer groups in China. But what is Generation Alpha? Gen Alpha is a tech-savvy demographic that stands to be the most educated and online integrated consumer group to date. This generation is born from 2010 onwards, following Gen Z.
In China, Gen Alpha constitutes a total of 173 million, with Gen Alpha edging out Gen Z's by 10 million and an annual increase of 1 million. Chinese Gen Alpha is marked by a period of rapid mobile Internet development and integration across different e-commerce and social platforms. A Chinese Gen Alpha's shopping cart may be described in four words: "I Want It All", and certainly, parents of Gen Alpha are readily influenced by their children.
In fact, the "Mom Economy" in China is so strong that Pinduoduo's Children Fashion Show saw record-breaking sales with the brand Snoopy. This parental influence can be worth around 130-670 billion USD a year. Moreover, marketers will find that Gen Alpha cares more about issues than Millennial or Baby Boomer counterparts, owing to their childhood raised by parents who are more exposed to these issues as well. It won't be long until Gen Alpha starts to become buyers themselves, so brands must be ready to engage them.
Read on to have an understanding of Gen Alpha and how exactly brands can market to them.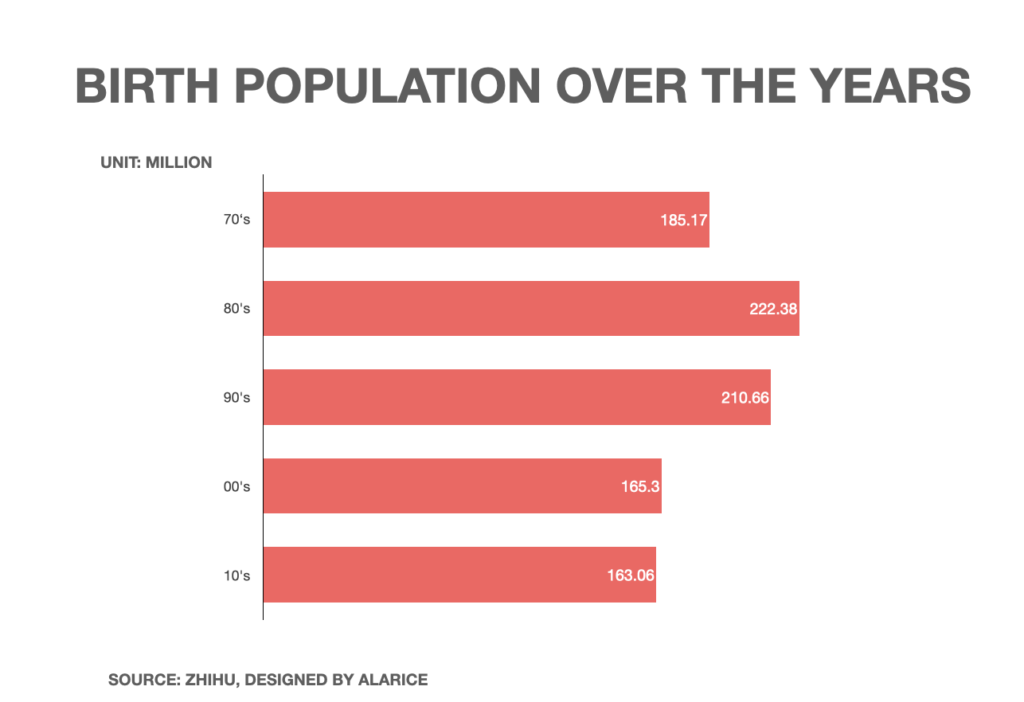 Source: zhuanlan.zhihu.com
The Rise of Parent-Child Influencers
This fact might seem natural given that all Gen Alphas are still underage in 2022, but there is a marked rise in parent-child influencers. In China, these kinds of influencers are prevalent and appeal to the Gen Alphas. Most Chinese social media is flooded with mommy blogs, posts, and videos, about parenting and what products to patronize. They are also recommending tips on fashion, brand products, and styling that is attractive to Gen Alphas.
One example is designer @superrenee, who is an iconic Chinese mother-daughter influencer tandem, together with her daughter Yuri. They post matching outfits from brands they prefer or things from their daily lives, and people are eating it up. Additionally, the parents of Gen Alpha are tech-savvy and digital first, so it stands to reason that their marketing tastes impact their shopping behaviors.
Source: weibo.com (@superrenee account)
This trait is also passed onto the Gen Alphas, with the kids influencing the purchase decisions of their parents more than any other. Due to their age, parents still have the final say in completing a transaction, so it is important that brands appeal to the parents also.
Brands should study the marketing tendencies of Gen Alpha's parents. Most millennial parents prefer minimalist, high-quality products that can be used as status symbols. This affects Gen Alpha since kids as young as 3 years old can already start recognizing brands. There is a strong mutual "influence" between parents and children on social media.
For example, Children's Day is a popular festival in China that celebrates children and promotes the family unit. Most of these kids, especially those 14 and under, is a key target market for brands. Brands can sponsor the holidays, just like what LEGO did in 2019 for the festival. Aside from festival sponsorship, brands also did promos like exclusive product ranges from Toys R Us. The festival was not only for children's brands, but other fashion and luxury brands also took advantage of the festival by releasing special product lines for Children's Day to strengthen the parental connections in the family. Dior promoted their Baby Dior Winter and Autumn collection to Chinese consumers during this festival.
Source: weibo.com (Lego China official account)
Source: weibo.com (Dior official account)
Source: weibo.com (Dior official account)
High Awareness of Social Entrepreneurship
Gen Alphas and their parents are highly concerned about social entrepreneurship. They have an extremely developed sense of social conscience and one that affects their spending habits. Talks of sustainability, preservation of the environment, promotion of healthy habits, or work/life balance are some causes that Gen Alphas feel strongly about. This generation, rightly so, feels a responsibility for future generations in taking care of the planet.
To appeal to them, brands need to promote and improve their CSR (corporate social responsibility) arm, especially with a generation that investigates a product and its company before purchasing them. Gen Alpha, in general, prefers conflict-free, green products and those that are plastic alternatives. Products that place the environment as a priority are also a hit with them.
Additionally, brands will need a brand story that promotes their action in taking care of their product's social and environmental impacts. They have to act as if they care. Your brand story should show what you are standing for, the impact you are making, and how your brand is actively participating in solutions to solve the issue. It also needs to be completely authentic since the investigative prowess of this generation is greater than others and will not hesitate to call out companies.
Educational – Toys R In for Generation Alpha
Because Gen Alpha are still essentially kids, toys are important to them. China is the world's biggest toy supplier, and Chinese Gen Alpha spends an average of 30,000 per year on toys. Sensory and educational toys are a mega hit with Chinese Gen Alpha, such as slime, fidget cubes, water or sand tables, or finger painting. In addition, even videos about toys are seeing massive traffic aside from the traditional children's cartoons. An example is the self-media "Xiaoling Toys" in Tencent Video, which basically reviews and explains toys for kids. Currently, there are 10.48 billion views on this channel.
Source: weibo.com (Xiaoling Toys official account)
Brands can take advantage of the toy wave by introducing brand mascots or toys for kids. It can be a brand symbol with sensory or educational features for kids to explore, or brands can also partner with other well-known IPs to create limited edition toys or memorabilia to drive traffic for their brand.
With this kind of influence, it is crucial for brands to understand what makes Gen Alpha tick, and how they can effectively market to them and their parents. Here's what brands must know:
Co-creator element is key
Gen Alphas are no longer the passive consumer of the past. They are active decision-makers online, as they are used to responsive technology that allows them to build authentic relationships. This might be due to the forced isolation that the pandemic brought, leaving them with no choice but to interact online with their peers. With technology, they can successfully socialize and build interactive friendships safely with Minecraft or Roblox.
Perhaps most important is the fact that this generation has been exposed to "co-creator" games at an early age. Responsive tech works best for Gen Alpha. Roblox, for example, has a studio where kids can create programs and games while at the same time learning skills (coding or other digital skills).
Brands with this kind of feature have a definite staying power in their generation. What brands can do is take reference from the prevalence of Minecraft and Roblox and enable a "co-creator" element in their marketing strategy. This may include launching mini-programs, gamified content, or simply activities that allow this generation a chance to "co-create" with your brand. This will also definitely increase brand loyalty.
Build experiences before products
Personalized experiences appeal to Gen Alpha as they are used to tweak and customize how they represent themselves online using avatars. Therefore, a personalized experience is another factor that Gen Alpha looks for in their brands and products. Meeting their personalized expectations means that a brand needs to meet them in tailoring their preferences.
They don't want to be the faceless many, but they want to feel as if a brand has a specific product "just for them", or at the very least, allow them to personalize what is already existing. Videos remain as the primary way of engaging Gen Alphas (same with Gen Z), as they spend at least 100 minutes/day watching short-form videos.
Brands can capitalize on this preference by using big data to create personalized experiences for their customers and reinforce brand loyalty. Additionally, since video content is the most entertaining form of media for Gen Alphas, brands can create interactive video content for their customers. It can include features like buttons, hotspots, multimedia, or questions with free responses. Personalized gamification features can also highlight a brand, especially with Gen Alpha's penchant for customizing its avatars.
Conclusion
Human experience and tendencies will continue to change, and in every generation, brands need to be responsive to what makes them tick or understand what they prefer. For Gen Alphas, they are projected to be the most educated and learned consumer group out there, so brands need to step up their marketing game when it comes to them. While it can be a few years before Gen Alphas have the economic spending power, it is important that we understand them before they even become part of the workforce so we can be ready and tailor marketing to their different tastes.
For Gen Alphas, brands need to understand that right now, parents are ultimately the decision-maker at the moment, and parents will prefer what their children prefer. In addition, with Gen Alpha, social entrepreneurship is important (more so than any other generation), so a brand's CSR needs to improve to appeal to them. Also, having a chance to co-create on top of having a personalized experience with a product or brand is crucial for Gen Alphas.
Does your brand need more in-depth help with this incoming consumer group? Understand the market and prepare your brand with market insights from Alarice. We offer real-time market and trend insights and strategy-making for your brand. Drop us a message with your questions and start better marketing for your brand today.