In today's digital world, social media has become an essential element for travellers. Users not only turn to online resources to book and pay for their vacations but also when they are researching and planning their trips. Research shows that social media can significantly impact travel plans. 52% of Facebook users report that pictures of their friends have inspired travel plans. Additionally, it's reported that 1 in 5 travellers use social media for inspiration when they are planning for a trip.
It's impossible to ignore the impact social media has on travel planning and the same applies to Chinese users. We will be introducing the 5 most suitable platforms for the travel and hospitality industry in China as well as sharing success stories for the industry on the mentioned platforms.
2020 is undoubtedly a very difficult year for everyone, but even more so for the travel and hospitality industry. As people were advised to stay home, all travel-related businesses suffered from a devastating financial loss as they had to stop operation. How did businesses utilize digital channels to their advantage?
So, what are some of the best social media platforms for the travel and hospitality industry?
1. Weibo (微博)
From the early days of simple image posts to short videos, livestreaming, panoramic pictures, Weibo is actively integrating new technology to provide the most trendy and interactive experience for users. Travel content has been a top-performer on Weibo and the commercial value of Weibo for the tourism industry has truly become recognized over the years.
"Go on a trip with Weibo" (带着微博去旅行) might as well be one of the biggest ongoing travel campaigns in history. It is a yearly campaign started back in 2012. Over a hundred international destination pages such as Beijing, Shanghai, the United States of America, Mexico, etc. have been built on Weibo with 300 million users participating in the campaign. Multiple related topics such as "Take Weibo to Hong Kong" (#带着微博去香港#), "Take your best friend to travel" (#带着闺蜜去旅行#), "Best travel pictures" (#旅行最美风景照#) have become trending topics on Weibo.
Celebrities, influencers, corporations, organizations, attractions and tourism boards actively shared information of travel agencies, airlines, accommodations and tourism businesses, covering all travel-related aspects. This not only makes Weibo a well-rounded platform for all things travel but also encourages users to produce more UGC, giving further promotion to participating tourism businesses.
The 2019 "Go on a trip with Weibo" (#带着微博去旅行#) campaign received 26.9 billion views for all campaign topics, 77.9 million interacting users, and a total of 220 million video plays. Weibo also did its first livestreaming relay event across different cities (城市直播接力). The livestreaming sessions accumulated 11.5 million views with peak views at 600,000 at one point.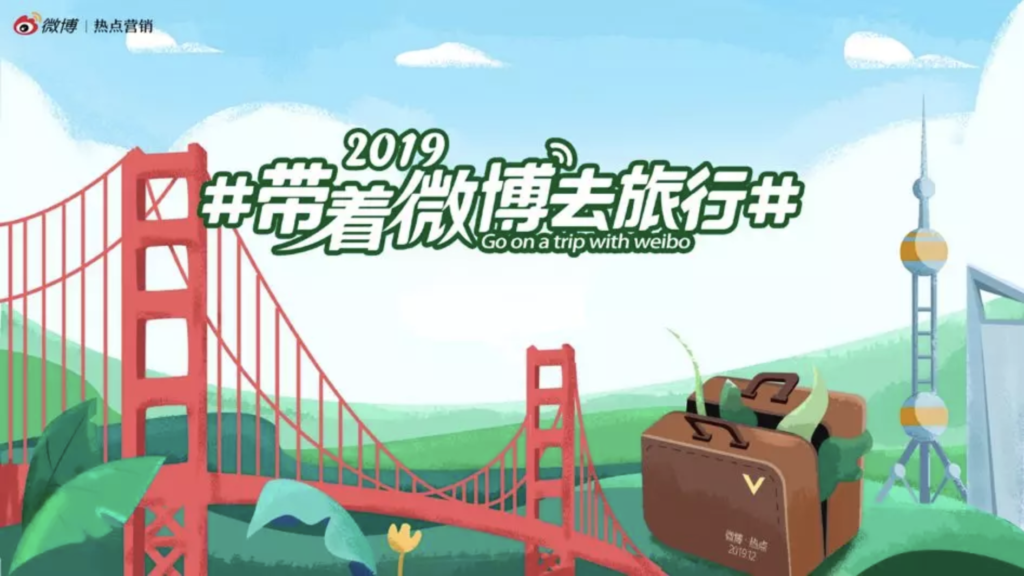 As of 2019, over 300 million users were participating in this campaign, publishing 94.9 million posts and 130 million original images. Over 260 travel businesses, tourism boards, travel agencies and 99 destination webpages took part in the campaign as well and these entities combined recorded a 10.97 million increase in followers. Take Expo 2019 (the world horticultural exposition held in Beijing in 2019) as an example, they initiated the topic of #带着微博去看鸭#, which later generated a total of 1.14 million discussions, topping the number one spot for travel-related topics for 3 consecutive days.
German National Tourist Board (德国国家旅游局) has also been able to receive huge success on Weibo. The board previously shared the panoramic images of Neuschwanstein Castle on Weibo and received a total of 4 million exposure. The topic "Take Weibo to Germany" (#带着微博去德国#), as a result, showed an increase of 15 million views in 3 days. The board is still very active on Weibo till this day and actively pushes for livestreaming sessions to introduce different parts of Germany even amid the pandemic. Their creative approach has proven to be successful as their official Weibo account has amassed 1.6 million followers with a daily average of over 100,000 interactions to date.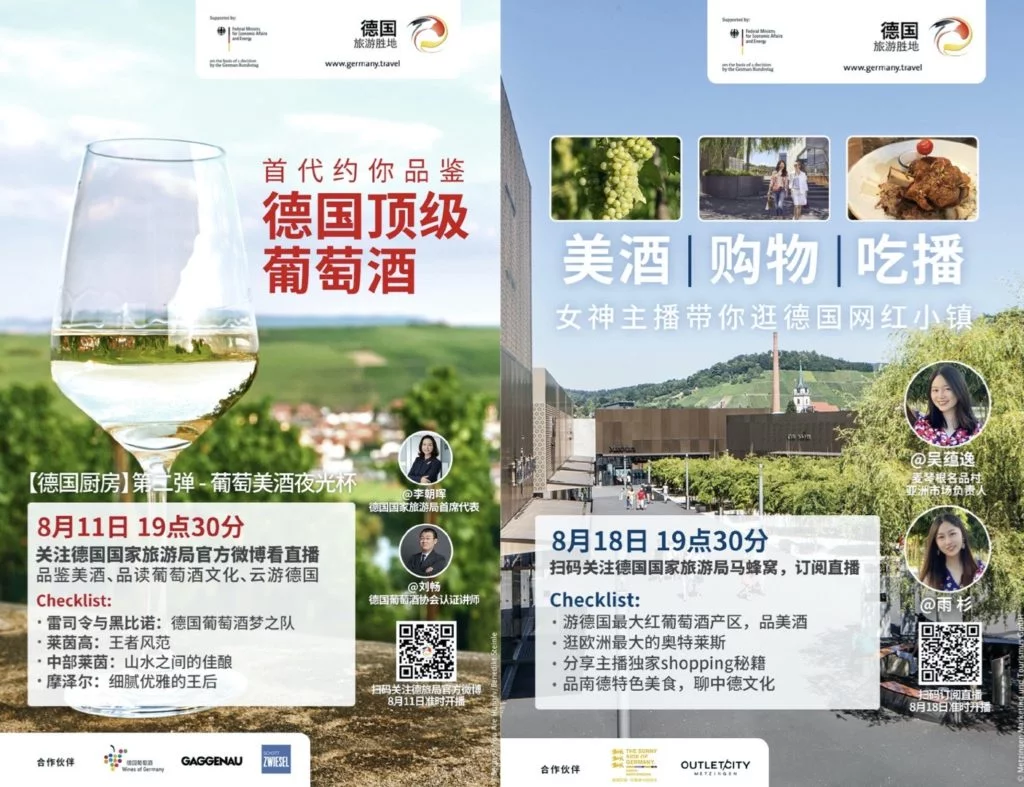 2. Kuaishou
Short video apps such as Kuaishou and Douyin have become an ideal platform for travel businesses as visually-appealing travel content has a natural advantage on visual-driven platforms.
Online travel agency Ctrip (携程旅游) has launched the "Virtual Travel" (云旅游)campaign on platforms such as Kuaishou, Douyin, Douyu (斗鱼) and Huya (虎牙), calling for tour guides, staff working at tourist attractions and travel bloggers to introduce the destinations and also new ways to tour around the sights. The campaign was not just a content seeding strategy to boost tourism after the pandemic is over; but also generated over 10 million views and a few hundred thousand interactions across all platforms.
Ctrip has successfully utilized this idle tourism time window in continually generating value for its brand – 1) execute content seeding to boost future travel demand; 2) enhance private traffic and follower base by livestreaming; 3) provide a platform for new live-streamers to gain exposure and experience, in turn training up more potential influencers who can bring value to the brand in the future. This pandemic-inspired campaign can likely become an ongoing campaign for Ctrip as the company moves on to do content seeding in a more systematic and structured way.
Another successful campaign came from Gansu province. On 23 February 2020, the Gansu cultural and tourism board launched its "Stream the Silk Road at home" (宅家游丝路) campaign on Kuaishou. The event gathered 170 provincial attractions and museums as well as 306 tour guides and commentators to produce short videos and livestreams about Gansu cultural tourism. Users could simply view these livestreaming sessions to virtually visit the museums and hear stories of Gansu culture delivered by professional commentators. The campaign also launched a relevant topic on Weibo with a focus on Gansu scenery and food, generating 6 million views.
A noteworthy component of this campaign was perhaps the support being provided by the Gansu cultural and tourism board. On 22 February, the board invited Kuaishou technicians to provide education to staff from newly-listed attractions and museums, tour guides and commentators on how to conduct livestreaming on Kuaishou. Topics covered in that education session include best practice sharing, tips on delivering a great livestreaming session and the technical aspects of livestreaming. Kuaishou has also given immense support to this campaign by placing it on the top of the page for "Kuaishou's ones to watch" (快手关注页) and traffic subsidies.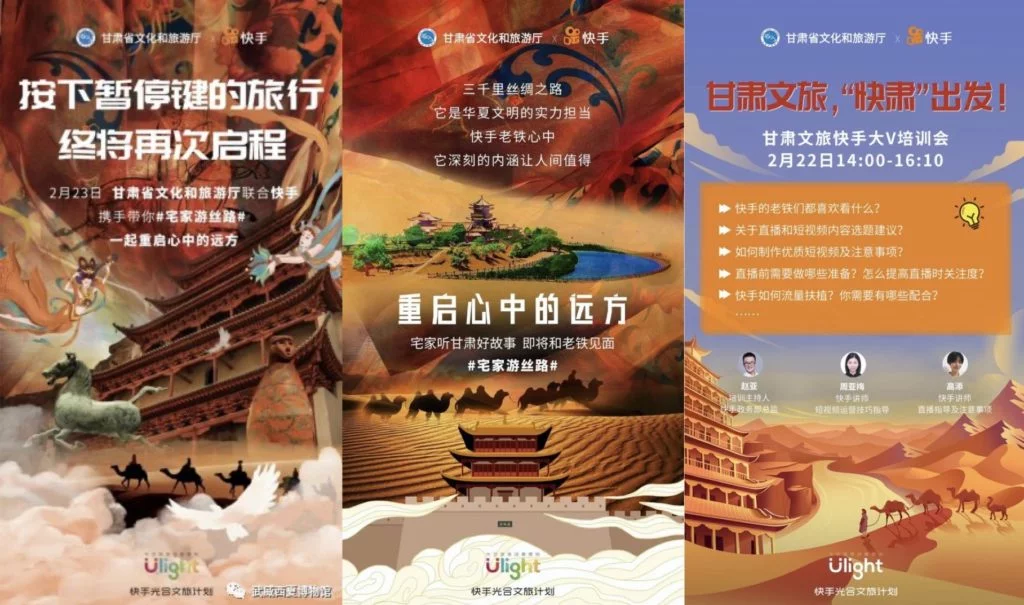 3. Douyin
As mentioned in the last part, short video platforms became a very effective channel for tourism and there have been several virtual travel campaigns on Douyin as well.
The 3-month "Cloud Tourism in Shaanxi" (云游陕西) campaign was held on Douyin starting from 20 Feb 2020. Douyin users were asked to join the contest by submitting their original content featuring Shaanxi culture and tourism. The final winners would be determined by the number of likes and the topic relevance. Contestants also needed to follow both the topic "Virtual Travel to Shaanxi" (云游陕西) and the official account "Shaanxi Smart Travel"(智游陕西) to enter the contest. Similarly, the organizer "Shaanxi Tour" (陕西文化旅游网) also provided livestreaming training and support to participating in tour guides and attractions, etc.
"Shaanxi Tour" (陕西文化旅游网) also launched the "24-hour live show at Chang'an" (十二时辰长安秀) on Qixi Festival, the Chinese valentine's day. The campaign was done in collaboration with JD.com, Douyin and tv.people.cn in promoting Shaanxi's rich culture and boosting sales for Shaanxi products to revive the region's economy. This would be the country's first 24-hour campaign integrating culture and commerce with the use of livestreaming and e-commerce channels.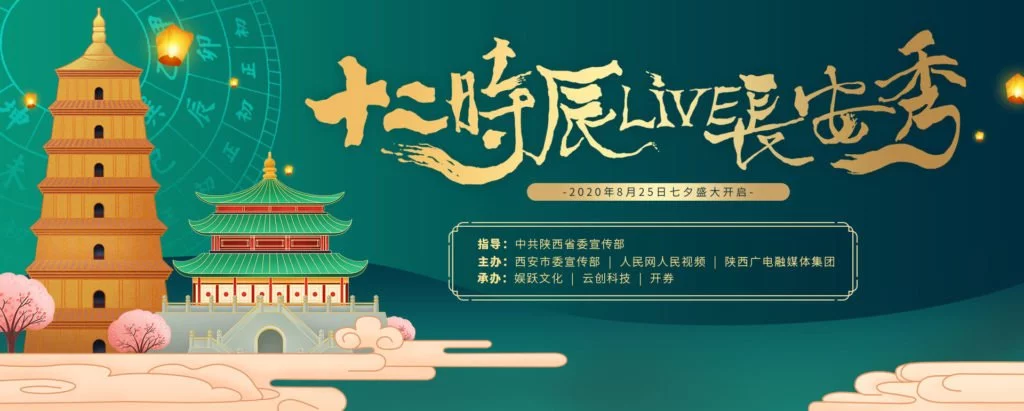 4. Mafengwo (马蜂窝)
Mafengwo is a leading travel platform that offers plenty of user-generated tourism information and product reservation services. It is a social platform where its users can share their journeys, travel guides and recommendations. Users with similar travel interests can follow each other and build a tight social network. It is also an e-commerce platform with 38,000 suppliers providing travel-related products on the platform.
Mafengwo has positioned itself as the "Travel Bible" of the young generation. There are currently over 60,000 global travel destinations, including transportation, hotels, tourist attractions, restaurants, shopping and entertainment, etc. The platform also provides 600,000 destination guides and has accumulated 760 million travel guidebook downloads. It has also received remarkable growth of a 100% increase in turnover, four years in a row, since 2015.
Mafengwo has been doing its marketing campaign named "The Unknown Travel Laboratory" (未知旅行实验室) since September 2016. The latest campaign "Dream Vacation Project" (好梦旅行计划) was held in summer 2019 in helping users to fulfill their travel-related dreams. The project was done in collaboration with actor Alec So (苏有朋) by asking users on Mafengwo to make a wish and share about their dream vacation without specifying the destination and time of travel. Alec would choose the final 3 winners with Mafengwo covering all costs for air tickets, accommodation and local experiences of their dream vacation. This interactive giveaway campaign has attracted close to 200,000 views on the platform and 30 million views on Weibo.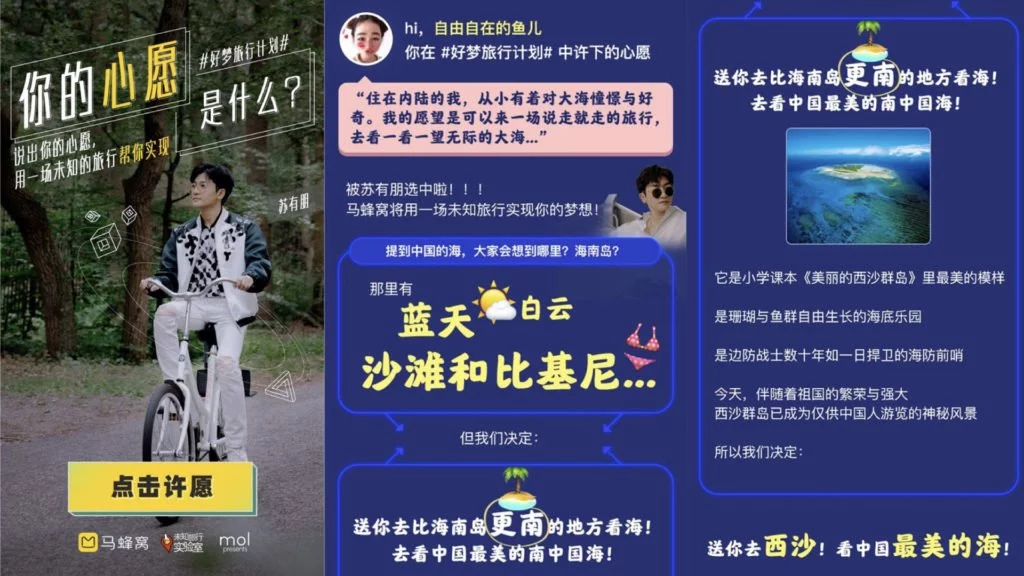 Check out our Mafengwo marketing guide here.
5. RED (小红书)
RED is traditionally strong on the beauty and luxury verticals. It has however announced plans to expand into the tourism vertical. In April 2020, RED formed a strategic partnership with Huzhou Culture Radio & TV News Publication Bureau to launch the "RED City Project". In June 2020, RED started the "Seeding Travel campaign" (种草周边游) along with Renminwenlu (人民文旅) and invited travel influencers and tourism boards in the livestreaming sessions. In July 2020, RED partnered with Xiaozhu (小猪短租), a consumer-to-consumer short-term home and apartment rental platform; 300 home rentals became listed on RED.
A recent report published by RED showed that the top 3 created content on RED in 2019 were beauty, travel and fashion. Travel content was the second-largest category beside beauty as well as the category that showed the most growth. One major takeaway from the report would be the impact of content seeding on tourism from platforms such as RED and Douyin. Under the influence of the pandemic, many people prefer to take short-to-mid-distance trips. RED became a more efficient platform in driving conversions for lesser-known and lower-cost travel products. It has also bypassed Ctrip, Fliggy (飞猪) and Mafengwo to become the most popular platform in driving decision-making processes for the travel category in the first half of 2020.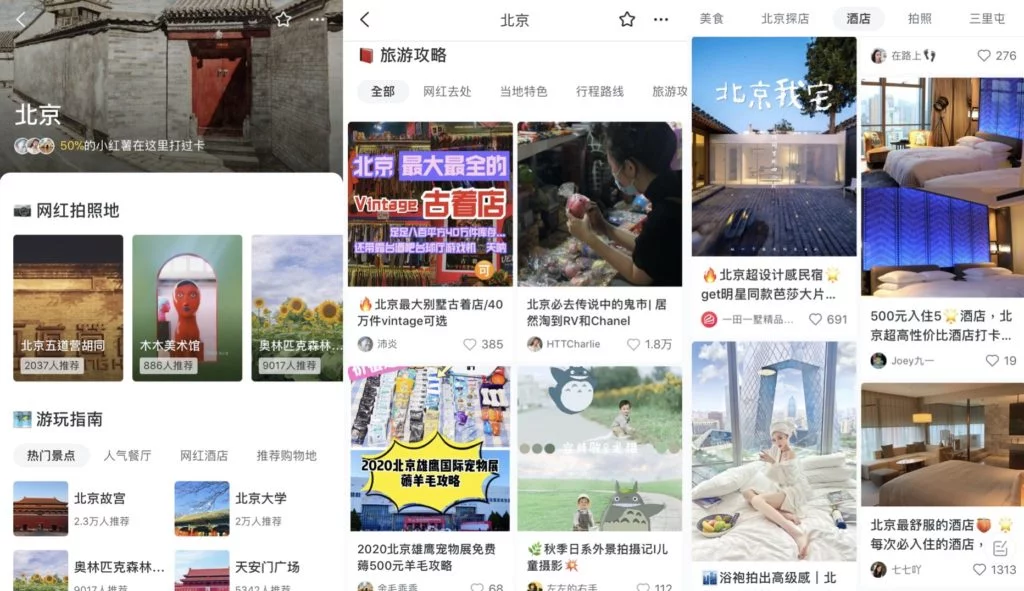 While we have not seen many textbook examples of travel experience sharing on RED, the platform has successfully created hot photo spots for influencers such as the field of pink grass in Hangzhou (杭州粉黛花田), Jiayang steam train (嘉阳小火车), Fujian sandbank (福建鱼骨沙洲), the Twenty One Whitfield Hotel in Hong Kong (香港二十一威菲路酒店), etc. We are still very excited to see RED expanding its reach and maximizing its potential within the travel vertical.
Check out our RED marketing guide here.
Contact us at Alarice to see how we can help in your China Research and Strategy and Social Media Marketing Campaigns. Check out our sample training or download our FREE mini book "How to win with Chinese tourists?" to gain insights in reaching and attracting China's global tourists.