Change is the only constant in China's consumer market. This has never been truer now in the post-COVID-19 era. A lot has changed in the past 6 months, many trends have accelerated. Chinese consumers have picked up new spending habits and formulated new patterns.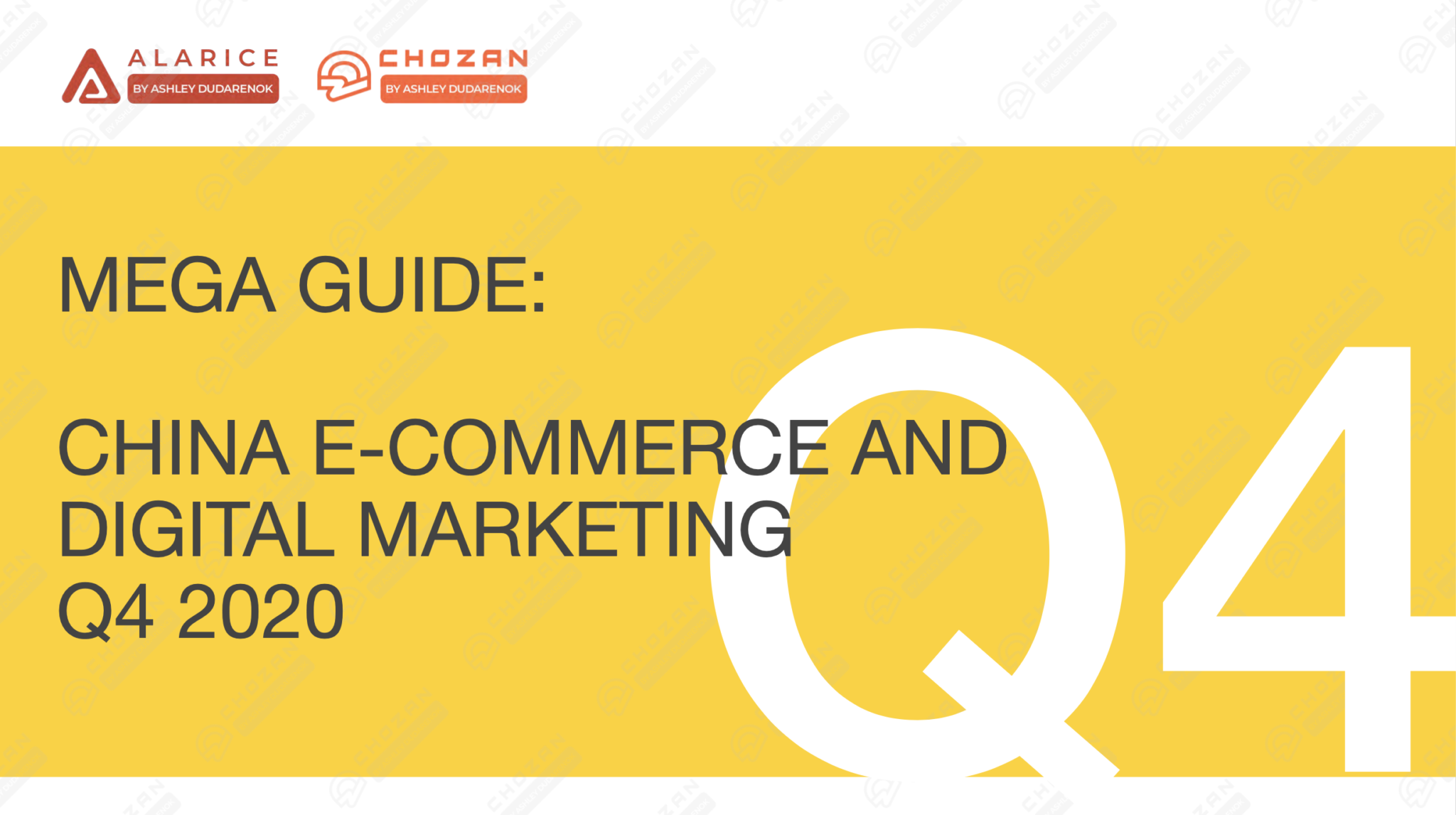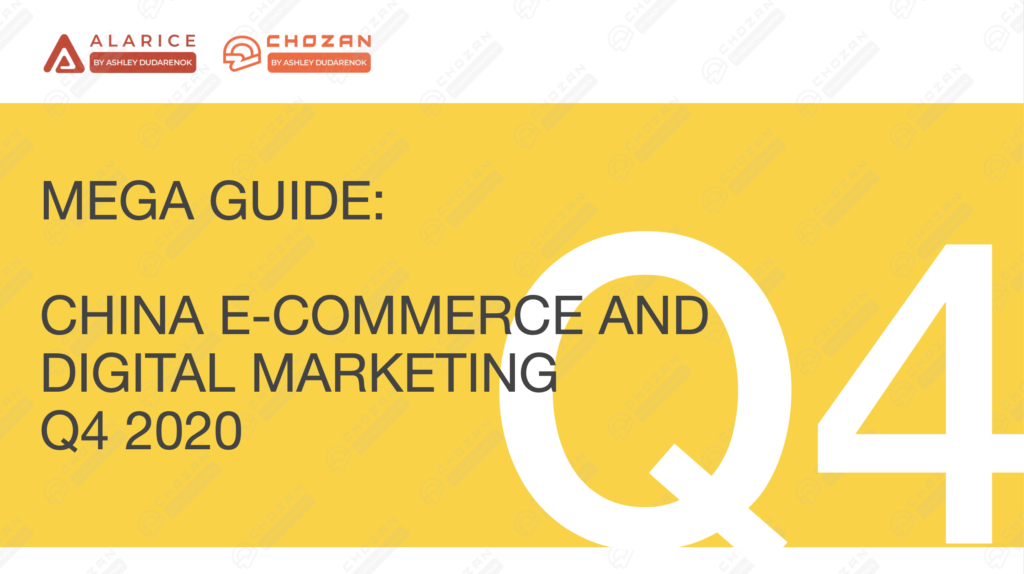 To support digital marketers and e-commerce specialists, China expert Ashley Dudarenok and her ChoZan team present a 570+ pages ChoZan Q4 report, covering the most important developments in China's digital space from the impacts of COVID-19 and top 9 Chinese consumer groups to e-commerce platforms and shopping festivals, 9 social media platforms as well as 8 key trends to watch out for in early 2021.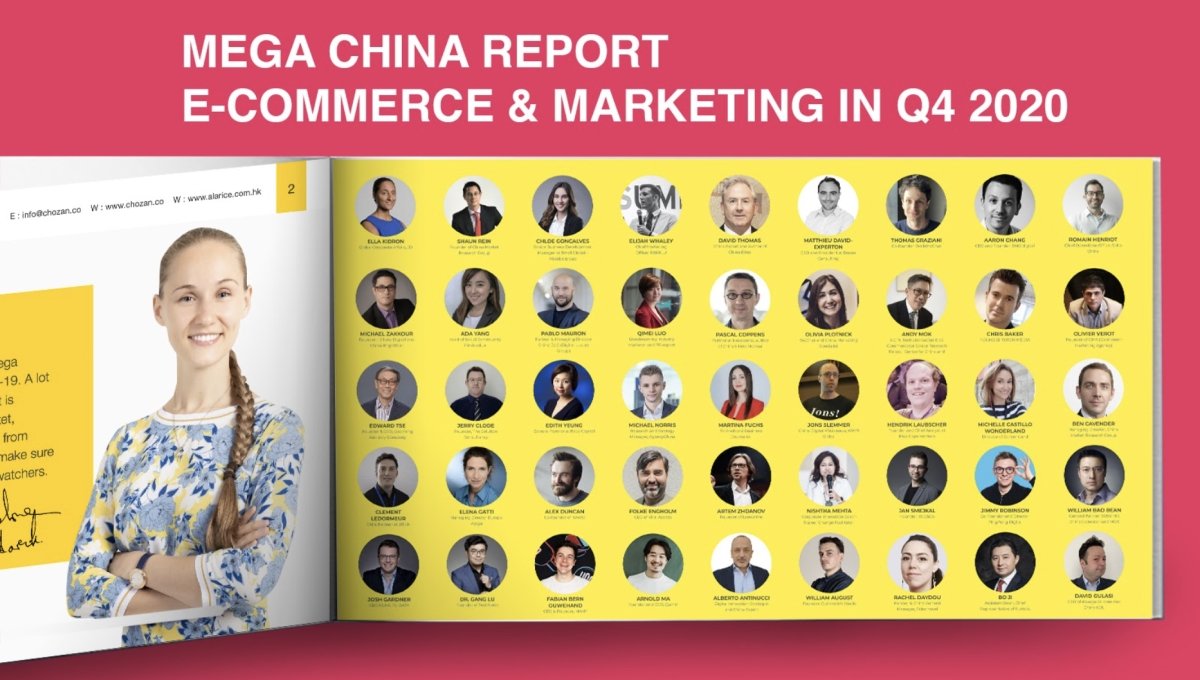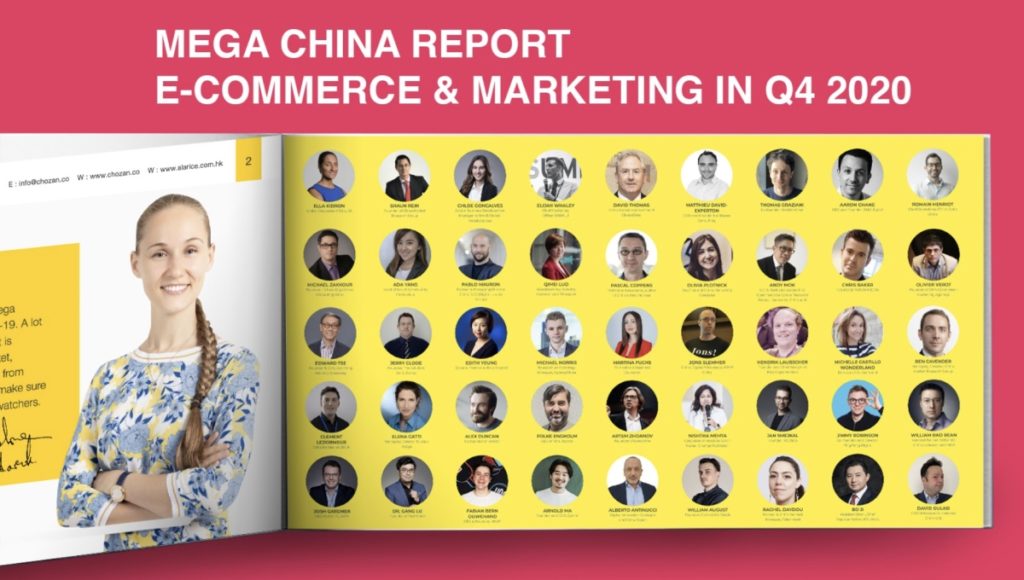 ChoZan Q4 report creators have interviewed over 50 experts from TV commentators and China's tech giants in-house team to China agency owners, universities professors and established book authors to make sure the report is exhaustive and represents the collective wisdom of the China watchers.

ChoZan Q4 report: The 9 key consumer groups are interested in spending their money on

Millennials: education/training, health supplements, pet products, small home appliances

Gen Z: travelling, new products, products recommended by celebrities and KOLs, animation, cross-border foreign products, Guochao products

Silver-haired Generation: travelling, home appliances, health supplements, insurance and financial products

Men aged 40 or above: 3C products, home appliances, car accessories, tobacco and alcohol, skincare products

Power Women: luxury products, small home appliances, educational courses, fitness-related products

Super Moms and Dads: children's clothing, health supplements, educational products, high-tech gadgets, fitness-related products

Pet Lovers: luxury products for pets, healthcare and beauty services for pets

Lower-tier City Youth: entertainment products, real estate, cars, products from short-video platforms

Happy Singles: high-quality electronics, socializing activities, eating out

The 4 booming industries and product categories

1. Aesthetic medicine
The scale of the aesthetic medicine market in China is expected to exceed 200 billion RMB in 2020. The proportion of post-90s consumers has reached 50%, which is the main driving force for the development of this market. Hair transplantation, skin beauty and collagen services have the largest increase in consumption.

2. Smart Appliances
The demand for household appliances has gradually shifted from large appliances like refrigerators and TVs to smaller appliances like vacuum cleaners and cooking machines. During the "Tmall Queen's Day" (三八女王节) in 2020, the sales of sandwich machines increased by 1500%, and the sales of air fryers increased by 659%.

3. Sleep Products
The average sleep time in China is 6.92 hours, and the proportion of the post-90s with insomnia is 36.7% in 2019, so sleep products have broad market prospects. The online consumption of sleep products has grown by more than 10% YoY. The most popular sleep products sold online are eye masks, earplugs, etc.

4. National Brands
Cross-border import consumption was impacted under the pandemic, creating windows of opportunity for the local supply chain and domestic brands for developments and growth. In April 2020, the Ministry of Commerce of China and Tmall organized a "Shopping Festival" (双品购物节), invited nearly 90,000 merchants to participate. All of those merchants sold products of old or new national brands.

The ChoZan Q4 Report also goes into extensive detail on 9 social media platforms – WeChat, Weibo, Douyin, RED, Bilibili, Zhihu, Kuaishou, Weitao and Toutiao; 4 e-commerce platforms – Alibaba's Tmall, JD, Pinduoduo and Kuaishou; 3 most important online shopping festivals – Double 11, 618 and CNY; 9 major consumer groups companies need to pay more attention – Millennials, Gen Z, Silver-haired Generation, Middle-aged Men, Power Women, Super Moms and Dads, Pet Lovers, Lower-tier City Youth, and Happy Singles; 8 key trends brands and businesses need to know to succeed in early 2021 – Private pool, Livestreaming, Brand KOLs, Guochao, Cross-promotion, and more.
Download the ChoZan Mega Report 2020 [China E-commerce + Marketing Q4 Outlook] to be equipped with the latest knowledge right now.
While all these consumer insights are important, it's crucial for businesses to act on these insights to plan their 2021 marketing strategy for China accordingly. Ashley Dudarenok will be hosting a China Digital Marketing Masterclass via livestream on 24 November 2020. Secure your seat now to learn the latest, best and most actionable insights to make 2021 your best China year yet.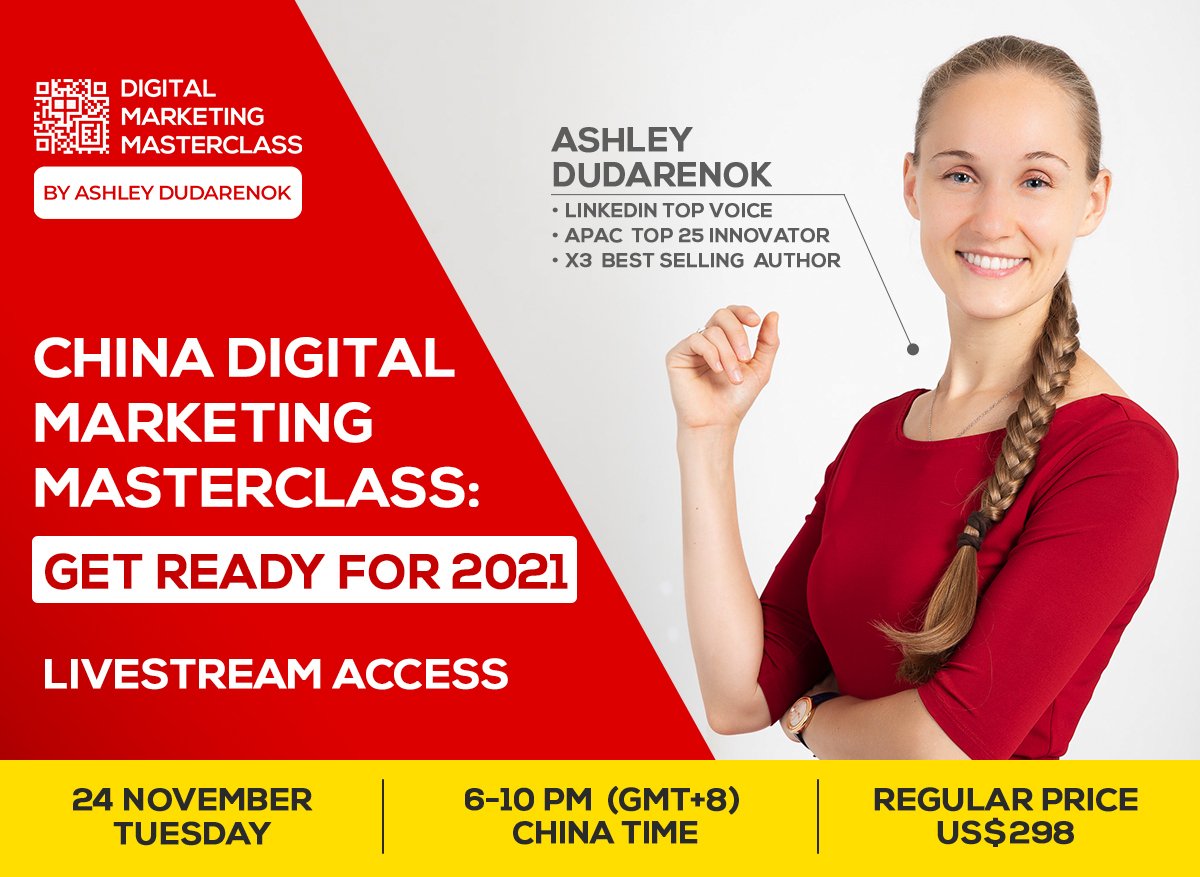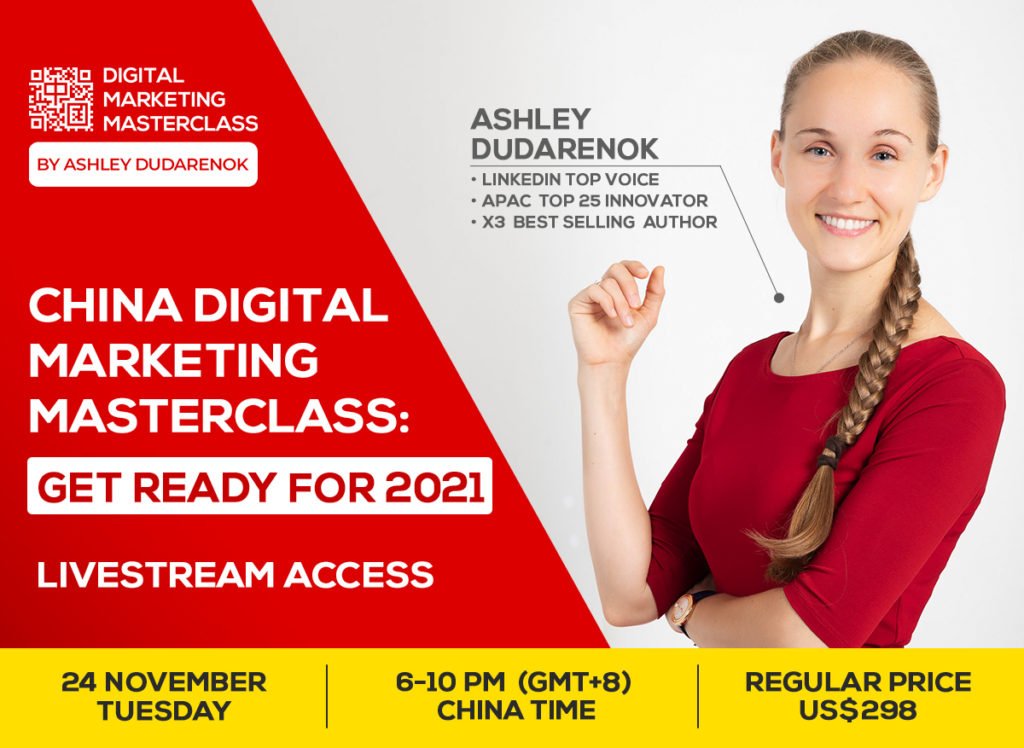 In this actionable masterclass, we will cover 3 all new modules:
The China Market, Modern Chinese Consumers and Digital Trends in 2021
Marketing and Social Media in China for 2021
Planning Your Strategy in China for 2021
By completing this Masterclass, you will be able to:
Have an opportunity to ask your questions to representatives from China's tech giants
Learn directly from successful Chinese KOLs
Network with other marketers digitally to build your support network
Receive a certificate upon completion to showcase your achievement