In recent years the snack market has entered a fast lane of development with the upgrading of consumption, hence, the scale of output value has continued to expand. It has emerged as one of the most promising and dynamic industries in the future FMCG market.
The growth of China's snack market is due to both an increase in spending power and a willingness to consume. China's snack market is expected to grow more than 6% annually, from RMB 2.7 trillion in 2020 to more than RMB 4 trillion by 2025 , according to Qianzhan's report. Following the COVID-19 outbreak, new products like pre-prepared meals became popular in the market.
Number crunching
A survey conducted by the China Business Industry Research Institute reveals that the snack food industry's compound annual growth rate increased by 12.09 % from RMB 822.4 billion to RMB 1.27 trillion in just five years. According to the China Business Industry Research Institute, China's snack food industry is expected to continue to grow steadily in the future, which is great news for business owners.
Furthermore, the market size of China's snack industry is expected to reach RMB 4 trillion by 2026, according to the previously mentioned market analysis.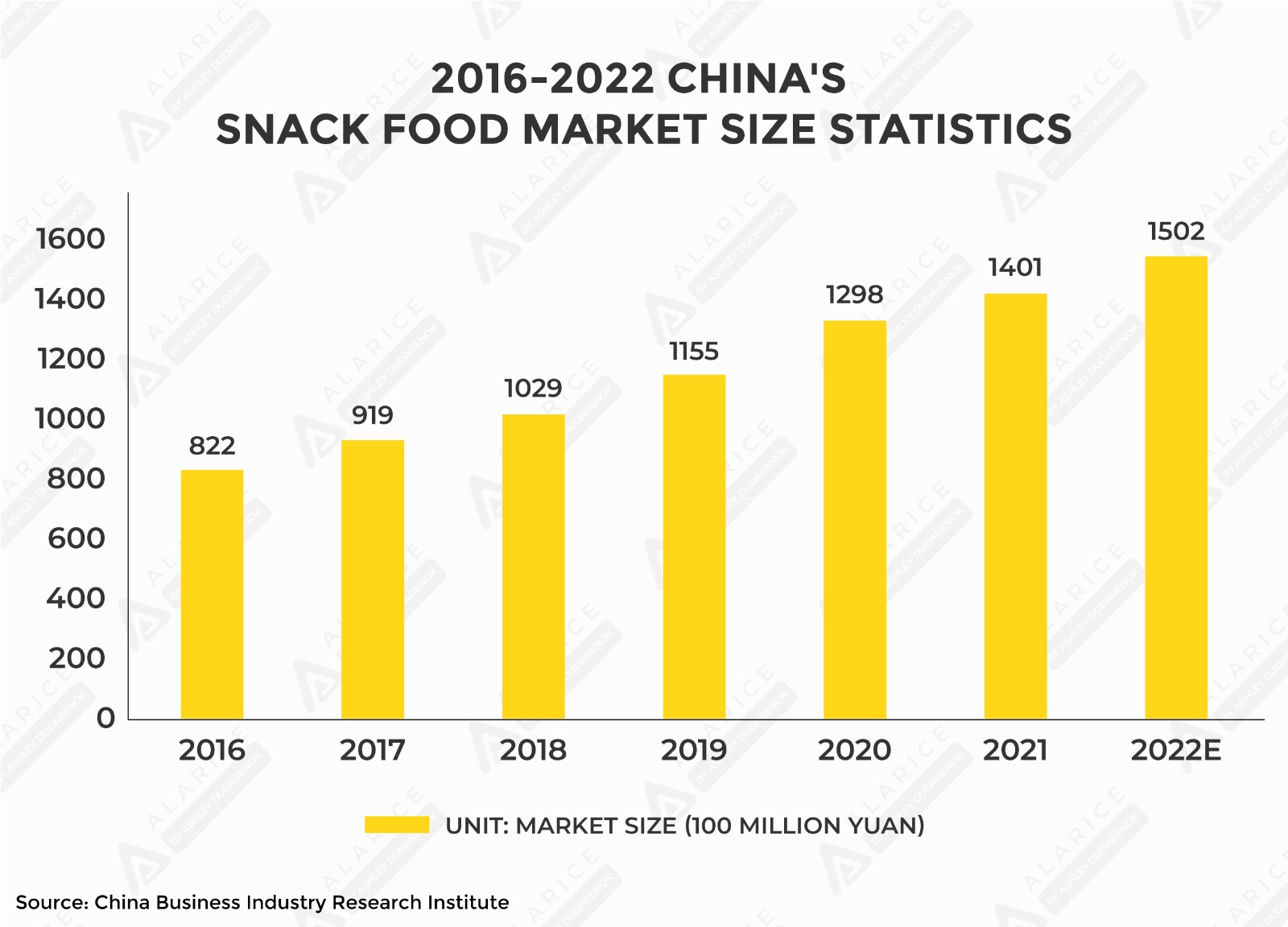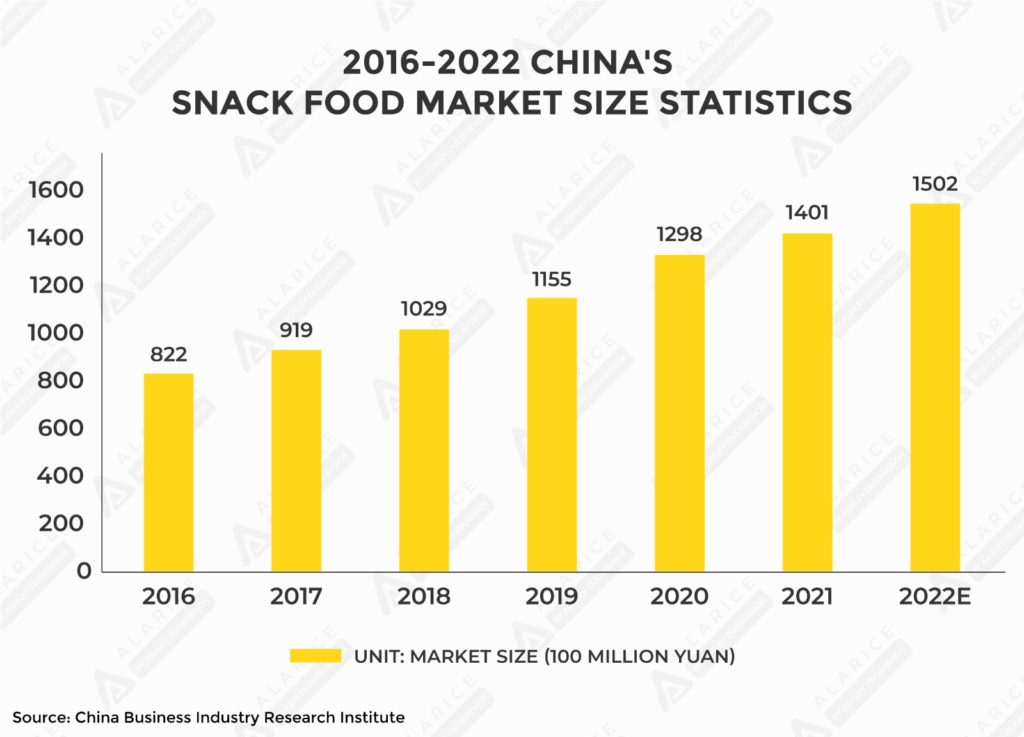 Source: China Business Industry Research Institute


Snack Segmentations and Trends
Baked goods
Bread, cookies, and cake are examples of baked goods. Baked goods are expected to be the snack segment with the greatest growth in China by 2024. Baked goods are becoming more popular as a breakfast option. Chocolate and puffed snacks have a high market concentration and compete with high-end products in these industries.
According to Leadleo's report, baked nut revenue in China increased from RMB 1200 billion in 2015 to RMB 1751.9 billion in 2019.
Local small and medium-sized baking enterprises continue to dominate China's bakery industry with a decentralized competition pattern.
Images taken from Toutiao
Talking about baked nuts, for example, during Alibaba's 11.11 sales in 2019, China's largest online snacks retailer Three Squirrels enjoyed sweeping success and dominated e-commerce platforms. According to Alibaba data, sales of Three Squirrel snacks products reached RMB 100 million (US$14.2 million) in just 19 minutes and 23 seconds, demonstrating the enormous popularity of these snacks. It currently manufactures over 500 SKUS products, primarily in its three major product categories of nuts, baked goods, and meat products.
Ever since Three Squirrels has become China's largest online snack retailer. If customers want to send the snacks they purchased as a gift to family and friends, the online mini program allows them to customize the gift box with photos and wishes.
Image taken from 3songshu official website
Puffed snacks
The puffed snacks market will grow at a rate of 4.5% by 2024, with a revenue of RMB 16.2 billion in 2019 . This expansion can be attributed to segment innovation and an increasing number of brands offering puffed snacks.
Leading brands with a high penetration rate in the country are China's Oishi (30%), Lay's (25%), and Korea's Orion (25 %).
Lyfen (来伊份), China's largest snack food brand, is another example of a popular puffed snack. In terms of social media promotion, the brand launched a campaign called "Lyfen feeds your dreams in full of fresh buff." This campaign is based on the TV show "The Ideal City", with many people sharing their workplace dilemmas.
By sponsoring the TV show, Lyfen connected with China's Gen Z and invited young office workers to speak on their issues in a six-minute video. It created a success with over 120 million reads on Weibo, the campaign hashtag has sparked tens of thousands of discussions, with many people sharing their own experiences at work.

Image taken from The Ideal City
Snacks made from meat
According to Daxue Consulting, the market share of meat snacks increased to 21% in 2020, with duck being the most popular type of meat. Customers in China prefer meat-based snacks over carb-based snacks. However, this preference for meat snacks is most prevalent in cities outside of the first tier.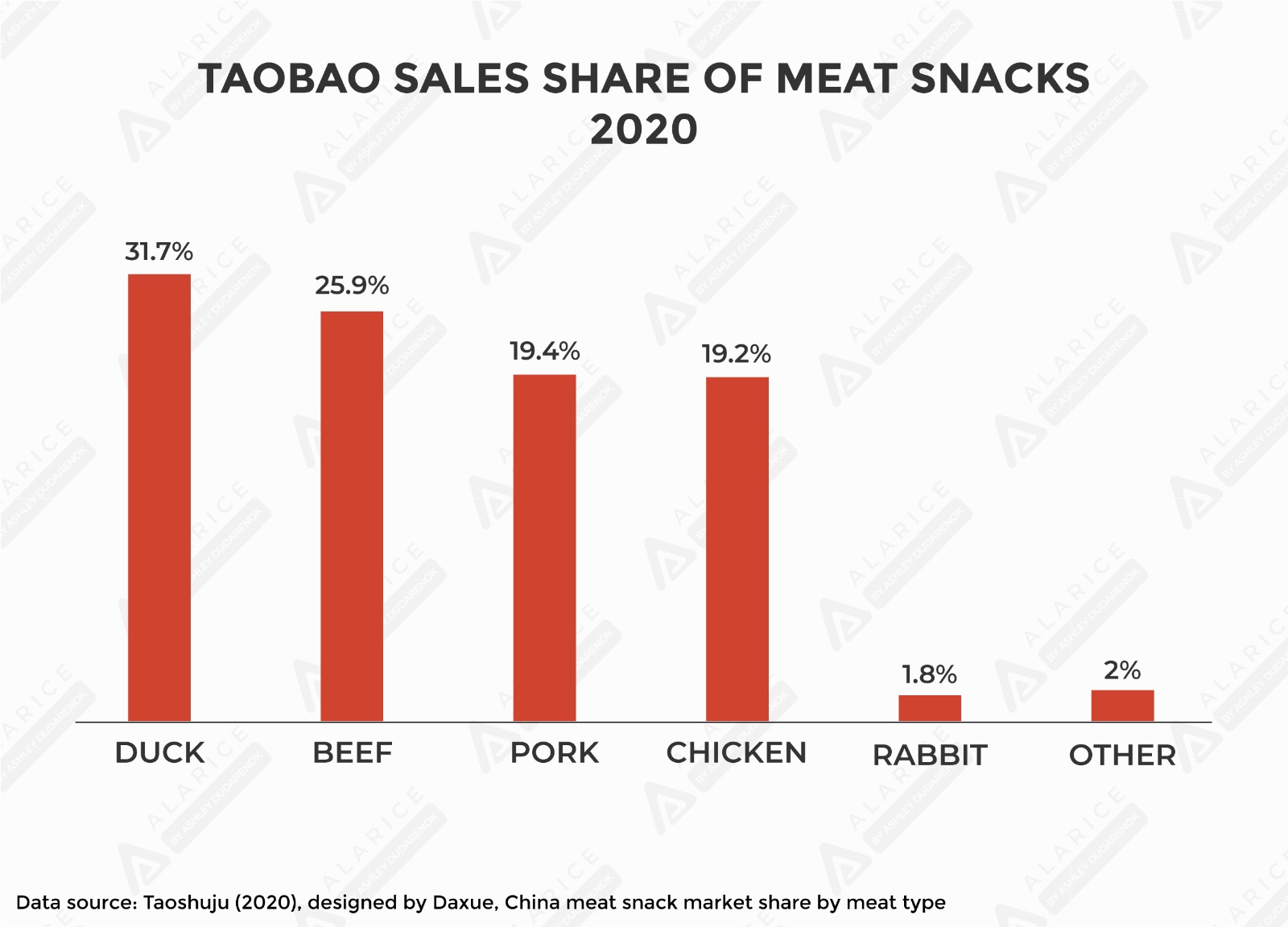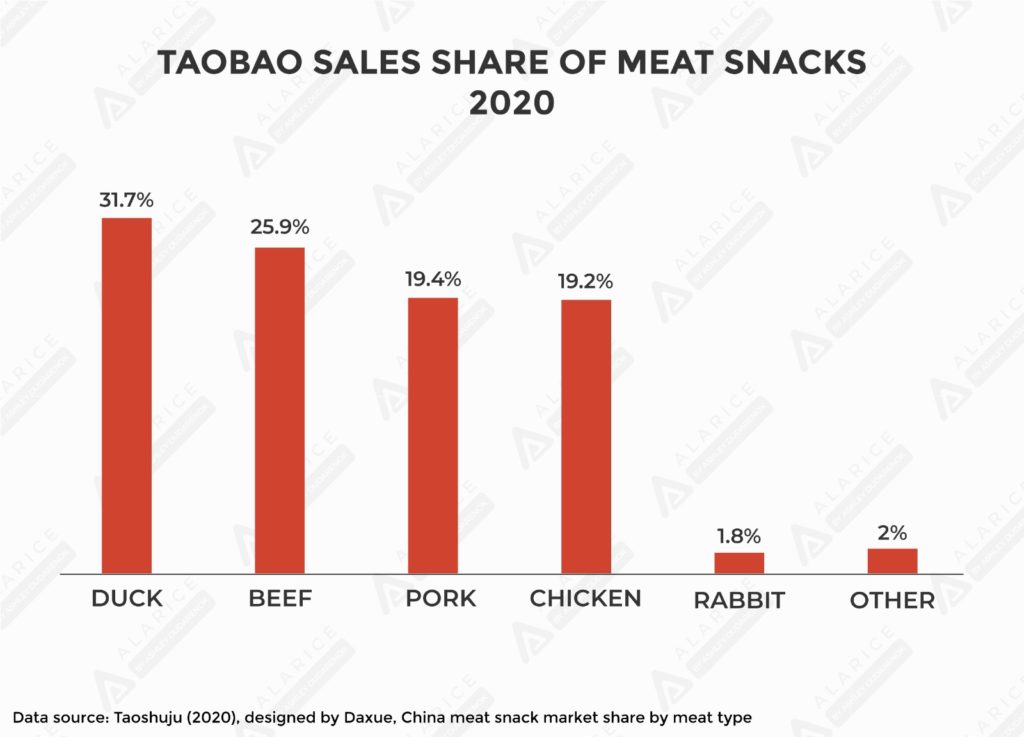 Data source: Taoshuju (2020), designed by Daxue, China meat snack market share by meat type
Healthy snacks
As McKinsey points out, China is becoming increasingly health conscious, resulting in corresponding lifestyle changes. Approximately 72% of urban consumers look for a healthier lifestyle by participating in sports and consuming healthy foods, according to the McKinsey China Consumer Survey. The snack industry in China reflects this increasing health consciousness.
According to FMCG gurus 59% of Chinese customers intend to consume functional foods containing additional nutrients such as protein and vitamins. Furthermore, 44% of them seek protein-fortified snacks, 73% of yogurt consumers want high protein options, followed by 68% for biscuits, 62% for drinking yogurt, and 57% for chocolate/confectionery.
BESTORE is a well-known Chinese high-end snack brand, and its products include a wide range of snacks, including healthy snacks. BESTORE quickly increased brand awareness by inviting popular Chinese actors such as Kris Wu, to become their spokespersons. Its relatively small package allows buyers to easily transport healthy snacks during their journey while also attracting more customers. BESTORE's website regularly publishes content about new arrivals, important events, and brand stories. They are also well-represented on all the major e-commerce platforms.

Kris Wu as BESTORE's spokesperson.
Given that women and children are the primary consumers of healthy snacks, having Kris as BESTORE's spokesmen helps the brand attract more attention from their target customers. According to BESTORE CEO Chunhong Yang, on the day of a newly released promotion featuring Kris Wu the amount of BESTORE searches online increases by 200 times, demonstrating the success of brand exposure through popular actors.
Do Chinese consumers put their money where their mouth is?
Generation Z has gradually entered the mainstream consumption market despite a variety of concerns and debates. Without considering them, a consumer goods market analysis would be incomplete. In addition, they have seen China's comprehensive national rise, possessed strong patriotic feelings, and are more willing to open their lives with broader boundaries and a global perspective; they are the first true "digital citizens" with excellent information acquisition capabilities and multi-dimensional perspectives on the world.
Snack selection reveals a social tendency.
Casual snacks are more associated with happiness and excitement than other foods, as well as being associated with entertainment and social scenes, such as sharing with family and friends, giving gifts at festivals, and so on.
It's all in the wrapper
Attractive packaging appeals to Chinese consumers even though social media plays an important role, other factors may explain this preference for well-designed packaged goods. Many people purchase snacks as gifts. Innovative packaging will help brands stand out on store shelves.
As a result of the overall design of snack packaging, consumers will be able to quickly determine if the product is expensive/cheap, for kids, healthy, etc. Chinese consumers also prefer family-size and gift-packaged snack products. Demand for these products peaks during China's e-commerce shopping festivals – 11.11 and 12.12 – as well as Chinese New Year, when consumers enjoy sharing these products with family, friends, and colleagues.

Lyfen Mid-autumn festival moon cake gift box.
The Chinese snacks market represents both an opportunity and a challenge for both domestic and foreign brands. Despite its continued growth, it will face fiercer competition in the coming years. To succeed in the snack market, brands must differentiate themselves by investing in innovation and current societal trends; we will see an increase in snack sales via online channels, emphasizing the importance of digital marketing for snack brand success.
Alarice provides Chinese market research and strategy services and does social media marketing – from account registration and content creation to social monitoring. You can also access our FREE resources such as our mini books, consumer reports, and ChoZan's quarterly mega reports. Contact us with your Chinese digital marketing questions, and we'll help you sort things out.