Festival marketing has always been a valuable opportunity for brands to arouse interest and communicate creatively with consumers during festival times. For FMCG brands characterized by frequent use, high demand and comparatively lower price, conducting eye-catching campaigns leveraging holiday sentiments can possibly contribute to more sales volume than always-on content management. 
According to the SocialBeta Lite cases database in 2022, the festival marketing campaign was still the most popular type of campaign of the whole year, accounting for over 30% of the total case number. Among them, Chinese New Year, Double-11, New year countdown and Chinese Valentine's Day are the most essential festivals that are embraced by brands. 
Although marketing during key Chinese holidays faces fierce competition and huge uncertainties affected by constant lockdowns back in 2022, there were still some brands accurately grasping consumer sentiments and leveraging festive atmosphere to make a difference.
To better prepare your FMCG brands to excel in the upcoming festivals and shopping promotions, it is essential to take a look at the 2023 festival marketing calendar below and also read on to get inspiration from successful 2022 cases. 
5 important festivals that FMCG brands need to know
2023 festival marketing calendar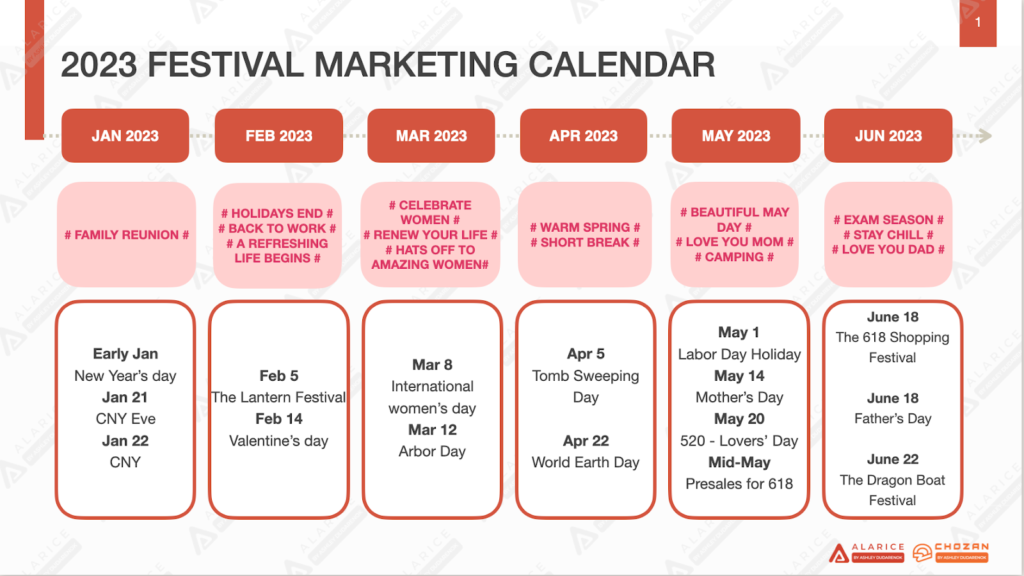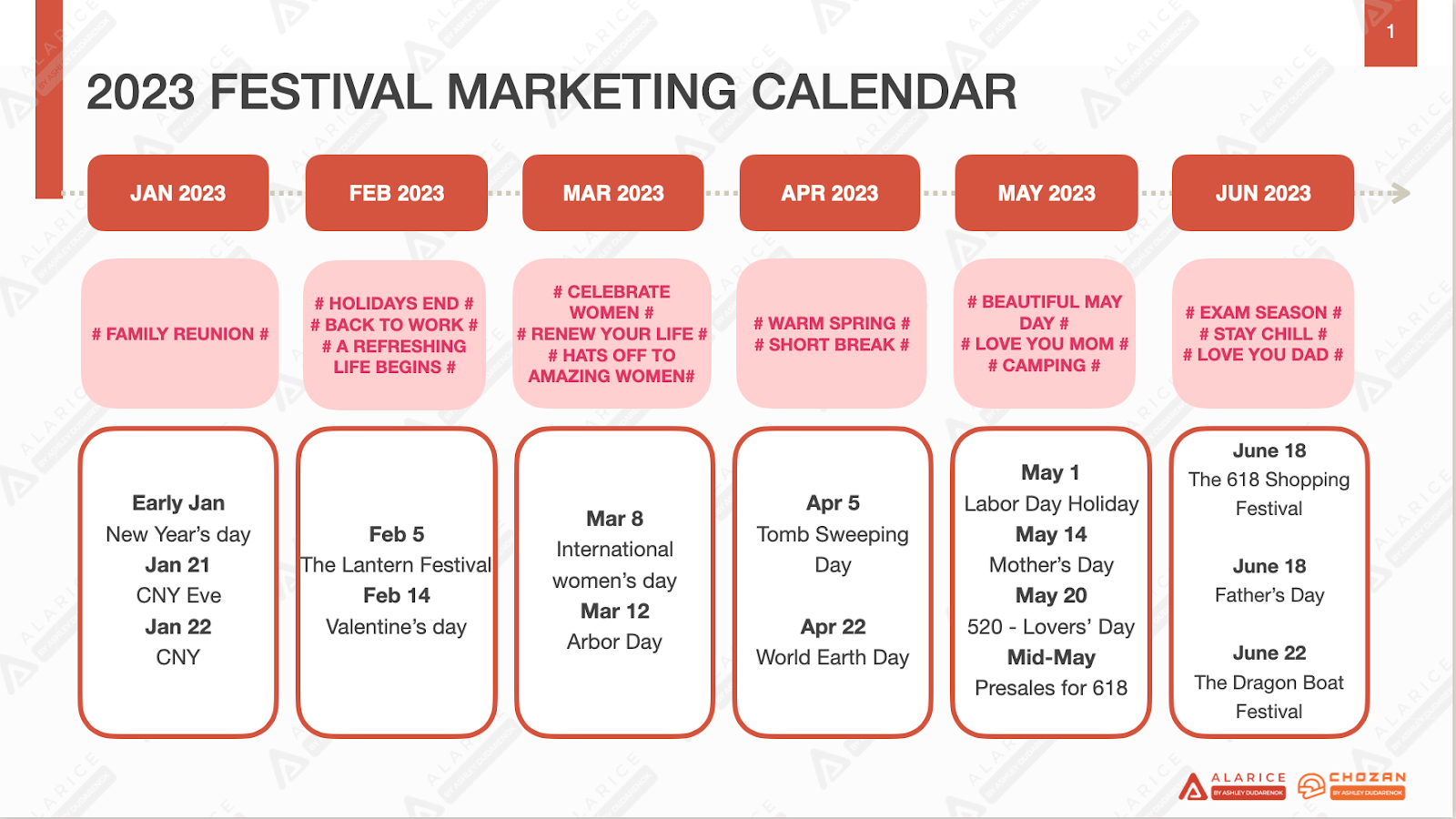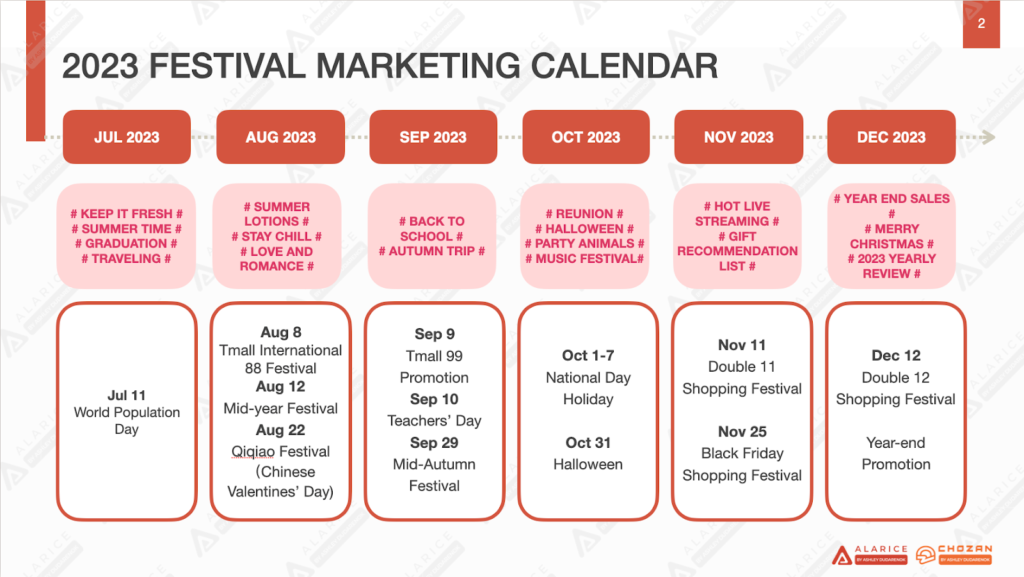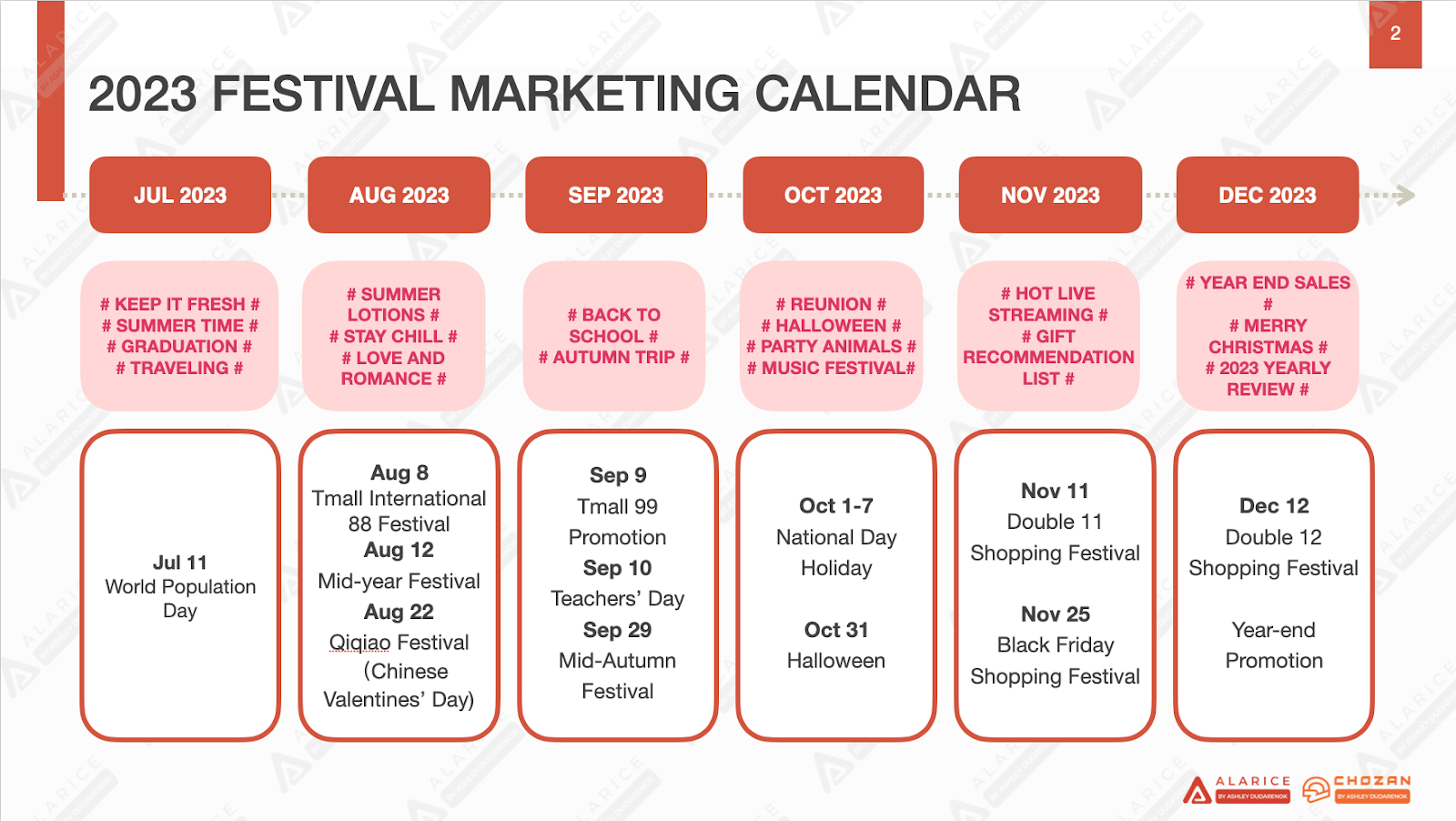 Get our full marketing calendar for 2023 in our Mega Report 2023.
New year countdown, Proya
Many brands choose to put together Christmas, New Year's Day and New year countdown celebrations to launch festival marketing campaigns because of their close timing. According to research, there were 86 relevant cases during this time last year. 
And "a retrospective look at the past year" and "stay together to welcome the new year" have been recurring themes, but have become too commonplace to impress consumers. 
Instead of following the old practice of reviewing one brand's own achievements/key events for the past year and being brand-centric, Proya has put its users in the center and has made every effort to listen to their true life stories. 
Proya shooted a compelling micro film titled "Thank you for being with us", narrating an unforgettable Tibet volunteer teaching experience based on its user's real life story. The campaign film, together with a Tibetan song released on Netease Music, generated very positive responses with 14,341 likes, 6,781 reposts, and 812 comments on Weibo.
For the content strategy, Proya probed deeper into its brand philosophy and extracted "participation" as the campaign idea. The film quote "What matters is the journey not the destination" aroused emotional alliances and helped release the inner anxiety of modern people. 
With the communication idea of "healing" rising gradually in the post-pandemic era, Proya leveraged users' authentic content and tried to heal the audience with warmth, love and new expectation for a good new year. Also, the topic of participation and meaning of life motivated its Weibo fans to share their experiences and personal feelings, and this kind of content co-creation between brands and the audience contributed to Proya's digital community building.
Chinese new year holiday (CNY), AMBROSIAL
Chinese new year marketing is also one of the most heated times covering 162 brand cases in total. It is important not only because brands can leverage this timing to initiate Chinese localization campaigns, but also the potentially higher conversion/sales rate for FMCG goods spurred by bulk buying and large consumption habits.
Besides more conventional Chinese 12 zodiac animals marketing and lunar new year limited products/packages sending good wishes to customers, some brands look to differentiate themselves by other more creative means of communication. 
To celebrate Chinese New Year of the tiger, AMBROSIAL yogurt collaborated with Phoenix Legend, a very well-known Chinese popular music duo, to release a China chic single. The music video posted both by AMBROSIAL and Weibo music official accounts received  36,481 likes, 4,033 reposts, and 3,015 comments in total. The lyrics combined good blessings for the new year with both modern and Chinese ink painting visual elements, which attracted great attention.
To leverage CNY festive atmosphere, it is a great opportunity for AMBROSIAL to partner with artists whose works represent best wishes and good luck. The song itself is also a kind of social currency that welcomes discussion and thoughts, and builds up a much deeper connection between brand and the audience. 
The slogan "虎起中国范,一起安慕希" linked AMBROSIAL products with a unique tiger year style, delivering the spirit of being passionate, confident and persistent. The Weibo lucky draw and new package launch also motivated customers to give themselves a new look ahead of the year. 
Summertime marketing, Heineken
Summertime marketing does not exactly belong to festival marketing, but promoting or launching summer-related products is essential for FMCG, especially food and beverage brands. There were 117 cases in 2022 summer marketing and key themes such as summer vibe, cooling down, summer limited products, offline events, etc have garnered huge attention in 2022. 
July and August is a good time for young Chinese consumers, especially Gen Z, to take part in Electronic music festivals and feel the cultural atmosphere. Many of them are eager to go for offline events and feel the passion of summertime. To precisely attract their attention and deliver the brand vibe, Heineken's extensive partnerships were really beneficial. Heineken has collaborated with famous music brand Resurgence and several top DJs like Panta.Q and LUMINN to create offline soundscape parties in key cities such as Hangzhou, Shantou, etc. 
Also, Heineken launched the summer sales promotion on Taobao Juhuasuan section offering benefits such as up to 6 free products when buying 1 product. To provide better artistic and entertaining experiences for the audience, Heineken co-created the E-pop billboard with QQ Music and shared regularly with fans. Weibo hashtags like "Heineken E-pop" have achieved a total view of 1.37 million.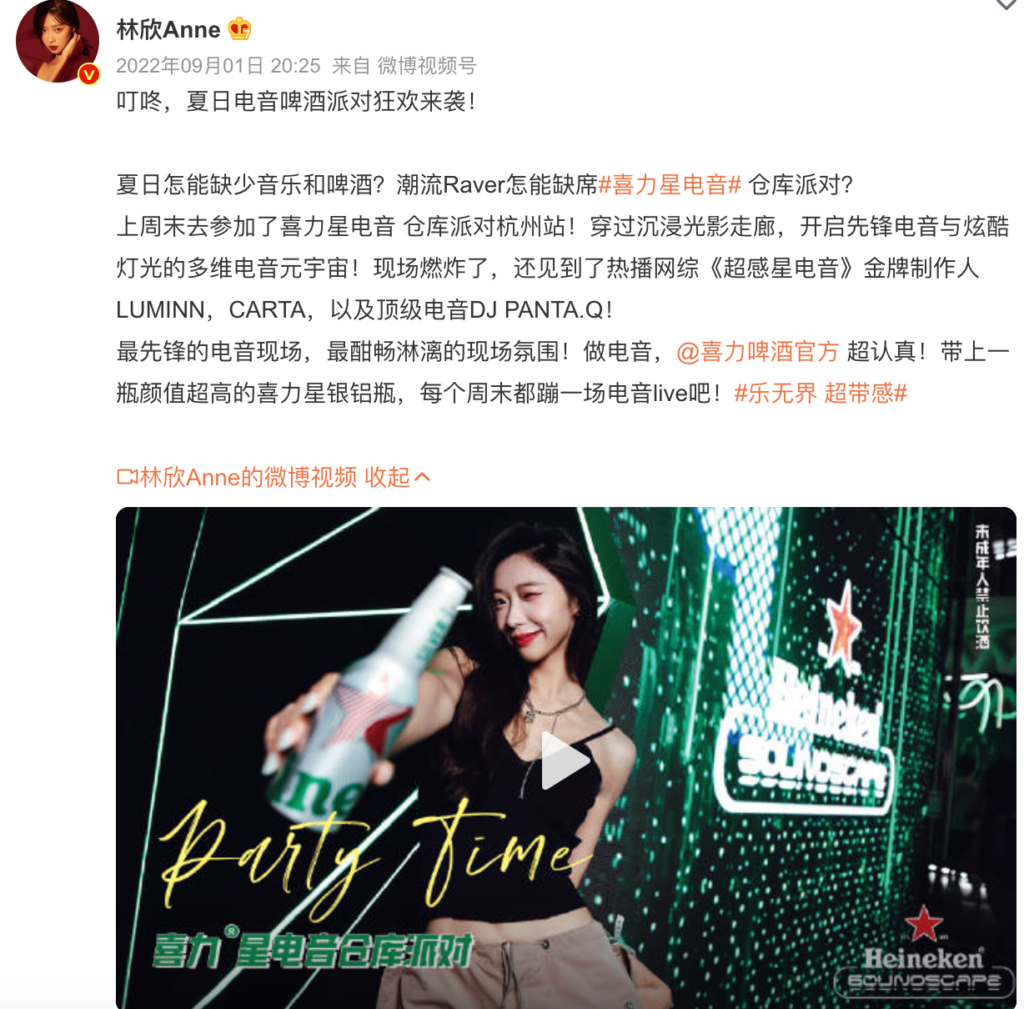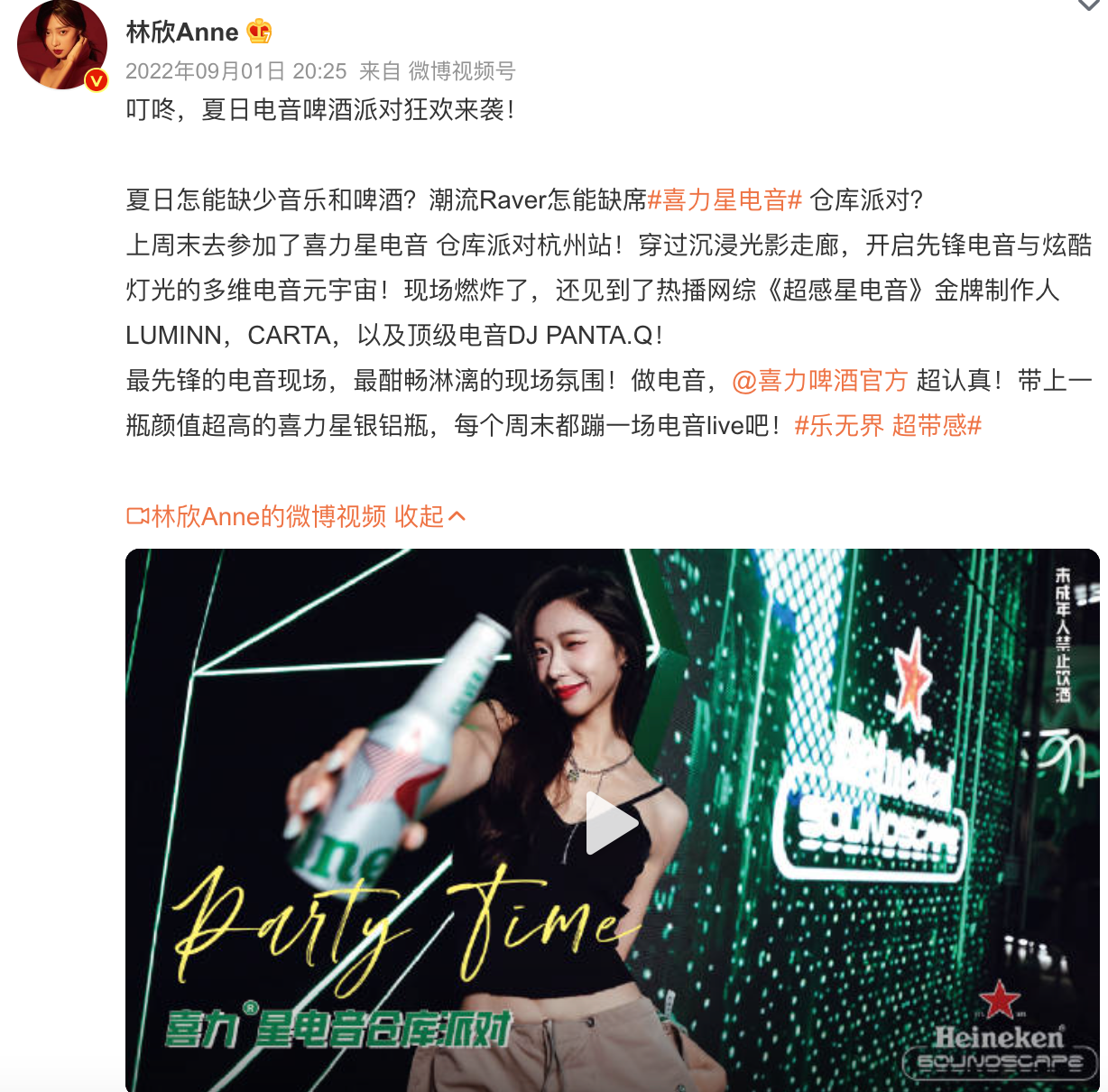 Source: 林欣Anne official account 
For beer brands, creating a kind of atmosphere and exploring different drinking scenarios is more effective than promoting beer products themselves. Music festivals, outdoor trips and summer camping are all popular scenarios that help to expand into more consumer groups. Besides, a comprehensive influencer strategy including celebrities and top KOLs endorsement is also important to help disseminate events information and attract more audience. 
Chinese Valentine's Day (Qixi), Qiaqia 
Qixi is probably the most romantic holiday that originates from ancient Chinese heritage. In 2022, the atmosphere of Chinese Valentine's Day is even more heated with 91 relevant cases. While some brands still leveraged the classic romantic story to start the discussion, there were a few brands focusing on delivering more light-hearted content to engage customers in dialogue about love. 
Qiaqia Food shooted a campaign video to celebrate Qixi by reinterpreting the romantic story in Dream of the Red Chamber. While the protagonist in the video was cracking melon seeds in modern times, suddenly she traveled through time and space to the Qing dynasty and encountered Jia Baoyu and Lin Daiyu, the two romantic soulmates. This kind of cultural leverage has achieved very good effects. Many viewers commented that they were very happy to crack Qiaqia melon seeds and appreciate the ancient characters' romantic bond at the same time. 
The new launch of the Jia Baoyu and Lin Daiyu couple special package also spoke to the hearts of lovebirds. There were many interesting and well-known short quotes helping couples to express their love and tenderness to each other more poetically and creatively. 
This kind of ancient Chinese romance delivered by Qiaqia and the soulmates, different from the more efficient and direct modern love, was classic to impress upon consumers and provide a revitalized cultural experience.   
Double-11 shopping festival, Jiang Xiaobai Chinese Baijiu
Double-11 has been the most important large-scale shopping festival of the whole year. However, due to the prolonged impact of COVID-19, many consumers have become more rational, selective and practical instead of bulk buying. According to SocialBeta Lite figures, there were about 98 cases during 2022 Double-11. Many brands played down the large promotion aspect and focused on building emotional alliances and fostering much deeper communication with consumers.
Jiang Xiaobai set up its emotional Baijiu stores in offline supermarkets and invited customers to have a taste and share their personal experiences by writing down. 
The stories were collected and exhibited to form collective memories. Also, Jiang Xiaobai motivated the audience to repost and share their comments on Weibo by offering celebrity recommended wine products. The campaign posts have achieved over 3,218 likes, 1,240 comments and 1,089 reposts.
To precisely target the young consumers on Double-11, it is more important to impress them with emotionally appealing content. We've noticed that consumers prefer concrete details to the grand big picture and prefer the nearby localized real life to the seemingly glittering future. 
Jiang Xiaobai collaborated with Mao Buyi, a young singer whose voice brings warmth, company and healing strength. The emotional pub co-built by him and Jiang Xiaobai is a community where fans and consumers share their life journey and deepen the bonding with the brand. Value for personal feelings and expression is even more essential than just value for money if brands want to be on top of consumers' minds. 
Learnings and insights for 2023 festival marketing 
# 1 Online/offline integration and meaningful partnerships
Festival marketing for FMCG brands should not only include cross platform campaigns online, but also optimize its online and offline resources to form a close loop from consumer interest to actual buying. Extensive partnership with e-commerce platforms like Tmall or offline supermarkets are important footprints for FMCG brands to deliver a sense of being high quality, down-to-earth and trustworthy.  
      # 2 Careful festival selection with more alignment with brand itself and refined operation 
Instead of exhausting marketing efforts for a bunch of festivals throughout the year, more and more brands turn to a few selective festivals that align their brand image and value proposition. Brands should learn to dive deeper into the cultural and psychological implications of the festivals and find out if there are any connections brands can leverage to the fullest. What's more, relevant research about events planning, consumer journey and social media operations during festivals is also needed to ensure the festival campaign is successful. 
 # 3 'Value for feelings' plus 'value for money' 
It can be observed that festival marketing in this post-pandemic era is not all about promotions, discounts and just value for money. An increasing number of consumers prefer brands that speak to their hearts, sincerely listen to their life stories and nurture a digital/physical community to deepen the bonds. 
Especially for FMCG brands whose product differentiation is very close, it is even more important to launch impressive campaigns to stay on top of their hearts and minds. Making good use of suitable types of creative communication means, such as micro film, offline workshop, hit song, etc can be a strong differentiator. Once emotional alliances are built, brands can turn more passive consumers into their passionate and loyal friends. 
Conclusion 
Compared with frequent platform maintenance and always-on content creation, leveraging Chinese festive and cultural assets to launch festival marketing campaigns can better expand brand awareness and increase sales for FMCG brands. While there are many offering festival limited packages or limited time discounts during holidays, brands which find alignment and connections to resonate with customers can be the most successful. 
Since the Chinese cultural landscapes and festival celebrations can be a forever dynamic space, it is important for brands to carry on more specific research and forecasts about its key consumer groups and festival buying behavior. 
To be more well-prepared during these sales peaks, brands should dive deeper into the possible connections between festival celebrations and their brand philosophy. It is essential to craft a customized festival marketing strategy leveraging Chinese localized insights while maintaining your brand DNA. 
Would you like to know more about festival marketing in the China market and leverage the localized cultural elements to stay competitive? Alarice can help you with festival marketing strategy planning and the following tactics to really make a difference. Excited about it? Feel free to drop your questions and let's discuss to make it happen!
Sources:
https://weibo.com/6060377825/MuFR8CZAk?refer_flag=1001030103_

https://s.weibo.com/weibo?q=%23%E5%96%9C%E5%8A%9B%E6%98%9F%E7%94%B5%E9%9F%B3%23

https://s.weibo.com/weibo?q=%23%E6%B4%BD%E9%80%A2%E7%BA%A2%E6%A5%BC%20%E5%97%91%E5%88%B0%E4%B8%8A%E5%A4%B4%23

https://finance.sina.com.cn/tech/roll/2023-02-24/doc-imyhtpaf1780909.shtml