Chinese consumers are the top luxury spenders worldwide, accounting for more than 25% of global luxury goods purchases. In fact, the Chinese patronize these luxury goods so much that the market is estimated at $48.91 billion in 2022. The largest segment is for luxury watches and jewelry, making up almost $22.86 billion for this year alone.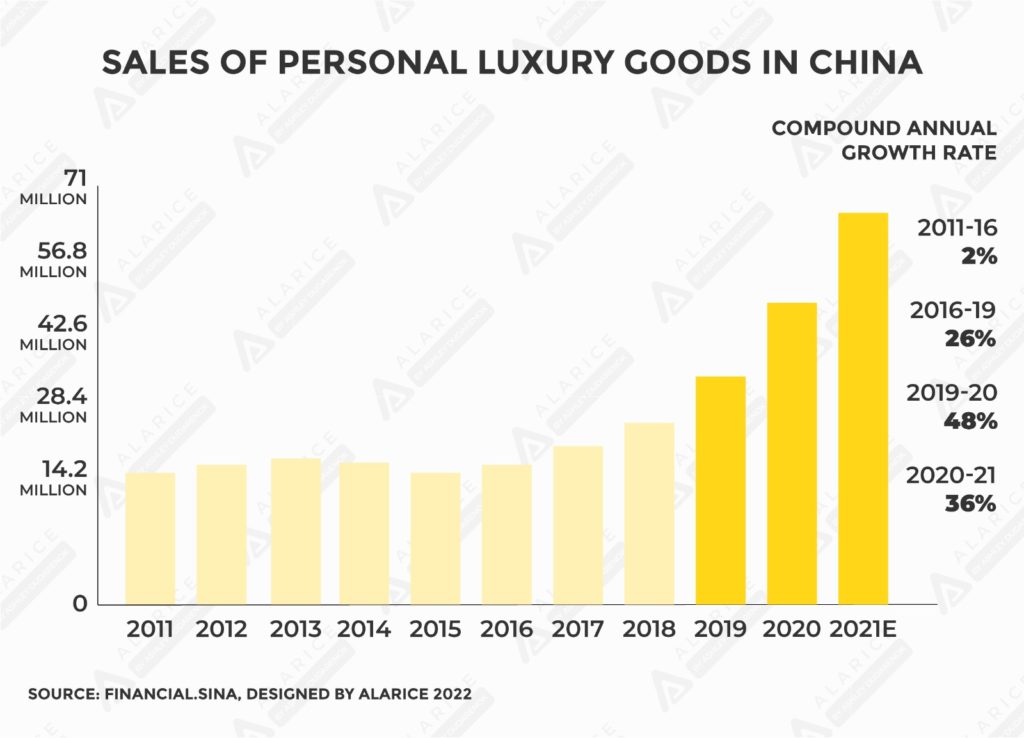 Source: financial.sina.com.cn
French fashion luxury giant Dior is the most active luxury brand on one of the famous Chinese social media platforms (Weibo) that has successfully used the platform to its advantage. The platform allowed Dior to create 80 brand posts that thoroughly spread to the average luxury Chinese consumer.
Chinese social media platforms (SMP) play a key role in the success of luxury brands in China. Luxury brands are not just using them to display their products but also to raise brand awareness and examine the e-commerce landscape in China. Chinese consumers already represent more than one-third of the luxury product market, and since Western social media networks like Facebook, Twitter, or Instagram are not available, a way for brands to reach out to their customers is important.
Additionally, these Chinese SMPs already have a strong connection with their users and benefit from having the same language and culture that brands will cater to. Since the Chinese market moves quickly, brands need to stay on top of trends and market reactions to capitalize on them. Having a Chinese social media presence allows brands to connect to their target customers quickly and efficiently, but each Chinese SMP has different marketing strategies.
Here's what you need to know about which Chinese social media platform will suit your luxury brand best this 2022.
WeChat
WeChat is considered the number 1 platform in China, with nearly 980 million MAU (monthly average users). This platform is best for one-to-one communication with its messaging features, but businesses can also use it to send the right message to the right people. Using big data, brands can drive potential customers to the Point of Sale or predict market trends according to social behavior shown on WeChat. Additionally, WeChat also has an amazing CRM platform that benefits e-commerce.
WeChat also recently launched its new feature called Channels. It is a short video feature that brands can use to accelerate their marketing. Since short-form videos are one of the top modes of entertainment and information used by Chinese consumers, Channels can really help WeChat draw in more customers. Luxury brands like Louis Vuitton, Prada, Piaget, and Burberry are already using WeChat's Channels and are seeing success with the channel.
Source: Louis Vuitton Official Account, Channel, Service and Store on Wechat
Perhaps the biggest clincher is Chanel. Chanel does not have any video account on Chinese social media platforms, but with the advent of the WeChat Channel, they have decided to launch their own Channel account in June 2022. This is a significant move as they shift from WeChat's text-heavy brand content to a more consolidated image or video form with Channels. WeChat also allows for in-post linking of products directly to their Mini-programs. This means that the consumer experiences a seamless transaction journey with their purchases, which eventually contributes to higher sales.
Brands can take advantage of WeChat's feature if they need active one-on-one communication with their target audience. Big data coupled with personalized experiences and product offerings will let consumers feel closer to the brand itself. In addition, WeChat's new features can help in drawing in more audience with video content.
Weibo
Compared to WeChat, Weibo is a one-to-many platform, like Twitter. Basically, it allows people to see what their friends and mutual friends are doing. Weibo is used more for exposure, story telling, and brand positioning as consumers are more active on WeChat. Luxury brands often use Weibo to promote their campaigns or launch a new product and drive up hype for brand engagement. Also, Weibo accounts of luxury products act as a storefront for their Tmall or JD stores.
Source: Piaget official account on Weibo
Luxury brands usually link their Weibo accounts to their official Tmall/JD stores, but there is also an option to directly open stores on Weibo, albeit it happens less often. Influencers, small businesses, and even start-ups are more likely to frequent Weibo than other platforms since it hosts the strongest celebrity and KOL networks in China. If a luxury brand depends on or needs KOL marketing, then Weibo is perfect for them.
It is ideal for mass marketing since it is an open social media platform, unlike WeChat. For brands whose marketing is KOL-heavy, Weibo will be a great platform for them. They can also find good pools of relevant KOLs in Weibo since almost all of them have their official accounts on the platform. Obviously, the KOL A-listers are always needed, but they may come with several drawbacks. Luxury companies can also use B or C listers as long as these KOLs have enough followers on the local level.
Source: Prada official account on Weibo
Douyin
Short-form video platforms are the new battleground for luxury brands in China, with a more engaged audience than others. Douyin's global version (TikTok) saw astronomical success in adoption and product placements worldwide. Gucci, Louis Vuitton, and Cartier have launched official accounts on this platform and created relevant content that resonates with Chinese consumers.
Source: Gucci official account on Douyin
While most content is considered short-form (15 seconds), Douyin supports videos that can last up to 15 minutes in addition to live streaming. Douyin's model can clock in millions of engagements (likes, comments, reposts) in a short time, especially with content that is viral and trendy, but this is a double-edged sword. Brands can easily spread the highlight of their product, but a negative review may also significantly impact them.
As of 2022, Dior is the most popular luxury brand in Douyin. Most Douyin users are under 24 year old females in first-tier cities, which is a prime target for luxury brands. On the business end, Douyin also offers a payment solution for a consolidated transaction experience called Douyin Pay. This feature includes e-commerce and CRM functions, which can make it easier for a consumer to immediately buy what they see online.
Kuaishou
Kuaishou is considered the biggest competitor to Douyin. It is relatively new, but its importance in luxury marketing cannot be overlooked. Kuaishou's daily active users exceed 100 million, which is 40 million more than Douyin, so the pool of potential consumers is inexorably large.
American luxury brand Coach is among the latest ones to join the platform, and on its launch on 15 April, they hosted a 3-day live streaming event on Kuaishou's official e-commerce account (Kuaishou Shop). This "shop" boasts 200 million followers, and generated Coach 35,000 followers on its account in just three days.
Source: baike.baidu.com
Kuaishou's potential as an engine for luxury brands' digital growth is there. They collaborated with another luxury resale online platform called Ponhu Luxury in 2020, and it was a success. The collaboration called "Super Luxury Day" curated by Kuaishou saw more than 2.5 million audience and 83,000 were converted consumers during the two-hour livestream.
Source: Ponhu Luxury official account on Kuaishou.com
Xiaohongshu
This site is China's leading lifestyle platform where international luxury and fashion brands go as they understand Chinese consumer trends. Xiahongshu (RED, or Little Red Book) relies on user-generated content (UGC), which is a transparent window into what consumers think of a brand's product.
Compared to Instagram, it is especially helpful for Western brands looking to understand the Chinese market and sentiments on their product directly. This authenticity allows brands to focus more on areas of improvement for their product while knowing what consumers think of their goods. Currently, Xiahongshu has become the go-to of Chinese consumers for shipping inspiration and the latest lifestyle trends.
Source: finance.sina.com.cn
An example of these lifestyle trends that became successful is the glamping trend in China. The app bridges overseas luxury brands and top beauty products to a first-tier Chinese consumer audience. This is not far from the original aim of the app, which was to connect Chinese citizens with buying agents abroad for their shopping needs. Daigou (commission-based service) used to be the key way of sourcing foreign luxury goods in China.
The success of Xiaohongshu lies in alleviating the suspiciousness of Chinese consumers being duped or tricked by online luxury sellers. They ensured confidence in the product by adding a review feature to their post and adding the ability to post pictures and videos of the goods that consumers bought.
In addition, social media tools also help in spreading where a certain person bought their luxury goods so others can safely identify the store. Compared to other sites, Xiahongshu does not support external links, which decreases spam purchases or stores and boosts the safety of consumers.
Lanvin, a French luxury fashion house, became the first luxury brand to use Xiahongshu's social commerce landscape to its advantage. Lanvin offered their ready-to-wear apparel for both children and adults, in addition to handbags, shoes, and accessories, to Xiahongshu's 200 million MAUs. A large majority (72%) of the MAUs are Gen Z Chinese consumers in China's first and second-tier cities, a population segment that is most likely to purchase luxury clothing.
Source: Lanvin official account on Red
Brands in the lifestyle luxury strand can use Xiaohongshu to better understand the Chinese consumer. The platform is also friendlier to foreign brands or those looking to create a new "hype" in the lifestyle luxury market. If a brand wants to stay relevant on this platform, it has to deliver on its quality since the opinions of Chinese consumers are reflected in a transparent manner here compared to other platforms.
Conclusion
Social media platforms are extremely important in driving a healthy e-commerce industry in China. Given the absence of Western social media, it allowed for a rise of Chinese social media platforms that catered to the needs and preferences of the Chinese.
Luxury brands are among the most sought-after products in the social e-commerce landscape in China, and it is important for brands to know which platform they need to use for maximum sales.
There are several successful social media platforms that cater to luxury products, and brands need to understand how they work. WeChat is best for one-to-one marketing, and transactions are usually seamless. Weibo is good for brand exposure and storytelling and is a good storefront for brands, provided they also have a dedicated Tmall/JD account.
If a brand needs KOL marketing, then Weibo is usually what it needs. Video platforms are also changing the luxury scene, with Douyin, Kuaisho, and Xiahongshu leading the pack – catering from luxury lifestyle products sourced abroad or to a female-centric luxury platform.

Understanding and choosing the right social media platform for your luxury brand is crucial for success with Chinese consumers. Create a good and effective social media presence to boost your brand. Alarice offers social media account management to keep your brand relevant and on top of market trends. We offer KOL Marketing, account opening, and real-time market and trend insights, so your brand is way ahead of the curve. Drop us a message with your questions and start better marketing for your brand today.