Multi-purpose app, WeChat and popular micro-blogging site, Weibo, have released their users' demographics and behaviour statistics. Our Alarice team has picked out the most interesting insights for your pondering in this article.
WeChat
WeChat's MAUs grew to 1.262 billion in the third quarter of 2021, while the MAU for QQ in mobile devices decreased to 574 million. It is seen that each day more than 120 million active users post in their WeChat Moments, 360 million users read articles from official accounts, and 400 million users use the app to access mini-programs.
WeChat Mini Programs
WeChat mini-programs had their daily active users reach 430 million, with transaction volume in catering, tourism, and retail increasing 100% year-on-year. There was an increase of 41% year-on-year for active mini-programs and the average daily use times for these programs increased by 32% year-on-year.
Each user employed 25% more mini-programs in 2020, with the average transaction value per user growing by 67% and annual transaction volume more than doubling.
WeChat Games
Back in 2020, the gender ratio for users consuming mini-games was split down to 50:50. In addition, 40% of mini-game consumers are from first and second-tier cities, while 65% are aged 30 and above. Compared with 2019, the per capita game duration of mini-games increased by 50%, and the acreage number of games played increased by 20% in 2020.
In 2020, more than 100 million people purchased in shopping malls and department stores via WeChat Mini Programs. More than 300 million users purchased fresh fruits and vegetables with the help of mini programs' online presale and/or the offline self pick-up option.
WeChat Pay
WeChat Pay has more than 240 million users. WeChat has launched a new credit score feature called Zhifufren in 2020, seeing more than 240 million users sign up for the feature. This boosted the e-commerce orders conversion rate by 14% and the repurchase rate of retail merchants by 73%.
Weibo
The social media platform have had a wild year with it having 530 million MAUs on Weibo during Q1 2021, a decrease of 4% year-over-year and an increase of 2% quarter-over-quarter. However, MAUs for Weibo shot up to 573 million in September 2021, a net addition of 62 million users on a year-over-year basis. Mobile MAUs represented 94% of MAUs for both quarters. It is important to note that most of the information below is from the recent mega report from Weibo released in 2020.
User clusters continue to show a trend gravitating towards the younger generations; close to half are Post-90s, followed by Millennials and Post-80s in that order. Females still dominate just slightly at 54.6%, where we find Millennials in the top spot.
User Behaviour
Users are most active between 12 noon and 10 pm, this trend being more pronounced for Post-90s and Millennials. Post-70s and Post-80s are more interested in broad social issues, whereas Post-90s and Millenials are relatively more keen on absorbing entertainment. Internet memes have also been trending among Gen Z and Post-90s Weibo users. Different cohorts demonstrate obvious generational characteristics in lifestyle consumption and topics of interest.
During the beginning and the height of the pandemic, Weibo's public forums became the main platform for obtaining news while facilitating interactive discussions between users. The average daily consumption of COVID-19 information on Weibo went up to 16.1 billion times.
Media Viewing Habits of Netizens in China
According to the Weibo report, netizens in China consume at least 4 TV series and 3 variety shows on average. They are mostly active in online discussions about the shows during the mid-morning and at 9 pm. Men on the platform are seen to usually like dramas and competitive variety shows; meanwhile, women are seen to prefer romance shows and reality shows.
People born in the 00s prefer to watch realistic dramas and heart-warming shows, Post-90s are seen to like watching shows that are adapted from big IPs, Post-80s like to watch urban dramas, and people from the Post-70s tend to watch content with familial and children themes.
Sports Preferences of Weibo Users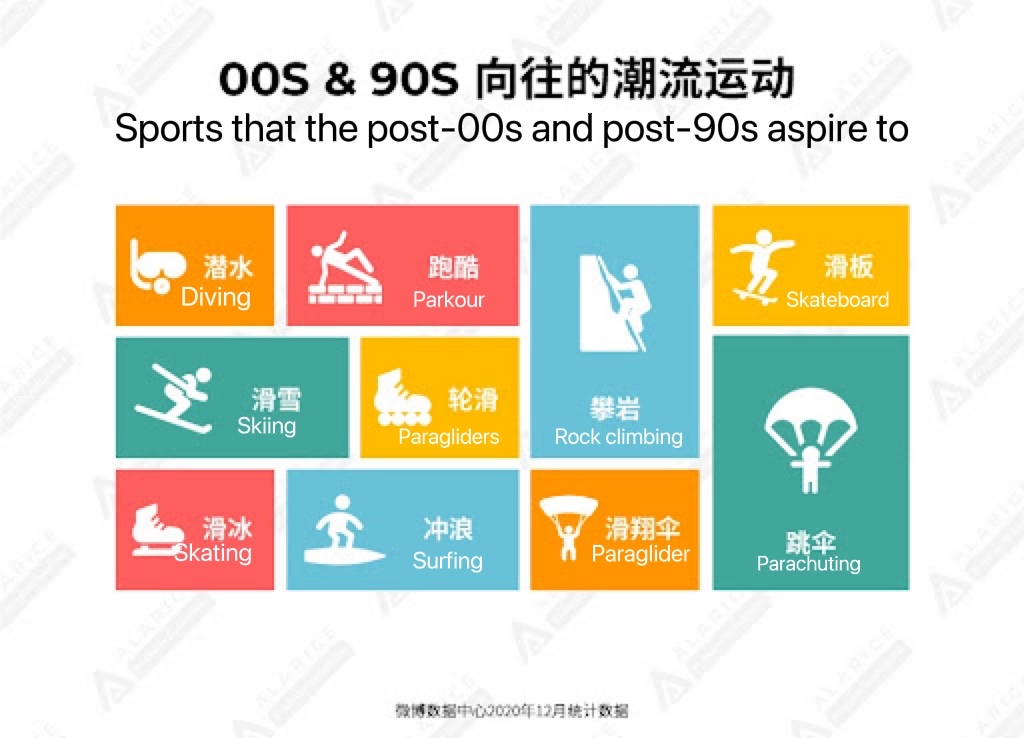 When it comes to the sports preferences of Weibo users, it varies between generations. Post-00s seem to show no interest in doing sports, this is a contrast to those from the Post-90s who feel it important to be regularly going to the gym and doing indoor exercises at home and the office. Meanwhile, the Post-80s are willing to spend time and money on sports such as running and yoga. Post-70s are more interested in sports that their children can participate in, such as equestrian sports, golf, and football.
Women are more fond of exercising at home and are keen on purchasing sporting gear and accessories. Men prefer to work out outdoors and pay much more attention to the results of their fitness routine.
Changing Gender Dynamics in China's ACG market
The gender confinements that used to come with gaming consumers have been gradually broken with more female players entering the ACG community. According to the Weibo report, the growth rate of male gamers received an increase of 37.5% year-on-year and the growth rate of female gamers received an increase of 30.2% year-on-year in 2020. When it comes to Japanese animation, boys were seen to prefer the ones that are full of ardour and combat scenes; girls were seen to prefer the soul-healing ones with pretty imagery.
Blind boxes with mini anime figurines and collectables are popular among the Post-80s and Post-90s. Men prefer blind boxes from Bandai, whereas women prefer blind boxes from Popmart.
Female Users' Consumer Behaviour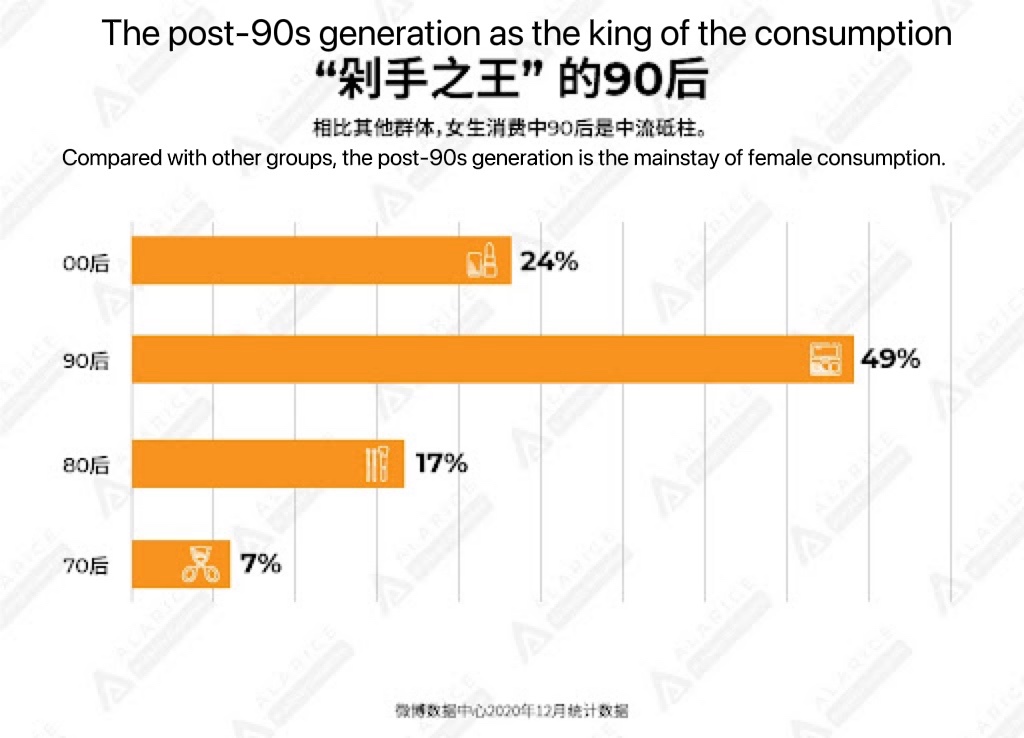 Within the female consumer group, the Post-90s are the biggest spenders as they make up 49% of the total group. Female consumers born in the 2000s value products and services provided by F&B and beauty, the Post-90s are more into cherishing their health, while the Post-80s and Post-70s are concerned about their eating habits.
Videos of unboxing and product reviews receive an average of 15 million views every day, with videos about cosmetics, skincare, bags, and jewellery being the most searched for categories. Smaller and affordable luxury brands have also been receiving a lot of attention from female followers.
Conclusion
An obvious phenomenon and trait that can be seen when analysing the statistics and data from the reports of the two platforms is that there is an undeniable and ubiquitous pervasion of ACG activities. This is due to the onboarding of the increasing number of younger female consumers entering this sector. A definite force to be reckoned with, this occurrence is definitely deserving a further examination of its own to uncover more insights for untapped potentials.
So there you have it. Can your brand make use of these telltale signs to tweak your marketing tactics for the best fit with the ever-changing digital consumer habits?
If you're looking for market research and digital marketing strategy for China, Alarice can help. We can help you with services from account registration to content creation and brand naming services. Check out our China Q3 2021 report to find out more about the China market and marketing trends. Feel free to contact us with any of your questions.