Following a period of rapid growth and innovation, China's internet sector has entered a new stage of development and the behaviour of China's Internet users have also changed significantly, both push and pull factors such as tightening regulations, an increasingly saturated domestic market with changing demographics, and geopolitical tensions driving internet companies to evolve.
The country's digital economy is thriving, and more than one billion netizens have witnessed the development of China's manufacturing and network power. The digital economy is developing as a tool for reorganizing production and living elements, reshaping social and economic structures, and changing global competition.
The China Internet Network Information Center (CNNIC) published its 48th statistical report on China's Internet development on February 20, 2022. Our Alarice team has picked out the most interesting insights for your pondering in this article.
According to the report, the number of China's internet users reached 1.032 billion in December 2021, a 42.96 million increase over December 2020, and the Internet penetration rate reached 73%.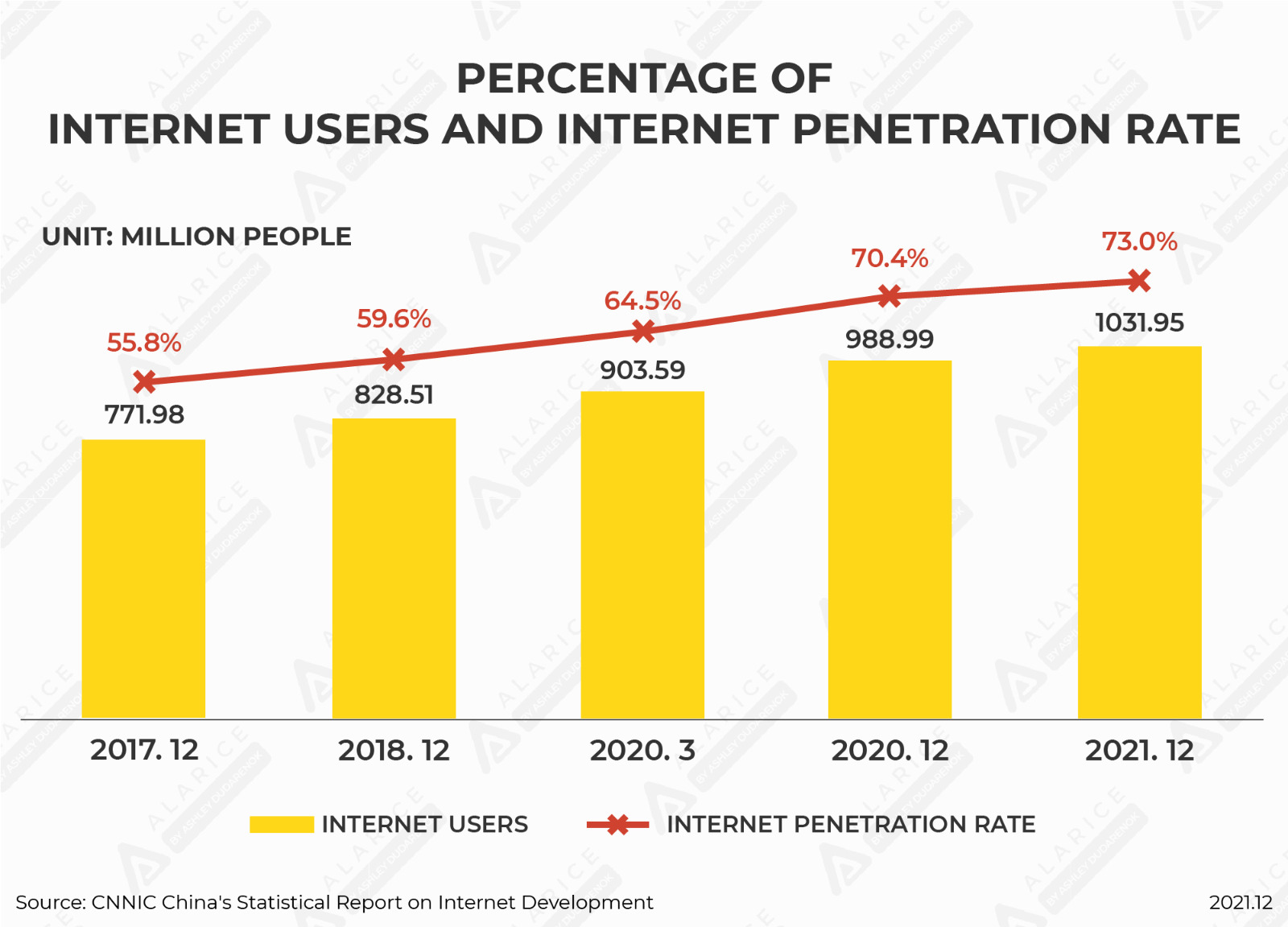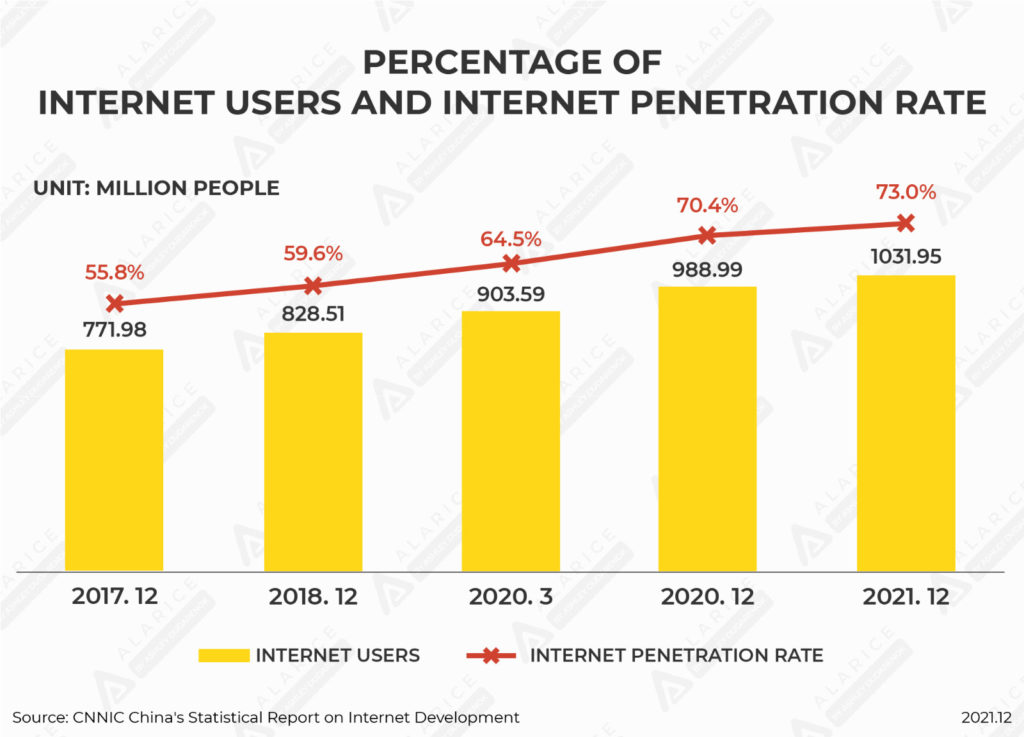 Netizens' total amount of time spent online has increased.
According to the "Report," Chinese netizens' Internet use behavior has taken on new characteristics: First off, the average amount of time spent online is increasing. Chinese netizens spent 28.5 hours per week online in December 2021, an increase of 2.3 hours from December 2020. The Internet has become inextricably linked to people's daily lives. Second, the technology used to connect to the Internet is becoming more diversified. As of December 2021, 99.7% of internet users in China used mobile phones to access the internet, and mobile phones remain the most important internet access device; The percentages of Internet users who access the Internet via desktop computers, laptops, TVs, and tablets are 35.0 %, 33.0 %, 28.1 %, and 27.4 %, respectively.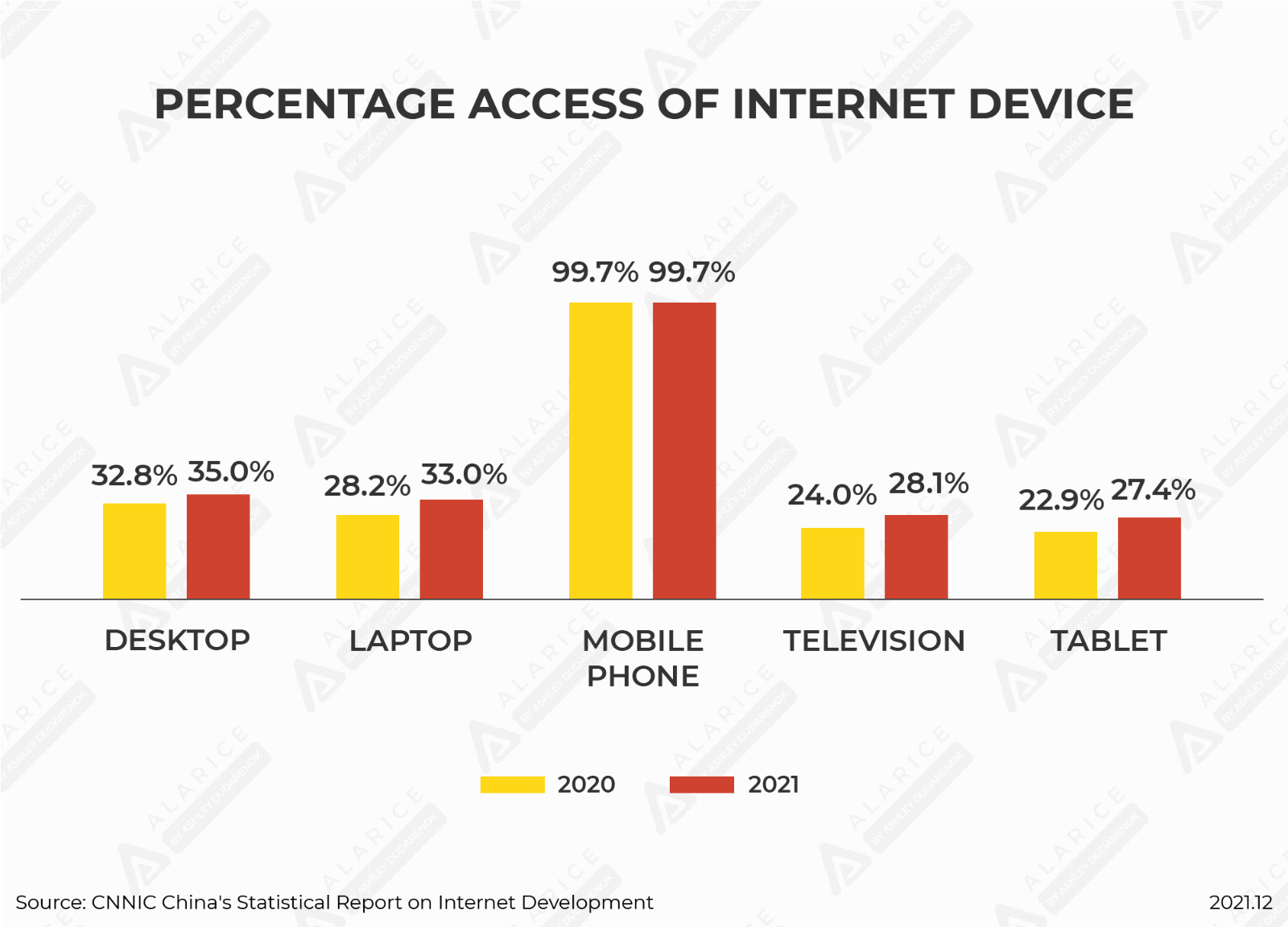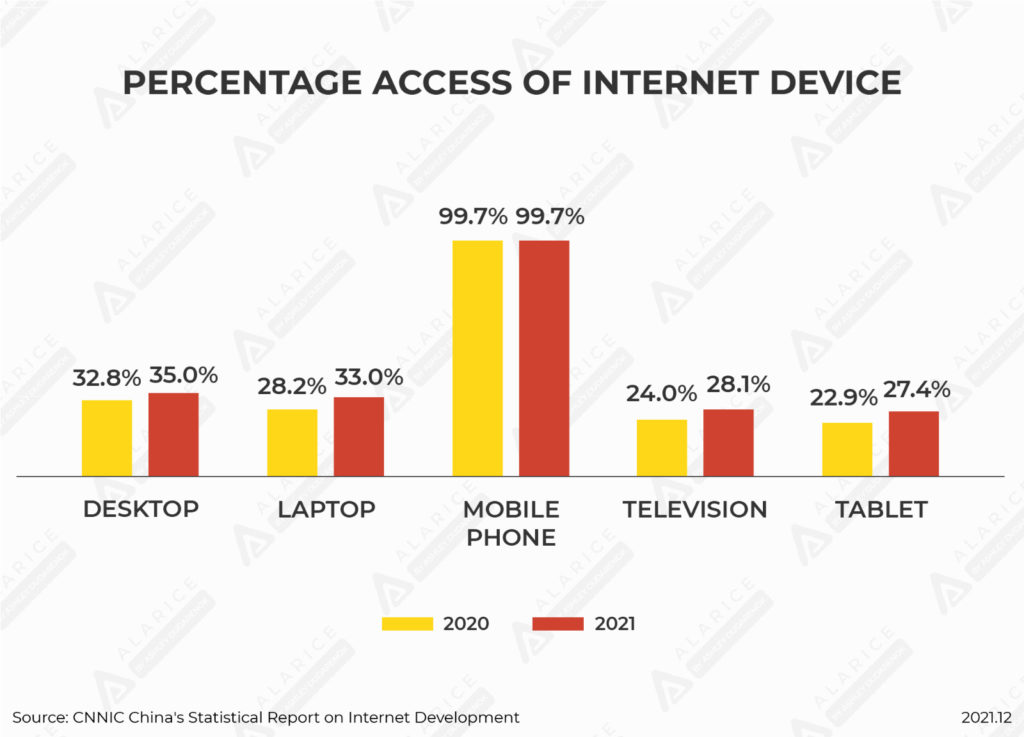 In December 2021, Chinese netizens spent an average of 28.5 hours per week online, up 2.3 hours from December 2020.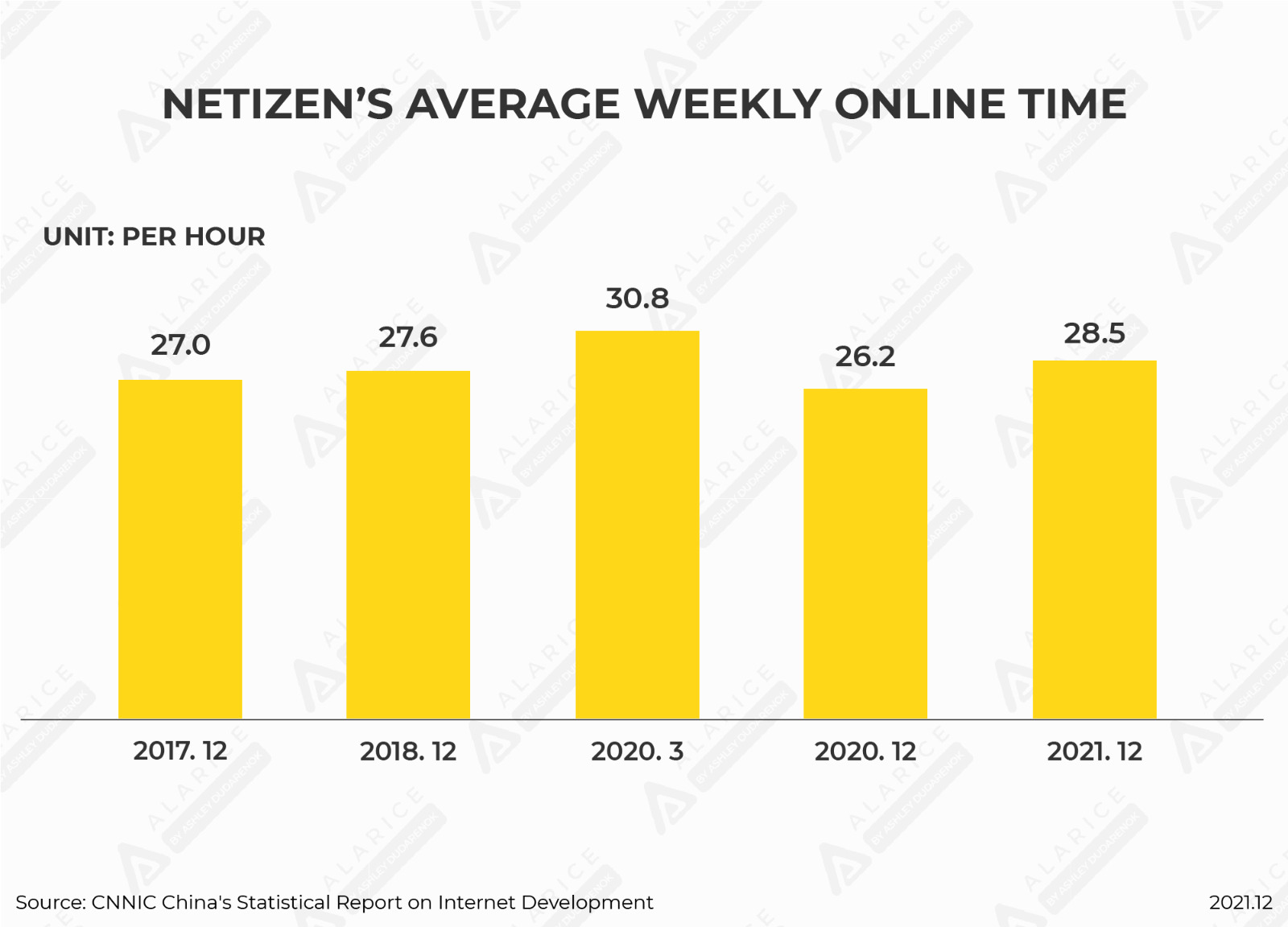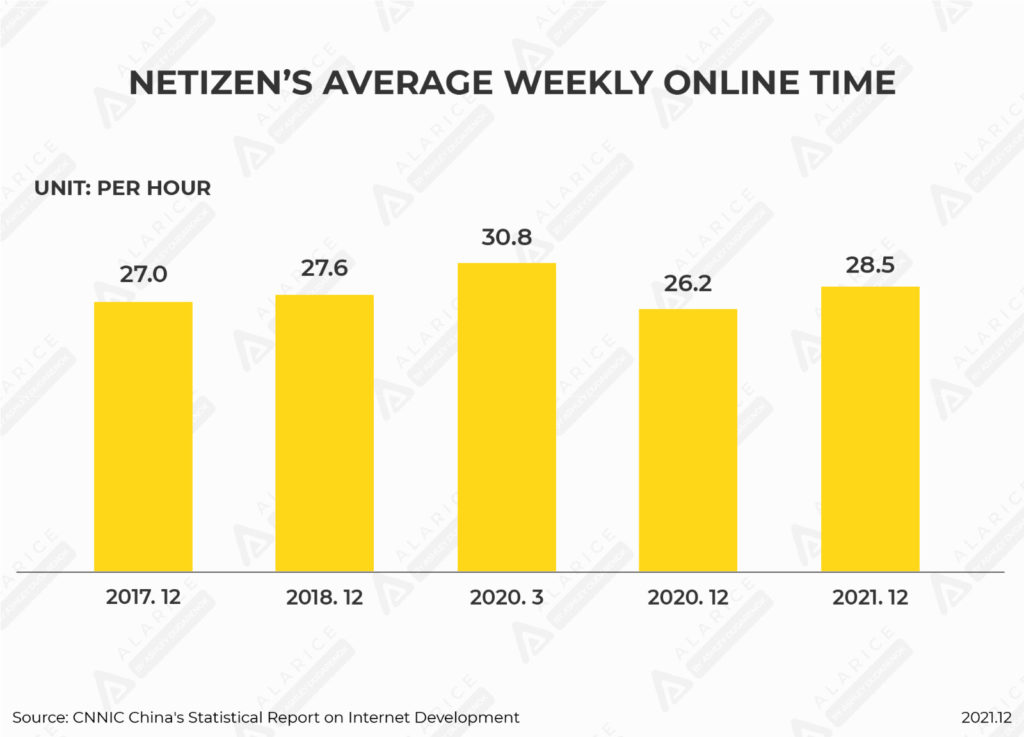 The number of internet users in cities and rural areas
The gap between urban and rural internet access has shortened further. The country's existing administrative villages have fully realized "broadband access to every village," and issues such as communication difficulties in impoverished areas have historically been fixed.
The number of rural netizens in China was 284 million in December 2021, accounting for 27.6 percent of total netizens; the number of urban netizens was 748 million, an increase of 68.04 million from December 2020, accounting for 72.4 percent of total netizens.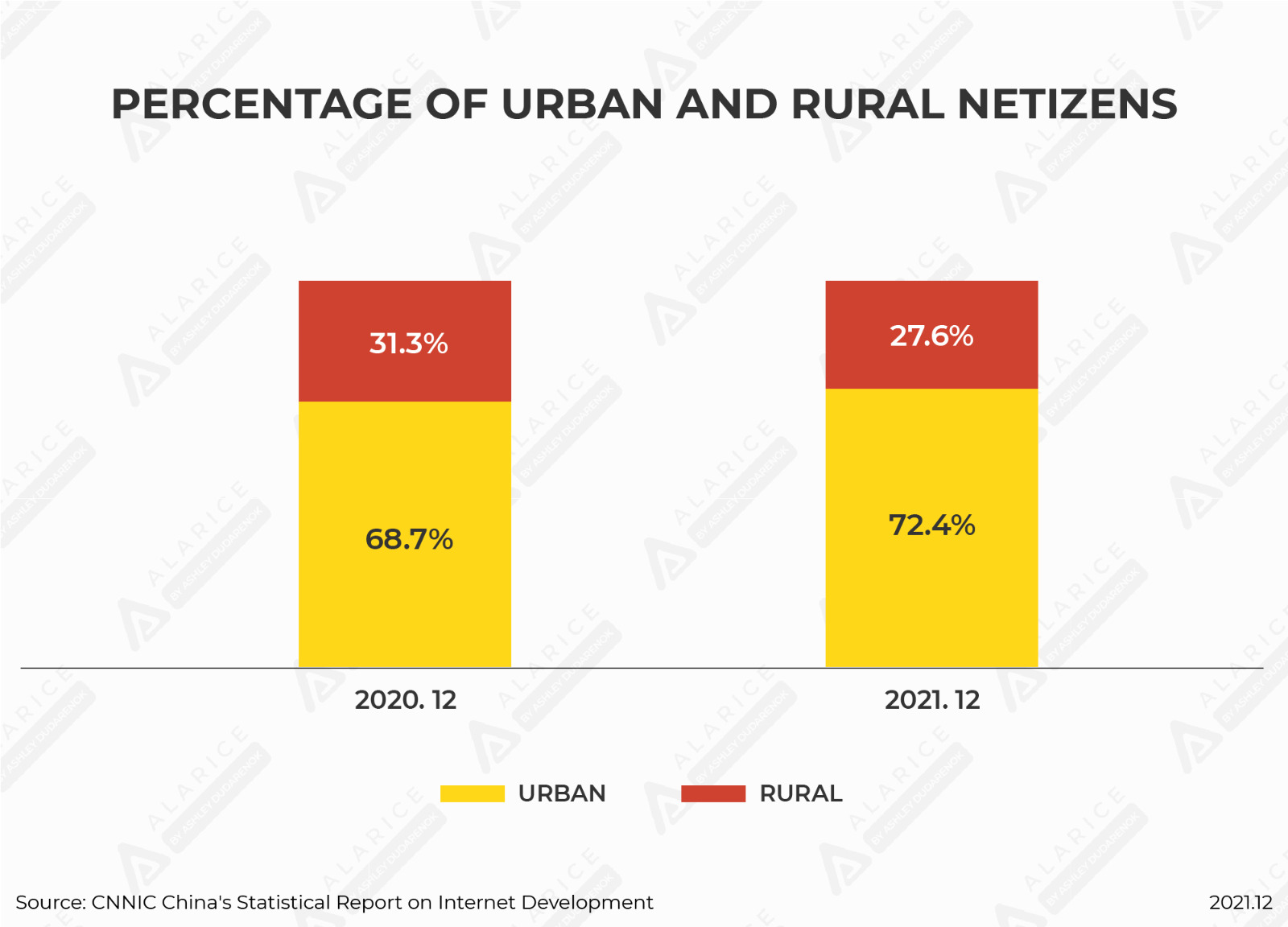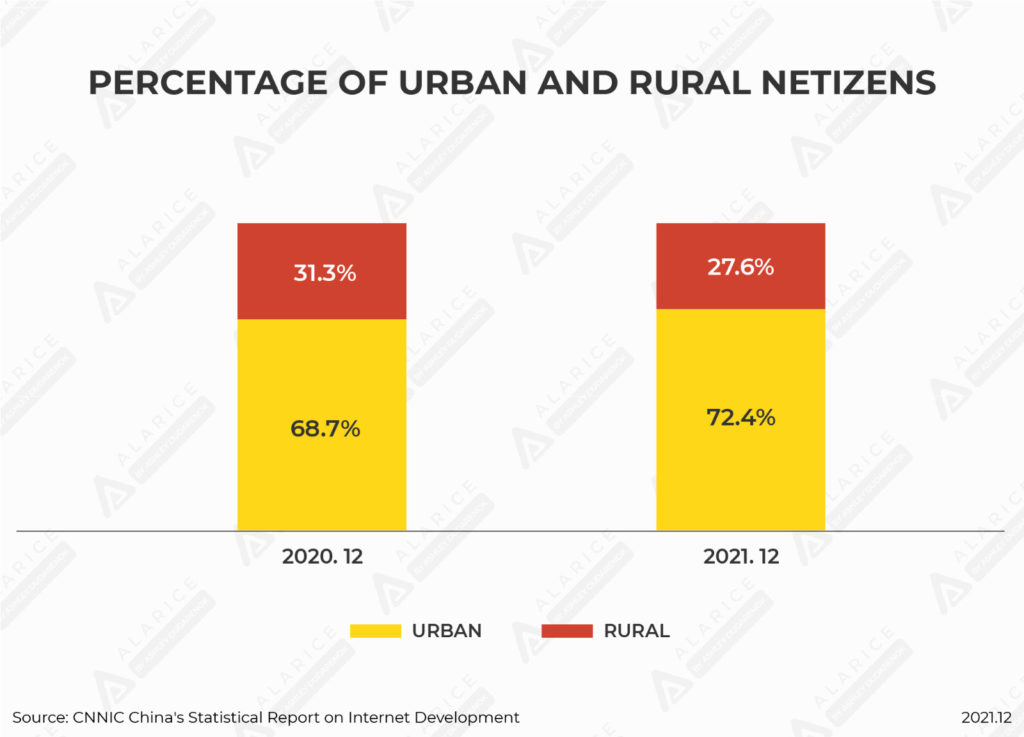 Up to December 2021, Internet penetration in China's urban areas was 81.3 percent, up 1.5 percentage points from December 2020, while it was 57.6 percent in rural areas, up 1.7 percentage points from December 2020.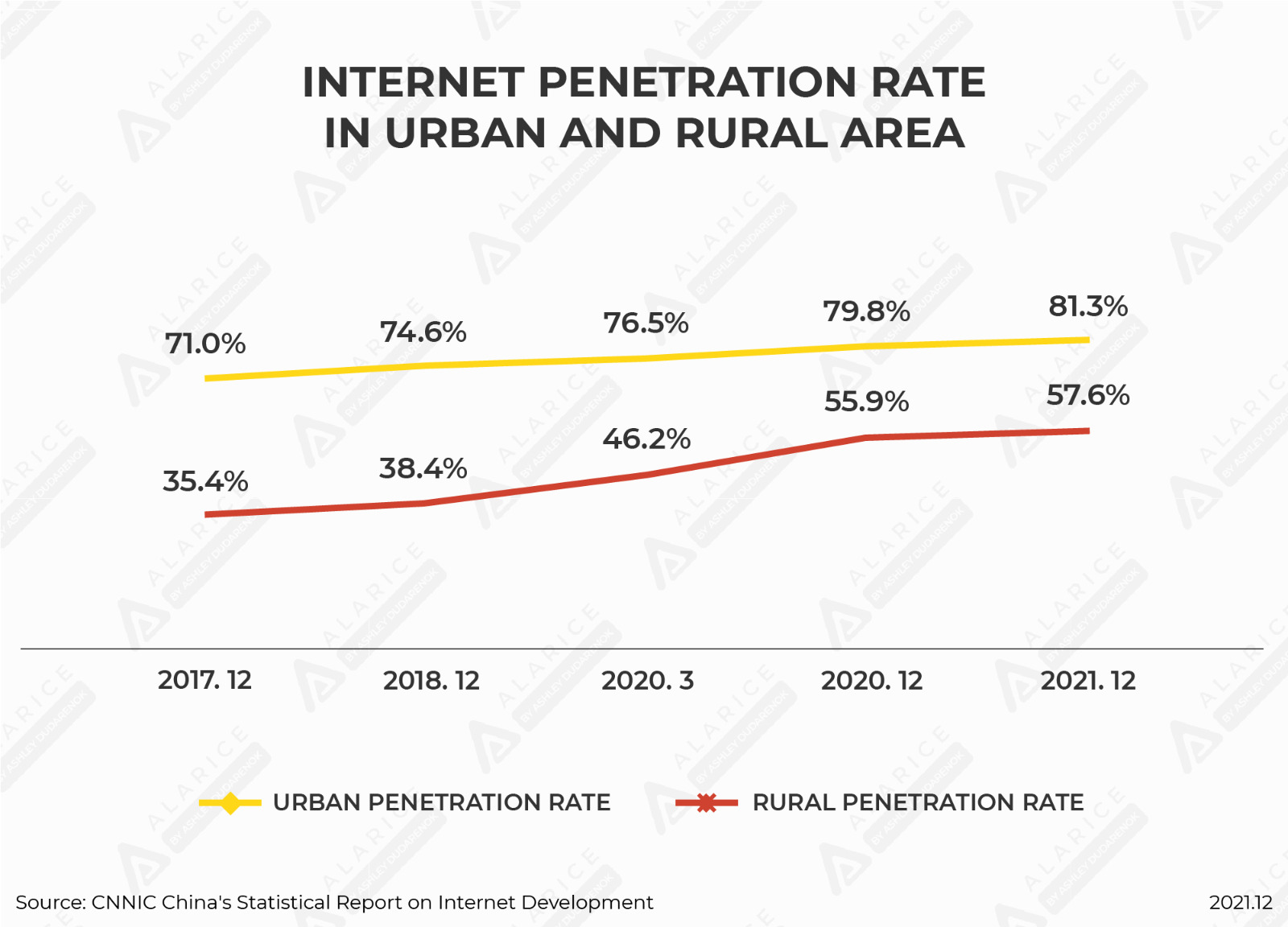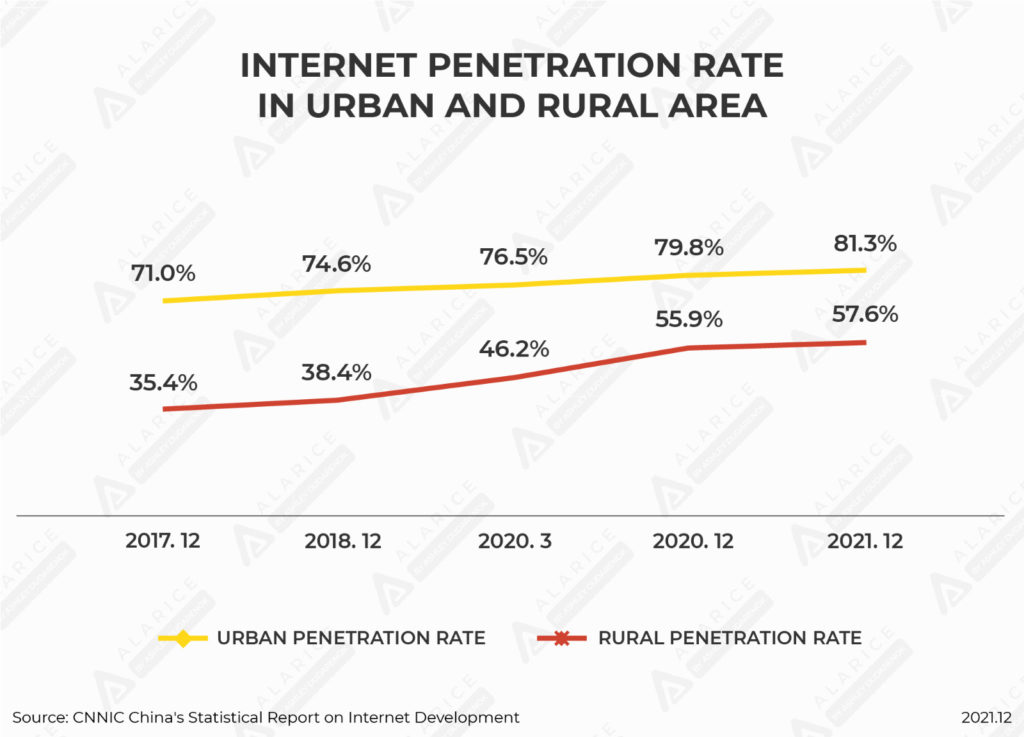 China's Internet users structure
Gender representation
The male-to-female ratio of Internet users in China is 51.5:48.5 as of December 2021, which is roughly the same as the male-to-female ratio in the overall population.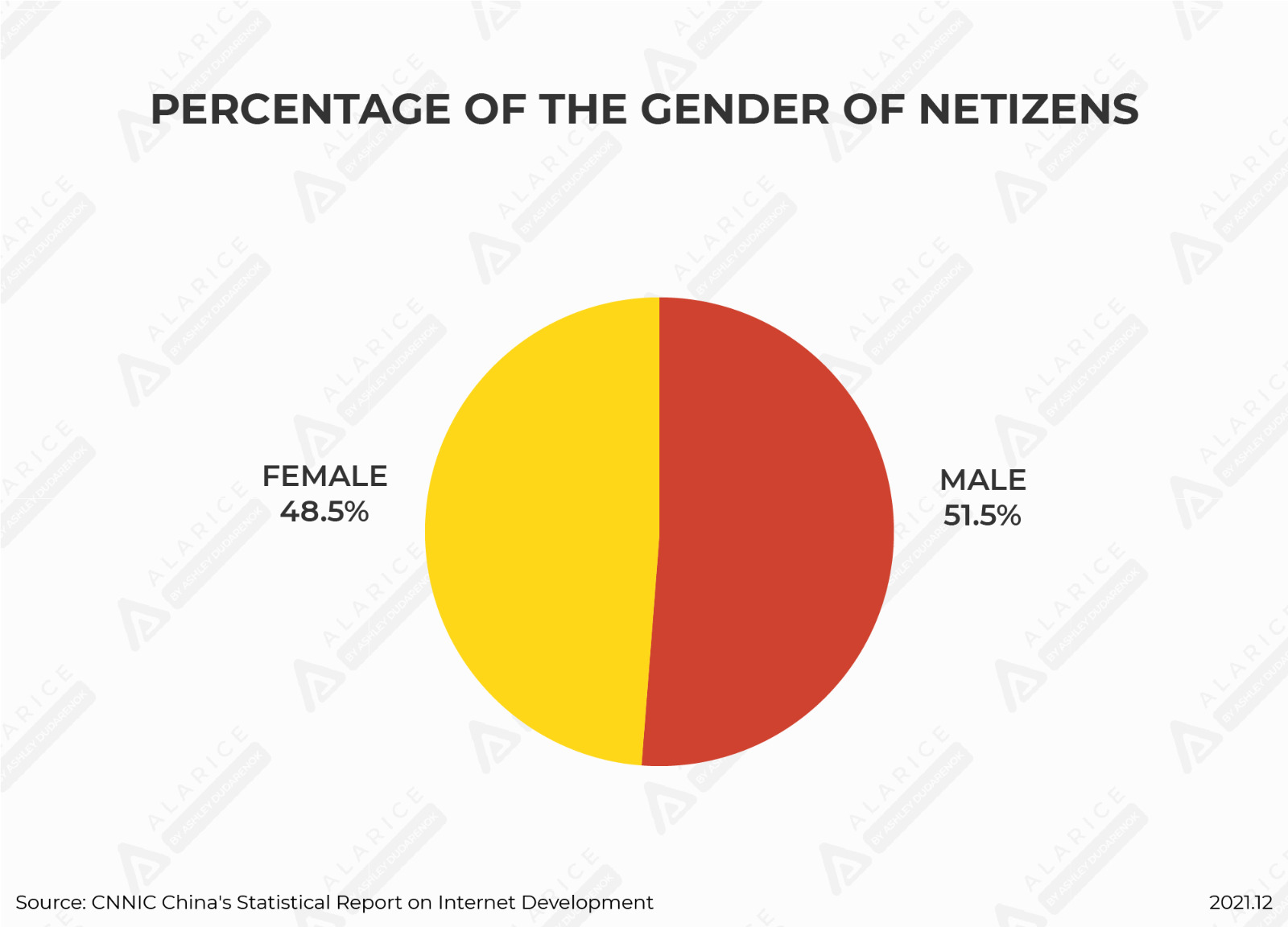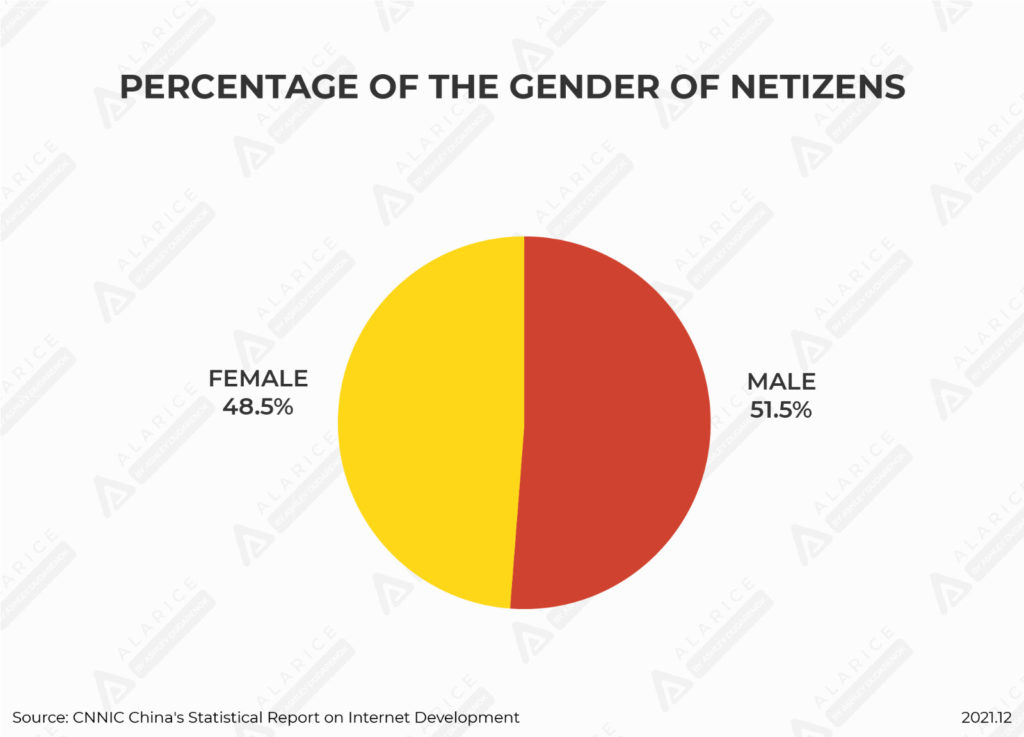 Age distribution
Netizens aged 20-29, 30-39, and 40-49 accounted for 17.3 percent, 19.9 percent, and 18.4 percent, respectively, higher than other age groups as of December 2021; the proportion of netizens aged 50 and above increased from 26.3 percent in December 2020 to 26.8 percent, indicating that the Internet has further penetrated the middle-aged and elderly groups.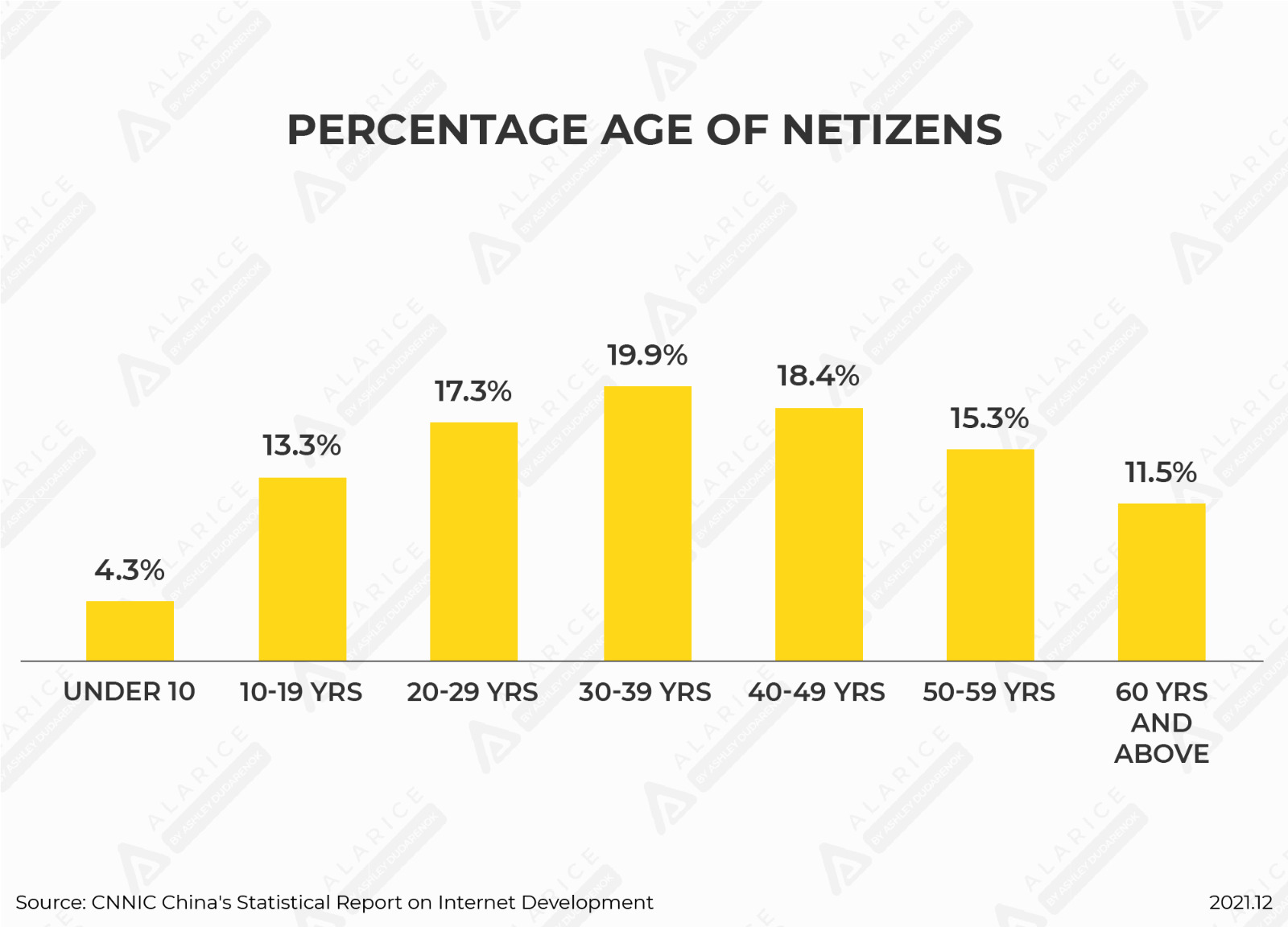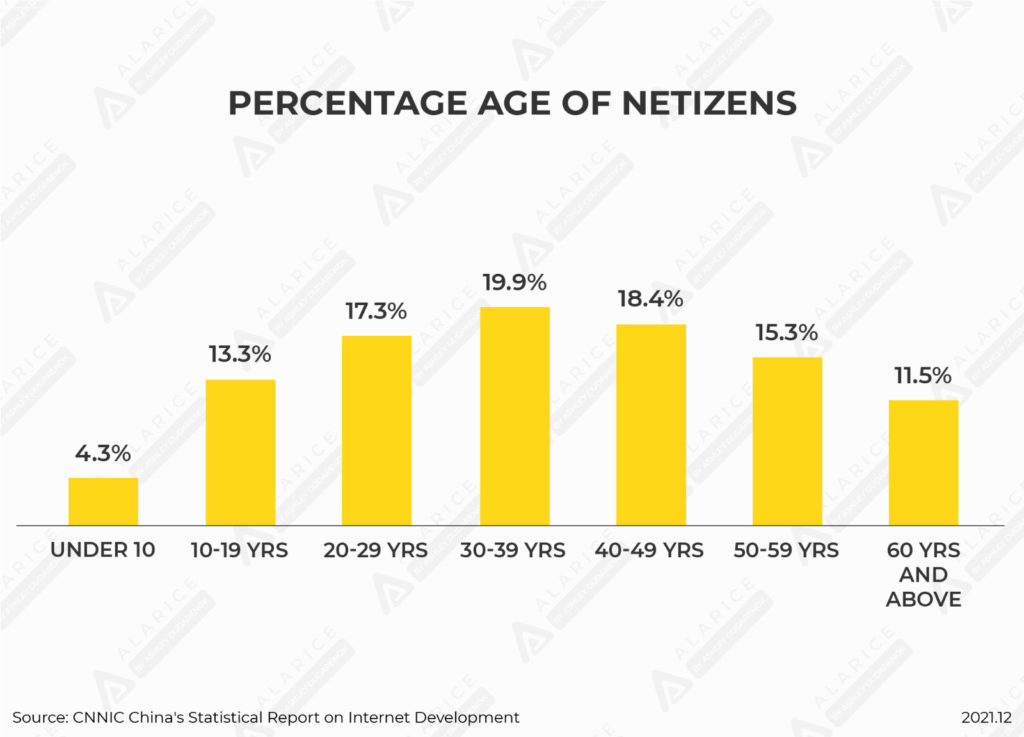 Elderly people integration into online society
Elderly people are becoming more integrated into online society.
The vitality of older people's needs to connect to the Internet, browse the Internet, and use the Internet has been further stimulated because of the continued advancement of the transformation of Internet applications for aging. As of December 2021, China had 119 million elderly network users aged 60 and up, with an internet penetration rate of 43.2 percent.
Young people are increasingly absorbed in online culture.
For starters, the younger age group of minors "connecting to the Internet" is clear. According to statistics, there are 183 million underage netizens in China.
The rate of Internet penetration is 94.9 percent, which is significantly higher than the rate of Internet penetration among adults. Primary school students had the highest Internet penetration rate, at 92.1 percent.
Minors' Internet penetration in China's urban areas reached 95.0 percent, while it was 94.7 percent in rural areas.
Overview of Internet Applications
In 2021, the number of people using various personal Internet applications in China will be on the rise. The user scale of online medical care and online office increased the most, with an increase of 83.08 million and 123 million, respectively, compared to December 2020, with a growth rate of 38.7 percent and 35.7 percent, respectively; the user scale of online food delivery and online ride-hailing was higher than that of 2020. In December, the number of users increased by 125 million and 87.33 million, respectively, with growth rates of 29.9 percent and 23.9 percent; growth rates of users of online travel booking, online wealth management, live streaming, online music, and other applications are also above 10%.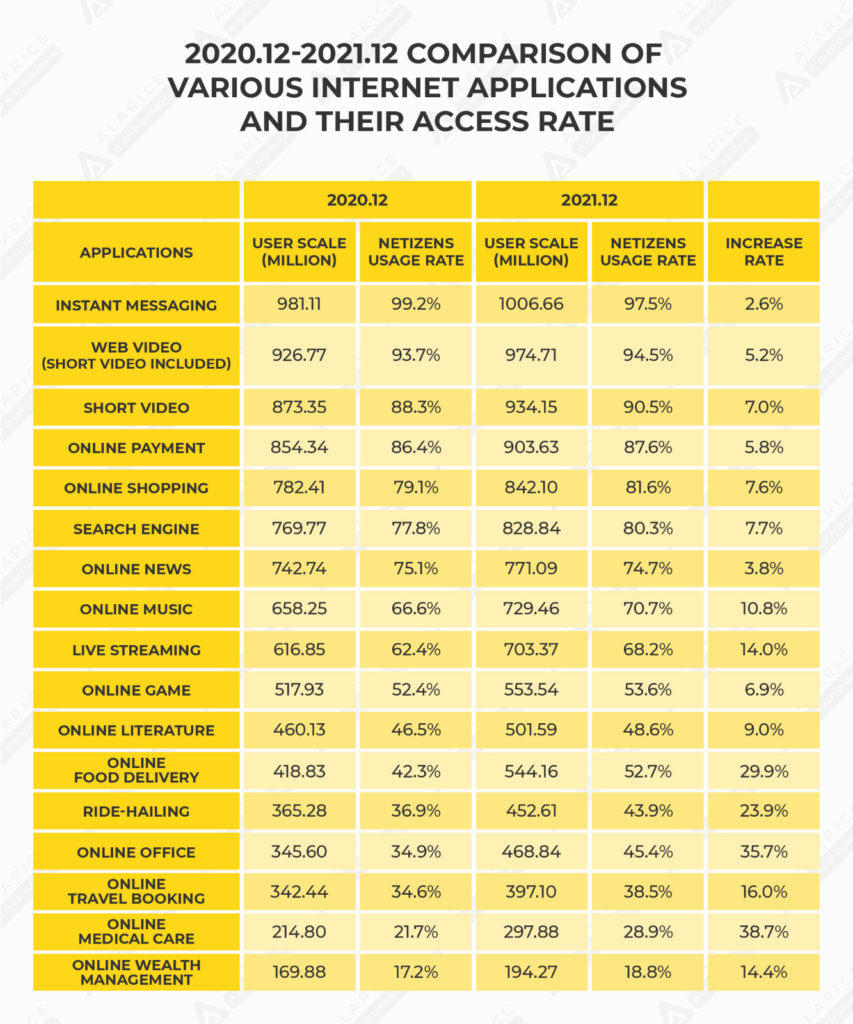 Applications: instant messaging, web video (short video included), short video, online payment, online shopping, search engine, online news, online music, live streaming, online game, online literature, online food delivery, ride-hailing, online office, online travel booking, online medical care, online wealth management.
Conclusion
According to the report, sectors such as financial services, work productivity, ride-hailing, e-commerce, and daily services are poised for relatively rapid growth.
China's legislators have recently emphasized a new type of internet access gap, this time based on age rather than wealth or education. Their concern is that China is digitizing at such a rapid pace that retirees who aren't tech savvy will struggle to conduct basic transactions or participate meaningfully in society.
To that end, new legal mandates are being implemented to prevent grocery stores, restaurants, and retail businesses from going completely cashless, and regulators are putting pressure on digital device manufacturers and app developers to create senior-friendly design options that will facilitate accessibility for the less digitally fluent. If these initiatives are successful, China will be able to achieve the levels of connectivity enjoyed by its more developed Asian peers more quickly.
If you have more questions about China, please feel free to contact us. Or if you want to looking for market research and digital marketing strategy for China, Alarice can help you. You can also gain more Key China trends and insights through our Q3 2021 China marketing report.