As one-third of our life is spent sleeping, this physiological need plays an essential role in people's health and wellbeing. But due to work pressure and bad living habits together with other factors, sleeping well has become a luxury for many Chinese people.
According to the 2020 China Sleep Index Report (2020年中国睡眠指数报告), there are currently 300 million people in the country that suffer from sleep-related disorders such as insomnia, waking up easily, dizziness, continuous light sleep and dreaming.
With a growing number of people looking for solutions to their sleepless nights, there has been a considerable growth in the demand of sleep aid products: from sleep aid supplements and bedtime drinks to homeware and tech devices, the market size of the sleep economy in China accounts for 359.9 billion RMB and it is estimated to reach 1000 billion yuan in 2030.
In this new booming market, what are the opportunities for brands?
What is Sleep Economy? Why is it relevant for marketers?
With the increase of insomnia and sleep disorders – especially among younger generations (Millennials and GenZ) – and Chinese people paying more attention to healthy sleeping, industries offering all sorts of solutions to improve sleep conditions have gradually emerged and market demand has continued to expand, giving birth to the so-called "Insomnia Market". Data from the 2020 China Sleep Economy Market Brief Report (2020年睡眠经济行业短报告) shows that from 2015 to 2019, the market size of China's sleep economy industry – in terms of turnover – increased from 235.36 billion to 359.87 billion yuan, with a compound annual growth rate (CAGR) of approximately 11,2%. The daily average sleep hours among the population dropped from 8.8 (2013) to 6.5 hours.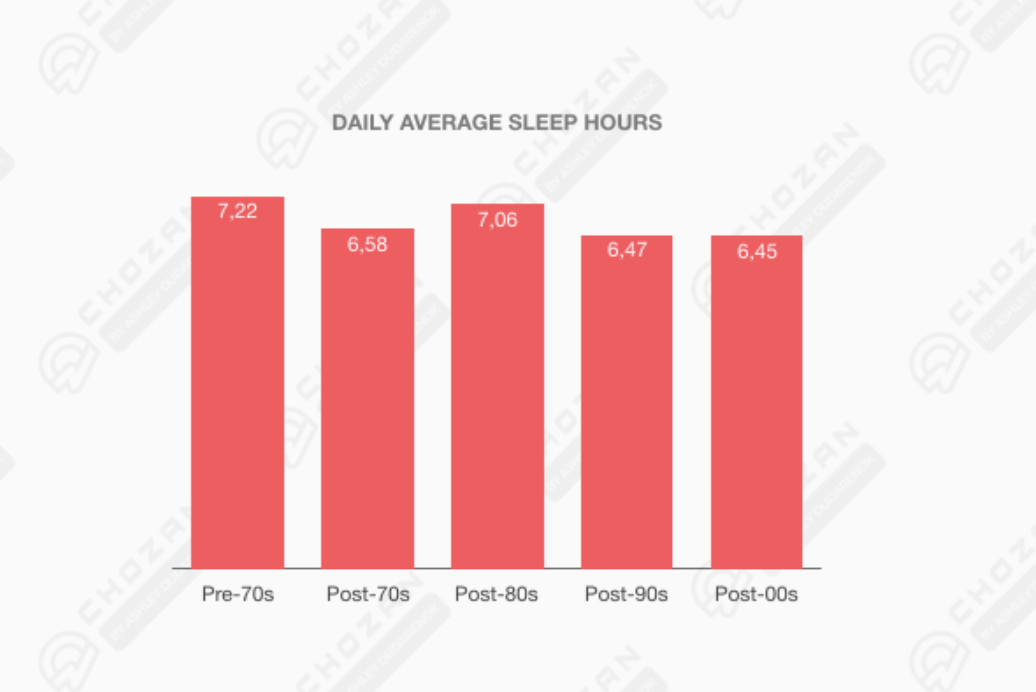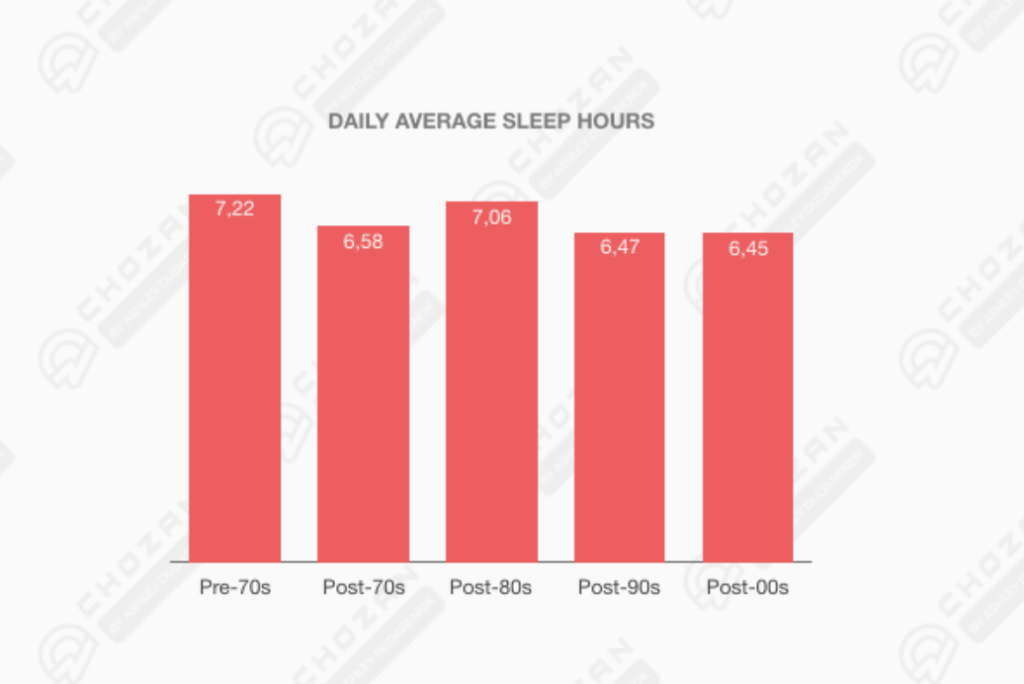 In terms of age groups, young consumers (Post-90s) are the most affected: more than 84% of this age group have sleep issues, 75 % fall asleep after 11 pm, 33.4% after 1 am. They contribute to 29% of the consumption of sleep aid products.
From the perspective of geographical distribution, the situation is more serious in first-tier cities such as Beijing, Shanghai, Guangzhou and Shenzhen.
What are the main causes of insomnia and other sleep-related issues in China?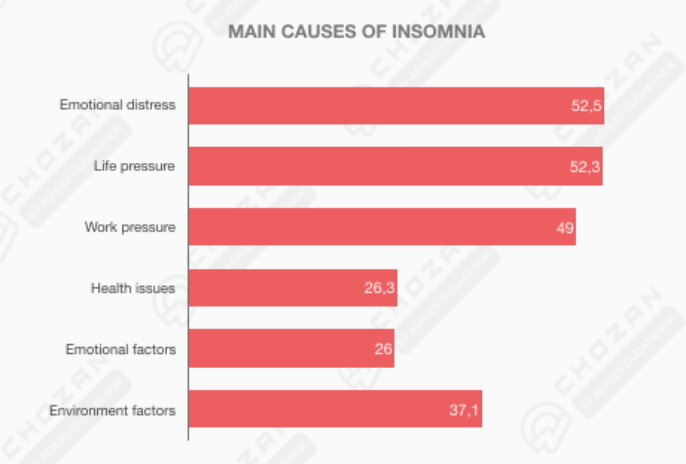 Among the most common causes of sleep disorders are work and life pressure, personal emotional factors, environment factors and health problems.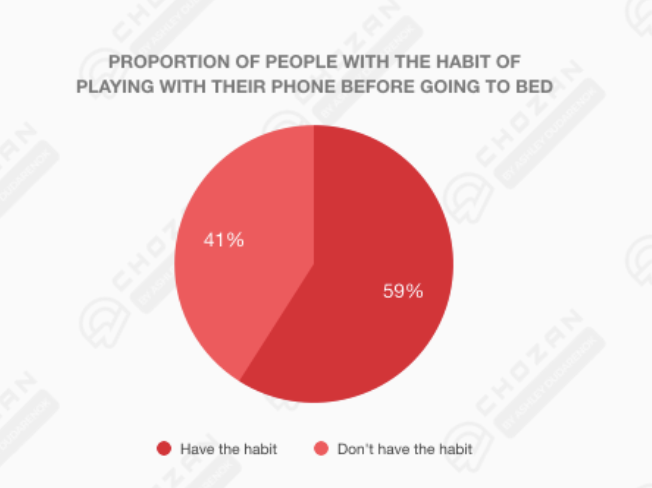 996 working culture and stressful working conditions can affect people's lives to the extent that after a very busy day, they have the feeling of wanting to take back control over. They use the only time available (at night) to enjoy their hobbies, browse social media such as Weibo, watch videos, listen to music and eat snacks. Not only this, but due to the pandemic people also developed the habit of delaying sleeping up to 3 hours on average per night.
Methods used by Chinese people to improve sleep quality
As people's needs for healthy sleep became more and more urgent, various types of aid products appeared: apart from traditional sleep products like sleep eye masks and soundproof earplugs, according to data from Taobao, among the most purchased items on the platform also feature sleep sprays, health pillows and steam-heated eye masks. Let's have a look at some examples:
Sleep Aid Supplements
When it comes to sleep aid supplements, melatonin is one of the most common products for people with insomnia: the number of consumers who purchased melatonin and other types of supplements increased by 4 times in 2020 and the number of people buying jujube seeds has doubled in the first two months of 2021 alone compared to the previous year. In particular, the post-90s consumption of melatonin products accounted for 85%, confirming the high prevalence of sleep-related issues among the younger generation.
Other products include herb supplements such as spine date seed, sesamin, sandalwood, lily and tuckahoe tea.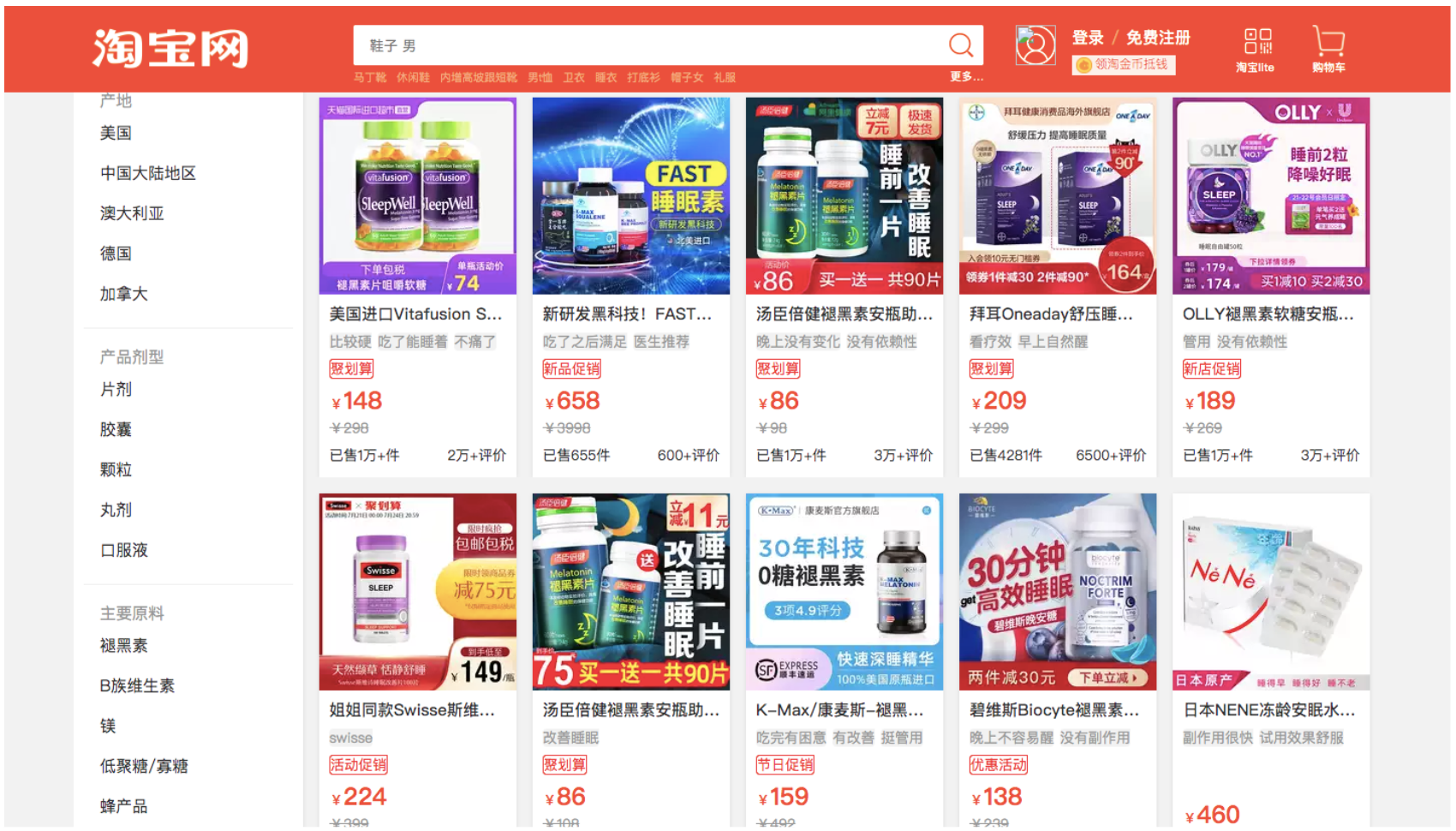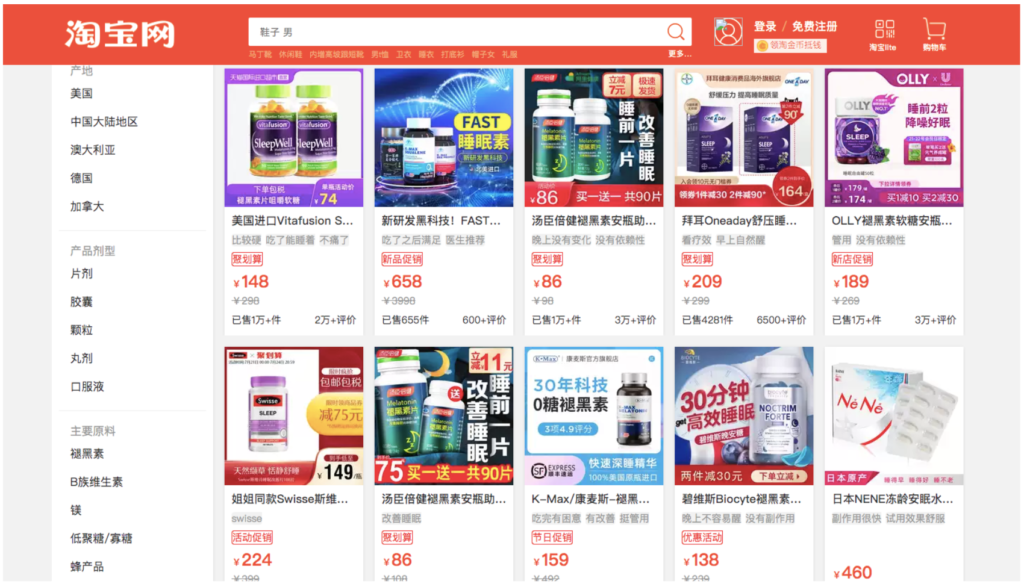 Bedtime Drinks
Although the sleep market is still in a phase of development, it has a huge potential for growth in the field of healthy consumption, so much so that both domestic and foreign companies like Mengniu蒙牛, WantWant旺旺, Wahaha娃哈哈 and CocaCola have also launched sleep aid beverages. An example is the "Dream-dream Water 梦梦水" launched by the Chinese Brand WantWant旺旺. The drink mainly contains L-theanine, German chamomile flower extract and y-aminobutyric acid, which are supposed to relieve stress and fatigue caused by overwork, reduce anxiety and improve sleep quality.
Sleep Aid Homeware
Aroma candles, essential oils, sleep aid lamps, massage chairs, smart pillows and bedding are just a few of the sleep aid products in the homeware category.
An interesting case is the Xiaomi Lefan AI intelligent massage chair, born from the collaboration between Xiaomi and LeFan Health Technology. The device was designed with a young audience in mind. It has a smart massage system that adjusts itself in real time following the shape of the back. The 6 different massage techniques from which the user can choose are ideal to release back pain, a common health concern among many young people. In addition to using physical buttons and the mobile app, the smart chair also supports voice control through Xiaomi's smart speakers.
"Pillow Talk" Services
Another out-of-the-ordinary sleep aid product is the service provided by 哄睡师Hōng shuì shī where people induce their clients to sleep by chatting with them on the phone and making them feel calm and relaxed. After the customer places an order, these "pillow talkers" communicate with them through WeChat, QQ, etc. until they fall asleep. The price can vary depending on the length of the call and the rating of the professional, which is determined by their voice and conversation skills. This feature has recently been found in more and more apps.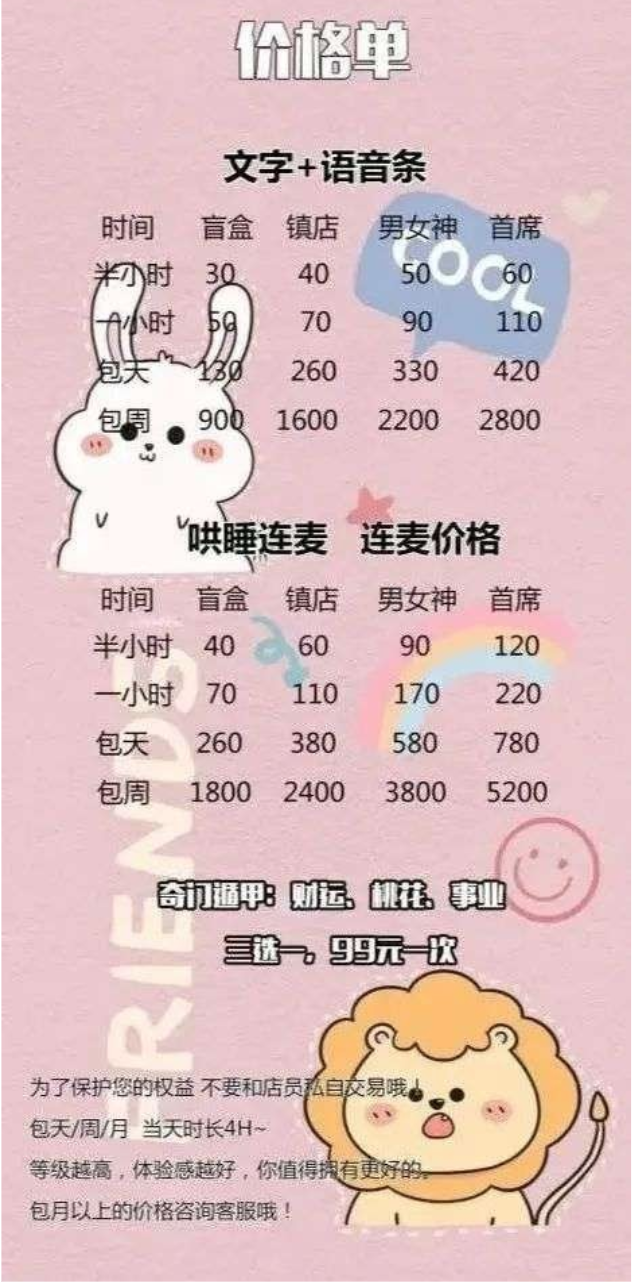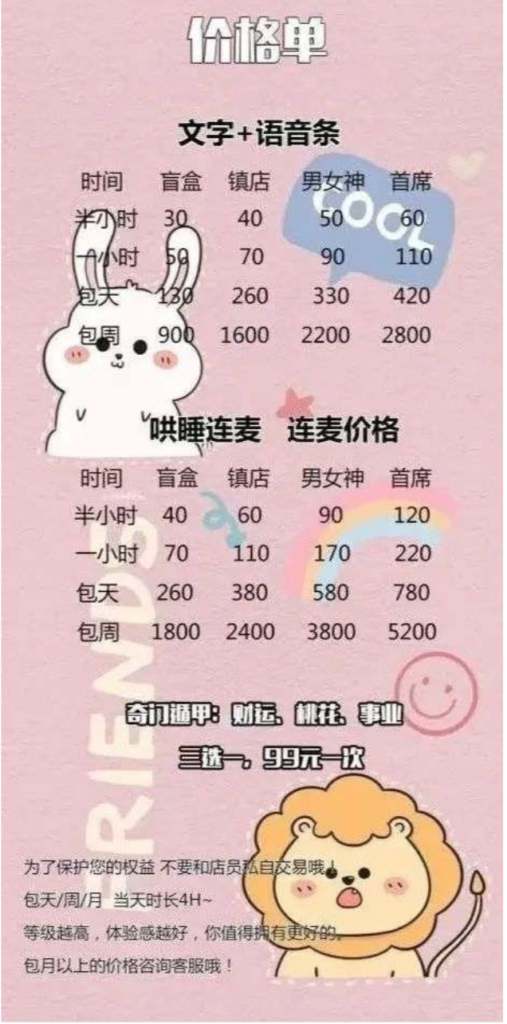 Sleep Aid Apps
These are applications that offer different tools, such as sleep monitoring and sleep analysis, music, sounds and ASMR, to help users feel relaxed and accompany them to fall asleep in exchange for a cheap price (compared to other solutions). The biggest players in China are: Snail Sleep蜗牛睡眠, Tide潮汐 and Small Sleep小睡眠. These apps use bedtime stories, meditation courses and white noise environmental sounds to help people fall asleep better and alleviate insomnia.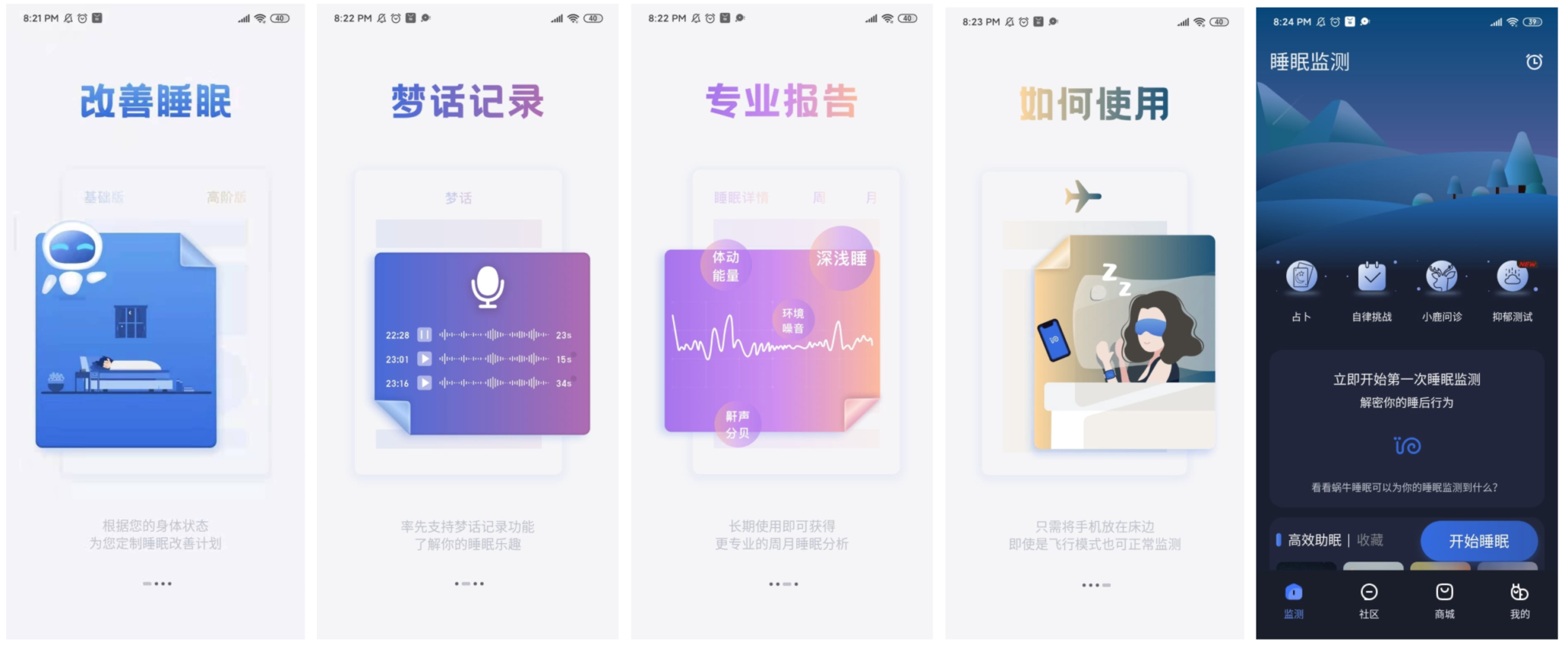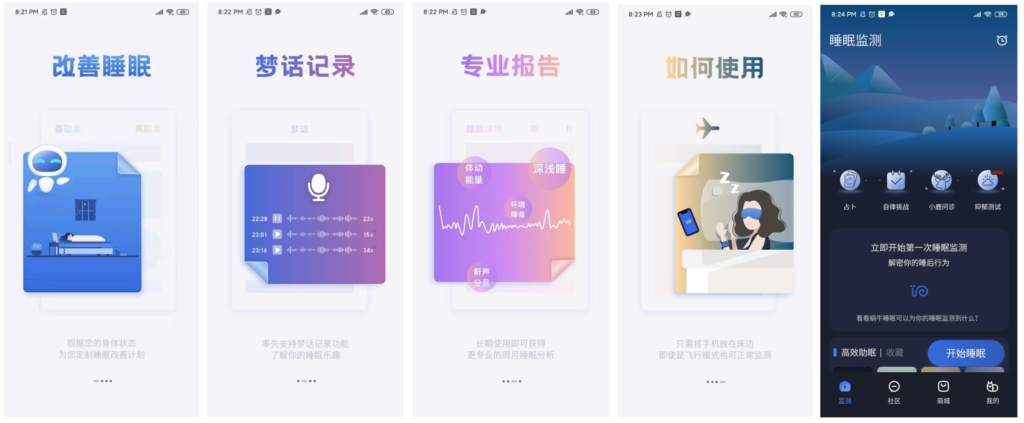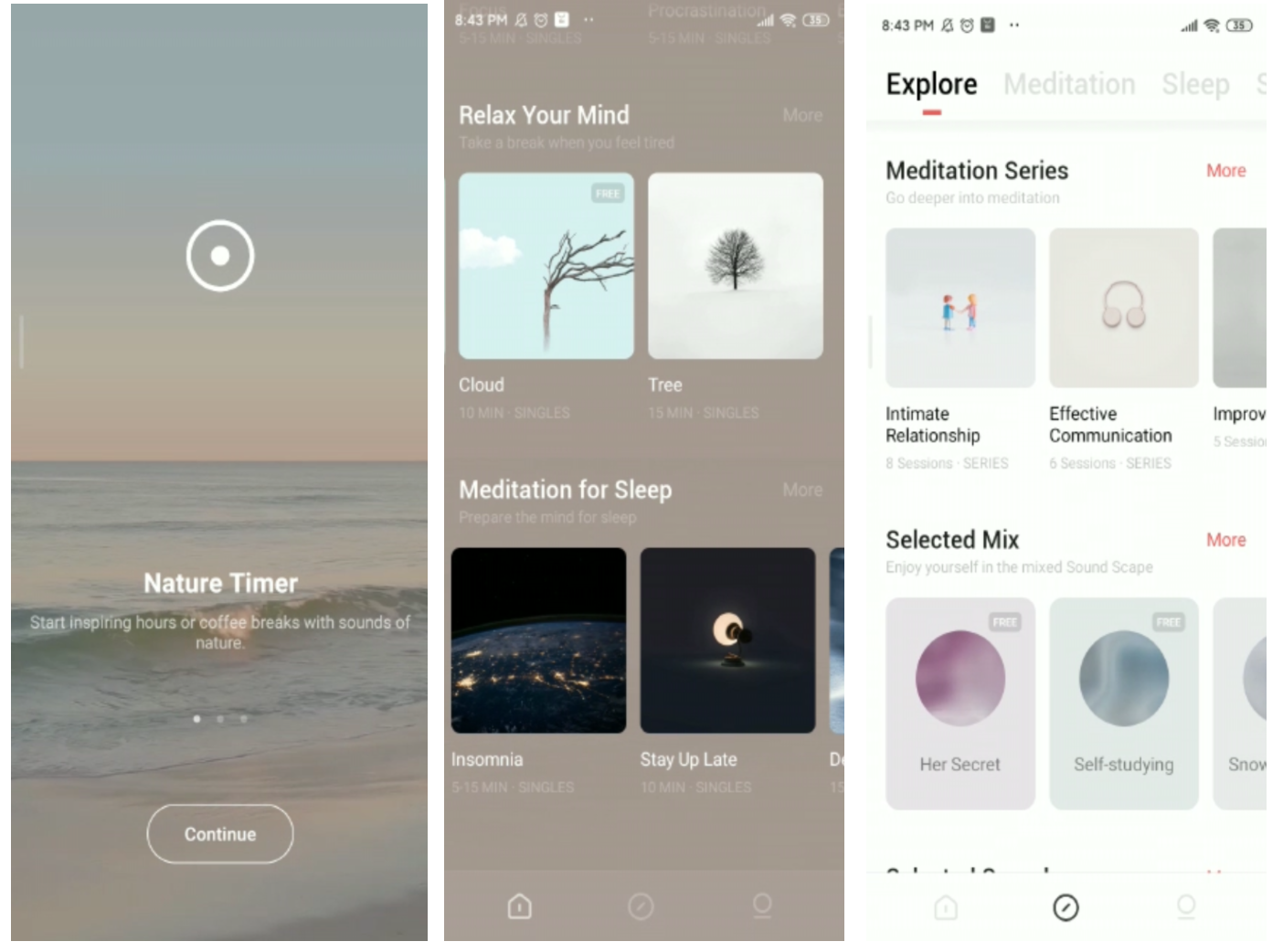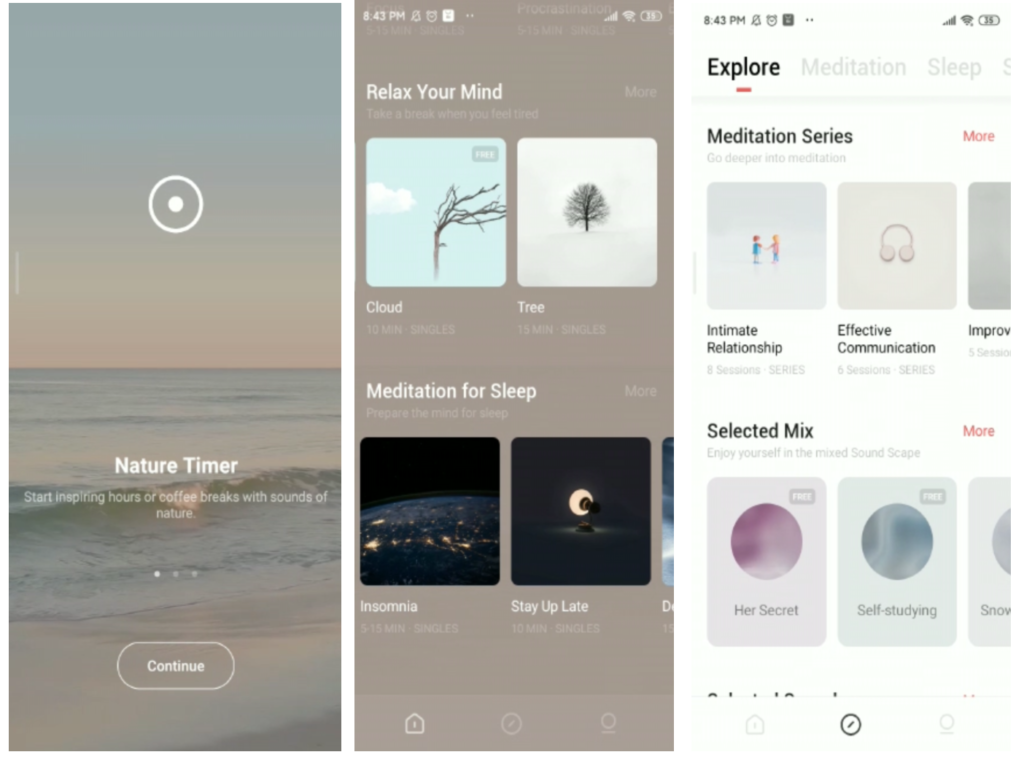 Case study: Calm entered the Chinese market with "Ease"
Calm (HQ in San Francisco, US) has more than 4 million users and is the world's largest physical and mental health app. After entering 190 countries around the world and ranking first among similar applications in North America, Europe and other regions in terms of downloads, Calm entered the Chinese market just in time to release people's anxiety in the post-pandemic era. With the launch of the "Ease App" in domestic app stores, the brand mainly focused on users' need for sleep and localised its services to meet local culture and consumer preferences. For example, they launched Huang Lei黄磊's bedtime story, Song Yang宋洋, Li Lihong李立宏 and many other audios dubbed by good voices.
The app provides Chinese services, while still maintaining a similarity with the American Version in terms of product and interface design, audio quality, content library and user experience.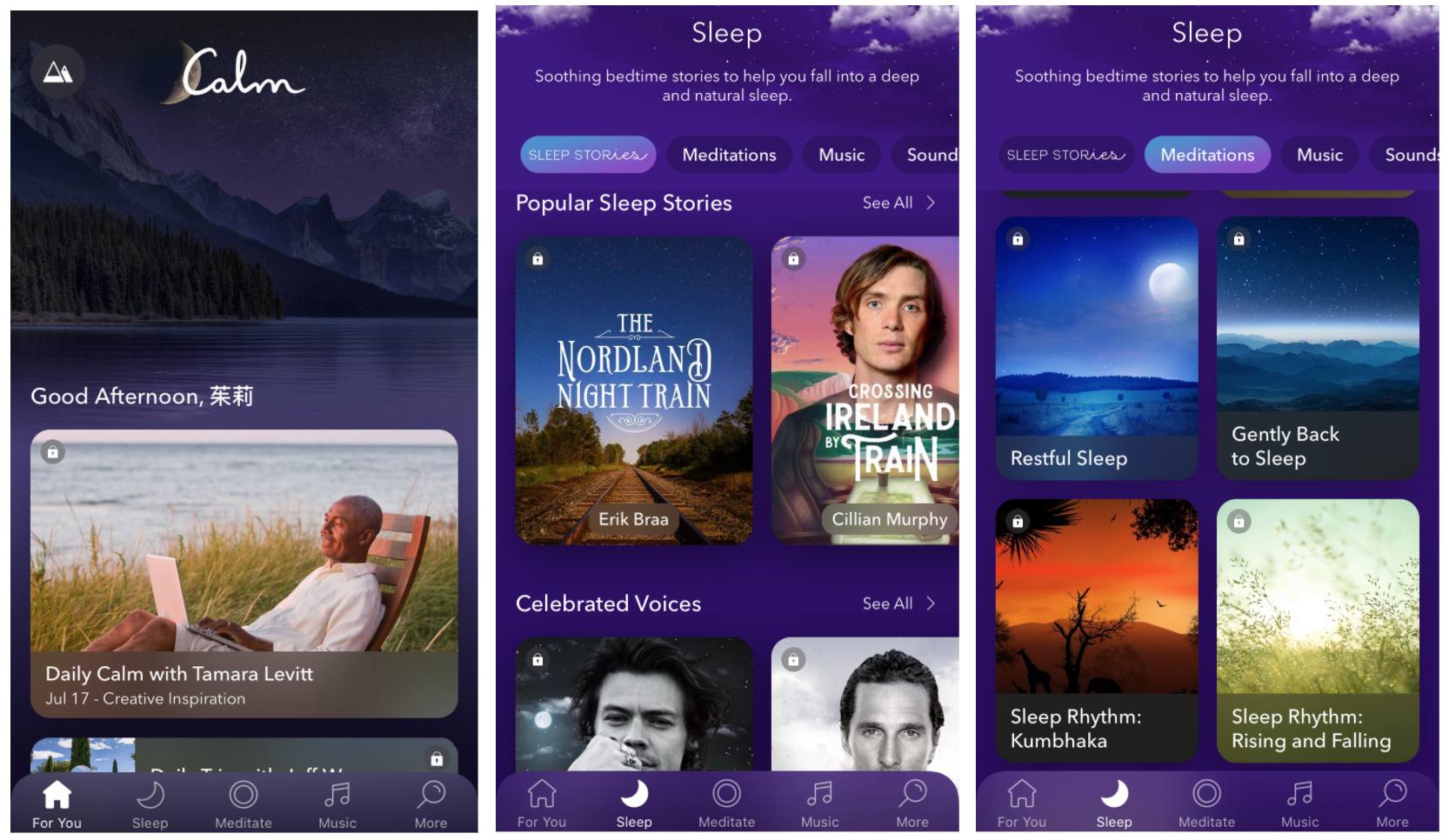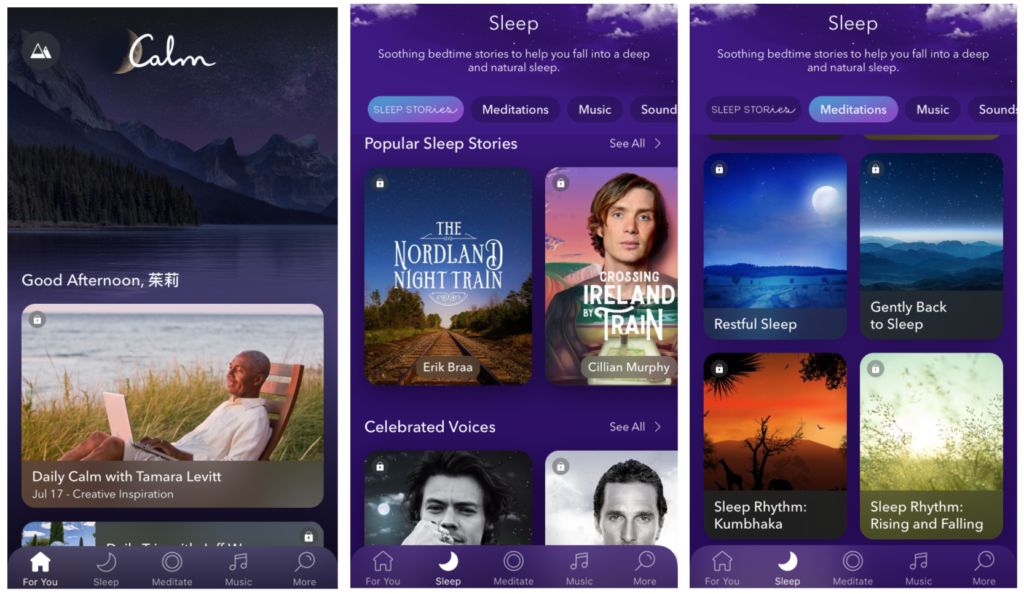 What are the lessons for brands in the sleep industry?
1. Although the sleep market seems crowded, there is still space for innovative and high quality products that satisfy consumers' needs
According to Tianyan Research天眼查 there are currently 2.400 sleep-related companies in China and in 2020 alone there were 470 new ones (23% year-on-year increase). Although there are many players, many sleep aid products on the market lack industry standards and regulations in the attempt to "ride the wave" of this emerging market and capitalize on consumers' willingness to try anything in order to get a good night's sleep.
2. Important to heavily invest in market research and be responsive to the preferences of your target personas
To win in a market with strong demand but insufficient effective supply, companies need to increase the investment in market research to understand consumer sentiments and expectations about sleep aid products. This way it will be possible to make product adaptations and create effective marketing campaigns with focus on specific target segments.
When Calm entered the Chinese market with the Ease APP, for example, its strategy was aimed at focusing on specific sleep-related needs of its users, as well as localising product features by providing a more distinctive and unique content library tailored only to Chinese audiences.
3. Use digital media to connect with consumers, build positive WOM and brand trust
Consumers in China have different needs and preferences compared to their Western counterparts. In particular, younger generations – who are the most affected by sleep-related issues – are tech-savvy and enthusiastic users of digital platforms. Online world of mouth (WOM) and reviews have increasingly become one of the main sources of information and inspiration for purchasing decisions.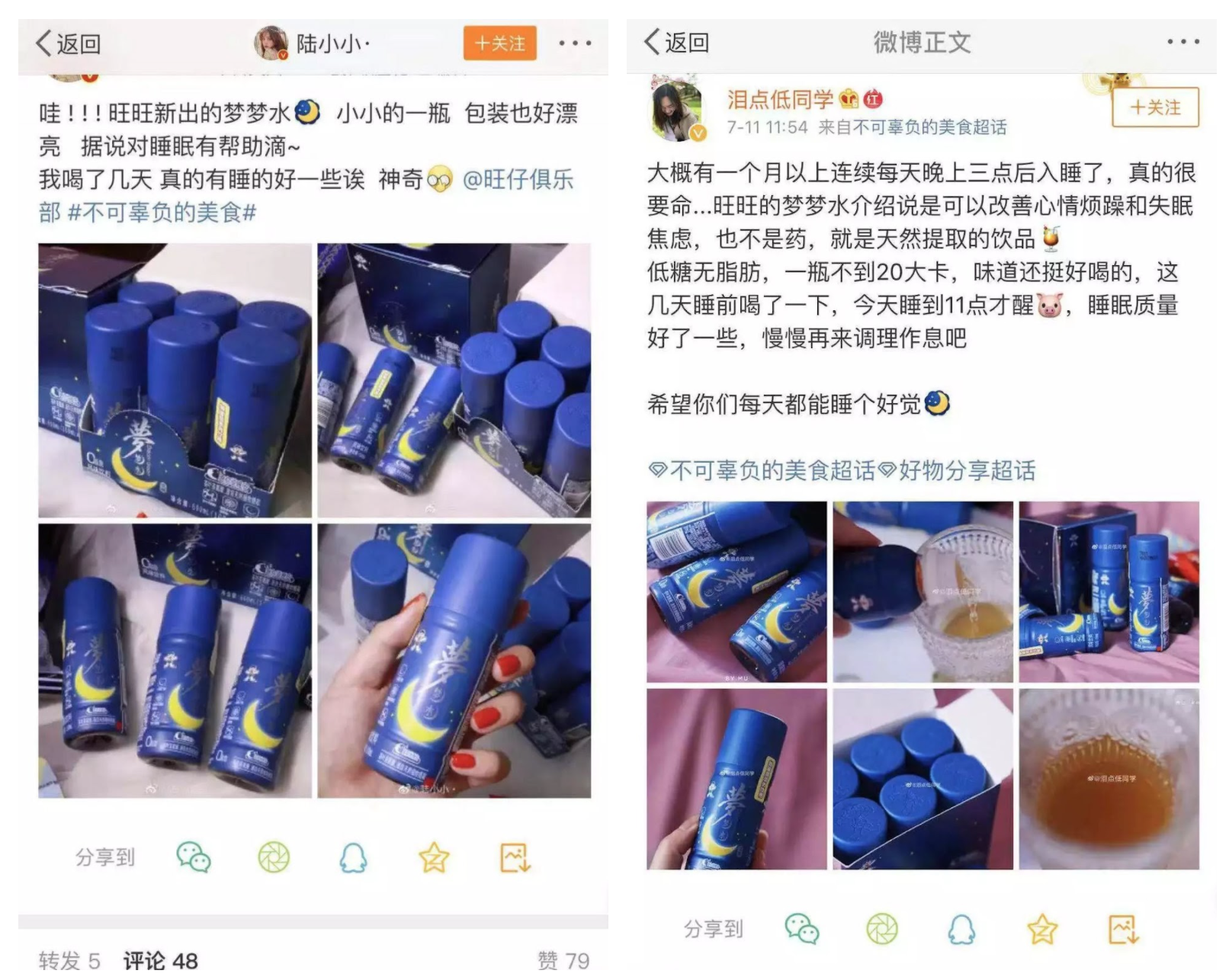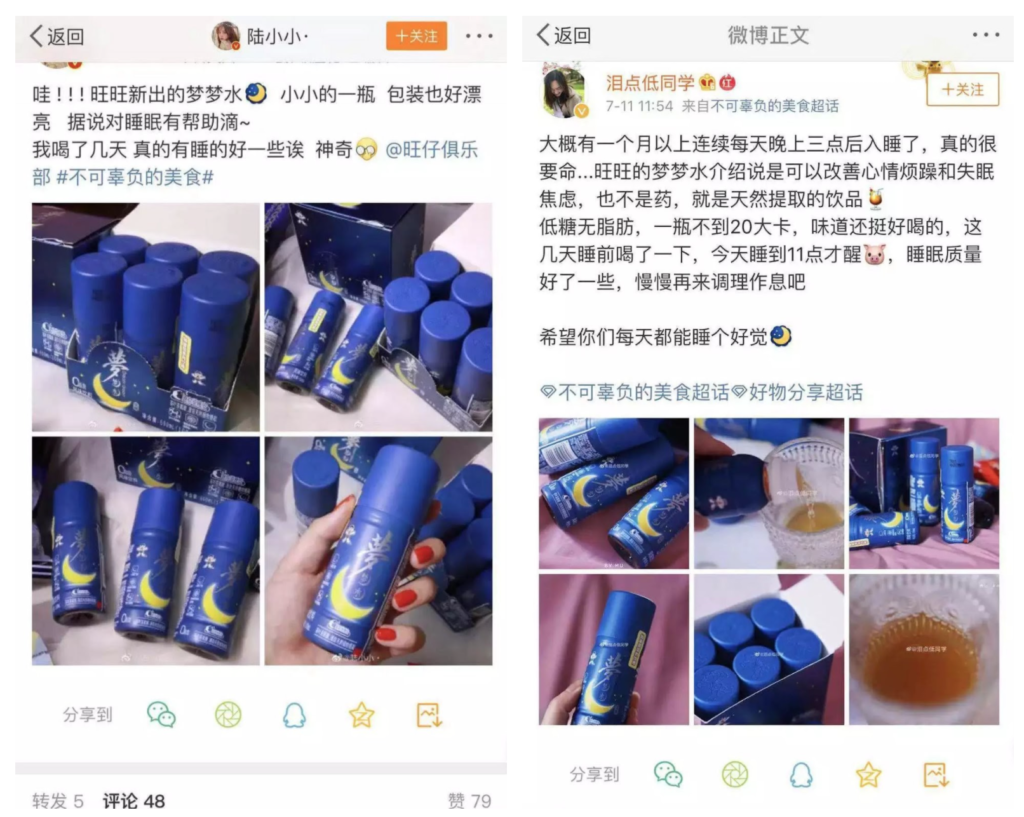 If brands can do a good job of leveraging social media to create emotional resonance and trust, the product will have a better chance of succeeding in the Chinese market.
If you need an agency that deeply understands Chinese social media marketing and want to enter the Chinese market with a detailed digital strategy that fits your brand, we can help.

And if you have urgent questions or want to learn more from or about Chinese brands or the China market in general, ChoZan's consultation services and expert calls are your shortcut to expertise.
Contact us with any questions you might have and we'll put you on the right track.